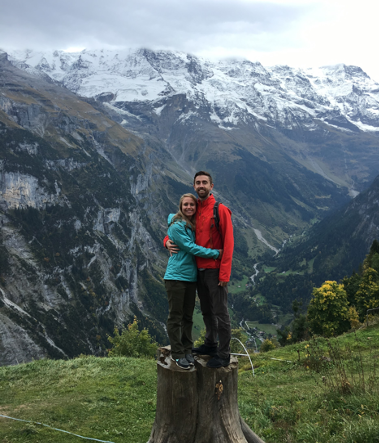 Ariel
The Basics: As a double wolverine, I actually bleed maize and blue. I grew up in Michigan, but most recently moved back from LA where I lived for 4 years and worked as an engineer for an aerospace supplier. I love being outside (you're probably noticing a theme in our group), sports, and all things dance (from ballet to dance parties and limbo competitions).
How my partner would describe me: A hangriness meter that needs to be continuously fed. Seriously though, a girl's gotta eat!
Favorite place I've traveled: This is too tough. Basically, anywhere with waterfalls.
Would you rather ski 54km in the Birkebeinerrennet race or sail the same distance in a viking ship? I've been dying to learn to cross-country ski! Plus, I'm a little scarred from an unusual sailing story (ask Royce to share sometime).
Royce
The Basics: I've lived in California most of my life and moved to Ann Arbor over the past summer. I currently work as an engineer for an automaker. I enjoy snowboarding, mountain biking, surfing, as well as craft beer (witbiers & pilsners).
How my partner would describe me: Glass half full kind of guy.
Favorite place I've traveled: Switzerland – the views are amazing and the pastries can't be beat. 
Would you rather skinny dip in Svalbard's icy waters or eat a truckload of Smalahove (smoked sheep head – with the eyes)? Easy choice – skinny dipping! Lakes are meant for swimming.