Arjun Moorjani & Sabina Chandiramani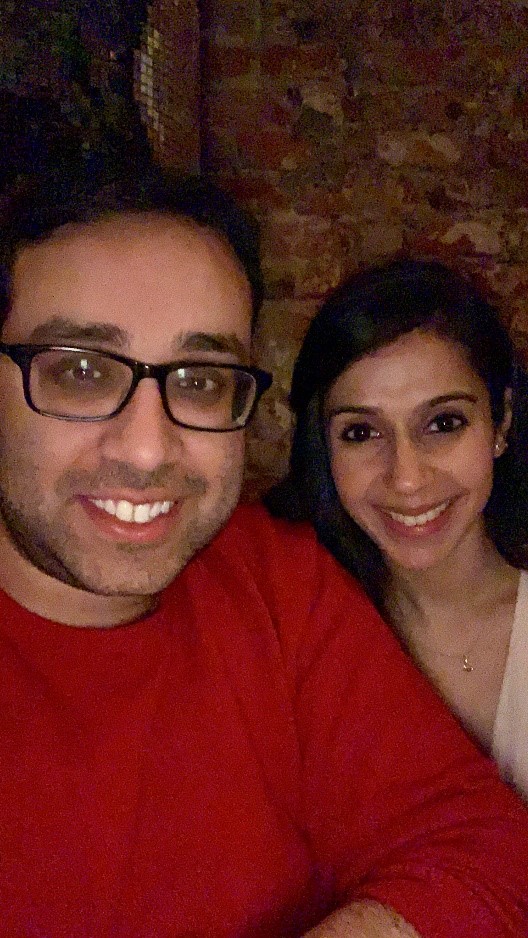 Arjun:
The Basics: I was born and raised in Westchester NY which is a suburb of New York City. I grew up playing video games and hanging with friends at the mall where we would eat at our favorite restaurants, PF Changs and Coldstone Creamery. I left home at 18 to attend the University of Chicago where I got my bachelors degree in Chemistry. After that, I spent 6 years living and working in Chicago as a consultant. I absolutely loved my time there and witnessed the Cubs win their first World Series in over 100 years. Leaving Chicago was tough, but Ann Arbor has been nothing short of amazing. My hobbies include skiing, trying to copy cooking-related YouTube videos, and casually indulging in a night at the blackjack tables. I'm super excited to try all the best food and wine I can find in Italy.
Why you want to hang out with me: I like to occasionally hit the pause button and take in what's happening around me. I've done some of my best thinking while reflecting in those moments with friends. I'm excited for more of that under the Tuscan sun. On another note, I'm also really good at Mario Kart 64 and SSB64. If reading that touched a competitive nerve, we can settle this on Christian's N64 after MTrek.
Red, white, or bubbly: Whichever one is in my glass. I love all wines.
Weirdest quirk about my partner: Whenever she gets good news, her instinctive celebratory gesture is a mini disco dance.
Ask me about: How I met my fiancé.
Sabina:
The Basics: I was born and raised in Long Island, NY and am a huge fan of New York bagels, iced coffee, and pizza (not Long Island Iced Teas…anymore). I got my bachelors degree in Biology and Economics at Case Western Reserve University in Cleveland, OH. After graduating, I moved to Chicago for Teach For America and taught high school chemistry and physics for three years. After leaving the classroom, I started working for an education technology company called EVERFI. I worked out of the Chicago Office for 3 years and am now working remotely from Ann Arbor. In my spare time, I love dancing to Bollywood music, going to workout classes, farmers markets, new restaurants, and coffee shops, and watching Gilmore Girls.
Why you want to hang out with me: I love having a good time – whether it's quiet night in or a wild night out!
Red, white, or bubbly: Bubbly, with a splash of St. Germain Elderflower Liqueur.
Weirdest quirk about my partner: He warms fruit snacks and sour patch kids in his pockets before eating them.
Ask me about: Working remotely, workout classes in Ann Arbor, and how to join PCAR (the Partners Club at Ross)!