Kate Reardon and Carly Massey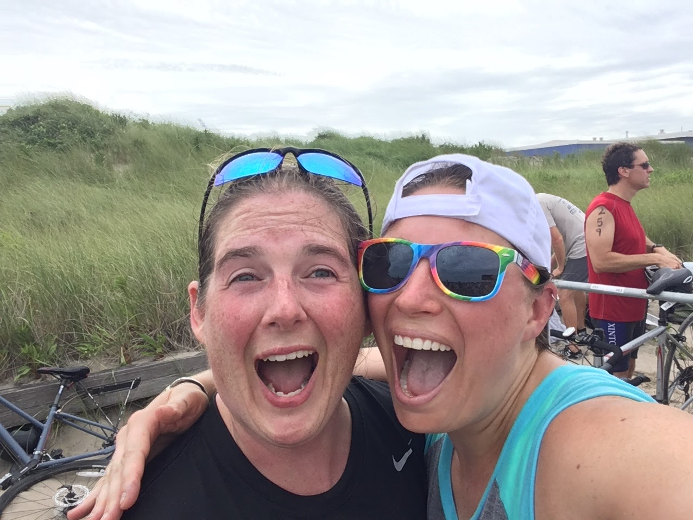 Kate 
The Basics: Originally from Newton, MA and have lived around the Northeast, currently Malden, MA (my home when not at Ross). Before Ross I worked in education, most recently as an Athletic Director at a high school. I'll be heading to Jordan directly from my summer consulting internship in Boston. I love playing sports and doing outdoorsy things but hate working out for the sake of working out. Other favorite ways to spend time are reading, playing games (Catan, Codenames etc), cider tasting, and watching the trashiest tv possible when my brain just doesn't feel like functioning (Below Deck and Top Chef- could watch all day- have watched all day).
How my partner would describe me: Forgetful- do not ask me details about anything I've read or watched more than 24 hours ago because I don't remember. Perhaps a bit dorky and spastic? This would of course come after she leads off her description with things like "brilliant" and "stunningly gorgeous". She would also say I'm a fantastic cat mom.
Favorite place I've traveled:  Tour du Mont Blanc. For the first part of our honeymoon, Carly and I spent over a week hiking around Mont Blanc, crossing from France into Italy and then Switzerland. Stunning scenery, amazing hiking, delicious food at the end of each day. Sometimes there was a surprise food and wine stop mid-day if we came around the corner to find a refuge halfway up a mountain. A truly indulgent 'backpacking' trip.
Weirdest quirk about my partner: When she runs, her feet kick out a little sideways and it's the cutest damn thing. Also she loves Stephen King and has read pretty much everything he's ever written, and she has an insane memory for things she's read/watched. 
My perfect MTrek day: An active excursion in the morning, work up a sweat to earn that delicious local lunch (love getting to know a culture through food) that's ideally eaten outside with a cool beverage, perhaps a shorter and less active afternoon experience that dives more into the local culture, a nap and shower at the hotel, and a fun long dinner chatting and getting to know fellow trekkers (dinner would also be outside- I love eating outside!).
Ask me about: Adjusting to Ross with a non-business background, my proposal/ring inscription, what it's like to live at your job (literally). 
Carly
The Basics: I am originally from Cape Cod, MA and have been in Boston for many years. I received my MBA from the University of Washington and have worked at Liberty Mutual Insurance since. I love running and other athletic activities – I currently complete at least one organized race a month, whether a 5k, 10k, mud run, or charity bike ride. At the time we're on MTrek I'll be just starting training for the Detroit International Half Marathon. When not exercising, I love reading, drinking beer or wine (I choose my wine based upon the label), and playing games (Catan, card games, Pandemic, etc.). I have a desperate desire to be crafty and do manage a couple projects a year – scrapbooks, bookshelves, Ikea furniture assembly – but mostly I plan and never do. I like to think I'm just creating a list for retirement!
How my partner would describe me: The ultimate putzer – I have a tough time sitting still for very long. There is always laundry to do, or a drawer to re-organize, or a pile of paper to sort. I love the sense of accomplishment this generates – I'll add things to my to-do list that I've already done just so I can cross them off. It often gets in the way of Below Deck binges…
Favorite place I've traveled: I think if I don't say Mont Blanc for my honeymoon, I may get some divorce papers. Truly an incredible experience – I especially enjoyed the days when we could drink a bottle of wine halfway through our hike while overlooking a phenomenal scenic outlook. I have never hiked more than a day in a row before, so it was definitely a test of fortitude to do 7 day hikes in 8 days! Wine and cheese helped a lot.
Weirdest quirk about my partner: Kate considers herself "dressed up" if she is wearing earrings. She can be clad in sweatpants and a sweatshirt, but if she has earrings in she is "dressed up" and ready to go out in public!
My perfect MTrek day: I would have to 100% echo my wife – morning excursion followed by delicious local lunch, diving into local culture, relaxing, and then wrapping up with a languid dinner over wine and more delicious local food.
Ask me about: Long distance relationship during MBA; Hiccup!; highly recommended books; my short-lived experiences living in Key West or the Philippines