Katie Crimmins and Travis Chernak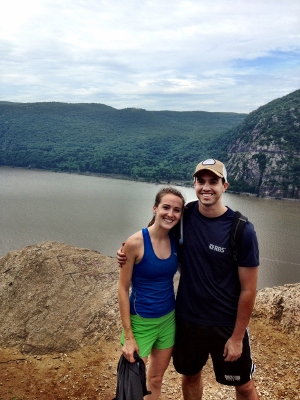 Katie
Hidden Talent: Using social media to find the very best eats everywhere I go. Most recently, stalking all food-related instagrammers in Ann Arbor and then hitting creeper status quickly when I meet them in real life.
Why you want to hang out with me: I have sweet dance moves. By sweet I mean terrible. It doesn't stop me at all, and I'll make you look damn good by comparison.
Weirdest Job: Growing up I babysat for a family with 4 boys who lived to play hockey. I spent numerous Friday nights getting paid to dress up in child-sized hockey gear and have hockey pucks hit at my face.
Travis
Hidden Talent: I make a mean squirrel chili.
Why you want to hang out with me:
My British friends used to call me holiday dad. Leave it to me to find cabs for everyone at 4am and ensure coffee is ready for everyone first thing in the morning. Sleep when you're dead!
I am always up for a good (or bad) bet. Like that time someone bet me a shot that I wouldn't run through town in pink underwear.
Weirdest Job: Garbage man at 1-800-GOT-JUNK. I spent most of the summer rooting through angry divorcee's garages, throwing out their former husbands' belongings.