Larissa Korach & Jeff Conrad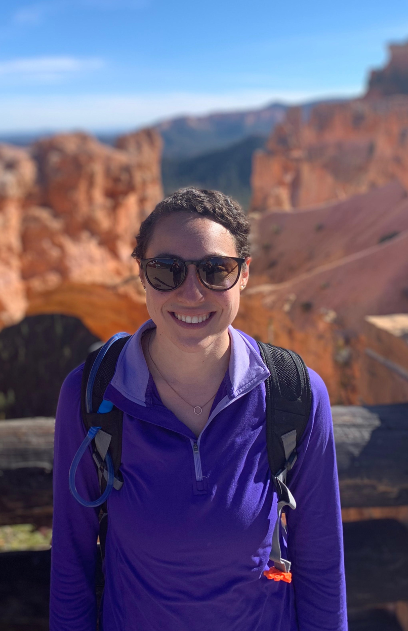 Larissa
Hometown: Los Angeles, CA
Favorite Place I've Traveled To: Santorini, Greece
Ideal MTrek Day: After waking up around 9am (I'm not necessarily a morning person but also don't want to waste the day), we would grab a quick breakfast and coffee at a local cafe before heading off to explore. We would then spend a few hours wandering around town, trying to live like a local – an exploratory bike ride would be awesome too if it seems safe. While exploring, we would definitely make time to stop in and eat lots of yummy local food (I'm writing this after just leaving Mexico so still dreaming of tacos and tostadas). If we're outside of a city, substitute the wandering/bike ride for a beautiful mountainside hike. After heading back to the hotel for a quick rest, we would make our way out for a group dinner followed by drinks at the cutest fancy cocktail bar imaginable.
My Hidden Talent Is: Doing back flips into pools
The movie about my life would be titled: Help: My Life with a Jewish Mother
My partner would describe me as: practically perfect in every way (jk – somehow both organized and chaotic)
Jeff
Hometown: Fallston, MD 
Favorite Place I've Traveled To: Jardin, Colombia
Ideal MTrek Day: I would want to be woken up by a Chilean folk band and then leisurely head to breakfast to eat some breakfast-themed empanadas.  Next, we would climb a mountain with a picnic basket full of wine, more empanadas, and some more wine and then relax and look out at the mountains in the distance.  After heading back into town, we would all go out and roam in search of live music, diving in and out of restaurants and bars, with some locals advising us where to go next.  The night would end with me remembering to drink enough water so that I can do it all again the next day! 
My Hidden Talent Is: Playing multiple musical instruments
The movie about my life would be titled: Revenge of the Nerds
My partner would describe me as: Calm, cool and collected