Lauren Hunter and Wiles Kase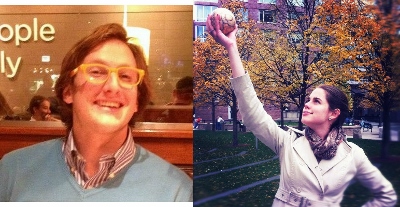 Lauren "L-dog" Hunter
A native of Omaha, Nebraska, Lauren is thrilled to be back in the midwest after spending 10 years on the east coast. She promises to minimize unsolicited comments about how great the midwest is; she's been told it's less charming than she thinks. In her spare time, Lauren likes to sign up for gym memberships, join an impressive number of book clubs, and then watch hours of the Great British Bake Off instead. When she listens to music, it's mostly lady folk singers and hip hop.
Favorite Karaoke Song: Wannabe by the Spice Girls
Wiles "WyGuy" Kase
Wiles recently sang in public for the first time, choosing to reignite Mariah Carey's All I Want For Christmas is You during a school talent show. In his spare time, he (likes to think that he) plays lots of tennis, basketball, and football. He is obsessed with the geopolitical strategy game Diplomacy, and has been known to accost unsuspecting friends and acquaintances with printed and highlighted maps. As National Parks go, he's partial to the Rocky Mountain variety. As libations go, he's partial to bourbon.
Favorite Karaoke Song: All I Want For Christmas Is You by Mariah