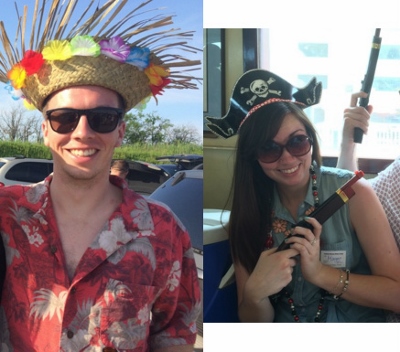 Peter
On MTrek you'll find me: Surviving and thriving. As the ever-insightful Cardale Jones once said, "We ain't here to play school"
If I were a drink I'd be: Sex on the Beach. If we find ourselves sleeping on a beach during this trip, don't answer if I come a-knockin' on your tent late at night… #SwingersTrek
Day drinking vs. night drinking: Day drinking – if you do it long enough, it turns into night drinking. BOOM.
How my partner would describe me: Probably the least helpful wedding planner of all time. By the way everybody: mark your calendars, August 6, biggest party of the year, but don't worry – all the major tabloids will be there if you don't get the invite.
Morgan
"On MTrek you'll find me: Attempting to speak (very broken) Spanish to everyone that I meet. I didn't study this language 9 years for nothing!
If I were a drink I'd be: Margarita on the Rocks. A little sweet, a little salty, best in the summertime and always present where good times are being had.
Day drinking vs. night drinking: Night drinking – there's something oddly rewarding about staying out until the sun rises.
How my partner would describe me: Directionally challenged. Right vs. left and the compass rose are deceivingly confusing. Needless to say, this trek leader will not be leading any of the city walking tours."