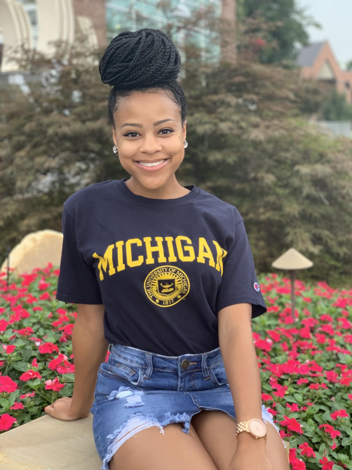 Sadé might be small, but she's bringing that BIG North Carolina energy to the trek! Hailing from Shelby, NC, Sadé is a true Carolina girl – you can catch her bumping DaBaby, grubbing on Bojangles or yelling "Go Heels, Go Blue!".
Prior to Ross, Sadé worked at a nonprofit as a College Adviser. As a non-traditional MBA student, she is happy to keep it real with you about how to make it through the core. But, whatever you do, don't ask her for help navigating around campus – she's the worst with directions. In fact, if you find her wandering around Ann Arbor, just point her to Frita Batidos so that she can order her fave – a Coconut Batido (with rum of course!)
Sadé is the perfect mix of chill and turn up. She loves a good party, good food and good people, and is always trying to make sure everyone is having a great time. On the trek, you can catch her pouring shots for the group – probably with a Mango White Claw in hand.