Sally Quan and Andrew Lee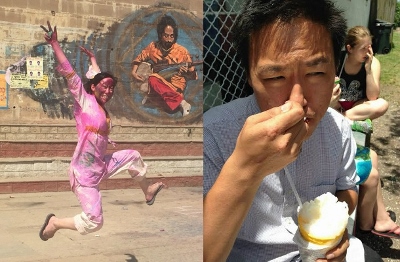 Sally "Rich Homie" Quan
Sally Quan, aka Daquantes Devontay Lamar, aka Rich Homie Quan, is an American rapper and singer from Atlanta, Georgia. Sally is signed to independent label T.I.G. Entertainment, and her music is artistically influenced by "dirty south" rap artists including Young Jeezy, Gucci Mane, Lil Boosie, and Lil Wayne. Sally moonlights as a small Asian woman who enjoys making people wait to eat so she can photograph food, being the last regular user of the largely-abandoned check-in application 'Foursquare,' and the popular CW television program, "Crazy Ex-Girlfriend." Sally looks forward to seeing the many trees that Iceland is famous for.
Favorite Karaoke Song: "Welcome to the Black Parade" by My Chemical Romance
Andrew "T-Bone" Lee
Andrew hopes to meet Bjork while in Iceland, and has declared that if Bjork does not personally greet him at the airport wearing a live pelican as a hat, then the entire trip will have been a failure. Andrew also looked up Iceland on Google and found out that sometimes polar bears drift over to the island from Greenland on icebergs; Andrew has additionally declared that if he does not get to hug a polar bear, the entire trip will have been failure. Andrew is better at FIFA than Anirudh, and everybody knows it.
Favorite Karaoke Song: "Empty Chairs and Empty Tables" by the Les Miserables 10th Anniversary Dream Cast