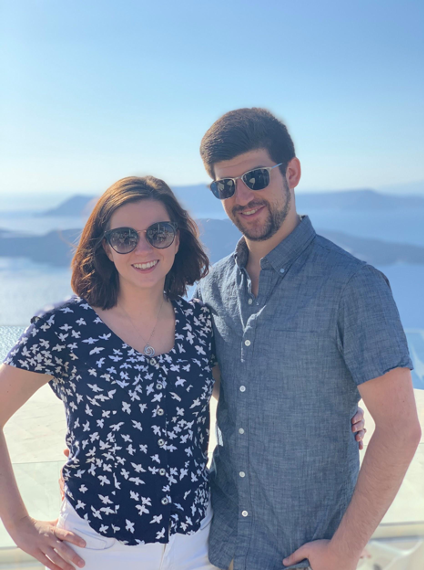 Sonora
The Basics: I grew up in sunny Los Angeles and will be (!!!) coming to Ann Arbor by way of Pittsburgh, where I've spent the last three years managing a climbing gym. After a childhood spent splashing in the Pacific, I am excited to dip my toes into the Norwegian fjords. In my free time, I enjoy making art, playing card games, swimming, and relaxing with Josh and our adorable doggo. (You want pictures of the pup? Oh, we'll show you pictures!)
How my partner would describe me: "Sonora is like a live-action Dora the Explorer."
Favorite place I've traveled: I grew up with an adventurous mom and a nomad dad, so this is a tough one. I would have to say that I especially loved dog sledding across the Finnish Arctic Circle and seeing Blue-Footed Boobies in the Galápagos.
Would you rather carve a norwegian troll or paint a viking ship with rosemåling?: Rosemåling is gorgeous! I'd love to paint a whole ship with those floral designs.
Josh
The Basics: I grew up in Princeton, New Jersey, playing guitar, video games, and baseball. For undergrad, I went to the University of Pittsburgh where I studied Finance and Political Science. While there, I studied abroad in Cyprus and Brazil. I love to travel around the world and learn about new places, cultures, but mostly foods. In my spare time, I prefer to be in the air flying planes, but when I'm on the ground, you can find me watching movies and going on hikes with Sonora and Loki, our dog (no relation to the Norse god of mischief). 
How my partner would describe me: "The human version of Boots, because no one can make Dora laugh the way Boots can."
Favorite place I've traveled: Definitely Iceland, where we trekked across glaciers, went caving, and snorkeled through a fissure in the continental divide. Plus, the best damn hot dogs I've ever had.
Would you rather bathe in a Fjord of ketchup or participate in a professional whale steak eating contest once a year?: Ketchup, because… Save the whales? But only if it's Heinz.