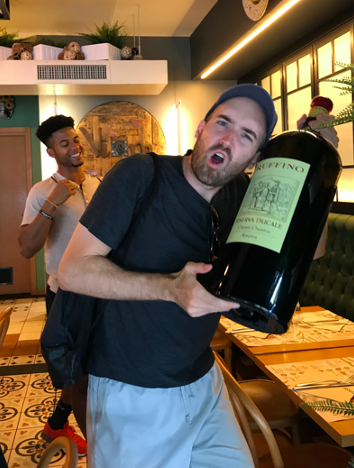 Selected for his ability to always wake up to his first (or fifth) alarm, even on a Friday morning after a big night at Skeeps, our VP of Logistics is in charge of getting us up and out of the hotel on time. After growing up in the Chicago town that Mean Girls is based on, Steve fled the jungle and spent two years in London before Ross. You can find him saying "flat" instead of apartment, signing emails with "cheers", and inserting the letter "u" where it doesn't belong.
A marketing extraordinaire who will be interning at Pepsi this summer, Steve hopes to help plan next year's Super Bowl Halftime Show, with his favorite band as the headliner: LMFAO. Not only does he have dance moves that make the inflatable blow-up man at used car lot jealous, he single handedly won last year's BSchool Travel contest by posting a truly absurd (and yes, annoying) amount of MTrek content to his insta (which, by the way, is @skendallous). Always the instigator, our boy Steve will bring his antics to Thailand and ensure that every night is a hilarious one.
Two truths and a lie:
1) After an unfortunate incident involving the Blue Devil's mascot, Steve retired from his days as being the official Georgetown Hoya mascot (a large festive rock) and walked on to the crew team
2) Steve holds the title for most-liked post on the iconic instagram "Bald n' Beard" (@baldnbeard_official) and has even begun a career as an amateur beard painter during his time at Ross!
3) Steve was deciding between Ross and becoming a fully fledged expat in Singapore to lead marketing for Slim Jim Asia (thank goodness we snagged him!)