Suhana Sarkar and Anirudh Pratap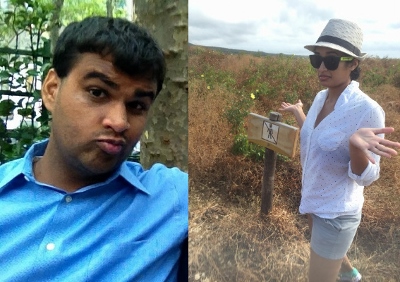 Suhana "Swagstress" Sarkar
Though Suhana questioned the idea of traveling to a country named after a substance she hates–she's almost always cold, she ultimately decided that it all just sounded like too much fun–she also suffers from major FOMO. Suhana is a contradiction in that she loves curling up with tea and Netflix, and equally enjoys clearing a space on the dance floor with her swagtastic moves. Actually nocturnal in nature, she's excited to have found a culture that meets her needs, as the Icelandic bar scene ends at 5 am. Just a word of warning, be careful with your Harry Potter references as she rivals Hermione in her magical knowledge.
Favorite Karaoke Song: Call Me Maybe by Carly Rae Jepsen
Anirudh "Karaoke Kween" Pratap
Anirudh will ensure there is plenty of Karaoke during our Mtrek festivities. A native of North Carolina (go on raise up), and an alum of the University of National Champions at Chapel Hill, he is still getting used to the cold of the Midwest. His talents include knowing the exact right play at the blackjack table, the words to most boy band songs, and FIFA (which actual documented results will prove his dominance over Andrew).
He is very excited to do James Bond things and "camp" during this trip, though is annoyed that for the second straight year he will be conducting fantasy football drafts from a different continent.
Favorite Karaoke Song: Only the Good Die Young by Billy Joel