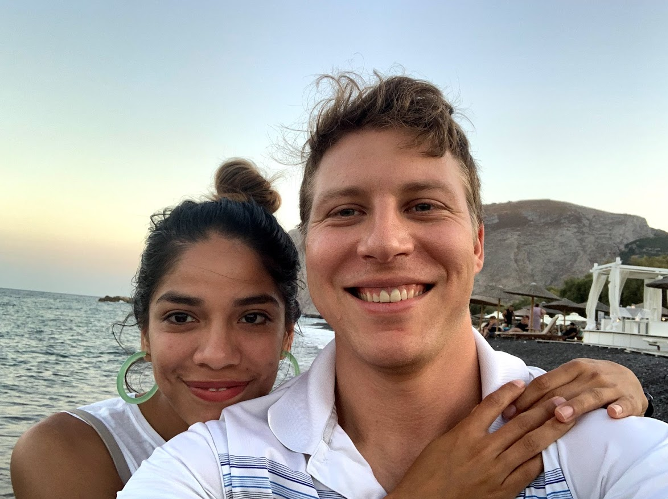 Tate
The Basics: I was born and raised in Grapevine, TX, but came to Ann Arbor through Washington, D.C., where I lived for 5.5 years. I have been a teacher for just about every grade between first and fifth and am currently teaching at a tiny, progressive school in a first and second grade classroom. In my kitchen you will always find pickles, chips and salsa, and a bottle of gin. My hobbies include reading, running (but please don't let me bore you about it – because I will if you let me), hiking, and enjoying a (good) cocktail.
How my partner would describe me: Forrest would likely describe me as someone who prefers a plan and likes to know what is happening next. He would also say that as long as I have had my morning coffee, have eaten, and have had enough sleep, I'm pretty fun to be around. (Ask him about my pillars of happiness, he loves to talk about that…)
Favorite place I've traveled: Our trip to Crete was amazing, but my favorite trip has been a hiking trip I took with my girlfriends that began in Montana and ended up in Banff. It was the perfect mix of hiking and karaoking.
Would you rather become an elite Viking warrior or an Olympic biathlete? Great question. Seeing as though I come from a line of Comanche warriors, it only makes sense that I would make an excellent Viking warrior. So naturally, I am choosing the one I'd be better doing.
Forrest
The Basics: I grew up in Texas but came to Ann Arbor from Washington, DC. I started out of undergrad in the defense industry but most recently was working at a boutique consulting firm before coming to Ross. My hobbies consist of studying for the GMAT, writing essays… just kidding. I'm always up for a drink (or multiple), talking football, and eating more meat. I'm currently pursuing a never-ending quest of "elite" status in Super Smash Brothers and negotiating with Tate around how big of a dual Smoker-Grill I'm allowed to get after school. Ask me about the social side at Ross, recruiting for consulting, and why I prefer diet coke vs. regular coke.
How my partner would describe me: Imagine Ron Swanson was a golden retriever.
Favorite place I've traveled:  South Africa, especially the area around Cape Town – welcoming people, beautiful scenery, and endless amounts of great food.
Would you rather spend an evening drinking a viking helmet full of aquavit (norwegian alcohol that means "firewater") or eating 5 lbs of lakris (licorice chocolate considered a gourmet Norwegian delicacy)?):  Assuming I have to eat the 5 lbs within the same timeframe as the firewater, give me the Viking helmet and I'm sure I'll be wearing it as a trophy by the end of the night.