Trip Region: Eastern Europe
Country(ies): Latvia, Estonia, Finland
Partners Trek? Yes
Cost: $1990
Airfare Estimate: $800
Structure: • Lodging: • Nightlife: 7 • Activity: 6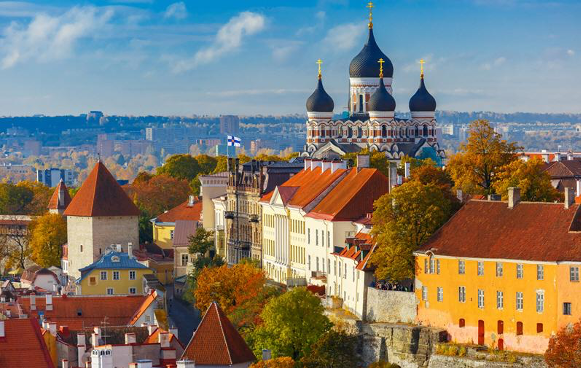 Do you enjoy pub crawling, eating great food, visiting historical spots, and spa culture (yes, it's a real thing)? Do you want to explore places on the less beaten path and be an influencer? If you answered yes to either of these questions, then come join us explore the up and coming Baltics for a wild adventure that will feature black balsam tasting (don't ask us what that is exactly) in Latvia, beach days at the "St. Tropez" of the north in Estonia, and paddle boarding in national Finnish forests. Who knew you could really have it all?
If you're ready for a once in a lifetime experience and to get ballistic in the Baltics, join the raddest MBA2 leaders and MBA1s around on this journey to pure bliss.
Day 1 — Saturday, Aug 15
Get some beauty sleep and drink wine on the plane because we are going to be ballin' in the Baltics!
Day 2 — Sunday, Aug 16
Welcome to the 10 best days of your life! Time to kick off our BALLin adventure in Riga, the capital of Latvia. Upon arrival, we'll meet to walk off our jet lag with a guided tour of Riga's historic Old Town and Art Nouveau district. Later that evening, the crew will be all aboard for a sunset cruise on the medieval moat in Riga. What did the moat protect? Who built the moat? Can you bring beers on the boat on the moat? A few questions we'll look to get to the bottom of. With glorious Instagram shots captured aboard our vessel, we'll end the first day with a group welcome dinner and a celebratory toast to all the good times to come!
Day 3 — Monday, Aug 17
Time to bring out your inner (insert favorite celebrity chef here: Ryan Casey/Chris Gradone/Ina Garten) for a cooking class where we'll be making traditional Latvian dishes! Most of today is ours to further explore Riga- so much to see in this incredible city. We'll also be sure to find a unique and cool happy hour spot to wine down after a big day of exploration.
Day 4 — Tuesday, Aug 18
The trip is still young! Today we'll be boarding a quick train ride to the beach town of Jurmala. Jur-making me crazy! Jurmala's a charming town in its own right, and the day is ours to hit the beach, explore shops, rent bicycles, or wine taste. We'll head back to Riga later that evening for our last night in Riga-ville.
Day 5 — Wednesday, Aug 19
Rise and Shine *insert Kylie Jenner's singing voice*. Today we will be crossing the border officially into Estonia and earning our activity points with a kayaking adventure in Soomaa National Park. If you have a fear of fish (like Jen), no worries, you can rejoin the group for a refreshing cider making workshop and tasting later in the evening.
Day 6 — Thursday, Aug 20
Welcome to Tallinn - the one and only capital of Estonia! Leave your heels in the suitcase for the charming, cobblestoned streets of Old Town. We will explore the city by day, paired with a guided food tour, and take on the hipster district of Kalamaja by night.
Day 7 — Friday, Aug 21
IT'S BOAT DAY! Mollie will be up at 4 AM this morning out of pure joy and excitement - she loves boats just as much as a fine Zinfandel from Napa Valley. We'll leave behind the debauchery that was Tallinn and head to the world's coldest capital city, Helsinki! Don't worry, we checked the average temperature in August and we're looking at high 60s, just brisk enough for a light Michigan sweatshirt. Upon arrival, we'll settle in to our chic AF hotel and explore the heated streets, wrapping our day with a family dinner followed by a night out on the town.
Day 8 — Saturday, Aug 22
Pack up your body suits and Finland's version of "slapped ears" (aka glorious cinnamon rolls), we're heading to Nuuksio National Park for a day of adventure! An actual national treasurer, but one perhaps Nicholas Cage has yet to explore, Nuuksio is home to crystal clear lakes, lush forests, and Siberian Flying Squirrels. We'll spend the day on the water and end our visit with wine tasting in the woods because we fancy like that. Afterwards, it's back to oh-capital-my-capital for a colorful night of cultural confusion and perhaps some Lingonberry flavored vodka at the local ice bar (Kelsey's mom highly recommends).
Day 9 — Sunday, Aug 23
Ready to make the most of our last full day together? Get on your Teva's, or whatever feet pillows you prefer, and let's explore the rest of Helsinki. We'll check out Suomenlinna Sea Fortress, known for its feature in Game of Thrones (not really, but we wish). We'll frolic around town and stop in at local breweries, per Colin's delight, and if we're down for #culture, visit Helsinki's world famous design museum or a local sauna oasis. We'll close out our journey with a celebratory feast and recap all of the embarrassing things from the trip we've sworn never to share with the outside world.
Day 10 — Monday, Aug 24
All good things come to an end. It's time to pack our bags and head back to good ol' Ann Arbor. While we will have sweat out all of our water at the sauna the prior day and likely have no tears to shed, there's no need to be sad. We'll reunite soon enough and relive our glory days. See you at the BUS!