Trip Region: South America
Country(ies): Argentina
Partners Trek? No
Trip Cost: $1895
Airfare Estimate: $1250
Nightlife: 3 • Activity: 3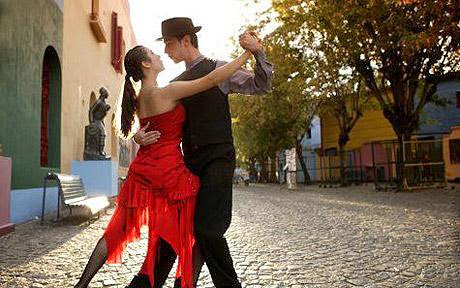 Tango. Malbec. The niagara falls of the southern hemisphere (maybe better?). What more could you want?
Buenos Aires is undoubtedly the Latin American city that most closely resembles the cosmopolitan and aristocratic atmosphere of the big European capitals. You will see the multi-colored tin houses of La Boca and popular tango ambience that thrives on the steets of San Telmo. The trek highligt will be the majestic Argentine Falls and the Iguassu National Park, which has been declared a World Natural Heritage site (UNESCO).
Day 1 — Saturday, Aug 29
Arrival in Buenos Aires. You will be transferred to your hotel by your guide, and the remainder of the day at leisure. Waching a soccer game.
Day 2 — Sunday, Aug 30
Buenos Aires: city tour & wine tasitng. Our journey begins with a 5 hour tour of Buenos Aires, including historical places. You will then head for San Telmo, one of the oldest neighborhoods in Buenos Aires. You will walk its cobbled streets, where the city's colonial past seems to come back to life. How about wine tasting.
Day 3 — Monday, Aug 31
San Antonio de Areco: Estancia Excursion. You will have an authentic day in the countryside at an exclusive estancia. San Antonio de Areco still has the Gaucho tradition. Traditional food degustation, horseback riding or sulkky ride.
Day 4 — Tuesday, Sep 01
You will fly to Port Iguassu in the morning. The rest of day you will explore Iguassu Falls on your own.
Day 5 — Wednesday, Sep 02
Iguassu Falls. You will walk on the upper trails above the waterfalls and the lower trails at the feet of the waterfalls. Next you will be taken on the "Great River Adventure": This tour combines a jungle trip with a sailing to the falls. You will finish with a nice shower under the falls.
Day 6 — Thursday, Sep 03
You will come back to Buenos Aires. Ready to learn Tango?
Day 7 — Friday, Sep 04
Tigre Delta: You will take a boat ride through the waterways, an experience that can only be described as a mixture of the Thames and the Amazon. Tango show?
Day 8 — Saturday, Sep 05
Return flight to Detroit with a lifetime of memories.
Day 9 — Sunday, Sep 06
Arrival in Detroit.
Narae "Beautiful Song" Yoon
Adorable…(Check) Beautiful…(Check) Charming…(Damn Straight). Meet Narae, your MTrek leader who dreams about doing something romantic for a living. Get ready for a trip of gluttony while in her presence, because whatever restaurants she chooses you will enjoy. Narae loves travelling, hiking, and photography and believes in the quote "I wish my true heart reaches to you." Also she loves emoticons, so be prepared 😀
Andrew "Andy Bernard" Lamkay
Combine the swagger of a 90s Boy Band and the soul of Huey Lewis and the News and you've met your trek leader Andy! The de-facto camp counselor of the group, ask Andy about being a twin, his time in an NSYNC cover band and his claims of being a reformed middle school bad boy. Just don't ask him about whether 90210 or The OC was a better FOX show.
John "Aussie John" Thompson
Straight from the outback down under, John came to Michigan because living in a perfect country with perfect weather and beaches just didn't seem as exciting as this frozen tundra we call Ann Arbor. Join him in taking on this new adventure and enjoy the Australian accent while he regales you with stories about drop-bears and eating kangaroo.
Lavender "The Banker" Li
The other beauty of the group, don't be fooled by the pretty face. Lavender is the brains of this operation and can and will drop knowledge on you until you are convinced you didn't actually know anything in the first place. Just maybe though, if you're lucky, she might teach you some of her dance moves she picked up dance battling on the streets of Hong Kong.