Trip Region: Eastern Europe
Country(ies): Czech Republic, Slovakia, Hungary
Partners Trek? No
Trip Cost: $1999
Airfare Estimate: $1250
Nightlife: 8 • Activity: 6
Do you enjoy learning European history, trying local cuisines, and staying at creepy mountain hotels? Picturesque European cities, wine tasting, and hikes through lush green forests? Karaoke, local beers, and late nights on the dance floor? If so, then this trip is for you!
From exploring the streets of Prague to hiking the mountains of Slovakia to promanading along the waters of Budapest, we promise adventures, misadventures and the best friendships and memories to carry you through your two years at Ross!
Travel Day — Friday, Aug 16
Congrats, you survived orientation and now are headed off on the trip of a lifetime! Grab your bags, wave Skeeps goodbye and say Ahoj to Central Europe.
Day 1 — Saturday, Aug 17
Kicking things off in Prague. We'll have a welcome meeting at 6pm where we'll meet our fearless guide who will be with us for the entirety of our journey. We'll follow this up with dinner, drinks, more drinks, probably karaoke, foot races, drinks…
Day 2 — Sunday, Aug 18
Time to shake McDangerzone out of her jet lag/McD's hangover and hit the town! We'll start the day with a walking tour where we'll check out some buildings even older than the MBA2s, learn how the Czechs calculated ROIs/became inimitable long before the core, and probably get lost. At night, we'll head to Old Town to indulge in a nice little Czech food tour. What kind of food do Czechs eat you ask? We'll be figuring that out with you! But we're sure we'll be washing it down with some delicious Czech beers, or Aperol if you prefer Sporty Spritz's style.
Day 3 — Monday, Aug 19
Free day! Maybe go check out a castle, visit the Lego Museum (or Communism Museum if you're into that sort of thing), walk the Charles Bridge, get IG content at the John Lennon Wall, sit in a bar... it's all up to you! We'll regroup for dinner and see where the night takes us, it is our last night in Prague!
Day 4 — Tuesday, Aug 20
To the mountains we go! We'll say "Ahoj" to Prague and set out to the Tatra Mountains, the natural border between Poland and Slovakia. Once we arrive, the time is yours to explore this beautiful and quaint town. We will rendezvous for dinner and spend the evening under the stars, listening to the tall tales of Juan Direction.
Day 5 — Wednesday, Aug 21
Today we hit the trails to walk off all that Czech beer and take in the picturesque nature that awaits us in the Tatras range. After a healthy bit of exercise and attempting to keep up with BBB 2.0, the afternoon is yours to explore the mountains, ride the funicular or take advantage of the hotel's amazing spa offerings. We will rendezvous for an evening of fun and friendly mountain competition to see if anyone can dethrone Photo Finish.
Day 6 — Thursday, Aug 22
Wine Anyone? We depart the mountains for Eger and the Valley of the Beautiful Women where we will mosey from one wine cave to the next tasting the infamous nectar of Hungary. Once everyone gets their fill of Bull's Blood, we will hit the town for dinner followed by a night of drinking and dancing.
Day 7 — Friday, Aug 23
The morning is yours to nurse your hangover, visit the Eger Castle, wander through the archbishop's garden or even head to the nearby thermal baths. In the afternoon we make our way to the home of the Rubik's cube, Budapest. Once settled in, we will check out kerts and sip some Fröccs while taking in the city's nightlife.
Day 8 — Saturday, Aug 24
Put on your walking shoes, we are hitting the streets! Today we will stroll the Danube River, take in views of the iconic Parliament building, explore Buda Castle and indulge in the local fare. After a day of touring the City of Baths, we will relax our feet in one of Budapest's 118 mineral pools. That night we will indulge Photo Finish and check out the hipster vibes of the ruin bars.
Day 9 — Sunday, Aug 25
It's our last full day in Budapest and we are going to make the most of it! After a leisurely morning on your own, we will sample some of the finest beer and pub fare Budapest has to offer.
Departure Day — Monday, Aug 26
It's time to pack your bags, say your goodbyes, buy Mom a souvenir, and get Mark to snap one last exotic pic for your Bumble profile. We can't believe MTrek is over! Time for Fall A, kiddos.
Yuwei "McDangerzone" Li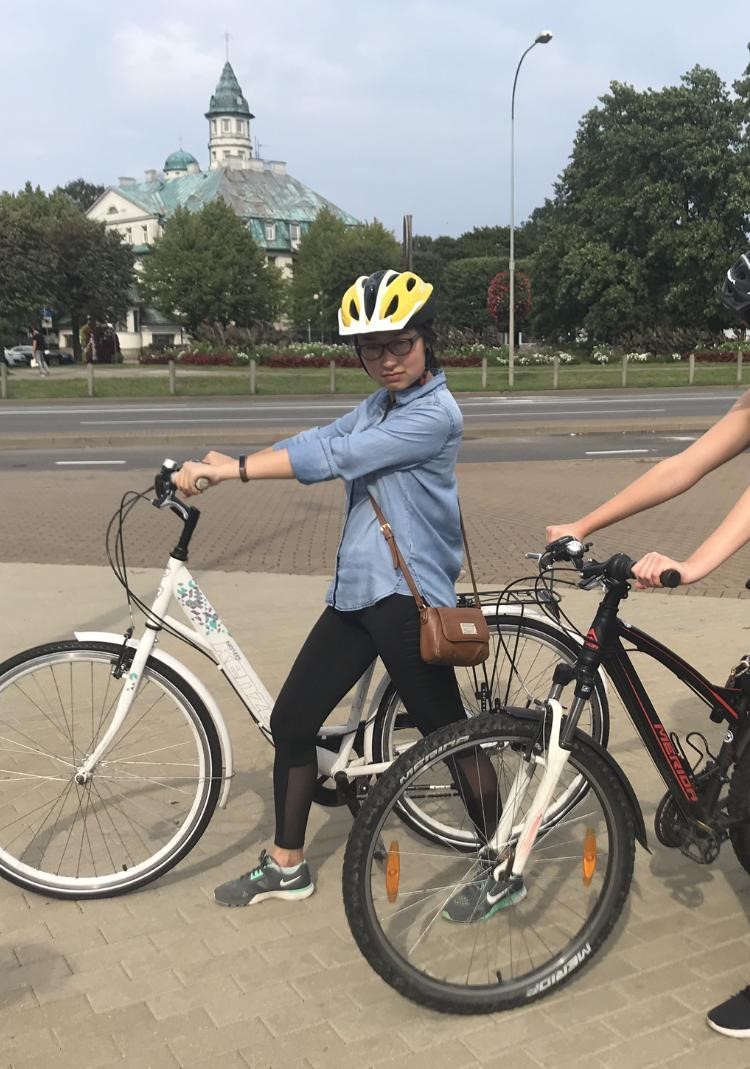 Yuwei's favorite candy is Sour Patch Kids. Have you ever seen a commercial for Sour Patch Kids? Where the cute little candies do despicable things and then act like they did nothing wrong? That's Yuwei. She can't be trusted. If Director of Admissions was Gru, the MBAs would all be minions… except for Yuwei. She'd be the evil purple minion. As a former consultant turned techie, Yuwei is a crafty manipulator and now is learning how to use data to do it even more effectively.  When she isn't eating Cottage Inn Pizza with her roomies or yelling at her BF to get her another vodka soda at Skeeps, Yuwei can be found pretending to read TechCrunch in the Winter Garden (she's actually watching animal vids on FB).  When it's 4am and all the local fare is closed —  you can count on Yuwei to be your guide to the late night grub scene wherever you are.  This girl can sniff out a McDonald's from a mile away.
Sara "Sporty Spritz" Oliphant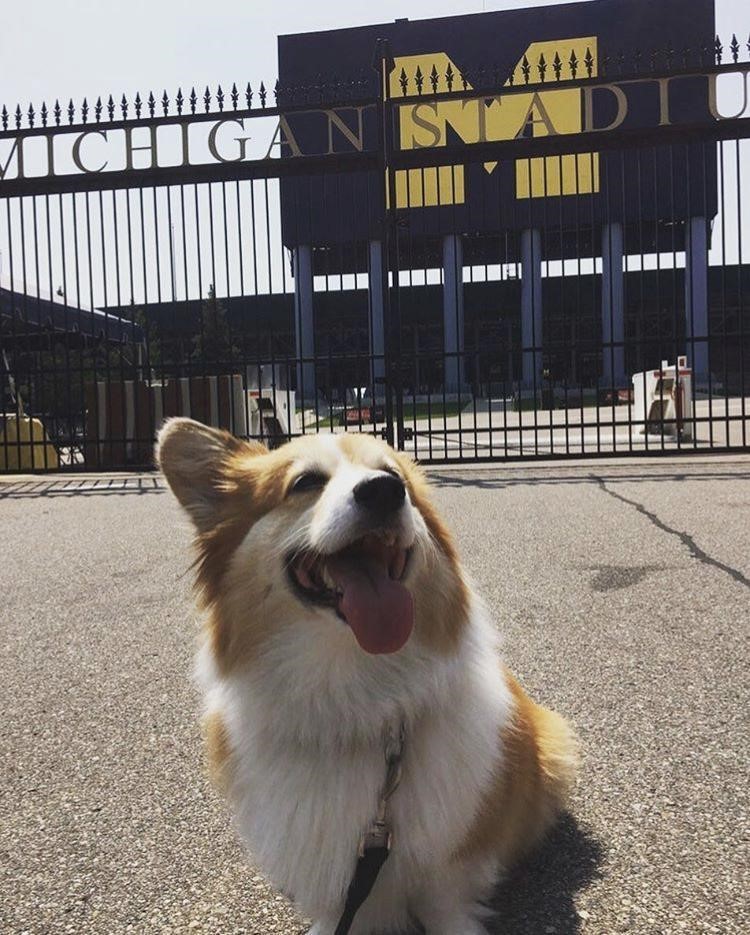 See that picture? That's Huxley. Huxley is the fluffiest, most adorable pup in all of Ann Arbor. He's a grad student's best friend and a great travel comrade. In fact, you should follow him on IG (huxley_the_fluffiest). Unfortunately the Mtrek board is filled with tyrants and made up the rule that leaders must be "humans", so we had to bring Huxley's mom, Sara "Sporty Spritz" Oliphant, instead. Huxley's mom is from Louisville and thinks she's so cool because she says y'all. She got kicked off the dance team at DePaul after freshman year for "violations" and worked at Red Bull until she realized all of her coworkers were born when she was in high school. Huxley's mom will be consulting this summer since it's the adult thing to do, but you'll see her true colors shine while she's knocking back aperol spritzes and giving dirty looks to Mark and Juan. And don't say we didn't warn ya, don't stand next to her on the dance floor unless you're hoping to like you're doing the Elaine dance to the latest European pop hits.
Juan "Juan Direction" Alvarez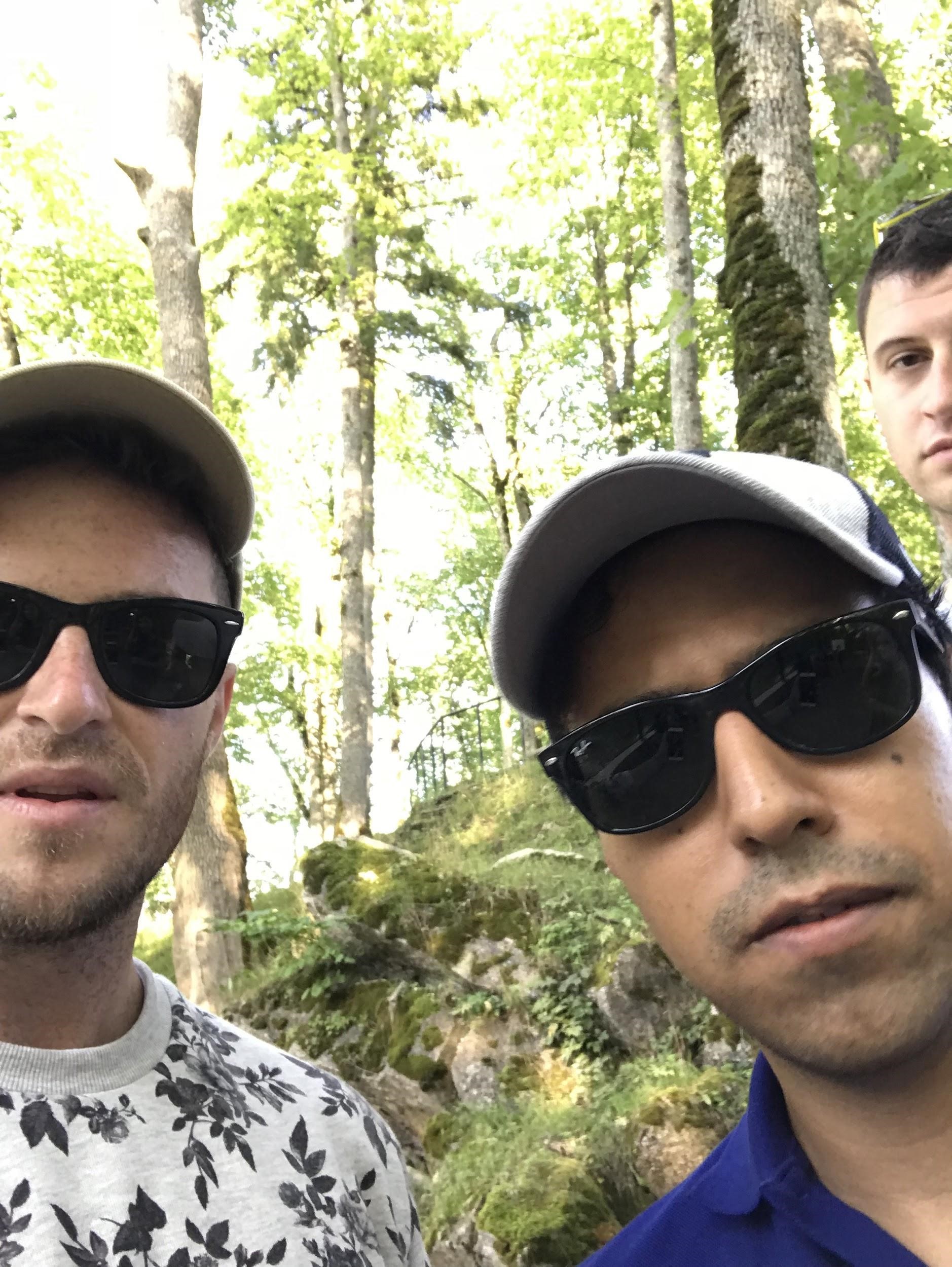 Juan is just like a cat.  No, he is not cute and cuddly.  He's not even sleek or agile.  Heck, he isn't even that friendly.  So why is Juan just like a cat?  Well, he's almost died 7 times and we never know where he is.  We do know that Juan goes to Ross (we don't know what he does there) and this former badass lawyer from Colombia has the voice of Maluma and the body of Shakira.  He has stories aplenty from growing up down south and if you're lucky enough, Juan will pretend to invite you to his "cottage" that his brother and he built (it's actually a villa) (he'll never plan it, so don't get your hopes up).
Don "Black Balzam Blizzard" Borschel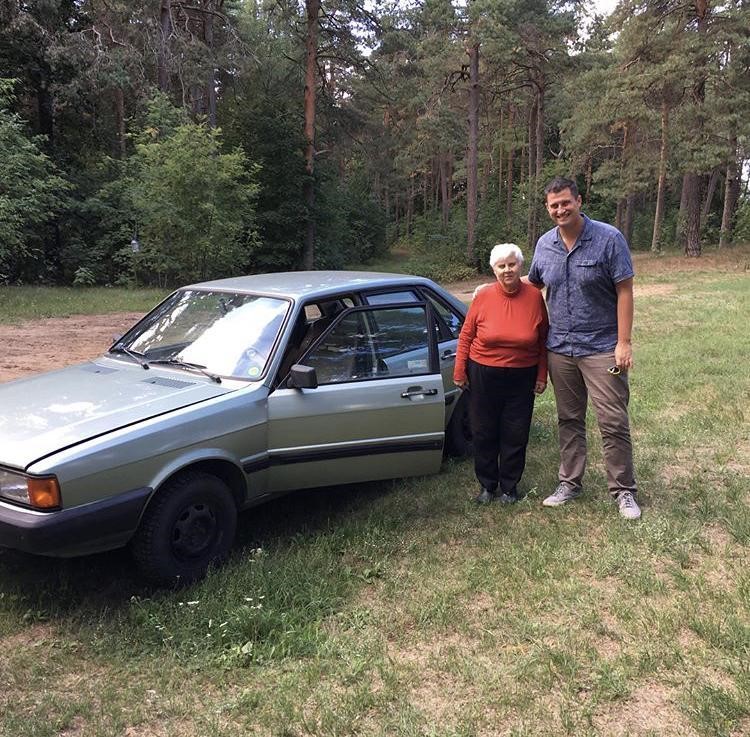 Naturally, your parents might be concerned with your safety as you venture abroad. But with the protection of the Black Balsam Blizzard – you can tell them that, You. Are. Safe. (His Long Lost Latvian Fam, above, can confirm after he checked in on them during our last MTrek). His tall stature will intimidate any intruder and he'll leverage his ex-consultant genius brain to strategize and solutionize you away from harm. On his free time, the BBB enjoys grabbing a beer (okay multiple beers) and cheering on the [insert any Chicago sports team]. Unfortunately, every Achilles has a heel. Donnie limped his way through MBA1 as he suffered a knee injury from his mad dance moves at the BUS…or was it Skeeps? But don't worry boys and girls, this is the summer of BBB 2.0. With his new knee and attitude, he'll be up for anything – even if it means dancing to and singing a Miley Cyrus duet with you at 2 AM that may or may not get you kicked out of a karaoke bar in Europe.
Mark "Photo Finish" Douple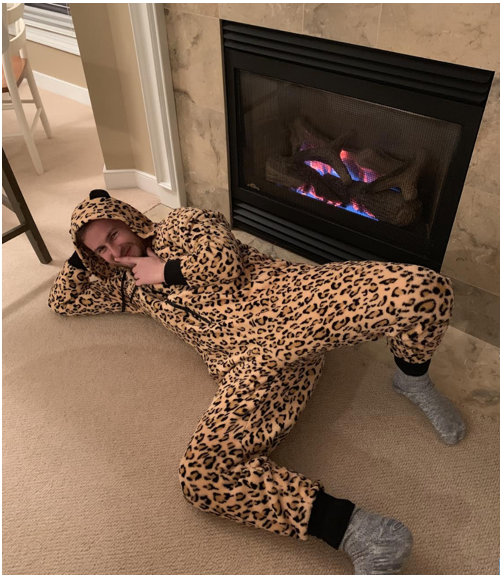 Have you ever met an Eagles fan you actually liked? Well, we didn't think it was possible until Mark "Photo Finish" Douple sprinted into our lives.  When he isn't watching the Eagles lose, playing soccer, or challenging you to a foot race, this Philly-native can be found at Garage Bar, taking full advantage of the happy hour specials. PBR, anyone? Behind the facade of his Peace Corps days in Cambodia, lies an aspiring Insta-star. The Kardashians won't know what hit them as Photo Finish™ collects his fans one country at a time. His drive to become bigger than Kylie Jenner led him to Ross where he has mastered the 4 P's and 5 C's of Marketing that will skyrocket him into insta-stardom. He is truly the hero you neither need nor deserve, but will force his way into your heart and your IG feed one post at a time. If you were looking for a new Bumble profile pic, have no fear,  Mark won't let you leave M-trek without one.
Catherine "Kevin Bacon" Mullin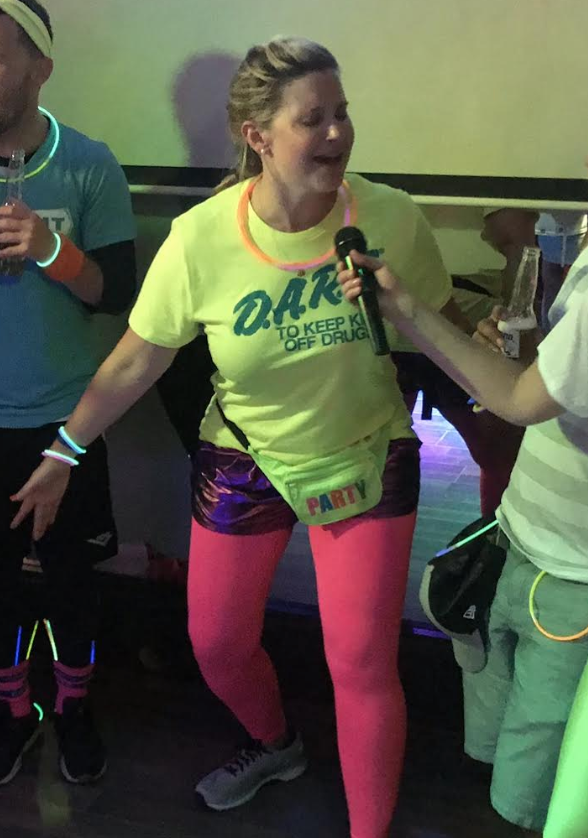 Every trek has a resident treehugger, but ours is by far the coolest.  Enter Catherine "Kevin Bacon" Mullin.  Prior to Ross, this Colby-grad called Wall Street home. Literally, she never left Goldman.  After five long years running Wall Street, she decided it was time to chase another type of green.  Dedicated to all things sustainable, you can always catch her sipping water from her Swell.  Or is it wine? She'll never tell.  When she isn't planning her next adventure with the Mullin clan, Catherine can be found in a karaoke bar belting her rendition of "Footloose." And if there is a costume competition, watch out trekkies.  Not only will her fit be on point, it will also be made of recyclable materials.  In all seriousness, Catherine has a heart of gold and can't wait to navigate her second and third years at Ross with you.