Trip Region: Western Europe
Country(ies): Norway
Partners Trek? Yes
Cost: $2650
Airfare Estimate: $1500
Structure: • Lodging: • Nightlife: 6 • Activity: 9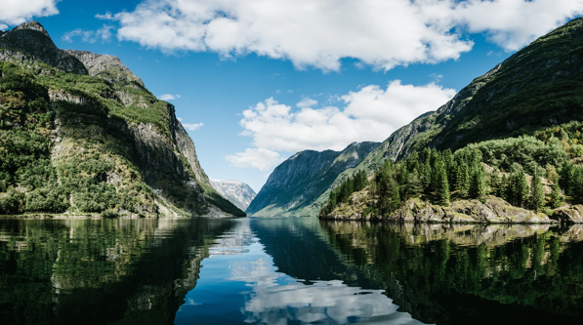 Grab your Viking helmet and drinking-horn as we voyage to the Land of the Midnight Sun in search of crystal clear fjords, colorful seaside towns, and the best beer on this side of the Aurlandsfjord. We'll start our expedition in Oslo, where we'll be taking in the sites of this  irresistibly charming and eccentric city. After traveling the railroad past alpine lakes and ancient glaciers, we'll explore the harbor city of Bergen. In this UNESCO World Heritage area, we'll wander through a town reminiscent of a 64-pack of Crayola crayons and stroll through forests full of trolls. Along Sognefjord, Norway's deepest and longest fjord, we'll kayak and hike, taking in villages hidden among the majestic cliffs. Finally, we'll finish our Norse adventure with a round of aquavit at one of the country's most renowned brewpubs.
Discover a land of friluftsliv (open-air living), of koselig (feeling cosy and content), and of skål (cheers!), and join us in Valhalla for the best week of your life!
Day 1 — Sunday, Aug 16
Velkommen til Oslo! Founded as a Viking settlement in 1040, Norway's capital city has an enormous amount of history and culture, just waiting for you to discover it. Once settled in, we'll get together in the evening to meet our group leader and fellow trekkers. After that, let's go out on the town for some traditional Norwegian fare.
Day 2 — Monday, Aug 17
Embrace your inner Viking as we start our first full day in Norway island hopping on the Oslo Fjord. Just minutes away from the bustling city center, each island has its own character and charm worth exploring. After that, we'll delve into the city itself. Possibilities include visiting nearby Holmenkollbakken (part ski museum and part art exhibition with the very best views of the city and its fjords), putting the hammer down at the Viking Museum, browsing the harbour-front Astrup Fearnley Museum of Modern Art, or exploring the immense Akershus Castle & Fortress. We'll finish out our day by tasting local flavours at the food hall, Vulkan.
Day 3 — Tuesday, Aug 18
Today, we'll leave Oslo behind and take the train across the stunning countryside of the Fjell region to Bergen, "Gateway to the Fjords" on the southwestern coast. No other train ride between two cities in Europe is at a higher altitude than this one, and few can match the views passing by your window. Linking Norway's two main cities, this line takes in some spectacular scenery of lush valleys, idyllic villages, dramatic mountains and picturesque lakes as it crosses the Hardangervidda Plateau. We'll arrive in the quirky new city in the evening, so we'll end our day with some delicious local seafood.
Day 4 — Wednesday, Aug 19
After breakfast, we will head out for a guided walk around the Bryggen area of the city, the birthplace of Bergen (or, if you like, its "Bergen-ing"). With its colorful wooden houses, Bryggen is a UNESCO World Heritage area and one of the world's greatest harbour cities. It's surrounded by mountains and fjords, including Sognefjord, the country's longest and deepest. Maybe we'll even take a dip!
Day 5 — Thursday, Aug 20
Today, take a funicular up to Mount Fløyen, one of Norway's most famous attractions. The trip starts from the city centre, just 150 metres from the Fish Market and Bryggen. The exciting trip up to the mountain is a magnificent experience in itself. From Mount Fløyen, you can enjoy the beautiful view, study the cityscape in detail and the seaward approaches and fjords surrounding Bergen. We'll be taking a hike from the top of Mount Fløyen, perhaps with a picnic lunch amongst the local troll population.
Day 6 — Friday, Aug 21
We'll be departing Bergen after breakfast and travel by bus and train to Gudvangen in the fjord region. The journey will take you through epic landscapes and remote regions, so have your camera at the ready. The typical Norwegian huts that we'll stay in tonight are located in a beautiful setting, surrounded by steep cliff walls with a perfect view of the spectacular crystal clear Kjelsfossen waterfall falling from the top of the fjords. Upon arrival, we'll be headed straight out to the fjord for a kayaking adventure.
Day 7 — Saturday, Aug 22
We'll meet up with our local guides this morning and embark on a hike along the western shore of the Nærøyfjord, another UNESCO World Heritage site. Experience gorgeous scenery with steep mountain sides, snow covered mountain tops, wild waterfalls and a vibrant cultural landscape. We'll be passing by farms holding on to the steep hillsides along the fjord and checking out tiny villages hidden among the cliffs. Ready for more food? The area is known for a strong food history and is particularly well known for its fruit, berries, lamb, game, mountain trout and goat cheese.
Day 8 — Sunday, Aug 23
Today we'll leave the Norwegian Fjords behind and travel by boat to the town of Flåm. After wandering around this charming village, we'll be putting our feet up at the Ægir BrewPub, known as one of the best craft breweries in all of Norway. In the Norse mythology, Ægir is described as a giant, the master of the ocean. Every year he invites the Norse gods to a great feast in his hall, where the beer and the food are magically transported to the guests and the drinking-horns fill themselves. According to Odin, Ægir brews the best ale. Let's test this out by sampling some of their beer and aquavit, the locally distilled spirit. Afterwards, we'll take the famous Flåm Railway to Myrdal and continue onto Oslo, where we will spend our last night in Norway together. At our final dinner, let's raise our drinking-horns in a toast to the Land of the Midnight Sun — Skål!
Day 9 — Monday, Aug 24
På gjensyn og farvel! After breakfast, pack up your Viking helmet and reindeer for your journey back to the New World. This will be the end of our voyage together, but we'll be looking forward to seeing all of our new friends in Ann Arbor!