Trip Region: Western Europe
Country(ies): Norway
Partners Trek? Yes
Trip Cost: $2650
Airfare Estimate: $1500
Nightlife: 6 • Activity: 9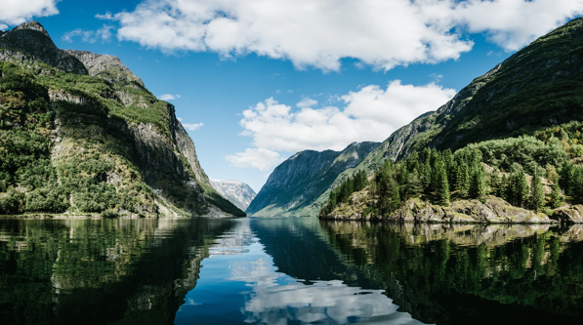 Grab your Viking helmet and drinking-horn as we voyage to the Land of the Midnight Sun in search of crystal clear fjords, colorful seaside towns, and the best beer on this side of the Aurlandsfjord. We'll start our expedition in Oslo, where we'll be taking in the sites of this  irresistibly charming and eccentric city. After traveling the railroad past alpine lakes and ancient glaciers, we'll explore the harbor city of Bergen. In this UNESCO World Heritage area, we'll wander through a town reminiscent of a 64-pack of Crayola crayons and stroll through forests full of trolls. Along Sognefjord, Norway's deepest and longest fjord, we'll kayak and hike, taking in villages hidden among the majestic cliffs. Finally, we'll finish our Norse adventure with a round of aquavit at one of the country's most renowned brewpubs.
Discover a land of friluftsliv (open-air living), of koselig (feeling cosy and content), and of skål (cheers!), and join us in Valhalla for the best week of your life!
Travel Day — Sunday, Aug 16
Velkommen til Oslo! Founded as a Viking settlement in 1040, Norway's capital city has an enormous amount of history and culture, just waiting for you to discover it. Once settled in, we'll get together in the evening to meet our group leader and fellow trekkers. After that, let's go out on the town for some traditional Norwegian fare.
Day 1 — Monday, Aug 17
Embrace your inner Viking as we start our first full day in Norway island hopping on the Oslo Fjord. Just minutes away from the bustling city center, each island has its own character and charm worth exploring. After that, we'll delve into the city itself. Possibilities include visiting nearby Holmenkollbakken (part ski museum and part art exhibition with the very best views of the city and its fjords), putting the hammer down at the Viking Museum, browsing the harbour-front Astrup Fearnley Museum of Modern Art, or exploring the immense Akershus Castle & Fortress. We'll finish out our day by tasting local flavours at the food hall, Vulkan.
Day 2 — Tuesday, Aug 18
Today, we'll leave Oslo behind and take the train across the stunning countryside of the Fjell region to Bergen, "Gateway to the Fjords" on the southwestern coast. No other train ride between two cities in Europe is at a higher altitude than this one, and few can match the views passing by your window. Linking Norway's two main cities, this line takes in some spectacular scenery of lush valleys, idyllic villages, dramatic mountains and picturesque lakes as it crosses the Hardangervidda Plateau. We'll arrive in the quirky new city in the evening, so we'll end our day with some delicious local seafood.
Day 3 — Wednesday, Aug 19
After breakfast, we will head out for a guided walk around the Bryggen area of the city, the birthplace of Bergen (or, if you like, its "Bergen-ing"). With its colorful wooden houses, Bryggen is a UNESCO World Heritage area and one of the world's greatest harbour cities. It's surrounded by mountains and fjords, including Sognefjord, the country's longest and deepest. Maybe we'll even take a dip!
Day 4 — Thursday, Aug 20
Today, take a funicular up to Mount Fløyen, one of Norway's most famous attractions. The trip starts from the city centre, just 150 metres from the Fish Market and Bryggen. The exciting trip up to the mountain is a magnificent experience in itself. From Mount Fløyen, you can enjoy the beautiful view, study the cityscape in detail and the seaward approaches and fjords surrounding Bergen. We'll be taking a hike from the top of Mount Fløyen, perhaps with a picnic lunch amongst the local troll population.
Day 5 — Friday, Aug 21
We'll be departing Bergen after breakfast and travel by bus and train to Gudvangen in the fjord region. The journey will take you through epic landscapes and remote regions, so have your camera at the ready. The typical Norwegian huts that we'll stay in tonight are located in a beautiful setting, surrounded by steep cliff walls with a perfect view of the spectacular crystal clear Kjelsfossen waterfall falling from the top of the fjords. Upon arrival, we'll be headed straight out to the fjord for a kayaking adventure.
Day 6 — Saturday, Aug 22
We'll meet up with our local guides this morning and embark on a hike along the western shore of the Nærøyfjord, another UNESCO World Heritage site. Experience gorgeous scenery with steep mountain sides, snow covered mountain tops, wild waterfalls and a vibrant cultural landscape. We'll be passing by farms holding on to the steep hillsides along the fjord and checking out tiny villages hidden among the cliffs. Ready for more food? The area is known for a strong food history and is particularly well known for its fruit, berries, lamb, game, mountain trout and goat cheese.
Day 7 — Sunday, Aug 23
Today we'll leave the Norwegian Fjords behind and travel by boat to the town of Flåm. After wandering around this charming village, we'll be putting our feet up at the Ægir BrewPub, known as one of the best craft breweries in all of Norway. In the Norse mythology, Ægir is described as a giant, the master of the ocean. Every year he invites the Norse gods to a great feast in his hall, where the beer and the food are magically transported to the guests and the drinking-horns fill themselves. According to Odin, Ægir brews the best ale. Let's test this out by sampling some of their beer and aquavit, the locally distilled spirit. Afterwards, we'll take the famous Flåm Railway to Myrdal and continue onto Oslo, where we will spend our last night in Norway together. At our final dinner, let's raise our drinking-horns in a toast to the Land of the Midnight Sun — Skål!
Departure Day — Monday, Aug 24
På gjensyn og farvel! After breakfast, pack up your Viking helmet and reindeer for your journey back to the New World. This will be the end of our voyage together, but we'll be looking forward to seeing all of our new friends in Ann Arbor!
Tate & Forrest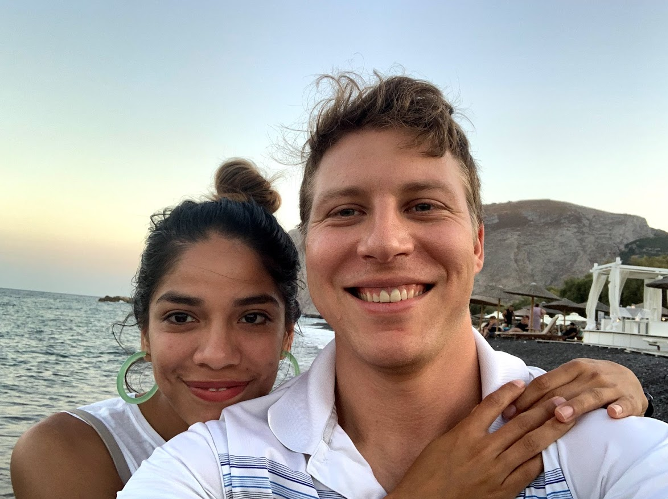 Tate
The Basics: I was born and raised in Grapevine, TX, but came to Ann Arbor through Washington, D.C., where I lived for 5.5 years. I have been a teacher for just about every grade between first and fifth and am currently teaching at a tiny, progressive school in a first and second grade classroom. In my kitchen you will always find pickles, chips and salsa, and a bottle of gin. My hobbies include reading, running (but please don't let me bore you about it – because I will if you let me), hiking, and enjoying a (good) cocktail.
How my partner would describe me: Forrest would likely describe me as someone who prefers a plan and likes to know what is happening next. He would also say that as long as I have had my morning coffee, have eaten, and have had enough sleep, I'm pretty fun to be around. (Ask him about my pillars of happiness, he loves to talk about that…)
Favorite place I've traveled: Our trip to Crete was amazing, but my favorite trip has been a hiking trip I took with my girlfriends that began in Montana and ended up in Banff. It was the perfect mix of hiking and karaoking.
Would you rather become an elite Viking warrior or an Olympic biathlete? Great question. Seeing as though I come from a line of Comanche warriors, it only makes sense that I would make an excellent Viking warrior. So naturally, I am choosing the one I'd be better doing.
Forrest
The Basics: I grew up in Texas but came to Ann Arbor from Washington, DC. I started out of undergrad in the defense industry but most recently was working at a boutique consulting firm before coming to Ross. My hobbies consist of studying for the GMAT, writing essays… just kidding. I'm always up for a drink (or multiple), talking football, and eating more meat. I'm currently pursuing a never-ending quest of "elite" status in Super Smash Brothers and negotiating with Tate around how big of a dual Smoker-Grill I'm allowed to get after school. Ask me about the social side at Ross, recruiting for consulting, and why I prefer diet coke vs. regular coke.
How my partner would describe me: Imagine Ron Swanson was a golden retriever.
Favorite place I've traveled:  South Africa, especially the area around Cape Town – welcoming people, beautiful scenery, and endless amounts of great food.
Would you rather spend an evening drinking a viking helmet full of aquavit (norwegian alcohol that means "firewater") or eating 5 lbs of lakris (licorice chocolate considered a gourmet Norwegian delicacy)?):  Assuming I have to eat the 5 lbs within the same timeframe as the firewater, give me the Viking helmet and I'm sure I'll be wearing it as a trophy by the end of the night.
Sonora & Josh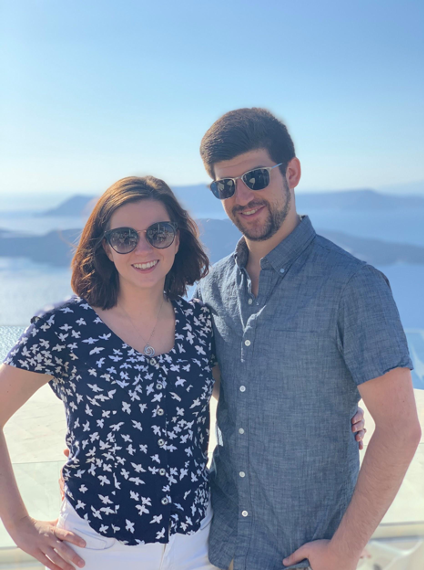 Sonora
The Basics: I grew up in sunny Los Angeles and will be (!!!) coming to Ann Arbor by way of Pittsburgh, where I've spent the last three years managing a climbing gym. After a childhood spent splashing in the Pacific, I am excited to dip my toes into the Norwegian fjords. In my free time, I enjoy making art, playing card games, swimming, and relaxing with Josh and our adorable doggo. (You want pictures of the pup? Oh, we'll show you pictures!)
How my partner would describe me: "Sonora is like a live-action Dora the Explorer."
Favorite place I've traveled: I grew up with an adventurous mom and a nomad dad, so this is a tough one. I would have to say that I especially loved dog sledding across the Finnish Arctic Circle and seeing Blue-Footed Boobies in the Galápagos.
Would you rather carve a norwegian troll or paint a viking ship with rosemåling?: Rosemåling is gorgeous! I'd love to paint a whole ship with those floral designs.
Josh
The Basics: I grew up in Princeton, New Jersey, playing guitar, video games, and baseball. For undergrad, I went to the University of Pittsburgh where I studied Finance and Political Science. While there, I studied abroad in Cyprus and Brazil. I love to travel around the world and learn about new places, cultures, but mostly foods. In my spare time, I prefer to be in the air flying planes, but when I'm on the ground, you can find me watching movies and going on hikes with Sonora and Loki, our dog (no relation to the Norse god of mischief). 
How my partner would describe me: "The human version of Boots, because no one can make Dora laugh the way Boots can."
Favorite place I've traveled: Definitely Iceland, where we trekked across glaciers, went caving, and snorkeled through a fissure in the continental divide. Plus, the best damn hot dogs I've ever had.
Would you rather bathe in a Fjord of ketchup or participate in a professional whale steak eating contest once a year?: Ketchup, because… Save the whales? But only if it's Heinz.
Janet & Johann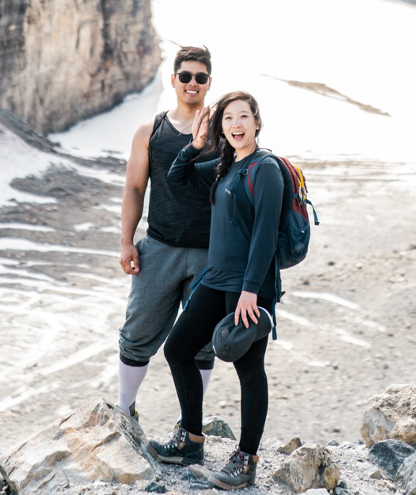 Janet
The Basics: Most recently hailing from Arlington, VA, I started my career teaching five-year-old kindergarteners and ended up as a marketer for an assisted living company that primarily served 85-year-olds (you can say that I have seen the full circle of life). Hobbies consist of grocery shopping, cooking, and eating…basically always making sure that the people around me and I are always well-fed.
How my partner would describe me: Perhaps overly reliant on the kindness of strangers to return lost items (I am not allowed to carry important documents/forms of identification when we travel). And happiest after morning pastries and coffee…or french fries.
Favorite place I've traveled: Ukraine for its endless fields of sunflowers.
Would you rather spend an evening drinking a viking helmet full of aquavit (norwegian alcohol that means "firewater") or eating 5 lbs of lakris (licorice chocolate considered a gourmet Norwegian delicacy)? Aquavit…. But only  because I don't like licorice. 😉
Johann
The Basics: I grew up in a medley of places, but most recently arrived at A2 from the DC area. I have been working for the U.S. Patent Office for the past 5ish years as a Patent Examiner and currently work from home. I enjoy any outdoor activity, e.g. climbing, hiking, fishing, and so on… I also love both video games and board games (but am not very good at them). I get easily addicted to things, so shows, games, sporcle, exploring random islands on Google maps, have all taken up more of my life than I care to admit. I was also only allowed to watch educational T.V. while growing up, so I know a large amount of useless animal facts from all those hours of Animal Planet (this is also why my childhood dream was to grow up to be a zookeeper).
How my partner would describe me: A mix between a snorlax and a slowpoke… but handsome (RIGHT JANET!?).
Favorite place I've traveled: New Zealand is my go-to answer usually… but I honestly don't remember much of it anymore. So….. the actual answer is probably Banff. (But soon to be NORWAY!!!!)
Would you rather spend a year living with a pack of wild reindeer in Hardangervidda plateau or spend a week saluting a king penguin (Sir Nils Olav III) while serving in the Norwegian King's Guard?: I would choose the reindeer. I feel like I would probably enjoy a year of chillin in the wilderness…. Although, I would probably get picked off by wolves or something for being the slowest. You win some you lose some I suppose.
Ariel & Royce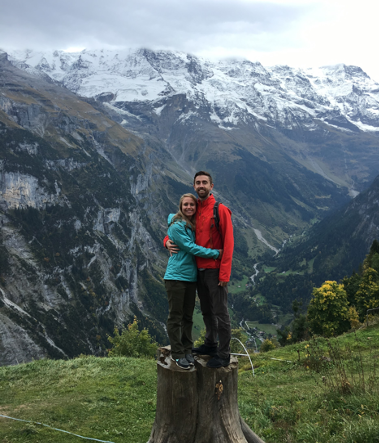 Ariel
The Basics: As a double wolverine, I actually bleed maize and blue. I grew up in Michigan, but most recently moved back from LA where I lived for 4 years and worked as an engineer for an aerospace supplier. I love being outside (you're probably noticing a theme in our group), sports, and all things dance (from ballet to dance parties and limbo competitions).
How my partner would describe me: A hangriness meter that needs to be continuously fed. Seriously though, a girl's gotta eat!
Favorite place I've traveled: This is too tough. Basically, anywhere with waterfalls.
Would you rather ski 54km in the Birkebeinerrennet race or sail the same distance in a viking ship? I've been dying to learn to cross-country ski! Plus, I'm a little scarred from an unusual sailing story (ask Royce to share sometime).
Royce
The Basics: I've lived in California most of my life and moved to Ann Arbor over the past summer. I currently work as an engineer for an automaker. I enjoy snowboarding, mountain biking, surfing, as well as craft beer (witbiers & pilsners).
How my partner would describe me: Glass half full kind of guy.
Favorite place I've traveled: Switzerland – the views are amazing and the pastries can't be beat. 
Would you rather skinny dip in Svalbard's icy waters or eat a truckload of Smalahove (smoked sheep head – with the eyes)? Easy choice – skinny dipping! Lakes are meant for swimming.