Trip Region: Middle East and North Africa
Country(ies): Jordan, Egypt
Partners Trek? Yes
Trip Cost: $2165
Airfare Estimate: $1500
Nightlife: 4 • Activity: 7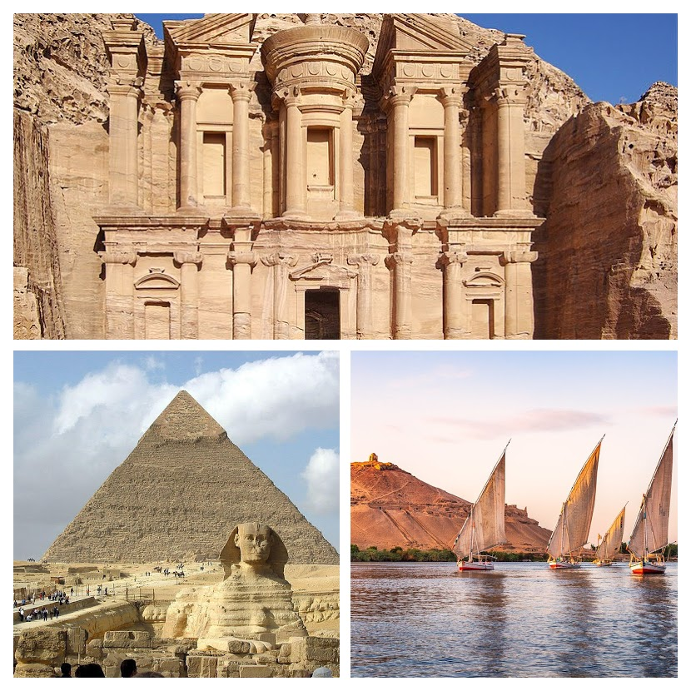 Are you coming to Ross with a partner? Are you a partner to an incoming Rosser? Join us on a once in a lifetime, unforgettable experience to the beautiful countries of Egypt and Jordan! This is the perfect trip with a little something for all the adventure seekers, culture enthusiasts, and food lovers out there. Looking to check off those bucket-list items? We'll be hitting up Petra, the Pyramids and Sphinx, the Dead Sea, and Wadi Rum. Interested in local culture? How about a Nubian homestay, local meals, and a night camping (glamping) at a Bedouin camp in the desert? You and your partner will also have a chance to get to know your fellow Rossers and partners better as you cruise the Nile on an Egyptian sailboat and ride an overnight train, solidifying your BFF status while you watch the countryside roll by. Sound like an ideal way to get your Ross experience off to a great start and make memories that will last forever? We think so!
Let the good times and lifelong friendships roll… We can't wait to meet you!
Travel Day — Sunday, Aug 16
Ahlan Wa Sahlan! Welcome to Jordan, cosmopolitan and contemporary, yet steeped in history. Your adventure begins with a Welcome Meeting and an evening on the streets, where you might pick up a coffee from one of the cafés and partner it with an ara'yes, a toastie filled with spicy mincemeat.
Day 1 — Monday, Aug 17
This morning you'll travel by minibus to Mt Nebo, the spot where the prophet Moses is said to have seen the 'promised land' and is supposedly buried. Explore this sanctuary and view the remarkable mosaics of the 4th-century church. On a clear day, the views over the Dead Sea to Israel are spectacular. Then you'd better have brought your swim gear as you can wash off the dust from exploring with a dip like no other. Drive to the shores of the Dead Sea, the lowest point on Earth (420 meters below sea level). This isn't actually a sea but a super-salty lake (dead because of the lack of life in it) where the density of the water means you'll go for a float, not a swim. Spend some time relaxing here and get some classic floating pictures. The mud here is supposed to have healing properties, so why not cover yourself from head to toe for a nutrient-rich natural mineral mud bath. Make a stop at the impressive crusader castle of Kerak, which stands on a cliff, sheer on three sides, and commandingly overlooks Wadi Karak and the Dead Sea in the distance. You'll have time to explore the evocative ruins – a seven level fortress, with many rooms and passageways buried deep into the hill – and to discover the legends of the 12th-century battles between the Crusaders and the Muslim armies led by the Arab hero, Saladin. You'll then continue on to Petra for the night (approximately 4.5 hours).
Day 2 — Tuesday, Aug 18
Petra is justifiably on most people's list of 'must-visit' places. It's the jewel of Jordan, the lost city of the biblical Nabateans, an impressive series of tombs and dwellings hidden behind ornate facades carved directly into the rock, and one of the new Seven Wonders of the World. Dating back to the 6th century BC, the site was lost to Western minds until it was rediscovered in 1812 by a Swiss explorer – he dressed up like a local to sneak in and then revealed the secret to everyone. Thankfully he did though, because this isn't something you'd want to miss out on. Squeeze through a mile-long narrow path, known as the Siq, through huge towers of rock and get your first glimpse of the iconic Treasury – it's impossible not to imagine the armies and traders who made their way down here in the ancient times. It's amazing to think that this awesome, intricate building entrance was hand carved out of the rock. The site is surprisingly big, and you can explore the old Roman road, temples and several old tombs, as well as the rock-hewn amphitheater. In the afternoon, you have the opportunity to explore the rest of the site at your own pace. For those with the energy, there's the challenging but highly rewarding walk up the steps to the stunning Monastery. Maybe seek out a Turkish bath for the perfect end to an incredible day.
Day 3 — Wednesday, Aug 19
Follow in the footsteps of Lawrence of Arabia with a short drive (approximately 2 hours) to the extraordinary desert scenery of Wadi Rum, a rugged moonscape of huge sandstone mountains. A 4-hour jeep safari will take you through some of the most beautiful and sublime desert scenery on the planet, a true highlight of this trip. Wadi Rum is full of weird and beautiful lunar-like rock formations, and traces of ancient civilizations can be seen in the many carved inscriptions found throughout the area, from pictographs to Thamudic, Nabataean and Arabic texts. The most enduring monuments in Wadi Rum are those carved by nature – the natural rock bridges, towering rose-colored sand dunes and scattered rocky peaks. Tonight you'll sleep in a simple desert camp, with the choice of sleeping under a camel hair tent or out under the stars. Enjoy a delicious dinner cooked in an earthen oven by your Bedouin (which means 'Desert Dwellers' in Arabic) hosts. Conditions are basic at the desert camp, but the hospitality of your hosts is legendary, and you'll treasure the memory of sleeping beneath the twinkling desert night sky. Notes: A mattress and blankets are provided. Western-style toilet facilities are available.
Day 4 — Thursday, Aug 20
This morning you'll leave Wadi Rum and head to Egypt to continue your adventure. You'll transfer to Queen Alia Int'l Airport for departure. Catch a flight today from Amman to Cairo, get picked up and transferred to your hotel upon arrival.
Day 5 — Friday, Aug 21
Check out your hotel, get ready, get set, for an experience of a lifetime – a half-day trip to the Great Pyramids of Giza! The Giza Plateau is a formation of three pyramids, where a father, son, and grandson constructed their afterlife tombs and mapped their journeys to the afterlife. It's still a bit of a mystery as to how the pyramids were constructed and how long they took to complete, but there's no question that the pyramids still represent the pinnacle of ancient Egyptian architectural accomplishments. The whole area, really, continues to hold many secrets yet to be uncovered, making the pyramids one of the most alluring and inviting places in the world. Our job is to help you tick off that bucket list item, and then some, with a tour to the pyramids that's going to prove to you why everyone reveres this site so much. We also treat you to a local lunch! Pyramids, Sphinx, and lunch? Oh my! Leaving the amazing pyramids behind, we'll head back out to the streets of Cairo and stop by a local restaurant for lunch where we'll be treating you to Koshary, a dish of rice, pasta, lentils, fried onions, and chili sauce, and a favorite among young local Egyptians. After lunch, we'll drop you back off at your hotel for refreshing before boarding the overnight sleeping train to Aswan. Bedding and air-conditioning are provided.
Day 6 — Saturday, Aug 22
The Nile, Elephantine Island and white-sailed feluccas: welcome to Aswan, Egypt's southernmost city. Its easy-going charm is due in no small part to its large Nubian population. Upon arrival in Aswan you'll board an iconic traditional Egyptian sail boat, a felucca, and sail until the sunset. After your time aboard the felucca, arrive at a Nubian homestay on the West Bank of the Nile. Explore the Nubian way of life here with a walk through the surrounding countryside and agriculture fields to reach the homestay. The tranquility of the location is indescribable. The house is in the Nubian style, with a sandy courtyard in the middle where the family gathers for meals, and to the sides are the rooms where they sleep. These are also the rooms that you'll be staying in for the night. There are few better ways to understand a country and its people than with a local homestay.
Day 7 — Sunday, Aug 23
Board a felucca, a traditional wooden boat with broad canvas sails, and spend a half day out on the river, watching rural Egyptian daily life play out on the banks. You then transfer to Aswan station for boarding the sleeper train to Cairo.
Departure Day — Monday, Aug 24
You're free to depart at any time after the early-morning arrival, but please do not arrange departing flights before 4pm in case of any travel delays or bad traffic.
Kate Reardon and Carly Massey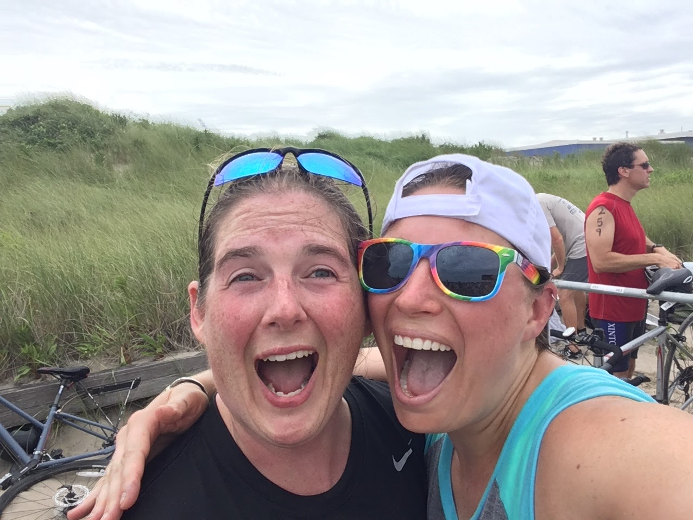 Kate 
The Basics: Originally from Newton, MA and have lived around the Northeast, currently Malden, MA (my home when not at Ross). Before Ross I worked in education, most recently as an Athletic Director at a high school. I'll be heading to Jordan directly from my summer consulting internship in Boston. I love playing sports and doing outdoorsy things but hate working out for the sake of working out. Other favorite ways to spend time are reading, playing games (Catan, Codenames etc), cider tasting, and watching the trashiest tv possible when my brain just doesn't feel like functioning (Below Deck and Top Chef- could watch all day- have watched all day).
How my partner would describe me: Forgetful- do not ask me details about anything I've read or watched more than 24 hours ago because I don't remember. Perhaps a bit dorky and spastic? This would of course come after she leads off her description with things like "brilliant" and "stunningly gorgeous". She would also say I'm a fantastic cat mom.
Favorite place I've traveled:  Tour du Mont Blanc. For the first part of our honeymoon, Carly and I spent over a week hiking around Mont Blanc, crossing from France into Italy and then Switzerland. Stunning scenery, amazing hiking, delicious food at the end of each day. Sometimes there was a surprise food and wine stop mid-day if we came around the corner to find a refuge halfway up a mountain. A truly indulgent 'backpacking' trip.
Weirdest quirk about my partner: When she runs, her feet kick out a little sideways and it's the cutest damn thing. Also she loves Stephen King and has read pretty much everything he's ever written, and she has an insane memory for things she's read/watched. 
My perfect MTrek day: An active excursion in the morning, work up a sweat to earn that delicious local lunch (love getting to know a culture through food) that's ideally eaten outside with a cool beverage, perhaps a shorter and less active afternoon experience that dives more into the local culture, a nap and shower at the hotel, and a fun long dinner chatting and getting to know fellow trekkers (dinner would also be outside- I love eating outside!).
Ask me about: Adjusting to Ross with a non-business background, my proposal/ring inscription, what it's like to live at your job (literally). 
Carly
The Basics: I am originally from Cape Cod, MA and have been in Boston for many years. I received my MBA from the University of Washington and have worked at Liberty Mutual Insurance since. I love running and other athletic activities – I currently complete at least one organized race a month, whether a 5k, 10k, mud run, or charity bike ride. At the time we're on MTrek I'll be just starting training for the Detroit International Half Marathon. When not exercising, I love reading, drinking beer or wine (I choose my wine based upon the label), and playing games (Catan, card games, Pandemic, etc.). I have a desperate desire to be crafty and do manage a couple projects a year – scrapbooks, bookshelves, Ikea furniture assembly – but mostly I plan and never do. I like to think I'm just creating a list for retirement!
How my partner would describe me: The ultimate putzer – I have a tough time sitting still for very long. There is always laundry to do, or a drawer to re-organize, or a pile of paper to sort. I love the sense of accomplishment this generates – I'll add things to my to-do list that I've already done just so I can cross them off. It often gets in the way of Below Deck binges…
Favorite place I've traveled: I think if I don't say Mont Blanc for my honeymoon, I may get some divorce papers. Truly an incredible experience – I especially enjoyed the days when we could drink a bottle of wine halfway through our hike while overlooking a phenomenal scenic outlook. I have never hiked more than a day in a row before, so it was definitely a test of fortitude to do 7 day hikes in 8 days! Wine and cheese helped a lot.
Weirdest quirk about my partner: Kate considers herself "dressed up" if she is wearing earrings. She can be clad in sweatpants and a sweatshirt, but if she has earrings in she is "dressed up" and ready to go out in public!
My perfect MTrek day: I would have to 100% echo my wife – morning excursion followed by delicious local lunch, diving into local culture, relaxing, and then wrapping up with a languid dinner over wine and more delicious local food.
Ask me about: Long distance relationship during MBA; Hiccup!; highly recommended books; my short-lived experiences living in Key West or the Philippines
Marcos and Tarcila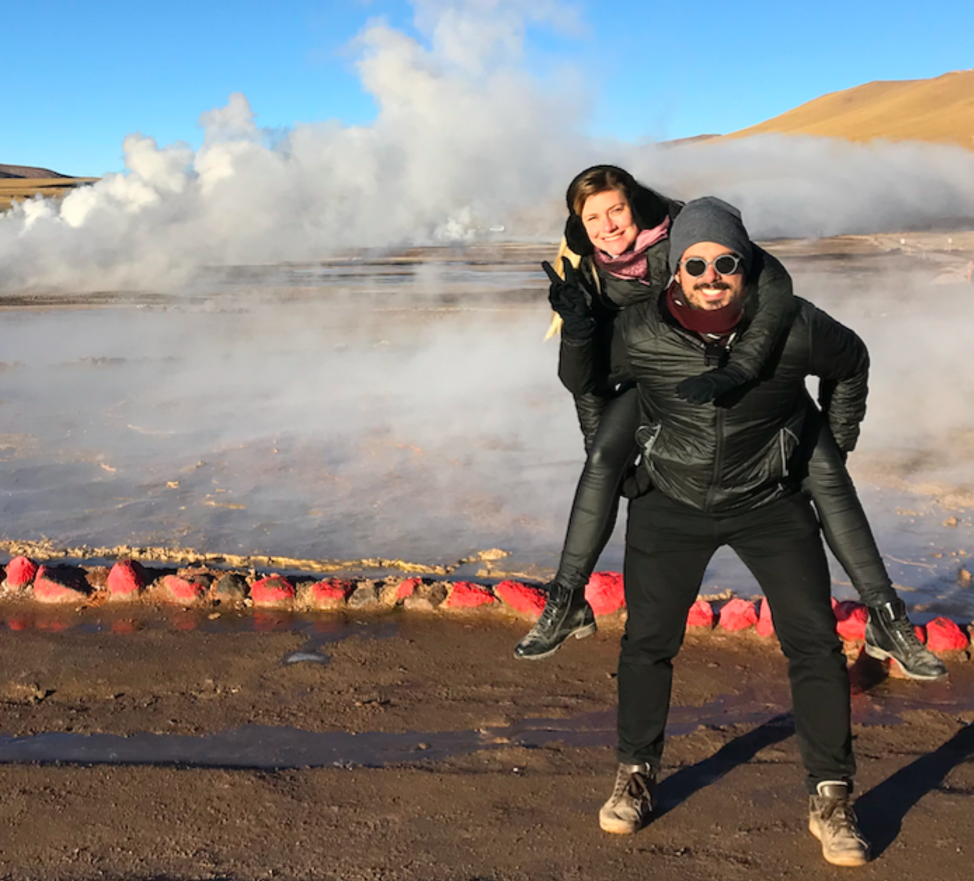 Marcos
The Basics: Originally from Rio de Janeiro, I've lived in several places and I always loved the sunny beach coast of Brazil. I'm an electrical engineer who also worked in management consulting and, prior to Ross, I was working for two Softbank ventures in Latin America. Outside work, I'm an avid sports fan (soccer, running, triathlon, frisbee, crossfit… you name it!). When not using my energy in sports, I'm planning my next backpacking trip or my next electronic music festival. Last year, my wife and I went to Tomorrowland in Belgium and it was a blast!
How my partner would describe me: As someone very organized (aka excel/Trello freak), who loves sports, Netflix, cooking. Perhaps also someone who's a bit nerdy and who never, ever, stops listening to music.
Favorite place I've traveled: Atacama Desert and Salar de Uyuni. These two places are magical and have an amazing energy. It's a combination of desert, rock mountains, beautiful lakes and landscapes and the largest salt desert in the world. We spent close to 12 days on an offroad trip to these locations and totally worth it!
Weirdest quirk about my partner: She eats raw cow's liver. Not kidding. Just a raw, red and juicy steak and she's on it.
My perfect MTrek day: I'm fully onboard with Kate and Carly's plan! It sounds like a great combination of getting to know new places, exploring nature and the cities and finish the day with a great wine (or beer!).
Ask me about: Electronic music festivals, life as an international recruiting for Tech/Operations, sports, beers and backpacking experience.
Tarcila
The Basics: Originally from Campinas/SP, I was raised and grew in Rio de Janeiro. I´ve worked with children and teenagers as a Portuguese teacher, before changing my career to Facilities management when I moved to São Paulo City when I worked as a Facilities Coordinator responsible for the company's infrastructure and employee's user experience for two amazing Tech Companies. Here in AA I enjoy the time that I have to develop my English skills, to take care of myself and to discover new activities and hobbies, such as photography and cooking.
How my partner would describe me: As bit indecisive when I have a lot of options to choose. Going to restaurants/bars with a big menu is always a 15 min brainstorm about what to order.
Favorite place I've traveled: Stonehenge is definitely a remarkable and mystical place, surrounded by an amazing landscape and with great history behind those stones. I loved it and I would definitely come back!
Weirdest quirk about my partner: My husband is a bit of a geek math lover, so everything that he can set as a number, it's always a prime number! For example: the volume on TV is always on 19, 23 or 29. He would set the microwave to 59 sec instead of 1min and so on…
My perfect MTrek day: I know that would be repetitive, but everyone before me answers exactly what I think it's the best Mtrek day, except the beer part, I prefer a good drink or wine.
Ask me about: Electronic music festivals, life as an international partner, dogs, astrology, cooking and hair tips.