Trip Region: Europe, Africa
Country(ies): Portugal, Morocco
Partners Trek? No
Trip Cost: $2350
Airfare Estimate: $1200
Nightlife: 7 • Activity: 5
Join us and fully immerse yourself in the culture of two unique countries on two continents: Portugal and Morocco. If you're interested in authentic local cuisine, wine tastings and tours, riding camels, or glamping in the desert, then this is the trip for you! You'll be joined by a crew of fun-loving MBA2s who can't wait to lead what will definitely be the best MTrek this year.
We'll start off in northern Portugal in the colorful city of Porto, a great introduction to Portuguese history, art, and wine. After tasting several types of wine while overlooking incredible views of the Portuguese countryside, you'll take a boat tour to see more incredible views of the valley and vineyards. After Porto, we'll head to Lisbon, where you'll take a walking tour with a focus on food, as well as the history and architecture of the city. In the evening, you'll enjoy a boat party at sunset to round out your experience in Portugal with a beach day. Next up, we'll kick off our stay in Marrakesh with a VIP club experience, followed by a tour of the medina the next day. After falling into food comas from yet another food tour, enjoy hammam massages at the local spa. Next, lace up your shoes for a hike through the beautiful Atlas mountains before we finish out the week with glamping in the desert, which wouldn't be complete without a camel ride, private dinner, and open bar!
Travel Day — Saturday, Aug 15
And we're off! Plan to depart from Ann Arbor on Saturday evening to arrive in Porto by Sunday morning.
Day 1 — Sunday, Aug 16
Welcome to Porto! After checking in at your hotel in Porto, enjoy an Orientation Walk to discover the area near your hotel. Porto is a charming city divided by the Douro river. On the other side of the Douro we can find all famous Port Wine wineries, and after the walk you can try some.Then we'll all grab some shut-eye to stave off the jetlag and energize us for our first full day together.
Day 2 — Monday, Aug 17
Get excited for your first full day in Portugal! We'll start off the day with breakfast at the hotel before heading to learn about the wine making process at Douro Valley. It wouldn't make sense to come to Porto without sampling its most famous export: Port wine. Embark on a private tour and visit two different wineries. Breathe the fresh air in the countryside, discover the vineyards, and taste some local wines in the wineries. You will enjoy a local lunch in a restaurant and before going back to Porto you will enjoy a boat tour with the amazing views of the valley and the vines.
Day 3 — Tuesday, Aug 18
Today we travel to Lisbon, the Portuguese capital. After your arrival you will enjoy a walking tour with a focus on food. Learn about the history and architecture in Lisbon, but also about the local liquors, pastries and sandwiches and try some of these along the way. In the evening you will enjoy a boat party on the Tejo river. Enjoy the sunset and the amazing views of Lisbon with music and the best company.
Day 4 — Wednesday, Aug 19
Today is yours at leisure. For those interested in having a beach day, our tour guide will show you the best beaches in the area so you can enjoy some sand and sun. There will be a list of other optional activities for those interested in more cultural experiences or visits to other sights around the city. Tonight, enjoy a delicious meal in the city center with your new best friends.
Day 5 — Thursday, Aug 20
Today we'll bid farewell to Portugal and fly south to Morocco. Welcome to Marrakesh! After settling in and grabbing dinner, enjoy your time in a famous night club.
Day 6 — Friday, Aug 21
We're getting big time some steps in today! After breakfast, meet your local guide and set off on a afternoon tour of the old medina, through the bustling souks that are the lifeblood flowing through the city. Explore tranquil courtyards filled with the scent of orange blossom and the many salons and chambers that make up Bahia Palace. Onward, stop by the Koutoubia Mosque; its famous minaret is the prototype for others of its kind around the world. Then walk back through the streets of the old medina to Djemaa el-Fna. Afterward join a passionate local foodie for a true insider's guide to the medina and a tasting tour of the incredible Djemma el Fna. This is one of the largest public spaces in the world and unique to Marrakech. Snake-charmers, henna-painters, performers and storytellers share the square with a street food bazaar of stalls laden with Moroccan delicacies – it's sure to be a memorable start to your time in this city.
Day 7 — Saturday, Aug 22
Get your Insta captions ready! After lunch we will head to Agafay the rocky desert for glamping. Once you get settled in and relax at the camp, you will get to enjoy a camel ride at sunset. Afterwards, you will have a delicious Moroccan meal with an open bar to party the night away.
Day 8 — Sunday, Aug 23
Sadly, all good things must come to an end and today we will head back to Marrakesh for our last day of the trip. Enjoy a cooking class and learn how to make some famous Moroccan dishes such as a Chicken Tagine. There will also be the option to hit the spa and enjoy Hammam massages. Lastly, we'll finish out the week with a farewell celebration.
Departure Day — Monday, Aug 24
You are free to depart Marrakesh for Ann Arbor at any time today. But don't worry, we'll be sure to see each other again during our MTrek reunions in Ann Arbor.
Kalane "Kalonce" Abbey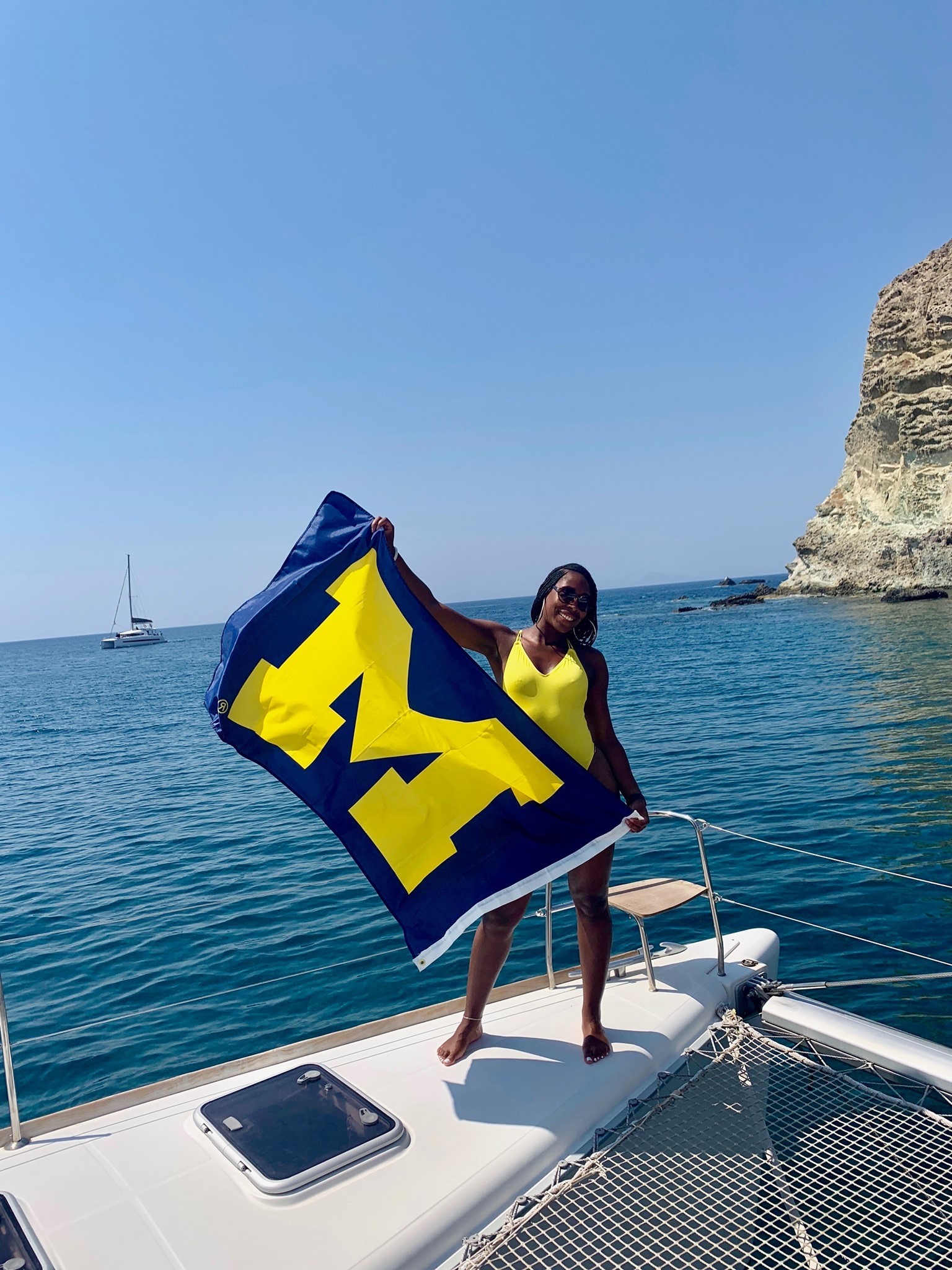 Never got the chance to see Beyoncé live? No worries- Kaloncé's got you covered! Whether it's inside a party bus making sure the Henessey is flowing on the way to Detroit or literally on TOP of the Ross bus at tailgates, you can be sure her Beyoncé renditions and energy level will never dip below 100%.
Hailing originally from the gorgeous Prince George's County, MD/DC, but a full blood Nigerian, Kalane is well versed on immersing herself in new cultures and is excited to do so with you! Prior to Ross, Kalane worked in DC at a healthcare tech and consulting firm doing business development and will be fresh off a BCG internship before MTrek (keep her in your prayers as she braves the Consulting lifestyle!)
As a future consultant, Kalane will optimize your trip potential, leveraging physical activity and #turnup, removing all bottlenecks to fun and a good time. While most times the mom (the cool one at that) of the group, she usually is the last one off the dance floor and the first one to the bar.
Lauren Montgomery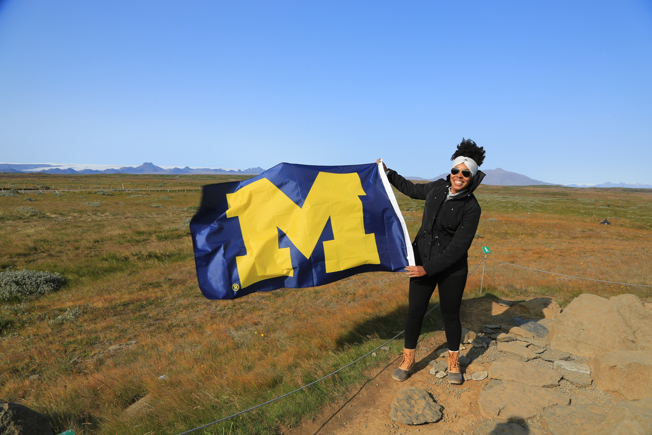 Lauren (aka LoMo) is still trying to adjust to Midwestern winters after living in Miami but that hasn't stopped her from venturing out into the cold to try nearly every restaurant in Ann Arbor! As an "almost" child star, she isn't one to shy away from the stage, and as the group's resident expert in musical theater, she is always ready for a dance-off or karaoke, where she is rumored to sing in French after enough vodka sodas. "Lit Lauren", her alto ego that rivals Sasha Fierce, may even make an appearance if you're lucky! Since she is pretty much immune to hangovers (cue collective groans of jealousy), LoMo is always down to dance the night away and still be up and smiling for 8am Orange Theory the next morning.
Lauren is excited to become a true wine aficionado, and as a procasti-baker who makes white chocolate cookie butter blondies at 11pm instead of studying for finance, she is excited to sample all the delicious food and dessert Portugal and Morocco have to offer. As a Gourmet Club VP, she also may be secretly scoping out ideas for future events, and don't be surprised if she makes everyone wait so she can take the #perfectpic for #foodstagram.
Prior to Ross, Lauren worked in operations and is pivoting into brand management. She did her undergrad at Vanderbilt University in Nashville, is originally from Dallas, and was living in Miami before coming to Ross.
Kenny Hastrup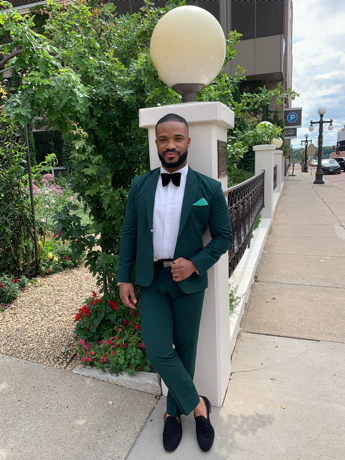 Kenny hails from the harsh winters of Minnesota, but is Nigerian born. Kenny is open and welcoming to dabble in new things as can be noticed from his eclectic taste; ranging from his love for Korean and Chinese dramas, Korean pop music, afro-beats, romantic comedies, Japanese comics etc.
Prior to Ross, Kenny worked in supply chain and demand planning at both Target Corporation and Best Buy Corporation. Kenny went to undergrad at the University of Minnesota, another BIG 10.
Kenny loves a good party and turns up; you can find him at most pregames with his own personal tequila bottle with a realime chaser. Kenny also loves to eat, sometimes eating food portions for 2 or 3 people.
Sadé Archie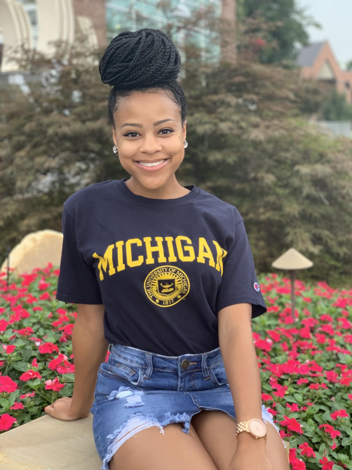 Sadé might be small, but she's bringing that BIG North Carolina energy to the trek! Hailing from Shelby, NC, Sadé is a true Carolina girl – you can catch her bumping DaBaby, grubbing on Bojangles or yelling "Go Heels, Go Blue!".
Prior to Ross, Sadé worked at a nonprofit as a College Adviser. As a non-traditional MBA student, she is happy to keep it real with you about how to make it through the core. But, whatever you do, don't ask her for help navigating around campus – she's the worst with directions. In fact, if you find her wandering around Ann Arbor, just point her to Frita Batidos so that she can order her fave – a Coconut Batido (with rum of course!)
Sadé is the perfect mix of chill and turn up. She loves a good party, good food and good people, and is always trying to make sure everyone is having a great time. On the trek, you can catch her pouring shots for the group – probably with a Mango White Claw in hand.
Kent Shen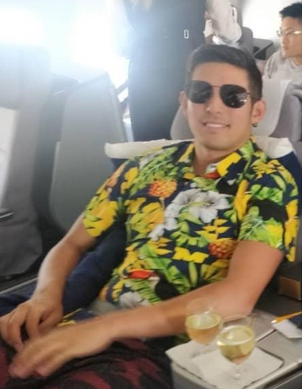 Kent hails from one of the very few places colder than Ann Arbor, the great land to the north. You'll definitely catch some of his "Eh's" through conversation.
Proudly repping the 6ix, Kent spent his whole life in Toronto and before you ask, yes winning the NBA title last year was pretty dope. Prior to Ross, Kent worked in Capital Markets finance and moonlighted as an editor/columnist for fantasy sports. He's also an avid Poker player and student of the game and can definitely show you how to pay off your rent playing some cards.
Kent is one of the only asians that can probably outdrink you, so be careful what you wish if you are looking for a challenge there – there's no backing down from this loose unit.