Trip Region: United States
Country(ies): Asheville
Partners Trek? Yes
Cost: $1050
Airfare Estimate: $400
Structure: • Lodging: • Nightlife: 2 • Activity: 3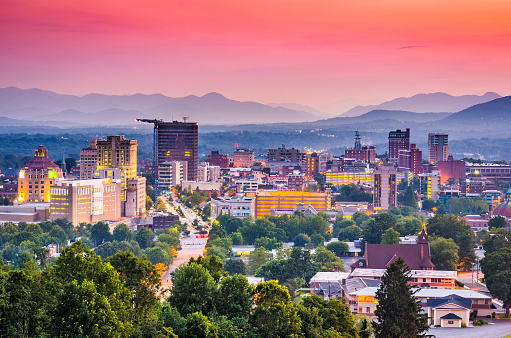 If you're looking to do something different but familiar, bold but basic, outdoorsy but not too sweaty, hazardous but relaxing, and generally the perfect mix of wholesome fun and beer-drinking bash, then this MTrek is the one for you. This Trek to Asheville, NC, and the surrounding area is designed to strike a balance between outdoorsy and bar hopping in the Brewery capital of the Southeast and one of the quirkiest cities in America.
This MTrek will be centered around Whitewater Rafting, soaking up the beauty of nature, and trying some of the best beers in the country. Packing a lot of activities and movement in a short time, this trek may feel like a whirlwind but have no doubt that it will be a blast.
This will be a great way to get to know your new classmates as you will learn who's a good cook, scared of spiders, makes Smores properly, is good at listening to directions, is a beer snob, and a whole host of other things that will surely come in handy as you pick partners for your classes this semester.
Asheville, North Carolina, is a captivating destination that promises a fun-filled trip for travelers seeking a unique and vibrant experience. Nestled in the heart of the Blue Ridge Mountains, Asheville boasts stunning natural beauty and an abundance of outdoor recreational opportunities. The city is renowned for its thriving arts and music scene, with numerous galleries, live music venues, and street performances that create a lively and creative atmosphere. Asheville is also a haven for food enthusiasts, offering a diverse culinary landscape that ranges from farm-to-table restaurants to craft breweries and eclectic food trucks. The city's rich history is evident in its stunning architecture, including the iconic Biltmore Estate, providing a glimpse into the past. With its welcoming atmosphere, vibrant culture, and stunning surroundings, Asheville is the perfect destination for a fun trip filled with adventure, art, gastronomy, and memorable experiences.
Cost Breakdown
More expansive cost breakdowns can be found in Cost Estimate summary tab in the attached Excel. This breakdown includes different options for different accommodations as well as options only to have one day of rafting and cut out the Class 4 Ocoee River day. This is indicated by the 4-night vs 5-night and would require tweaking the above schedule the below estimates are based on the 6-day, 5-night itinerary.
Day 1 — Saturday, Aug 19
https://www.tourhero.com/en/epic-adventures/united-states-of-america/hills-rivers-cities-into-the-heart-of-north-carolina-mtrek-2023-163473 ● Meet MTrek Leaders at the ATL airport, load up the Vans, and hit the road! ● Lunch on the road (not included) ● Arrive at our accommodations in the Nantahala National Forest (Options in Sheet 1 of Excel) ● Unload people and bags ● Grocery Run (to pick up food and essentials) ● Cook group Dinner followed by a Fire and Smores
Day 2 — Sunday, Aug 20
● For the Early Risers, we will do a short morning hike ● Family Style Breakfast ● Rafting the Nantahala River (Rolling Thunder River Company) o Different ways to go down the river (raft, mini raft, kayak) ● Back to the accommodations to change ● Head into Bryson City for free time to explore the town and get lunch (Not included) ● Drive back to accommodations ● Cook group dinner
Day 3 — Monday, Aug 21
● Quick Group breakfast ● Pack up the Vans and leave accommodations ● Drive to the Ocoee ● Raft the Class 4 middle Ocoee River (Rolling Thunder) ● Change into dry clothes and Drive to Asheville ● Lunch on the Road (sandwiches or similar) ● Check into Asheville Hotel (Options in Sheet 1 of Excel) ● Dinner (not included) ● Free Time
Day 4 — Tuesday, Aug 22
● Meet in the lobby and head to Coffee and Donuts (Hole) for Breakfast ● Free day In Asheville o Will provide recommendations (See General list in Excel) ▪ Hiking ▪ Shopping ▪ Exploring ▪ Brewery Hopping o Lunch (not included) ● Group Dinner (Curate) ● Group Bar Crawl
Day 5 — Wednesday, Aug 23
● Free Morning o Breakfast (not included) ● Group lunch at 11:30 (Buxton Hall BBQ) ● Drive to the Sierra Nevada brewery ● Sierra Nevada Brewery Tour ● Sierra Nevada Guided Tasting ● Drive back to Hotel ● Dinner (not included) ● Free Night
Day 6 — Thursday, Aug 24
● Breakfast (not included) ● Check out of the hotel ● Load up Vans and depart for CLT airport. o If prices are the same or similar, it makes more sense to drive to CLT than ATL (currently, this is the case) ● Arrive at CLT airport and conclude MTrek
Ben Kramer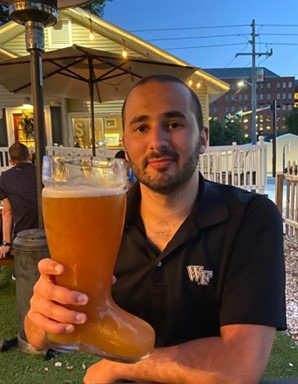 Hometown: Princeton, NJ
Undergrad: Wake Forest
Pre-MBA life: Advertising
Post-MBA plans: Strategy & Marketing in CPG
Why should you join my trek? I am a lover of balanced travel! Our Asheville trek is going to be an awesome mix of outdoorsy and heart-pumping excitement and chill bar and brewery hopping. I spent a good part of my life in North Carolina; I love the area and am excited to share it with you. O, I also used to be a professional guide which was the inspiration for the trip.
Shred Gnar n' Hit the Bar