Trip Region: South America
Country(ies): Chile
Partners Trek? Yes
Cost: $2499
Airfare Estimate: $999
Structure: 3 • Lodging: 4 • Nightlife: 3 • Activity: 2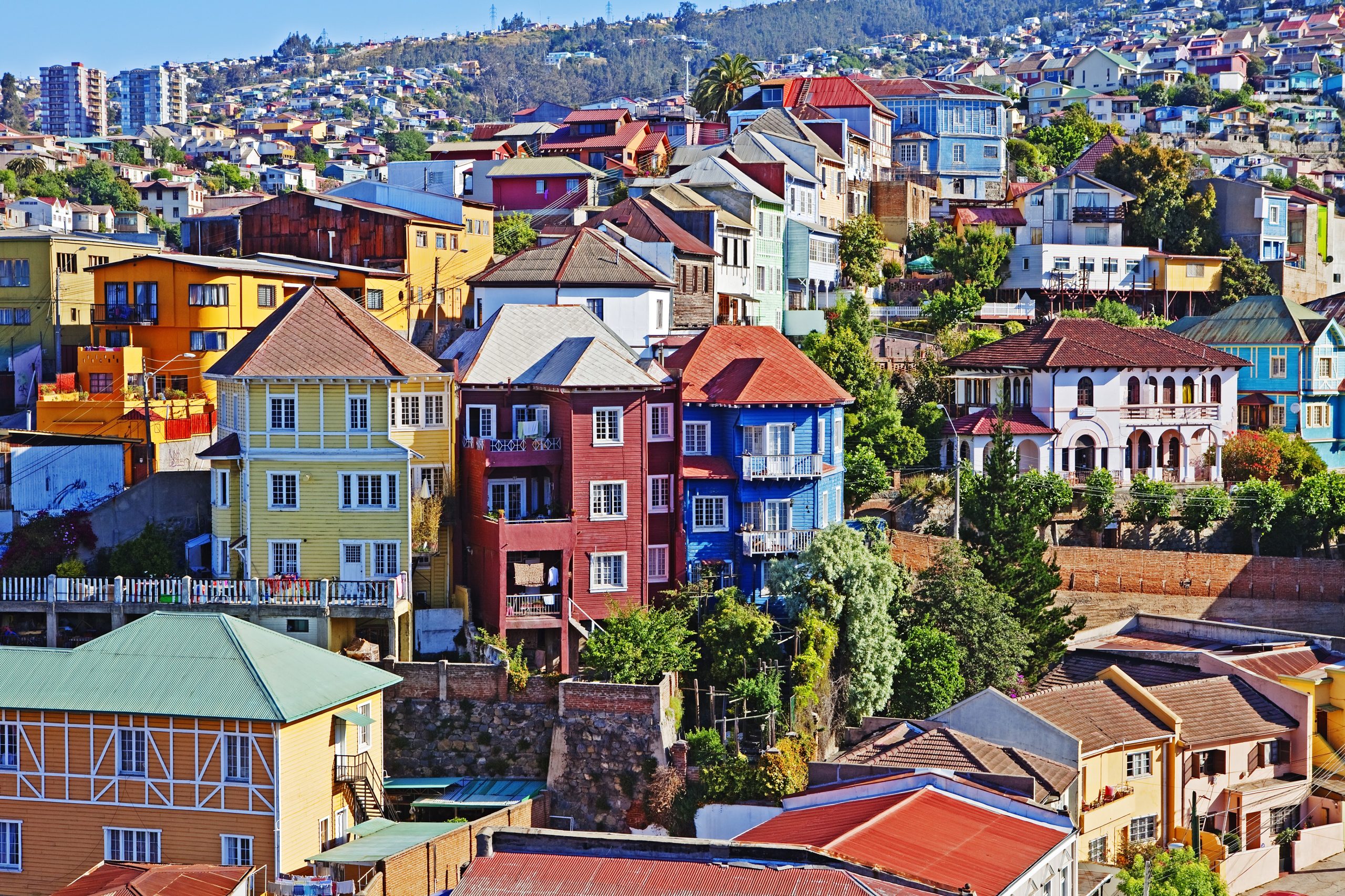 Does your perfect vacation involve a light sweater, a glass of wine, breathtaking scenery, rich culture, great nightlife, NO Zika and a hint of adventure? It does?! Ours too – that's why we planned a partners trek to Chile.
Five MBAs and their partners will lead you on a trek that has something for everyone. The history buffs, the winos, the explorers – we've got city tours, vineyard tours, rafting excursions, and more. We'll sip Malbec by the sea in Valparaiso, while feasting on local favorites like seafood stew and empanadas. We'll cozy up to a campfire in the extraterrestrial landscape of the Atacama Desert, a place that hasn't seen rain for 400 years and offers some of the best stargazing on earth. We'll explore the vibrant history of Santiago by day, and its thriving nightlife after dark. You'll hit up all the must-see and bucket list opportunities, with plenty of time to do some solo exploring with your partner. We promise you'll bring home the bonds and memories to get you through the next two years.
Day 1 — Sunday, Aug 21
Depart Ann Arbor for Chile!
Day 2 — Monday, Aug 22
Welcome to Santiago! Hopefully by now you've enjoyed a glass of wine or three on the plane, and had a chance to gape at the Andes mountains during your scenic landing. Now take a big morning stretch, chug some coffee, and make your way to our downtown hotel to meet the rest of our group. After getting settled, we'll leave for an easy bus tour through the eclectic city of Santiago. We'll confuse your jetlagged brain by touring neighborhoods called "Paris-London" and "Saint Lucia," but don't worry, we're still in Chile. At night, we'll gather for our first Chilean feast and head off to sleep at our luxury hotel. Rest up, we have an early morning.
Day 3 — Tuesday, Aug 23
Hopefully you didn't unpack, because we're off to the airport to board an early-morning flight. Two hours later, we'll land on Mars. Well not really Mars, but probably the closest you'll get: the Atacama Desert in Northern Chile. In fact, the terrain in Atacama is so other-worldy that NASA uses it to test instruments for future Mars missions. This is one of the driest places on earth, so pack lotion and drink lots of water! A bus will pick us up at the airport and take us to the town of San Pedro de Atacama, where we'll settle into our hotel. Take a dip in the pool or take an outdoor shower—each room has one! Once we're refreshed, we'll head back on the bus for a quick tour of Moon Valley. Google Images will do a better job explaining Moon Valley than we can. San Pedro de Atacama is known for its gourmet food, so we'll be sure to work up an appetite for dinner. Then, we'll sit around the firepit drinking Chilean wine and getting to know each other under one of the most amazingly starry skies you'll ever see.
Day 4 — Wednesday, Aug 24
Today, we have a full day tour of the Atacama region. We'll start in the village of Toconao, a picturesque town at 8200 ft. elevation, known for its colonial architecture crafted entirely in local volcanic stone. Then we'll continue on to the highland lagoons of Miscanti and Meñiques, both at nearly 15,000 ft. elevation and surrounded by Andean volcanoes. After taking in the crystal blue lakes, we'll head to the village of Socaire for a scenic lunch overlooking the Atacama Salt Flat. Once we arrive back in San Pedro de Atacama, the rest of the day is yours to explore.
Day 5 — Thursday, Aug 25
We'll have the morning free, so now's your chance to visit the cultural museums in town, try sandboarding, rent a bike, or simply lounge by the pool at our hotel. In the afternoon, we'll catch a flight back to the Santiago airport, where we'll take an easy, hour-long bus ride to the picturesque, seaside city of Valparaiso. "Valpo"—as it's known by locals—is one of Chile's main commercial ports, and has been designated a World Heritage Site by Unesco. We'll arrive in time for a late dinner, where you can expect to eat the freshest of seafood, straight from the Pacific Ocean.
Day 6 — Friday, Aug 26
Do you like wine? Great, because today we'll be exploring one of the world's most celebrated wine regions. Taking a bus from our hotel in Valpo, we'll head to Casas del Bosque, where we'll take a tour of the vineyard and cellars. And what wine tour would be complete without a tasting! Next, we'll visit Emiliana Vineyard, which won 2015 Vineyard of the Year. Once we've gotten our fill of wine, we'll head back to Valpo for a gourmet dinner and a night on the town.
Day 7 — Saturday, Aug 27
The morning is free to explore the colorful city of Valparaiso on your own. Seek out some of the amazing street art, hang out with sea lions on the coast, talk a walk through the hills for incredible views, eat local specialties, or sleep in after a wild night. We're heading back to Santiago this afternoon for the last leg of our trip. It happens to be Saturday night, so you know what that means. Buenos Aires hogs the spotlight for South American nightlife, but we hear Santiago knows how to keep up.
Day 8 — Sunday, Aug 28
We'll spend our last full day out in nature, one hour outside of Santiago. The adventurous in our group will have the chance to white water raft on the class 3, Maipo River. For the less adventurous (or more hungover), we have an alternative option to take a guided hike of the Meseta. We'll hike the ridgeline of the Argentinian border peaks, looking down on our wet friends in the river below. Back in Santiago, we'll gather for a farewell dinner, cry, hug, etc.
Day 9 — Monday, Aug 29
This is it. Our last day. Flights generally leave in the evening, so you have most of the day to cross the remaining items off your bucket list. Drink that last glass of Malbec, buy that souvenir you've been eyeing, eat your last plate of calamari. Bid farewell to Chile and "see you soon" to your new friends, and off to Ann Arbor you go. But don't be too sad, we'll probably all see each other tomorrow.