Trip Region: Middle East and North Africa
Country(ies): Morroco & Portugal
Partners Trek? No
Trip Cost: $2649
Airfare Estimate: $1500
Nightlife: 3 • Activity: 3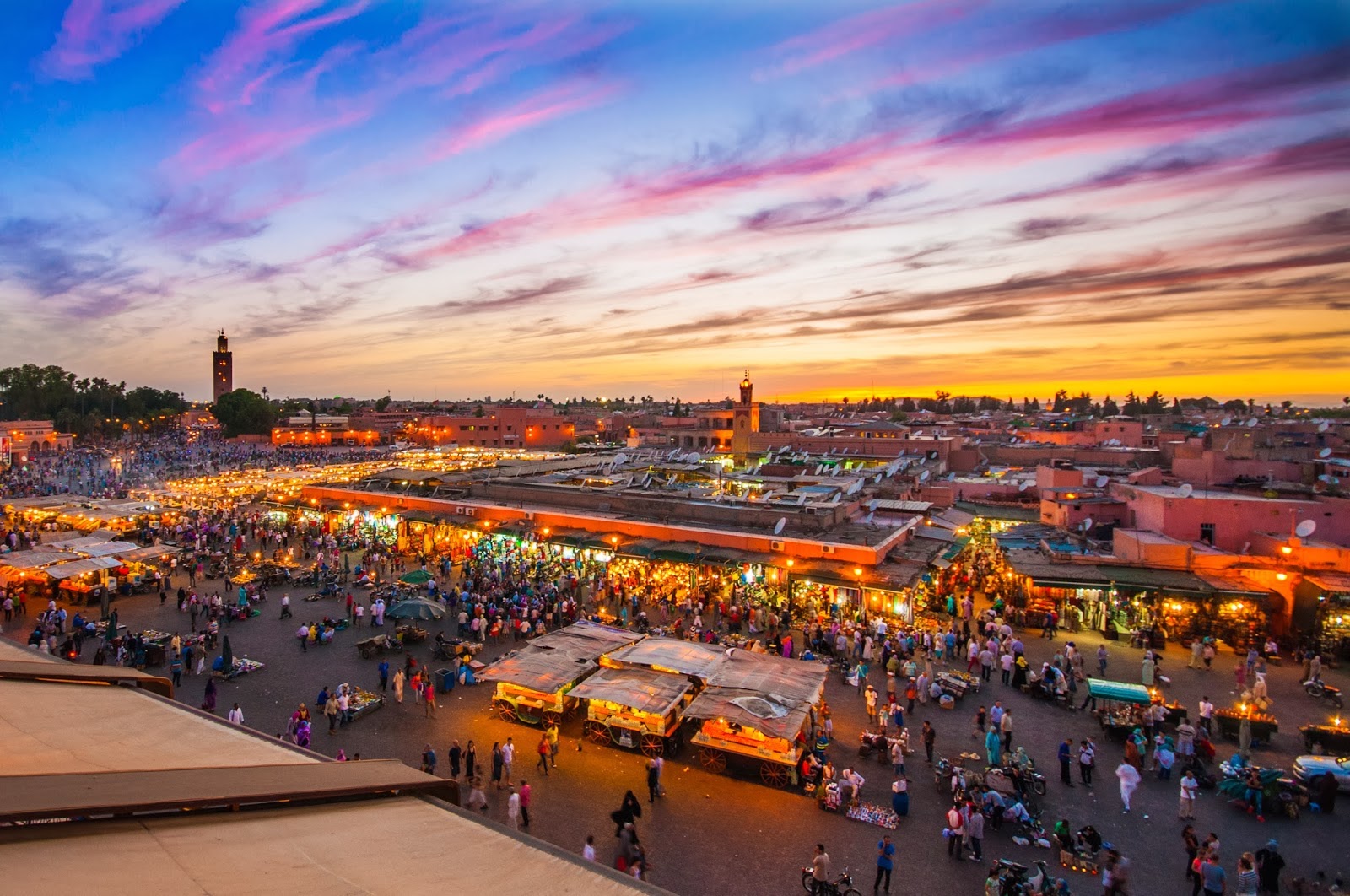 Congratulations, you've just made one of the best decisions of your life by coming to Ross. Now it's time to make another great decision. Join us on a journey where we will visit historic, beautiful, and wild Lisbon and traverse continents to the marketplace center of Africa, Marrakesh. On this trip, we will sample an array of superb cuisines, relax on one of the most beautiful beaches in all of Europe, and experience the traditions of Morocco as we gear up for an unforgettable experience back in Ann Arbor.
Day 1 — Saturday, Aug 20
Fly from Detroit to Marrakesh - Say goodbye to orientation and your new section-mates in Ann Arbor and get ready, the next 10 days are going to be a whirlwind of adventure that will jump-start your b-school career at Ross.
Day 2 — Sunday, Aug 21
Arrive in Marrakesh! - Queue the Shakira, because This is Africa! We'll meet you at the airport and travel across town to our snazzy hotel in central Marrakesh. After checking in and freshening up, we will kick things off with a delicious feast of local Moroccan cuisine while learning obscure facts about each other through get-to-know-you games. Afterwards we'll actually get to know each other over a couple of beers before hitting the sheets for a big day of exploring.
Day 3 — Monday, Aug 22
Explore Marrakesh, Haggle with Street Vendors - We'll spend today exploring Marrakesh, which is like nowhere else in the world. Feel free to set your expectations high, knowing that the name means "Land of God". Located in the foothills of the snowy Atlas Mountains, Marrakesh is one of the busiest cities in all of Africa. We join our local guide this morning for a tour of Old Medina where we'll explore the amazing Medina and endless mosaic of Souks (The artisans of Morocco). We'll pass through Djemaa El Fna, a dizzying marketplace square of the city. Here you will put your negotiating skills to the test (and get you ready to haggle your signing bonus with that McKinsey partner) with some of the most experienced hagglers in all of Africa. Be sure to stick with Sam if you want to see an expert in action. Along the way, we can also expect to see some incredible feats of Muslim Architecture. We will while away the afternoon with some independent exploration and spice-rich Moroccan cuisine. That evening, we'll break out the Eucalyptus-scented towels and pamper ourselves with a visit to one of Marrakesh's world famous Hammam (bath house) for some well-deserved relaxation.
Day 4 — Tuesday, Aug 23
Atlas Mountains and Moroccan Cuisine - Today, we will get our adventure on and explore the Heart of the Atlas Mountains. The Atlas Mountains are world-renowned, and we will have a memorable day exploring them for ourselves. After all that exercise, we will feast at an authentic restaurant, where we will sample the best that Marrakesh has to offer. That evening, we will take advantage of the loophole that allows hotels in Morocco to serve alcohol and have our very own hotel party.
Day 5 — Wednesday, Aug 24
Travel to Agafey Desert - Today we'll depart the urban metropolis of Marrakesh in Air-Conditioned form through the lunar-like terrain of the Agafey desert. The area remains a completely uninhabited haven and should be a stark contrast to the bustling atmosphere of the marketplace. We will tour the Kasbah Du Toubkal in 4WD Jeeps and do a short hike in the Atlas Mountain. As the evening sets in, we'll get to experience the life of the Berber farmer by spending the night at a desert camp under the stars. During an authentic dinner, we will take in a Dekka Amarrakchia folk music performance. Take close notes, because we will be reenacting the performance at each MTrek reunion in the next year.
Day 6 — Thursday, Aug 25
Say Goodbye to Morocco and Hello to Lisbon - Today we will say goodbye to the seclusion of the Agafey desert and set our sights towards metropolitan Lisbon. After a quick trans-continental flight, we will step out into the (much cooler) European air. We will check in and freshen up, then spend the afternoon exploring our new neighborhood, which is known for its nightlife. That afternoon we will have a surprise experience to properly welcome you to the Ross family. After some serious bonding time, we break out our rage faces to celebrate our first night in a country where we can legally drink in public.
Day 7 — Friday, Aug 26
Sightseeing & Wine Tasting in Lisbon - After sleeping in at our hotel in Lisbon, we'll explore the city with a relaxed cycling tour at the heart of historical Lisbon and will follow the riverside to learn a little bit about this European capital. After the tour we'll pass by the Park Edward VII, Rossio Square, Commerce Square, and along the river to Belem. We'll also visit a UNESCO World Heritage site, a 500 year old tower. We will follow up the tour with a wine tasting at Sala Ogival – Terreiro do Paco. We'll finish the night off with a secret bonding activity that will surely require us to later drink with some local pubgoers.
Day 8 — Saturday, Aug 27
Day Train to Coimbra, Night Train to Lisbon - Get ready to absorb some culture, because our journey today will take us by train to the city of Coimbra, the medieval capital famed for its University of Coimbra circa 1290. Coimbra is nestled on the banks of River Mondego and is home to monasteries, cathedrals, and artifacts spanning nearly a millenia. We'll spend today exploring this magical city and will Morroc'n the Night Train back to Lisbon (But don't worry, we'll be sleeping in the hotel and not on the train).
Day 9 — Sunday, Aug 28
Sintra Mountains and Cabo da Roca - Today's destination is Sintra, one of the geological jewels of Portugal. The offroad tour of this bewitching place with its fairytale atmosphere set amidst lush vegetation and mystical hills will provide inspiration for our time back in the tundra of Southeast Michigan. We'll spend our time exploring the infamous Castle of the Moors, which is known for its rare architectural styles and colors. Then we will find ourselves at Cabo da Roca, the westernmost point of Mainland Europe. After the requisite pause for Snapchat and Instagram selfies, we will take a quick trip back to Lisbon and start off our night with a wine tasting at Sala Ogival – Terreiro do Paco. We'll put on our fancy pants and have dinner at a snazzy restaurant before heading out for night on the town.
Day 10 — Monday, Aug 29
Adraga Beach, the finest in Europe - Today we embark on our third and final excursion from Lisbon. We will get you mentally prepared for RLI by sitting on one of the most beautiful beaches in all of Europe. You can go for a swim, rent a boogie board, or just soak up the last minutes of complete relaxation before the craziness of MBA life begins. If the beach is a little too low-key, you'll also have the opportunity to rent a bike and head to the Sintra Mountains with a guide to take in the sights and get in a work-out. We will have our final dinner send off on the water in the colorful Bay of Cascais before heading back to Lisbon for the night.
Day 11 — Tuesday, Aug 30
Say Goodbye and Travel back to Detroit from Lisbon - Hop on the plane with your 12 new friends and get psyched to spend the next three days trying to win the RLI Challenge. Life is good and is about to get better.
Dave Spallina
Dave is the resident I-Banker on the group. After spending the summer getting an average of 3 hours of sleep a night, he'll be leading our raging expeditions on both continents. But don't let that party-hard I-Banking exterior fool you- Spallina is a big softy. He taught high school math before coming to Ross and he's a pescatarian, showing that he has a special place in his heart for both kids and animals (except fish, because you don't get that kinda bod without some serious lean protein). Dave is our personal Energizer Bunny, so get ready to keep the party bumpin.
Most Likely To: Adopt a stray kitten
Katie Redman
Katie is the resident Tauber on this trek and is therefore in charge of making sure that fun is had as efficiently as possible. (If you don't know what Tauber is, Google it before you come on this trek because there will be a quiz.) When she's not saving the world by optimizing inventory levels, Katie enjoys lighting up the dance floor with moves that have been described as "unique" and cracking enough bad jokes to fill any uncomfortable silence. Finally, Katie is 55% fluent in Spanish (just ask Duolingo) and Spain is close to Portugal, so we anticipate that being helpful in some way. Voted most likely to: Shake it off. Never travels without: Her Rage Face.
Jennifer Paxton
Originally from Detroit, Jennifer is a southern girl at heart but don't let her sweet face fool you. Jen is the team's resident M-trek board member who uses her pull on the board to make this the best M trek of all time!! When not pulling strings Jen enjoys making hilarious facial expressions and cutting up on the dance floor. After a summer in brand management, Jen will be very happy to traverse TWO continents with you all and give honest/candid/rude/helpful feedback on your own personal brands so you can show up to your first day of class at your very best. Voted most likely to: Buy one too many kaftan dresses. Never travels without: Ratchet playlist.
Jung Choi
Straight out the Korean Air Force, Jung is the security detail for this trip and is here to keep all of us in line. So be prepared for early mornings and stringent military grooming standards. As an expert water polo player, count on Jung to save you from the water – considering that he is coherent enough to know that you fell in. Jung also has a softer side. Jung has worked in world class hotels before his experience in the military. So he is very much looking forward to fine wine and dine in Europe as well as crazy outdoor fun in Africa. Voted most likely to: be taking typical Asian selfies. Never travels without: His speedo.
Seema Naik
From small town USA to the big city! Seema Seems hails from LA and NYC, before choosing Ann Arbor as her next stop. When she isn't (under pressure) making music videos, you'll find her working on her "guns" or spending too much on coffee. After some hot or obscure tech internship, Seema will be stoked to GO BLUE on two continents with an MBA dream team. Party in Porto? Dance in the desert? Lush it in Lisbon? Chill over couscous? She's game. Voted most likely to: be chillin' like a villain. Never travels without: her Stunna Shades.