Trip Region: MYSTERY
Country(ies): MYSTERY
Partners Trek? No
Trip Cost: $2035
Airfare Estimate: $1900
Nightlife: 4 • Activity: 1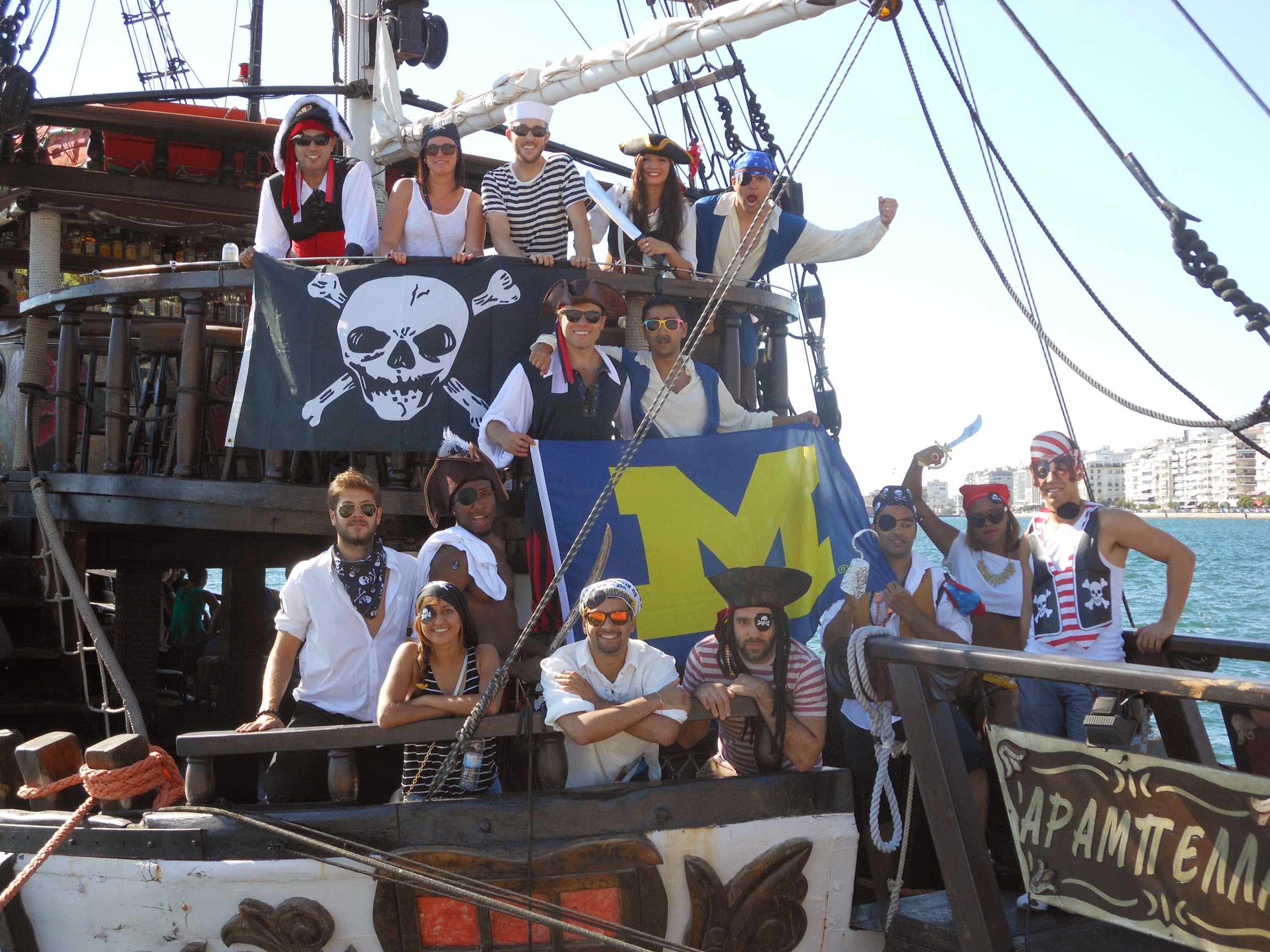 In 2013, the groundbreaking first ever MYSTERY MTrek took place. MYSTERY 2.0 was last year's sequel and the training ground where this year's leaders (with one beautiful exception) had a one-of-a-kind vacation and became friends for life. That was the most anticipated, most talked about, most requested, most ridiculous, most ragey MTrek yet. We are promising you more fun, more rage, more party boats, and even more Bear Fights. Simply turn your life over to us for ten days, bring a great attitude and a wardrobe full of outrageous clothes, and we will do the rest. You will get some history, some physical activity, some scenery, some sights, and most of all, you will get one hell of a vacation. Are you as intrigued by a good MYSTERY as we were? You should be.
Day 1 — Wednesday, Aug 26
Shhhhh.... don't tell anyone, but we are getting started one day early with a pre-trip BBQ where you will meet your fearless leaders. MYSTERY 2.0 started the same way, and since we don't remember it, we thought we'd try it again. Smirnoff ICEbreakers and s'mores for all!
Day 2 — Thursday, Aug 27
Finish packing those bags and get ready for the trip of a lifetime. Meet at Ross by 3pm and we'll all head off ... somewhere! Get ready to travel for between four and forty hours as we embark on the journey of a lifetime
Day 3 — Friday, Aug 28
By now we will be settling into wherever we are going. And you'll be happy to know that this city has some of the best WIFI coverage in all of the world, so ample time to post some selfies on Insta while Moe is checking in on the local Tinder scene. Some obligatory sightseeing is next on the list of things to do, but don't worry, frequent stops for refreshments are a must.
Day 4 — Saturday, Aug 29
Wake up wondering where exactly we are again and whether or not they sell Advil. The leaders will ensure you get to see all this beautiful place has to offer, and will also be making inroads with local bartenders that will certainly pay dividends tonight, our final night in wherever it is we happen to be. Oh did we mention that this region is home to wild bears? Tonight, we will fight them.
Day 5 — Sunday, Aug 30
Rise and shine trekkers, make the most of the breakfast buffet because we're on the to next one. We'll have a few hours to see some sites or grab drinks to take the edge off those hangovers. Then we're hopping on the MYSTERY express to our next destination. Arrive to our next location in time for a night of traditional food and music, before turning in early. Psych! Let's RAGE!
Day 6 — Monday, Aug 31
We're not moving hotels but we are moving the party. Our second destination is obviously amazing, but we love our trekkers so much we had to throw in something special for you guys. You are traveling with five of the most cultured and well-traveled people you will ever meet and this location that we are arriving to has each and everyone of us pumped. We are talking fist pumping in the Winter Garden pumped ya dig. In MYSTERY tradition, bust out those NEON v-necks trekkers. And don't forget the ancient proverb... the deeper the v, the more rage there will be.
Day 7 — Tuesday, Sep 01
Back at our rage home base, all aboard the S.S. MYSTERY for a boat cruise on the beautiful waters located adjacent to our current location. Imani Davis will be our makeshift Cruise Director, and will be providing fun for all. Watch out for games of survivor flip cup for the adults, science experiments on whether beer cans float for the kids, and a steady dose of EDM music and Jay-Z's greatest hits for passengers of all ages. Save some energy for a group dinner, and a night at this town's hottest nightclub where we will finally bust our our industrial-sized container of glow sticks and dance the night away under the stars, leaving the club just in time to...
Day 8 — Wednesday, Sep 02
...catch our flight! Wheels up trekkers, this mystery tour is hitting the road again and we are taking you to one epic destination. Oh, by the way, you go to Michigan now so let's see your most ridiculous maize and blue outfits today. You can think of it as practice for The BUS, and your leaders will make sure you measure up to BUS-approved
Day 9 — Thursday, Sep 03
Another day in paradise! What you don't feel like waking up? Fear not, we're going to give our livers a rest this morning and get in touch with nature. Don't worry we'll be back at it later, because tonight we make history. We're not quite sure what we mean by that, but trust us, it will be epic. You guys have insurance right?
Day 10 — Friday, Sep 04
Today we whisk you away yet again. Sadly the end is near but you will be happy to know that we've saved the best for last. More sun, more water and more boats. Oh yea that's right, more boats trekkers, more boats.
Day 11 — Saturday, Sep 05
We're going to reward ourselves on a job well done with some rest and relaxation. Then it's time to get cleaned up for a fancy dinner out on the town where we will toast ourselves for planning so many nights you won't remember and a trip you certainly won't forget. But enough about us, time to award you with superlative awards. Most likely to lose his/her dignity at Rick's? All of you just like all of us. Bust out the glow sticks for one last night at the club, but make sure to get your cab fares from us in advance because once we walk into that club, we are officially off duty and you are officially ready to RUN ROSS.
Day 12 — Sunday, Sep 06
Please don't miss your flight! After 11 days of out raging most of the world, we will head back to Ann Arbor, with 15 of your now closest friends. Get those MYSTERY chants and bro tanks ready to show to your classmates you are officially a MYSTERY 3.0 inductee. #IMPRESSIVE
Imani "Yoncé" Davis
Want to spend 10 days with one of the most popular people Ross? Look no further than MYSTERY 3.0 led by this flirtatious Jersey Girl. How did she become so popular? Once you hear her yelling "MYSTERYYYYYYYYYYY!" for no apparent reason, you'll understand. When this social butterfly is not pollinating the Winter Garden or running the Ross Consulting Club, she can be found on the dance floor at the classiest places in town channeling her inner Beyoncé. These infamous dance moves earned her the superlative "Most Likely to be Found Dancing on the Stage at Ricks" during MYSTERY 2.0, and let's just say she's made sure to live up to the hype. After a year of out drinking, out dancing, and out RAGING all of Ann Arbor, Imani is ready to induct the next class of MYSTERY ragers to Ross. Likelihood Imani will make you feel FOMO with her MYSTERY chants if you miss this trek: COUNT ON IT.
James "Most Interesting Man in the World" Coronios
The Man. The Hair. The Legend. Kicked out of Rick's before we even left for MYSTERY 2.0? Check. Lost his phone and passport before we could even catch our first flight? Double Check. When he's not getting kicked out of Rick's, James can be found getting kicked out of Skeep's, shirtless. However, James isn't always a lush. This marketing expert can teach you the 4P's and 5C's of RAGE (and brand management). From the city where dreams are made of, James is not just a Yankee. This J. Crew wearing, koozie connoisseur also enjoys a country type of rage, just don't be too surprised when his rap skills remind you of a young Jay-Z. Likelihood James ever puts on a shirt during MYSTERY 3.0: DOUBTFUL…unless its cashmere.
Ade "I AM DETROIT" Balogun
King Ade is always up for the party and the first to order bottle service – tequila only. This supply chain guru has optimized the shots-to-the-face process. Known early on for belting out the unforgettable phrase "I AM DETROIT!" during RLI, this former Michigan State Spartan (yawn) finally wised up and is now proud to be a Michigan Wolverine. Ade, chicken legs and all, led his section to MBA Games victory due to his sheer athleticism. Maybe that's why he was mistaken for an athlete (including Mike Tyson!?) multiple times during MYSTERY 2.0. Likelihood that foreigners will mistake Ade's scrawny legs for Chris Bosh's: DUH!
Robin "RBF" Schaefer
Not a MYSTERY native, this babe made history by becoming the first non-MYSTERY leader invited to lead this epic trek. How you ask? Let's just say she's earned her stripes over the past year out partying all of Ross. While she may not be indigenous to MYSTERY, she is most DEFINITELY indigenous to Rick's! When she's not ghostwriting for T-Swift, Robin can be found picking up extra swag at all of the marketing recruiting events. Don't be fooled by Robin's RBF, she is one of the sweetest people we know and is ready to RAGE MYSTERY-style. Likelihood Robin stops partying before the sun comes up: NOT HAPPENING.
Maurice "I Am the Captain Now" White
Banned from most of the bars in Ann Arbor due to excessive raging, Moe has since been let back to stabilize bar revenues after a steep decline. This Casanova has won the hearts of both undergrads and foreigners as women snap at the chance to experience Moe's "Good D". We mean good Domino's – he orders it every night. Get your mind out of the gutter! A CPG Marketing expert, he was once seen selling water to a well. A Detroit native and a double dipper at Michigan, he is known to frequent Rick's with Jim Harbaugh as his wingman. Likelihood Moe will find one of his international love children while on MYSTERY 3.0: BELIEVE IT.