Trip Region: Western Europe
Country(ies): Iceland
Partners Trek? Yes
Trip Cost: $2080
Airfare Estimate: $850
Nightlife: 3 • Activity: 4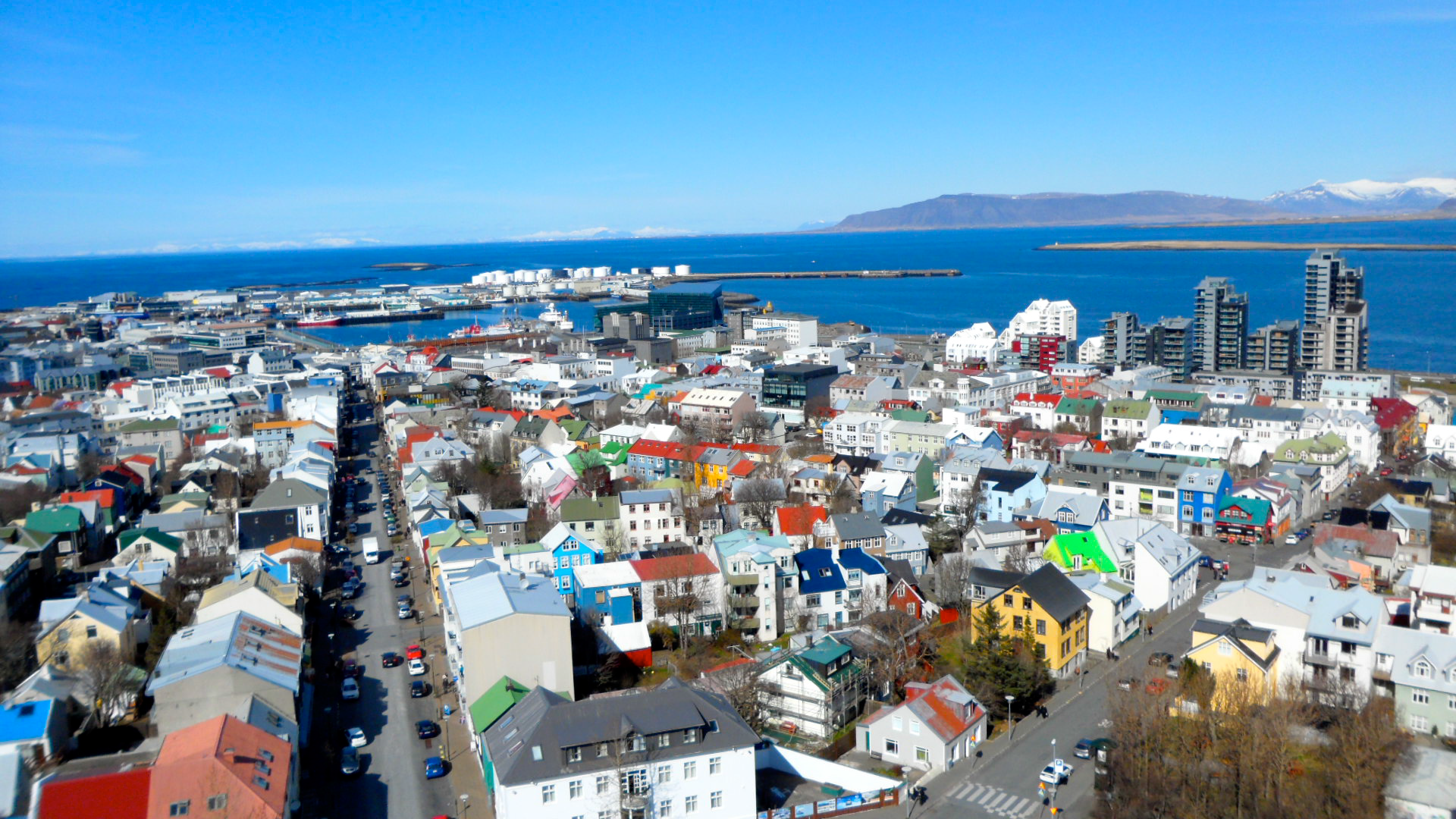 If you want to see the most unique and epic natural wonders the world has to offer (with no mosquitoes!), sign up here. Iceland is a smorgasbord of amazing waterfalls, geothermal springs, volcanic landscapes, nightlife, and outdoor adventures. And it all comes with a side of the coolest couples at Ross. Also, potential for a Northern Lights sighting?! ***Throughout this itinerary we have put in the names of various Ikea furniture pieces, see how many you can discern from actual Icelandic names.
Day 1 — Sunday, Aug 21
Arriving in Reykjavik - Our guides will pick up everyone at the airport and take you to the KEX hostel. Grab your viking hat and your fanny pack and spend the day exploring the party capital of the north. Maybe you'll spot a whale from the harbor!
Day 2 — Monday, Aug 22
Golden Circle and Rafting - We'll drive over to see some tectonic action in Thingvellir, the Strokkur geyser, and Gullfoss waterfall. If that doesn't get you all wet and excited, we think a little white water rafting on the Hvita river should do the trick. Afterwards we'll have dinner and spend the night at the rafting cabins nearby.
Day 3 — Tuesday, Aug 23
Landmannalaugar - We'll be hiking through what is supposed to be one of the most awesome landscapes in Iceland, and then take it all in while we relax in a natural hot spring. We'll finish out the day with a drive toward the south coast and stay in the Landmannalaugar huts--sleepover style for maximum bonding, bring your s'mores ingredients and your Midnight Society membership card.
Day 4 — Wednesday, Aug 24
We'll be comin' round the mountain - This will mostly be a driving day toward the glacier lagoon. But grab a window seat, because there will be a lot to see as we travel through the highlands (volcanoes?!). We'll arrive in Hvoll in the late afternoon, check into the hostels, and enjoy a little BBQ and the view from the edge of Vatnajokull, Europe's largest glacier.
Day 5 — Thursday, Aug 25
Jokulsarlon Glacier Lagoon - In the morning we'll drive over to the lagoon where we'll take a boat ride through some giant icebergs, in what's supposed to be one of the most beautiful parts of Iceland. Channel your inner Nordic Disney princess and maybe you'll make a seal friend or two (renditions of 'Let It Go' are encouraged). We'll follow that with a glacier hike--the real deal with crampons, ice axes, etc. Expert guide included. Spend the second night in Hvoll stressing about which pictures to post on Instagram.
Day 6 — Friday, Aug 26
South Coast - After a little off-roading, we'll hike around and check out some waterfalls, forge some rivers, and pillage the sandcastles on the black volcanic beaches #justNordicthings. We'll spend the night in Thorsmork at the Stracta hostel.
Day 7 — Saturday, Aug 27
Reykjadulur and Reykjavik - On our way back to Reykjavik we'll stop for a two-hour hike through the smokey valley where we can chill in some hot springs. Relax while you can, because later we're going to see whether Reykjavik's nightlife can compete with Rick's. If you thought Viking Berserkers were impressive, wait til you see Ross MBAs get down. Skal!
Day 8 — Sunday, Aug 28
Departure (optional Blue Lagoon) -Make your way to the airport with all your new best friends. Depending on your schedule, you can also visit the geothermal spas at the Blue Lagoon (tours take about 5 hours) so you're refreshed for your trip back to Ann Arbor. ***Find all the Ikea furniture? If yes, you might need to make an Ikea trip soon and refresh your memory, those are all Icelandic words.
Lauren "L-dog" Hunter and Wiles "WyGuy" Kase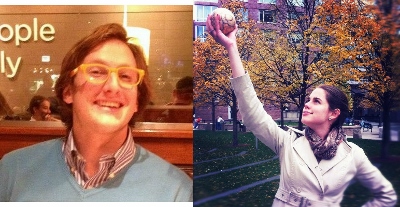 Lauren "L-dog" Hunter
A native of Omaha, Nebraska, Lauren is thrilled to be back in the midwest after spending 10 years on the east coast. She promises to minimize unsolicited comments about how great the midwest is; she's been told it's less charming than she thinks. In her spare time, Lauren likes to sign up for gym memberships, join an impressive number of book clubs, and then watch hours of the Great British Bake Off instead. When she listens to music, it's mostly lady folk singers and hip hop.
Favorite Karaoke Song: Wannabe by the Spice Girls
Wiles "WyGuy" Kase
Wiles recently sang in public for the first time, choosing to reignite Mariah Carey's All I Want For Christmas is You during a school talent show. In his spare time, he (likes to think that he) plays lots of tennis, basketball, and football. He is obsessed with the geopolitical strategy game Diplomacy, and has been known to accost unsuspecting friends and acquaintances with printed and highlighted maps. As National Parks go, he's partial to the Rocky Mountain variety. As libations go, he's partial to bourbon.
Favorite Karaoke Song: All I Want For Christmas Is You by Mariah
Sally "Rich Homie" Quan and Andrew "T-Bone" Lee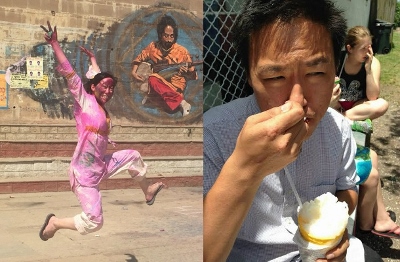 Sally "Rich Homie" Quan
Sally Quan, aka Daquantes Devontay Lamar, aka Rich Homie Quan, is an American rapper and singer from Atlanta, Georgia. Sally is signed to independent label T.I.G. Entertainment, and her music is artistically influenced by "dirty south" rap artists including Young Jeezy, Gucci Mane, Lil Boosie, and Lil Wayne. Sally moonlights as a small Asian woman who enjoys making people wait to eat so she can photograph food, being the last regular user of the largely-abandoned check-in application 'Foursquare,' and the popular CW television program, "Crazy Ex-Girlfriend." Sally looks forward to seeing the many trees that Iceland is famous for.
Favorite Karaoke Song: "Welcome to the Black Parade" by My Chemical Romance
Andrew "T-Bone" Lee
Andrew hopes to meet Bjork while in Iceland, and has declared that if Bjork does not personally greet him at the airport wearing a live pelican as a hat, then the entire trip will have been a failure. Andrew also looked up Iceland on Google and found out that sometimes polar bears drift over to the island from Greenland on icebergs; Andrew has additionally declared that if he does not get to hug a polar bear, the entire trip will have been failure. Andrew is better at FIFA than Anirudh, and everybody knows it.
Favorite Karaoke Song: "Empty Chairs and Empty Tables" by the Les Miserables 10th Anniversary Dream Cast
Suhana "Swagstress" Sarkar and Anirudh "Karaoke Kween" Pratap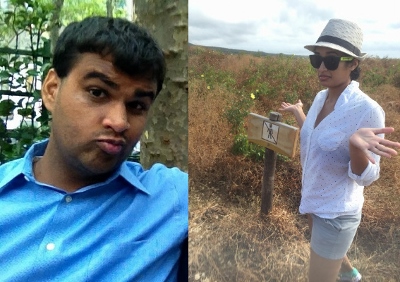 Suhana "Swagstress" Sarkar
Though Suhana questioned the idea of traveling to a country named after a substance she hates–she's almost always cold, she ultimately decided that it all just sounded like too much fun–she also suffers from major FOMO. Suhana is a contradiction in that she loves curling up with tea and Netflix, and equally enjoys clearing a space on the dance floor with her swagtastic moves. Actually nocturnal in nature, she's excited to have found a culture that meets her needs, as the Icelandic bar scene ends at 5 am. Just a word of warning, be careful with your Harry Potter references as she rivals Hermione in her magical knowledge.
Favorite Karaoke Song: Call Me Maybe by Carly Rae Jepsen
Anirudh "Karaoke Kween" Pratap
Anirudh will ensure there is plenty of Karaoke during our Mtrek festivities. A native of North Carolina (go on raise up), and an alum of the University of National Champions at Chapel Hill, he is still getting used to the cold of the Midwest. His talents include knowing the exact right play at the blackjack table, the words to most boy band songs, and FIFA (which actual documented results will prove his dominance over Andrew).
He is very excited to do James Bond things and "camp" during this trip, though is annoyed that for the second straight year he will be conducting fantasy football drafts from a different continent.
Favorite Karaoke Song: Only the Good Die Young by Billy Joel