Trip Region: Southeast Asia
Country(ies): Thailand & Vietnam
Partners Trek? No
Cost: $1985
Airfare Estimate: $1000
Structure: 3 • Lodging: 4 • Nightlife: 4 • Activity: 1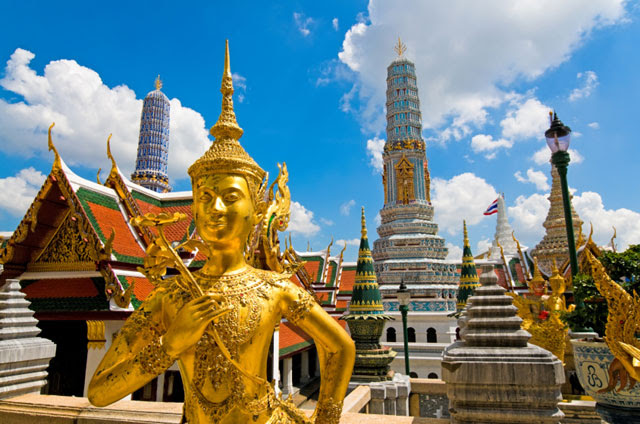 Come and kick off the best two years of your life in the company of some of the most knowledgeable and physically attractive trek leaders Ross has to offer. Seriously. Join us as we frolic on the immaculate beaches of Thailand, explore the deep cultural history of Vietnam, and drink copiously. This trek offers something for everybody! However, let it be known—we intend to rage. HARD. We warned you.
Day 1 — Sunday, Aug 21
Depart for Bangkok. Get some sleep on the longest plane ride ever. . .you're going to need it.
Day 2 — Monday, Aug 22
Arrive in Bangkok during the witching hour. We will have a quick nightcap/welcome cocktail and rest easy for a big day tomorrow. Steve will most likely want to go out and sleep for 2 hours, if at all.
Day 3 — Tuesday, Aug 23
Tour the magnificent Grand Palace in the heart of Bangkok. Take in the gilded walls, colorful mosaics, and Buddha statues galore. After some day drinking during lunch, we are free to roam the city streets—visit the floating market, play with baby elephants, or maybe even indulge in some munchies from a local street cart.
Day 4 — Wednesday, Aug 24
Experience the ancient city of Ayutthaya. We will travel by boat (Iris will have Dramamine, don't worry!) to visit the former Thai capital.
Day 5 — Thursday, Aug 25
Fly to Phuket. We're basically going to rage. Hard. All day. We'll start at the beach and drink our way into the night.
Day 6 — Friday, Aug 26
Snorkel our way around Phuket and the Phi Phi islands. This is the stuff Thailand dreams are made of. Swim amongst sea critters in one of the most picturesque locations on earth.
Day 7 — Saturday, Aug 27
Phuket, we're going to Nam too. Time to fly over to Ho Chi Minh City (formerly known as Saigon) and get ready for a wild night out on the town.
Day 8 — Sunday, Aug 28
Explore the infamous Cu Chi Tunnels—an intricate underground maze of command posts, hospitals, shelters and weapon factories used by the Viet Cong during the American War (commonly known as the Vietnam War in the US). After, we have a free afternoon to explore! Potential options include: The Reunification Palace (former headquarters of the South Vietnamese government), cocktails at Eon Heli Bar (atop the tallest building in the city), or enjoying a home-cooked meal with Iris' family. Or all of the above.
Day 9 — Monday, Aug 29
Journey to the Mekong Delta area to see the agricultural heartland of Vietnam on a boat tour in the AM. Have a farewell drink or three and depart for Ann Arbor.