Trip Region: Eastern Europe
Country(ies): Turkey, Croatia
Partners Trek? No
Trip Cost: $2589
Airfare Estimate: $1500
Nightlife: 8 • Activity: 5
Do you like catamarans and other aquatic vessels? How about sunshine and beach parties? How about sunsets – do you like them? How about the opportunity to join a lineage of MTrekers so close with each other that weekly reunions might not be enough? If you answered yes to any of these questions, come join us on a Mediterranean adventure that will feature boating, partying, and eating our way through Europe, much like Tyrion's entire storyline until Season 5. Similar to the Roman Empire in 324AD, our trek begins with a trip to Istanbul! We'll spend three days in Turkey enjoying all its history, beauty, and entertainment, including a sunset cruise on the Bosphorus. Then we'll ride Viseriyon, Drogon, and the Ice Dragon over to Croatia, birthplace of the King in the North. In Croatia, we'll spend six days in Hvar and Dubrovnik cruising around on catamarans, exploring sea caves, swimming in the Mediterranean, and yes – beach parties. So if any of that sounds like fun then come on in, the water's fine!
Travel Day — Saturday, Aug 15
Rest up! Detox, pray/meditate, write your will - do what you need to do before you embark on the CRAZIEST 10 days of your life. By the end of this trip, you'll be wondering "when do classes start," "how will I survive 2 years of this," and "when's our first reunion," but for now just crush a couple glasses of free airport lounge white wine, stock up on plane snacks, and enjoy the last of your pre-Ross travel status.
Day 1 — Sunday, Aug 16
After a flight that takes us 9 hours into the future, we will start our adventures in Istanbul! After getting checked into the hotel, we will find our way to a local hotspot where we will dine like there's no tomorrow, drink endless amounts of wine and raki, and eat all the baklava in sight. After dinner, we'll explore the city a little bit, maybe find some hookah or karaoke, but probably "take it easy" to recover from our time travel.
Day 2 — Monday, Aug 17
The only city split between two continents, today we will be exploring the history and culture that Istanbul has to offer. In the morning, we will make a trip up to the Süleymaniye Mosque and visit Justinian the Great's Hagia Sofia. After soaking up the history, we will visit a Turkish bathhouse. Post scrubbing yourself clean from what you did at Rick's during orientation, Tori will lead us through a post-exfoliation routine that will leave us all glowing. To cap off the night, we embark on our *first* boat voyage of the trip and sail off for a sunset cruise on the Bosphorous Sea. If we don't make it out on the first night (which I mean…), we definitely will be hitting the town and continuing the after-boat party on land.
Day 3 — Tuesday, Aug 18
Our Istanbul adventure continues, this time focused on what's most important: *food*. Our bodies are finely tuned to find the best street meats out there and Istanbul is not one to disappoint. After downing our third cup of Turkish coffee (fifth one for Mer) and a full breakfast spread, we'll head out to the Spice Market, known as the most colorful, fragrant, and lively market in the city, where we'll sample some goods on offer. Afterward, we'll continue on to the Grand Bazaar (new nickname for Ellen), the largest and oldest covered marketplace in the world with over 4,000 shops. The night is ours to explore, and by this point, Connor will be itching to find Turkey's party scene.
Day 4 — Wednesday, Aug 19
Today, we enjoy our last Turkish delight and finish packing a suitcase so full of spices that it will raise a few eyebrows at Customs. We're heading to Croatia! After taking a plane, a train (not actually), and a boat (this one's true), we will arrive in Hvar in the afternoon. After we get settled in at our beachfront hotel, we will hit the town to finally live out our #YachtWeek dreams.
Day 5 — Thursday, Aug 20
Renowned as one of the best beach party sites in the entire world, we will be taking full advantage of the sun, sand, and (vodka) sodas. We may head over to Hula Hula for a beach party scene and even explore out to Carpe Diem Beach, a club so exclusive that it's on its own island. Today will be one for the books, but maybe not the camera roll (plz Tori).
Day 6 — Friday, Aug 21
The day we've been waiting for the whole trip has finally arrived…. BOAT DAY, ALL DAY! At this point, we've all been counting down the days until we are able to hit the open ocean and explore the nautical side of life. This cruise includes an open bar, several rounds of Thunderstruck, a tour of the Blue Grotto, and backflips off the top deck. Get your portrait mode ready, cause this is the day we take the instagram that makes everyone back home think, "what the hell, I thought they just started grad school..."
Day 7 — Saturday, Aug 22
Fresh off the heels of a wild day of boat-related dartying, we will likely take it easy today with a day at your leisure. The day is yours to do what you like. Some suggested activities: walking around town, chilling on the beach, hitting up Hula Hula one more time for good measure…. or all the above. In the late afternoon, we'll hop on a ferry for a quick ride down to King's Landing (aka Dubrovnik) and get settled in at our new hotel.
Day 8 — Sunday, Aug 23
Whether you stanned the King in the North, the Mad Queen, or were actually rooting for the White Walkers by the end, today is our day to live out our Game of Thrones fantasies in Dubrovnik. After walking the city walls and reenacting the "shame" walk through the streets of the Old City, we will hop on our *fourth* style of boats and kayak around the city and out to Lokrum Island (sports!). Those less aquatically inclined may find themselves at the Buza Beach Bar, which is actually built into the city walls! We'll find our way back together at night for a Farewell Dinner likely to rival the scale and opulence of Joffrey's wedding (without the whole, y'know, dying part of it). We'll then dig deep, find whatever we have left in the tank (probably not a whole lot tbh), and celebrate the best trip we've ever been on.
Departure Day — Monday, Aug 24
Time to pack your bags and head back to good ol' Ann Arbor because we are at the finale of our epic journey. But no need to shed any tears because this is just the end to the beginning - see you at skeeps!
Molly Fallon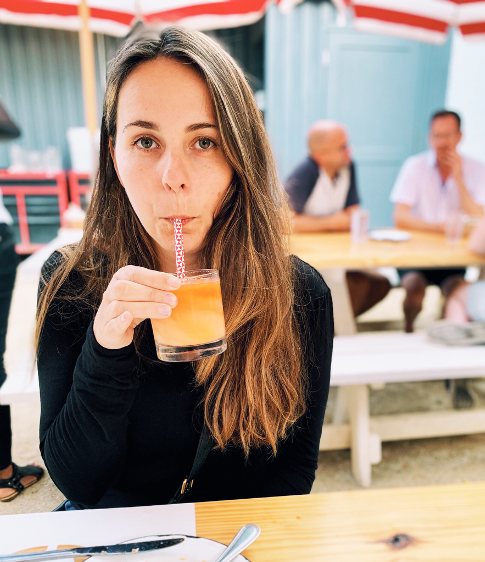 Molly Fallon. The Loch Ness Monster. Sasquatch. El Chupacabra. All high powered, enigmatic figures, but only one is your fearless MTrek leader. This titan of the healthcare industry is well researched in the dangers of high cholesterol, and yet has a freezer full of solely dino nugs and pizza rolls. The M Night Shyamalan of her own past, you may think you know how her prom story is going to end but you're wrong. Her date's a former convict with $100K taped to the underside of his mom's baby grand piano. Think her embarrassing middle school story ends with her pretending to run track while secretly captaining the West Des Moines Valley Middle High Mime Troupe? Incorrect. Downstairs Molly's skills aren't just limited to story-telling however. Her lung capacity to inflate unnecessary unicorn pool toys and innate ability to simultaneously destroy you in obscure party games will leave you spinning. Ask Molly about the drama on Temptation Island, but be prepared to bare your soul as she asks you hard-hitting questions and assures you that "you are validated in your feelings." If you're nice, Molly might (extremely reluctantly) tell you how she got the nickname "Hot Dog Molly" in her first week at Ross.
Jake Bennett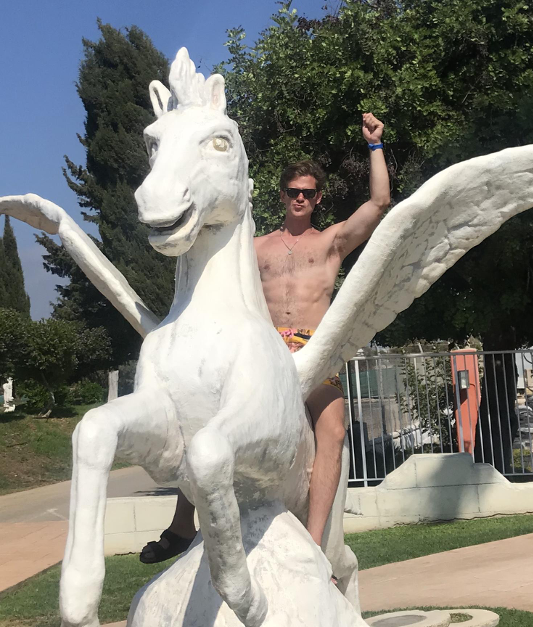 What do Zeus and Jacob Thomas Bennett have in common? A god-like ability to control THUNDER(struck) and a deep appreciation for Cypricean mythological waterparks. Don't let his impressive frame or sometimes terrifying enthusiasm for things blowing up fool you, this Virginian southpaw is 100% a teddy bear at heart and will definitely be the trip dad that rescues you from a consumption vortex (unless he's there with you). A full-time Ross gym resident, Jake's chill to pull (but mostly chill) ratio is more balanced than Istanbul's blend of east and west. The first to crack open a White Claw pre-Skeeps, Baby Jake's unrelenting energy pairs well with a Straight to Rick's (STR) night in Ann Arbor or a 9-day bender in the Medditeranean. Often seen loudly proclaiming in the Ross winter garden that it is "the best day of his life," Ross's undefeated case competition champ will provide the spark needed to make this MTrek worthy of Tori's IG story.
Ellen Napoli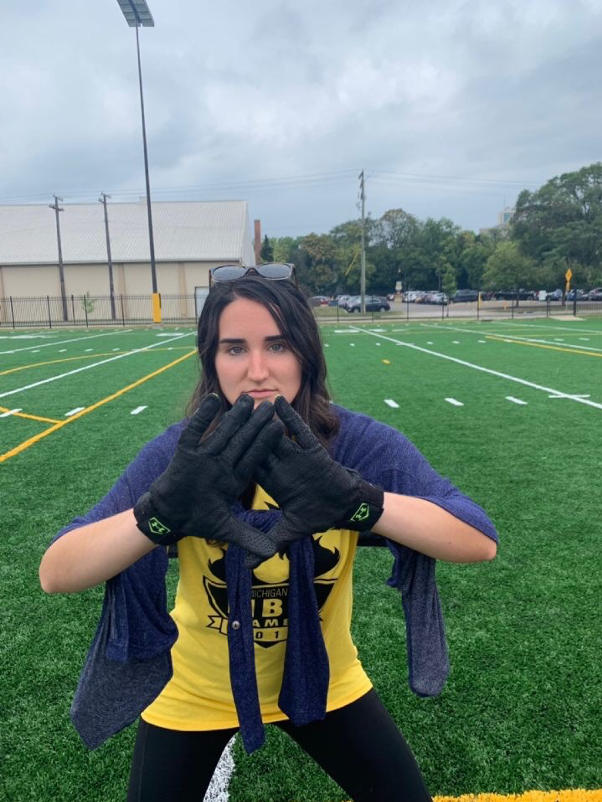 Ellen is never late. Nor is she early. She arrives precisely when she means to. The least punctual of the trek leaders, Ellen will likely show up halfway through the trip and attack the open bar with an aggression unseen since the Uruk-hai assault on Helms Deep. This Cleveland native is the resident Lord of the Rings expert who inexplicably has the complete wrong answer to K, F, M between Legolas, Aragorn, and Gimli (use your imagination). Although she is undoubtedly the crazy aunt among the leaders, she can still exercise constraint by lighting the Beacons of Amon Din at the first sign of trouble. Not unlike Sauron's Ring of Power, once you let Ann Arbor's most beloved Demi-Moore lookalike in your life you won't want to let her go…until it's time to cast her into the fires of Mount Doom. Moonlight drowns out all but the brightest stars and Ellen shines brightest of them all.
Tori Chang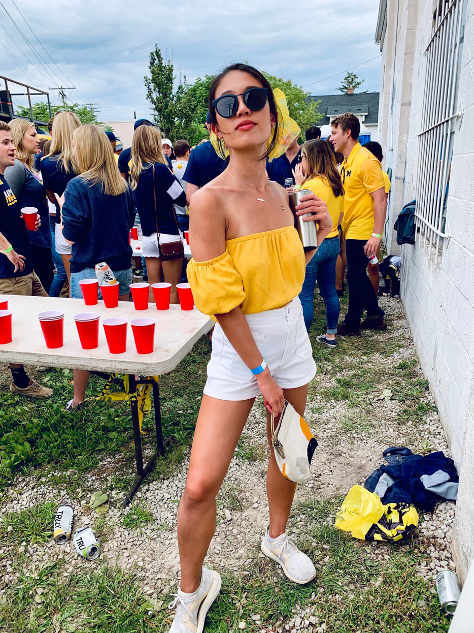 We are so #blessed to have the Instagram Queen of the East Village joining us on this trek. Tori has spent decades cultivating her *vibe*… of which the key tenets are dancing on elevated surfaces, (almost) starring in 2 Chainz music videos, and "high fashion, low tolerance." When she's not expounding on the healing power of her gem water or sharing her flawless skincare routine, you can find this Delaware native telling a group of undeserving undergrads that she's "too pretty to drink bad tequila." What do Red Bull, Estee Lauder, and LinkedIn all have in common? Very little, other than Tori's current resume and spirit companies. Kids, meet your soon-to-be Mom of the MTrek, who will not only be checking that you've eaten but also reviewing your caption before they can officially be tagged #SailToTheV. She's SCREAMING in excitement to meet you all and #thrive with you on our many boat days.
Meredith Chapekis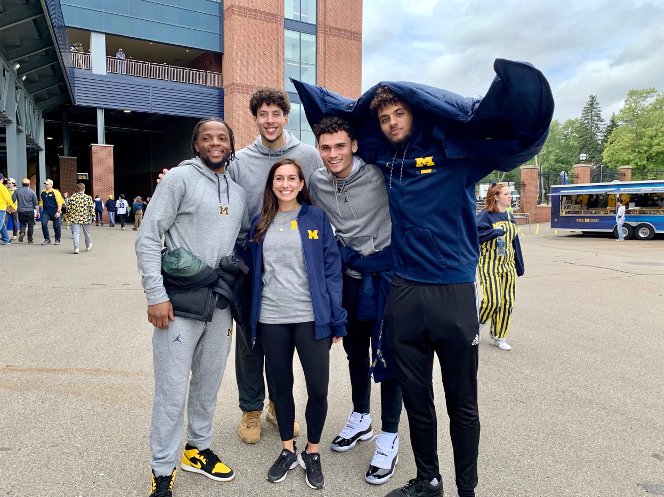 The volcanic eruption of Krakatoa in 1883 sounded like a gentle whisper in the Croatian night compared to this Greek goddess' belly flop that netted her the 2020 Boyne Female Championship title. Our very own double Wolverine, Murda knows all there is to know about Ann Arbor and can impart her wisdom on what not to do at Ricks better than anyone. Don't let her love of fitness and founder status of FitX confuse you, Mer has a real addiction to grilled cheese and just the word "feta" sends her into a tizzy. Like a mysterious spectre in the distance, you never know with absolute certainty what Mer is thinking, but you can always count on her to bust a move at any time, on land or at sea. Her sporty, yet chic, backpack will be the home of every one of your items at one point or another, and her caring soul will unlock heart-to-hearts throughout the trip. Get excited to discover how Murda got her title.
Connor Brownell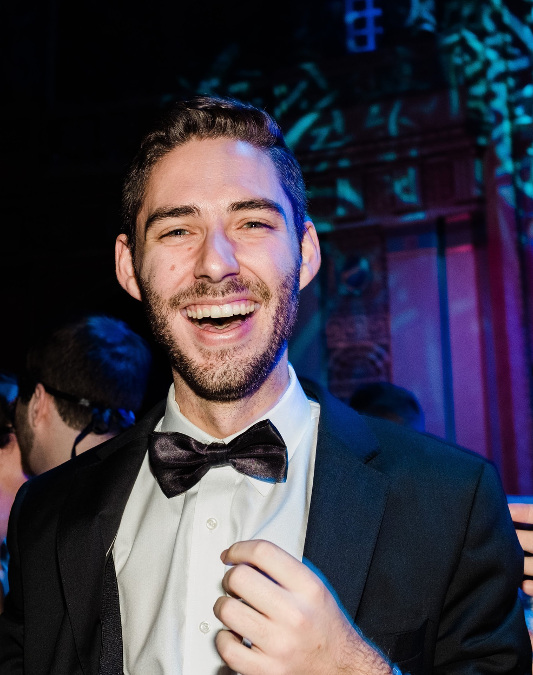 This bean counter turned consultant cut his teeth on the mean streets of suburban San Diego and Santa Monica before moving to Ann Arbor. A man of many contradictions, he's just as likely to invite you to watch To All the Boys I've Loved Before as he is to emphatically enforce obscure rules while playing beer die. But don't let his pedestrian movie interests fool you, this is a man of high culture and a former three-time preteen summer camp laser tag champion. Rumor has it that our resident spreadsheet nerd is working on a well-formatted spreadsheet detailing Turkey's sketchiest night clubs. Give this man some PowerPoint juice and he'll whip up a framework for any problem faster than you can say "bottle service at LIVE". Why did this Southern California man come to Ross you might ask? Join the club. We are still wondering, but we're so lucky to have him.