Trip Region: Southeast Asia
Country(ies): Thailand
Partners Trek? No
Trip Cost: $2050
Airfare Estimate: $1000
Nightlife: 7 • Activity: 7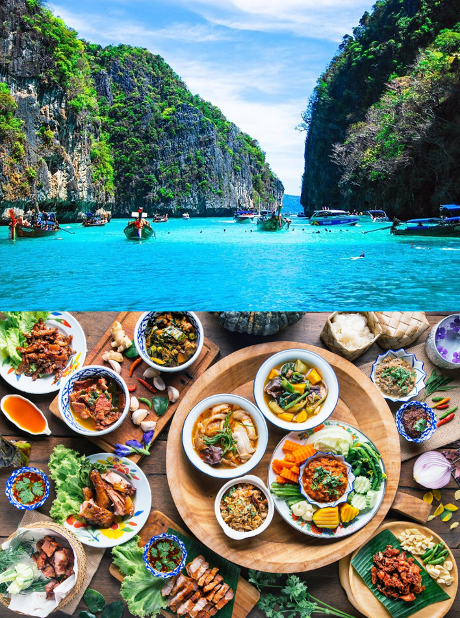 Disappointed with the sub-par Thai food Ann Arbor has to offer? Always dreamed of interacting with elephants (in an ethical way)? Are you looking for the perfect combo of culture, beach relaxation, and adventure (but mostly eating Thai food)? Then look no further! This trip has it all, and then some. We'll start our journey rockin' out in Bangkok, experiencing the city in all its glory before hopping on a flight to the northern city of Chiang Mai where you'll get to experience night markets, river rafting, and yes, elephants! Finally, exhausted and ready to relax we'll pop down south to the islands where we'll get to relax on the beach by day and explore the legendary parties of Phuket by night. We can't wait to enjoy all that Thailand has to offer and make Thais that'll bind you for life (you really get to know each other when you're sweating in 100% humidity).
Travel Day — Saturday, Aug 15
After an arduous week of orientation acquainting yourself with the realities of not being fully employed anymore, meeting new friends, and getting to the bottom of the question "Is there such a thing as too many White Claws?", you'll do just what you ever dreamed of...board a 20 hour flight to Thailand - get ready to rock out!
Day 1 — Sunday, Aug 16
Welcome to Bangkok, the "Venice of the East"! We'll arrive with hopefully all our bags (bring a carry on!) and check into our hotel. We have the day to freshen up, relax, take a nap and explore the city a little bit before we head to our welcome dinner with our tour guide...followed by a drink or five (it's Sunday but you don't have work tomorrow so who cares?).
Day 2 — Monday, Aug 17
We leave in the mid-morning to check out the famous Damnoen Saduak Floating Markets, and likely start our unofficial contest for "who can eat the most Thai food in a single day". After some strolling & eating, we'll head back to Bangkok to explore the city a bit before our dinner cruise on the Chao Phraya river, after which we'll likely continue to see what classy features Bangkok's nightlife has in store for us.
Day 3 — Tuesday, Aug 18
After two nights, we'll likely be ready to Chiange it up - luckily, we're hopping on a morning flight up to Chiang Mai in the north of the country (a 1.5 hr flight)! I hope you slept on the plane, because we have a packed day once we arrive in the idyllic northern city! We'll start off the day by exploring the Wat Pra Singh Temple before checking in at the Dusit Princess hotel. In the afternoon we'll spice it up with a Thai cooking class (can you tell that we love food?) where you'll learn the fundamentals, including ingredient substitutes that'll be available at your local Trader Joe's.
Day 4 — Wednesday, Aug 19
Today is the day you've been waiting for since you heard the word Thailand...elephants! We made sure to choose a location that treats elephants with dignity and respect. Spend the day learning about Thai elephants, watch them bathe and play, and even put your new thai cooking skills to use by making vitamin ball snacks for the elephants, before returning back to the hotel. Relax and wash the elephant off of you before embarking to the famous night markets of Chiang Mai! Stroll through the stalls to pick up souvenirs and sample delicious food and drinks. Then get a good night's sleep because tomorrow we'll be going on a major thai adventure.
Day 5 — Thursday, Aug 20
Eat a big breakfast because today we'll be embarking on an action-packed day exploring the hill tribe areas north of the city. First, we'll set off on a bike tour of the scenic landscapes leading us to a waterfall that also happens to be the start of our hiking loop and the place where we can take a dip after completing the trek. Next, we'll drive up to the river camp for a two hour whitewater rafting session along some of the best rapids in Asia! Once we arrive at the downstream camp, we can change into dry clothes and enjoy some drinks before spending our final night in Chiang Mai.
Day 6 — Friday, Aug 21
Stretch out those sore muscles cause it's High Thaime to board our flight to the gorgeous beaches of Phuket! Take a load off and relax at the hotel pool, explore the beautiful beaches, or opt in for a variety of water sports, diving, or island excursions.
Day 7 — Saturday, Aug 22
Up until this point, we'll likely have made an inappropriate amount of crude jokes about the Phi Phi Islands (pronounced "pee-pee"), but now will be our chance to actually experience the glorious blue (not yellow…) waters! In the morning, we'll hop on a private boat from Phuket that will take us on a tour of Phi Phi and the surrounding islands, including Ko Rang Yai, Maya Bay and Loh Samah Bay, finishing the tour at our hotel on the north part of Phi Phi.
Day 8 — Sunday, Aug 23
This is the day you've been waiting for - that one day where we have literally nothing planned. You can wake up when you want, you can lie on the beach all day, you can get so sunburnt that you turn into a lobster, you can go on a hike of the island, you can go into the small town on the island and buy some crappy souvenirs for your family. The world is your oyster. We'll have one final group dinner before we have to split in the morning to head back to Bangkok for our flights home.
Departure Day — Monday, Aug 24
The day has come for us to bid adieu to beautiful Thailand. We'll get packed up from our island paradise and head back to reality - but on the bright side at least you don't have to go back to work! You'll leave with some great memories and new friends to start off your MBA in style - with a wicked sunburn and a self-imposed hiatus on Thai food for the rest of the semester (don't worry, you won't find any good Thai food in A2 anyway…).
Katie Herron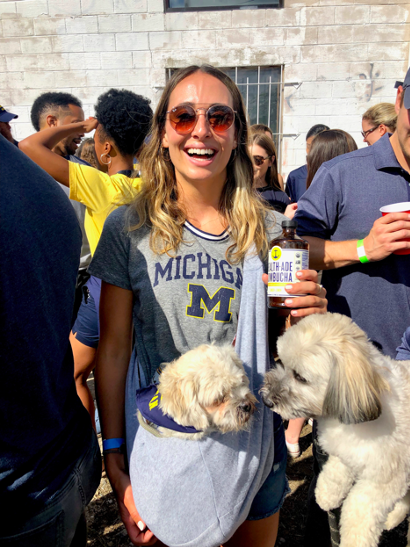 A self-professed "fun grandma", Katie Herron may share the same name as the infamous Plastic from Mean Girls but the similarities end there. On campus, you can find Katie, a dual degree with SEAS (aka tree-hugger school) who hails from Los Angeles, visiting the weekly farmer's market to cook up a killer meal (follow her foodstagram @bicoastal_kitchen), sporting a year-round tan with sparkling white teeth (she's the daughter of two dentists), and bringing her 2 year old rescue pup Ruthie (also known as "lil pumpkin" and "Scroot") to every get-together possible. With a magnetic personality, Katie somehow manages to befriend every person she meets (Rosser or not), inviting them on niche adventures (I'm talking public bathhouses, cheese shops, dog birthday parties and the like) before inevitably convincing them to join OrangeTheory Fitness. Like 99% of Rossers, Katie came from consulting at Deloitte in DC but is excited to pivot into her dream job this summer as a marketing intern with Clif Bar. Katie will be VP of Culture on our MTrek, through which she will provide our Thai educational content, but also is our unofficial VP Lifeguard, VP Foodie, VP Game Fiend, and VP Virgo (you better be on time!).
Two truths, one lie:
1) Katie has never eaten a vegetable in her life (plants are friends, not food)
2) Katie is a national chess champion (nerd)
3) Katie has a "LBG4L" (Google it) tattoo on her right shoulder
Steve Kendall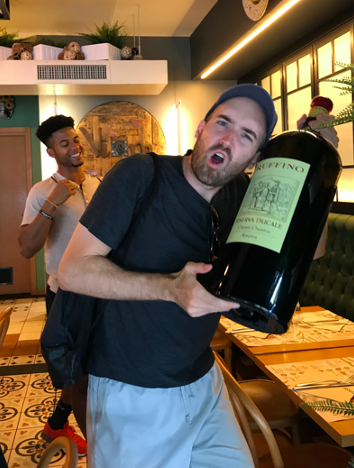 Selected for his ability to always wake up to his first (or fifth) alarm, even on a Friday morning after a big night at Skeeps, our VP of Logistics is in charge of getting us up and out of the hotel on time. After growing up in the Chicago town that Mean Girls is based on, Steve fled the jungle and spent two years in London before Ross. You can find him saying "flat" instead of apartment, signing emails with "cheers", and inserting the letter "u" where it doesn't belong.
A marketing extraordinaire who will be interning at Pepsi this summer, Steve hopes to help plan next year's Super Bowl Halftime Show, with his favorite band as the headliner: LMFAO. Not only does he have dance moves that make the inflatable blow-up man at used car lot jealous, he single handedly won last year's BSchool Travel contest by posting a truly absurd (and yes, annoying) amount of MTrek content to his insta (which, by the way, is @skendallous). Always the instigator, our boy Steve will bring his antics to Thailand and ensure that every night is a hilarious one.
Two truths and a lie:
1) After an unfortunate incident involving the Blue Devil's mascot, Steve retired from his days as being the official Georgetown Hoya mascot (a large festive rock) and walked on to the crew team
2) Steve holds the title for most-liked post on the iconic instagram "Bald n' Beard" (@baldnbeard_official) and has even begun a career as an amateur beard painter during his time at Ross!
3) Steve was deciding between Ross and becoming a fully fledged expat in Singapore to lead marketing for Slim Jim Asia (thank goodness we snagged him!)
Robert Leupp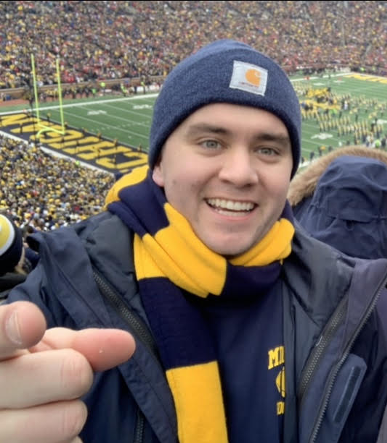 This California dreamboat is possibly the nicest guy on both sides of the Mississippi. There is quite literally never a moment that Robert is not smiling or laughing, except for that one time he shed one single tear during the 49ers' fourth quarter implosion in the Super Bowl….unlike that disgrace of a team, Robert promises to bring back to SF the "Muy Thai" equivalent of the Vince Lombardi Trophy during the trek. Prior to Ross, he was a Facebooker working in Silicon Valley which means he probably (read: definitely) knows more about you than you know about yourself. Unfortunately for all of us, we only get very limited time with Robert until around May 2021 when he officially departs from the human world and descends down into the unknown where the investment banking devils thrive – until then, he's ready to Thai one on!
Two truths, one lie:
1) Robert has no idea what DCF is (neither do any of us…)
2) Robert never learned to drive
3) Robert refuses to eat regular-sized Slim Jim meat sticks, as he prefers the superior heft and weight of the "Savage" size
Sandrine Nkuranga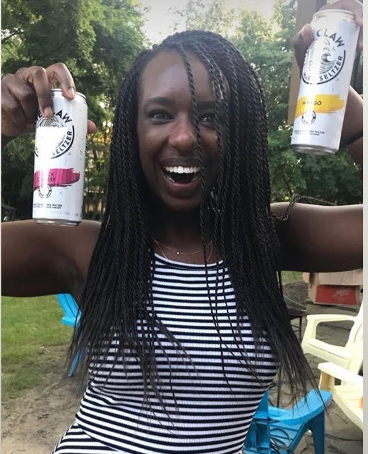 Every trek needs one – that one person who gets everyone amped up no matter the conditions, no matter how exhausted the crew is…thankfully, we have Sandrine! She is known for perfecting her signature move – the "Sandrine Switch" – which consists of the following four steps: 1) getting ready to go to bed, 2) receiving a text asking if she is going out, 3) grabbing a handle of tequila, 4) going out immediately. As the VP of Social on this trek, we fully expect her to bring this instantaneous, ready-to-go mentality while also ensuring you have a Singha or Mai Tai in your hands at all times. Sandrine is originally from Atlanta, went to school at UPenn, placed out of the entire core, and is returning to Atlanta this summer to work at some no-name consulting company that you probably have never heard of (a small shop called Bain) – NO BIGGIE. At least we found one unimpressive thing about her… she likes her bananas fully browned before she eats them (weirdo).
Two truths, one lie:
1) Sandrine very delicately snorts sometimes when she laughs (call her "Snort-drine" if you want to get slapped in the face)
2) Sandrine, despite being from ATL, hates Chick-fil-A with a fiery, burning passion
3) Sandrine is classy AF and only consumes Slim Jim "premium" smoked meat sticks over the trashy convenience store alternatives
Allie Taikowski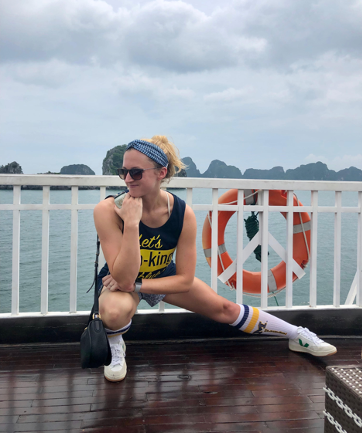 As "trip mom" and official trek CEO, what Allie says goes. Despite her interests in using data to improve global health, when you're struggling to finish your 17th Pad Thai of the trip, she'll be the one behind you yelling to finish – sodium levels be damned! Allie is the most prototypical Taurus you'll ever meet – she loves X-TREME luxury, comfort and relaxation. She  also shares a lot in common with her fellow Taureans: down-to-earth like Adele, will rip your face off like The Rock, devilishly attractive like David Beckham, and has some sort of ominous power like Queen Elizabeth. The thing Allie loves most in life is her rescue pup Olive, sometimes even more than her husband JD (who, despite also being great, is a trek leader on the much-less-great trip to Greece & Turkey #shotsfired). In all reality, we've had to unfollow/refollow her multiple times on Insta because of Olive post fatigue (the limit might exist?…although to be 100% fair, the dog is damn cute). She went to school at Dartmouth where she became best friends with Keggy the Keg before turning towards a career in the healthcare industry. As the most fashionable gal at Ross, you will always be able to spot Allie from her stylish 'fit – even in 100% humidity #dewey.
Two truths, one lie:
1) Allie is a former competitive pole vaulter nicknamed Blonde Lightening
2) Allie is the #1 evangelist for Rent the Runway in the continental US. To date she has converted 6868490 new members
3) Allie once ate 69 habanero Slim Jim meat sticks in 1 hour