Trip Region: Southeast Asia
Country(ies): Thailand
Partners Trek? No
Cost: $2050
Airfare Estimate: $1000
Structure: • Lodging: • Nightlife: 7 • Activity: 7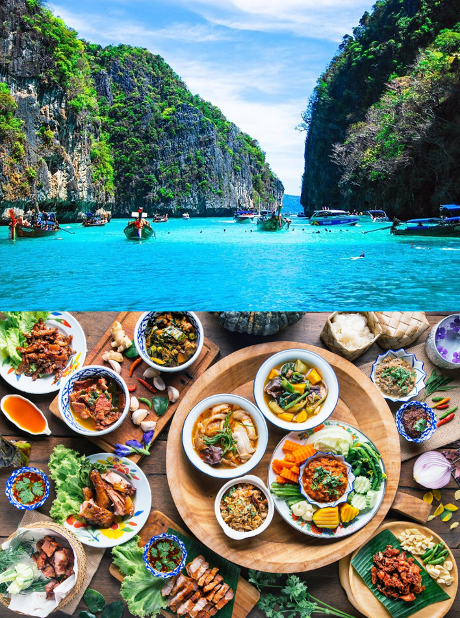 Disappointed with the sub-par Thai food Ann Arbor has to offer? Always dreamed of interacting with elephants (in an ethical way)? Are you looking for the perfect combo of culture, beach relaxation, and adventure (but mostly eating Thai food)? Then look no further! This trip has it all, and then some. We'll start our journey rockin' out in Bangkok, experiencing the city in all its glory before hopping on a flight to the northern city of Chiang Mai where you'll get to experience night markets, river rafting, and yes, elephants! Finally, exhausted and ready to relax we'll pop down south to the islands where we'll get to relax on the beach by day and explore the legendary parties of Phuket by night. We can't wait to enjoy all that Thailand has to offer and make Thais that'll bind you for life (you really get to know each other when you're sweating in 100% humidity).
Day 1 — Saturday, Aug 15
After an arduous week of orientation acquainting yourself with the realities of not being fully employed anymore, meeting new friends, and getting to the bottom of the question "Is there such a thing as too many White Claws?", you'll do just what you ever dreamed of...board a 20 hour flight to Thailand - get ready to rock out!
Day 2 — Sunday, Aug 16
Welcome to Bangkok, the "Venice of the East"! We'll arrive with hopefully all our bags (bring a carry on!) and check into our hotel. We have the day to freshen up, relax, take a nap and explore the city a little bit before we head to our welcome dinner with our tour guide...followed by a drink or five (it's Sunday but you don't have work tomorrow so who cares?).
Day 3 — Monday, Aug 17
We leave in the mid-morning to check out the famous Damnoen Saduak Floating Markets, and likely start our unofficial contest for "who can eat the most Thai food in a single day". After some strolling & eating, we'll head back to Bangkok to explore the city a bit before our dinner cruise on the Chao Phraya river, after which we'll likely continue to see what classy features Bangkok's nightlife has in store for us.
Day 4 — Tuesday, Aug 18
After two nights, we'll likely be ready to Chiange it up - luckily, we're hopping on a morning flight up to Chiang Mai in the north of the country (a 1.5 hr flight)! I hope you slept on the plane, because we have a packed day once we arrive in the idyllic northern city! We'll start off the day by exploring the Wat Pra Singh Temple before checking in at the Dusit Princess hotel. In the afternoon we'll spice it up with a Thai cooking class (can you tell that we love food?) where you'll learn the fundamentals, including ingredient substitutes that'll be available at your local Trader Joe's.
Day 5 — Wednesday, Aug 19
Today is the day you've been waiting for since you heard the word Thailand...elephants! We made sure to choose a location that treats elephants with dignity and respect. Spend the day learning about Thai elephants, watch them bathe and play, and even put your new thai cooking skills to use by making vitamin ball snacks for the elephants, before returning back to the hotel. Relax and wash the elephant off of you before embarking to the famous night markets of Chiang Mai! Stroll through the stalls to pick up souvenirs and sample delicious food and drinks. Then get a good night's sleep because tomorrow we'll be going on a major thai adventure.
Day 6 — Thursday, Aug 20
Eat a big breakfast because today we'll be embarking on an action-packed day exploring the hill tribe areas north of the city. First, we'll set off on a bike tour of the scenic landscapes leading us to a waterfall that also happens to be the start of our hiking loop and the place where we can take a dip after completing the trek. Next, we'll drive up to the river camp for a two hour whitewater rafting session along some of the best rapids in Asia! Once we arrive at the downstream camp, we can change into dry clothes and enjoy some drinks before spending our final night in Chiang Mai.
Day 7 — Friday, Aug 21
Stretch out those sore muscles cause it's High Thaime to board our flight to the gorgeous beaches of Phuket! Take a load off and relax at the hotel pool, explore the beautiful beaches, or opt in for a variety of water sports, diving, or island excursions.
Day 8 — Saturday, Aug 22
Up until this point, we'll likely have made an inappropriate amount of crude jokes about the Phi Phi Islands (pronounced "pee-pee"), but now will be our chance to actually experience the glorious blue (not yellow…) waters! In the morning, we'll hop on a private boat from Phuket that will take us on a tour of Phi Phi and the surrounding islands, including Ko Rang Yai, Maya Bay and Loh Samah Bay, finishing the tour at our hotel on the north part of Phi Phi.
Day 9 — Sunday, Aug 23
This is the day you've been waiting for - that one day where we have literally nothing planned. You can wake up when you want, you can lie on the beach all day, you can get so sunburnt that you turn into a lobster, you can go on a hike of the island, you can go into the small town on the island and buy some crappy souvenirs for your family. The world is your oyster. We'll have one final group dinner before we have to split in the morning to head back to Bangkok for our flights home.
Day 10 — Monday, Aug 24
The day has come for us to bid adieu to beautiful Thailand. We'll get packed up from our island paradise and head back to reality - but on the bright side at least you don't have to go back to work! You'll leave with some great memories and new friends to start off your MBA in style - with a wicked sunburn and a self-imposed hiatus on Thai food for the rest of the semester (don't worry, you won't find any good Thai food in A2 anyway…).