Trip Region: Europe, Africa
Country(ies): Morroco, Spain
Partners Trek? No
Trip Cost: $2505
Airfare Estimate: $1500
Nightlife: 8 • Activity: 5
Here at Rick's Marrakech Cafe, we'll do our namesake bar proud and make sure your adventurous spirit (and your liver) are ready for the next 2 years. This trip has everything you're looking for: camels, spice markets, Alex Perrin's angelic singing voice, boats, Rachel Ing's dance moves, kayaking, and beach parties. We start in the colorful city of Marrakech where we will immerse ourselves in the culture and history of this iconic city. We'll trek to the desert for an unforgettable night of camping in a Berber Village and of course, sunset camel rides. Then we'll jet set to Spain to the cities of Malaga and Marbella. While we're there we'll embrace key elements of Spanish culture: sangria, siestas, and bottle service. After a few days in the Spanish sun, you'll have a tan that will last until the first snow of the season. (Seriously it snowed in October last year, are you sure you're ready for that?)
Get ready for some fire content hotter than the desert sun. Be sure to peep @Friday.Beers to understand the nicknames.
Travel Day — Saturday, Aug 15
Congratulations on surviving Orientation, Impact Challenge, practicing your odyssey for the first of many times and (obviously) your first Rick's experience! Get some rest and recover on the plane because at wheels down its game faces on. Plan to get to Morocco by Sunday afternoon.
Day 1 — Sunday, Aug 16
From the Winter Garden in Ann Arbor to the Medina of Marrakech, get ready to meet your fellow trekkers and trek leaders. We're super pumped to have you join us on this adventure. This first night is all about getting to know one another. We'll kick off by meeting our Trek Leaders for a rundown of the week. Then we'll head out for dinner and a night out on the town.
Day 2 — Monday, Aug 17
Meet your local guide and set off on an afternoon tour of the old medina, through the bustling souks that are the lifeblood flowing through the city. Explore tranquil courtyards filled with the scent of orange blossom and the many salons and chambers that make up Bahia Palace. Onward, we'll stop by the Koutoubia Mosque; its famous minaret is the prototype for others of its kind around the world. Afterward, we'll join a passionate local foodie for a true insider's guide to the medina and a tasting tour of the incredible Djemma el Fna. This is one of the largest public spaces in the world and unique to Marrakech. Snake-charmers (one of Payal's former hobbies), henna-painters (one of Ross' former hobbies), performers, and storytellers share the square with a street food bazaar of stalls laden with Moroccan delicacies. You'll also put your negotiating skills to the test (and get you ready to haggle your signing bonus with that BCG partner) with some of the most experienced hagglers in all of Africa.
Day 3 — Tuesday, Aug 18
Get ready for an adventure day! We're heading out to the desert and our campsite in Agafay. But don't worry it's more like #glamping because the only stars Boz sleeps under are 5 stars. After getting settled into camp its the moment you've been waiting for. Fire up the gram because we're taking a sunset camel ride that will surely make your friends back home jealous and have your parents wondering what riding camels has to do with business school. (Answer: very little) That night we'll be treated to a special Moroccan dinner under the desert sky.
Day 4 — Wednesday, Aug 19
After packing up at Agafay we'll head back to Marrakech for another day of exploring. At night, we'll put our culinary skills to the test in a cooking class and learn how to make some famous Moroccan dishes such as a Chicken Tagine. Let's hope all those Chopped marathons have come in handy. (Ross is pumped) Afterward, we'll be free to explore the open-air market and enjoy our final night in Morocco.
Day 5 — Thursday, Aug 20
Get ready for your second continent of the trip as we head to the Costa Del Sol region of Spain for some prime time beach action. We're heading to Marbella, one of the best beach and resort cities in Europe. This will be a travel day followed by a night out in Marbella.
Day 6 — Friday, Aug 21
Start your day with a guided kayaking tour. We will set off along the coast, enjoying amazing views of the city, and the Sierra Blanca Mountains. After we're done we have the rest of the day to explore. If Nicki has anything to say about it we'll find ourselves at a local vineyard for some wine tasting. Rosé all day. That night we'll hit the town of Malaga for their famous summer festival.
Day 7 — Saturday, Aug 22
Saturdays are for the BUOYS. We're setting sail on a three-hour cruise where hopefully the winds are strong and the drinks are stronger. We'll soak in the sun and dance like we're at the Circ of the high seas. That night we'll explore the city of Marbella and our foodie expert Rachel will no doubt track down some of the tastiest tapas for us to enjoy.
Day 8 — Sunday, Aug 23
Welcome to heaven on earth, Nikki Beach. No, it's not just Nicki's personal beach. This is a world-famous beach club with chic decor, top DJ's and unending amounts of fun. There is no better place to end our MTrek. We'll have a day bed reserved with bottle service and the day is ours to lounge, soak in the sun and enjoy some fire beats. We'll finish the day with a send-off dinner before we all head back to Ann Arbor for the best year ever.
Departure Day — Monday, Aug 24
Today we'll head to the airport and say hasta luego to Spain and the new friends (and perhaps lovers) we've made over the trip. Your leaders will always be there to guide you through your MBA1 year like how to survive stats and what not to do (like buying any books for class). This won't be the last time you see us, as we'll already be planning our first reunion, at Rick's of course.
Alex Bozzo aka Boz aka Dooley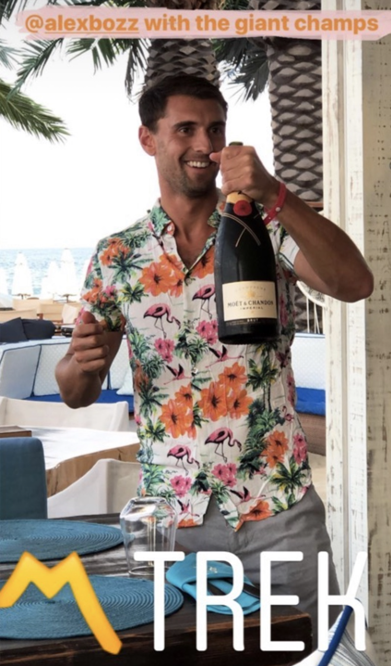 Big sales guy. Big tech guy. Big BUS guy. But most importantly, Boz is a big Ross guy. He single handedly planned more Ross events and joined more clubs than anyone knew possible, all while rocking floral prints. Boz is the obvious dad of the group cause a) he's old and b) just refer to a. This former Uber exec knows what it's like to spend the money and (not) reap the profits. He's the planner of the group to the point that the rest of the MBA2s don't know what's going on but are blindly following along. Want to listen to some jams on the trip? Odds are that Boz has a speaker that he's already blaring and using to get wildly close to getting kicked out of whatever establishment he has gotten us into. Brace yourself for Boz's heartwarming speeches with oversized bottles of alcohol (peep the photo above).
Nicki Yochim aka Rally Queen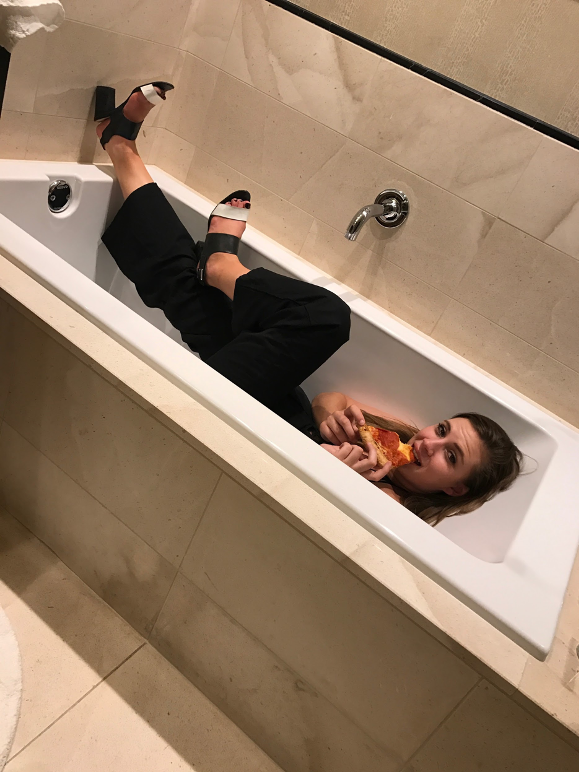 Are you someone who feels like you can't do it all? You're someone who's afraid that the pressures of extracurricular activities, school, maintaining peak fitness, having social life, and dancing with the love of your life may be too much? Well Nicki can't relate. But if you're that kind of psychopath who can be lounging in a bathrobe drinking a glass of wine at 10:00 but can be ready to hit the clurb at 10:01, then Nicki's your girl. From whiteouts at Penn State to blackouts at Rick's, Nicki's Queen of the theme party, the day party, and the late night party.
Ross Goldberg aka Chill Guy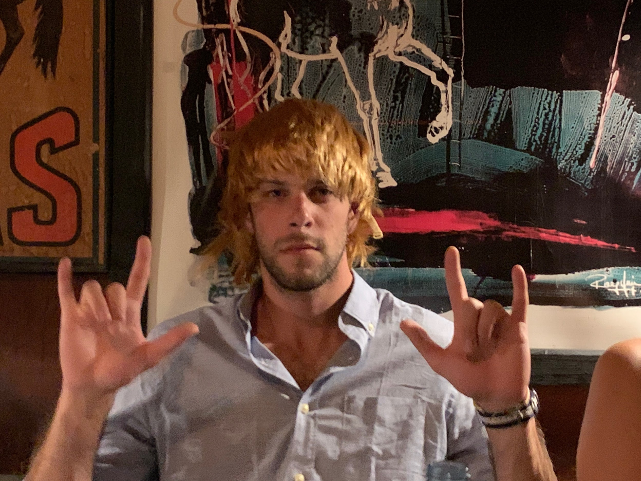 Meet Ross from Ross. Ross woke up like this. Flawless. His hair is always greased to perfection thanks to the Argan Oil from the goats of Morocco. When not tracking the latest FinTech news, you can find Ross in some heated ping pong games at Pretzel Bell. Lord of the dance after seven tequila sodas, Ross may not start the party (that's Rachel's job) he'll make sure to finish it. If you're living at The Yard, ask him about the train that serves as his alarm clock. Whatever you do, don't ask him about his favorite band (California Honeydrops) or he'll drag you to their next show at The Ark. No food in Morocco will be spicy enough for this Hot Ones fanatic.
Rachel Ing aka Fits McGee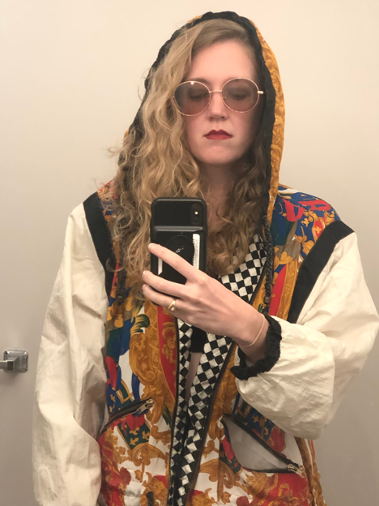 What do you get when you combine a chemical engineer, a fake sorority girl and an athlete? Rachel Ing, who from a young age has been a fashion blogger and DC socialite (if you couldn't already tell from the salvation army 80s jacket in the photo), now dresses primarily in groutfits.
If you're from DC and a fan of Baby Shark you'll get along just fine with this DC native. This former consultant will be spending her summer as an analytics guru for the Washington Nationals. #Natitude.
A resident of the Ross Sorority, the Lima Bean, Rachel will make sure to start every dance floor but never close them as she'll probably just Irish exit. See her in the middle of a night out and she seems like the most responsible one at the bar? Don't worry, there is a 99.9999% she's about to drop you and scouting her own exit opportunities. But don't worry because you will find her back at the house cooking a meal for everyone to have when they come back.
Alex Perrin aka Dua Lipa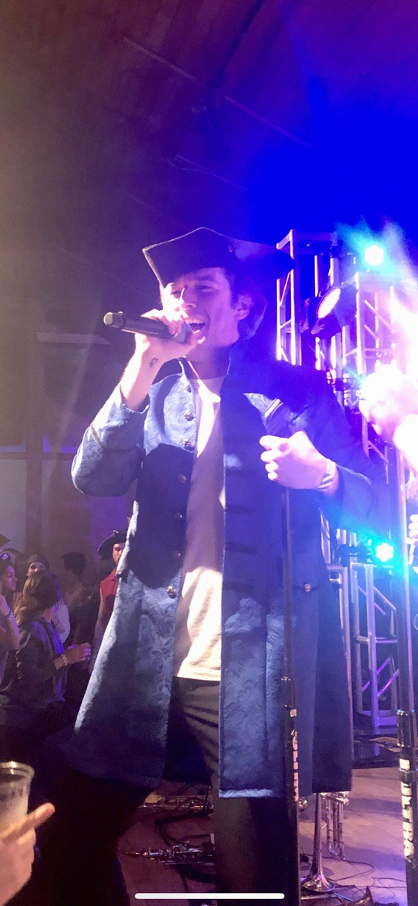 Hello Ladies. Look at your man. Now, look at Alex Perrin. Now, look back at your man. Sadly he isn't Alex Perrin. But you could be on this trip with Alex Perrin. Now look down. You're on a camel.
If this guy looks familiar it's because he's the man that was rocking your face off as the lead singer of Risky Business. (This is basically just a Risky Business world tour and we're his groupies.) Alex is bound to find us a karaoke bar and impress the locals with his rendition of Mr. Brightside.
Alex is from New York….well just outside of New York. Well…New Jersey. This former consultant is heading to the dark underbelly of online gambling at DraftKings. Don't ask him about the 2019 NCAA basketball tournament (unless you have 3 hours to hear about how it was the best day of his life), instead ask him about the time UMBC beat UVA as a 16 seed. This Ross rockstar will always light up the dance floor and be sure that this trek is always on beat.
Payal Parikh aka Glue Girl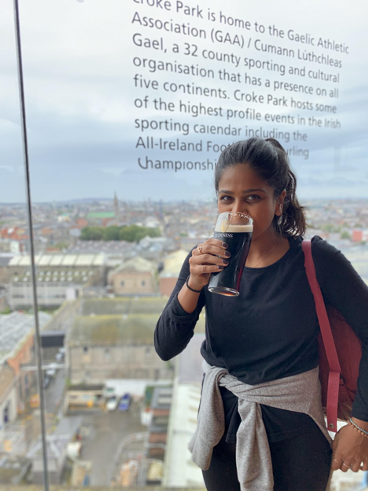 Every group needs that person who handles logistics, makes sure the planning of the trip is finalized and the details are ironed out. Fortunately for Payal that person is definitely not her (peep Boz Bio).This Arizona transplant is really good at making Rachel stay out and turning up when that's not the move. She may not know much about what's planned, but with her blindingly perfect hair and effortless style, she's a necessary addition as purveyor of the 3-D arts. Ask her about when she poured her heart into sub-par vegan baking, creating tahini-focused delicacies by which even most rural communities would be offended.