Trip Region: Western & Central Asia
Country(ies): Turkey
Partners Trek? No
Cost: $1535
Airfare Estimate: $1100
Structure: 3 • Lodging: 3 • Nightlife: 3 • Activity: 2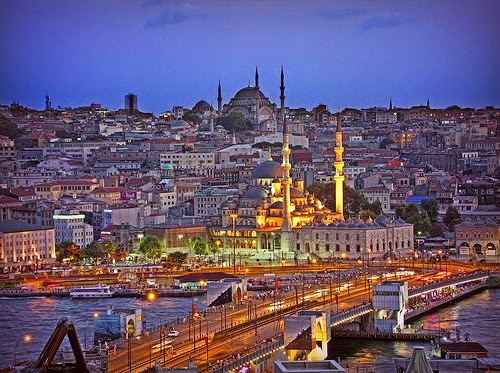 Start off your Ross experience in Turkey, a land truly at the crossroad of civilizations, with Shish Kebaby One More Time, an MTrek melding breathtaking culture and staggering nightlife. We begin in Istanbul, the 'Gateway Between East and West,' exploring historical wonders, such as the famous Hagia Sophia and Blue Mosque, dynamic bazaars, including the Grand Bazaar itself, an epic nightlife scene, a banging Bosphorus booze cruise, and scrumtrulescent foodstuffs that manage to tickle all five senses. Nightly doner runs are just the beginning. After getting our fill of the ordered chaos that is all at once a modern metropolis, historical remnant, and pulsing national hub, we leave the city for the historical and natural wonders of Antalya, where we will explore Greek and Roman ruins, a Middle Age castle, spectacular cascades, and one of the finest silky smooth, white sand beaches in Eurasia. And take another boat trip, because why not? After replenishing our tans, and further bonding night-bus style, we head off to balloon our way over Cappadocia, and traverse the World Heritage-listed Goreme monastic complex and structurally impressive 'Love Valley.' With Vietnam, Cuba, and Ireland MTrek veterans taking the lead, you're guaranteed to be in capable hands for your first formative experience of the next two years.
Day 1 — Saturday, Aug 29
First night in Istanbul - Check into hotel, grab a Turkish dinner, and relax a bit after the long flight.
Day 2 — Sunday, Aug 30
Tour with guides to the Blue Mosque, Hagia Sophia, and the Grand Bazaar. Free time for the rest of the day.
Day 3 — Monday, Aug 31
Free day to visit other sights in the city as well as take some time on the Bosphorus. End our time in Istanbul with a night out at the legendary Club Reina.
Day 4 — Tuesday, Sep 01
Short morning flight to Antalya where we nurse our hangovers at the Duden waterfall and relax on the beach.
Day 5 — Wednesday, Sep 02
Day trip to Phaselis, boat trip from Demre with lunch, and Simena Castle tour. End the day with some more beach time and late night shenanigans for Sydney's birthday!
Day 6 — Thursday, Sep 03
Light day to relax in the Antalya Old Town and spend our final day on the beach before we head to Cappadocia via overnight bus.
Day 7 — Friday, Sep 04
Visit the World Heritage Open Air Museum, walk through the Love Valley, enjoy a Turkish bath, eat a home-cooked meal with a local family, and experience a whirling dervish performance.
Day 8 — Saturday, Sep 05
Early morning hot air balloon ride to watch the sunrise and we're off to catch our plane back to AA!