Trip Region: Eastern Europe
Country(ies): Bulgaria & Romania
Partners Trek? No
Trip Cost: $1520
Airfare Estimate: $1500
Nightlife: 2 • Activity: 2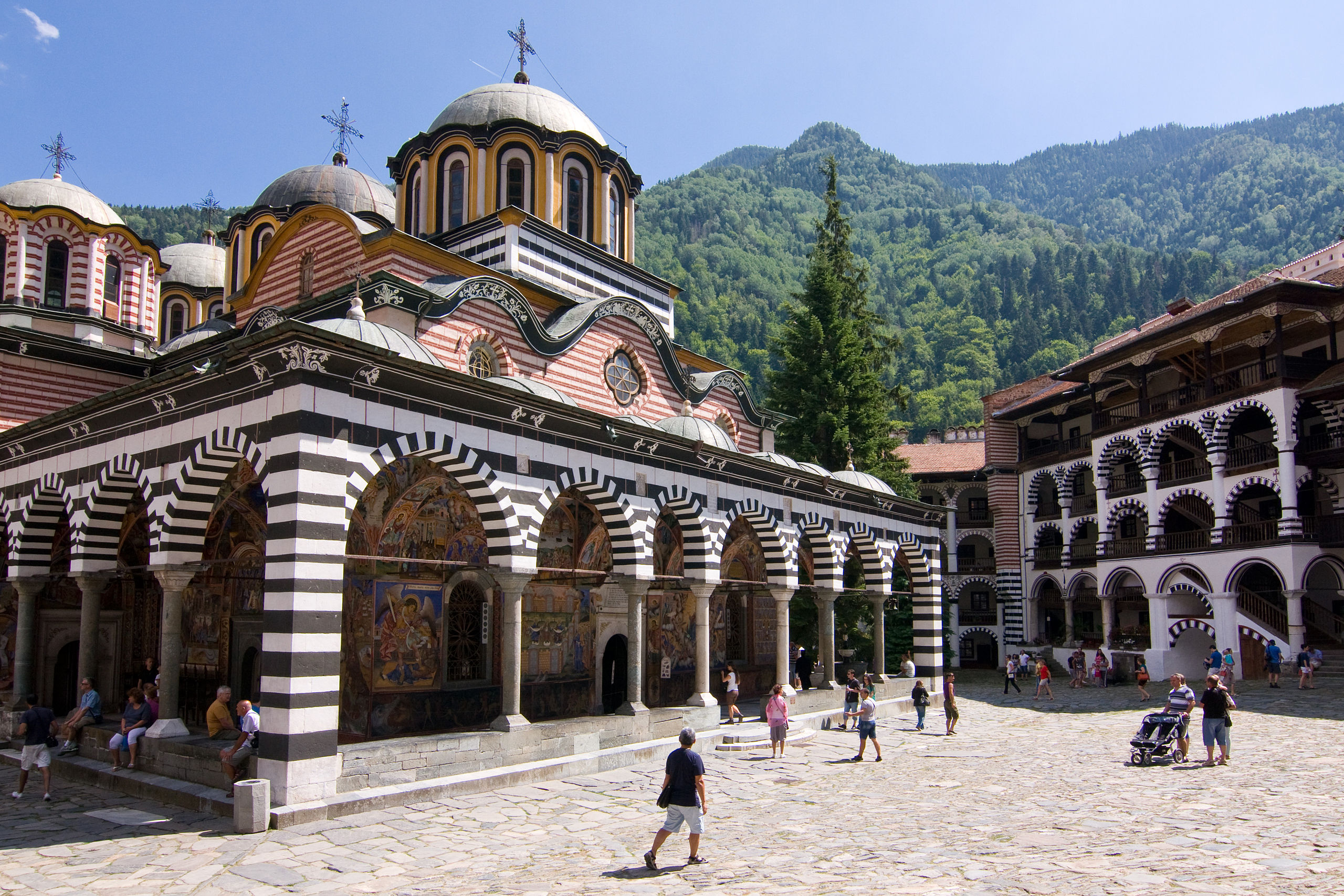 Comrades, have you ever dreamed of waking up in an Eastern European hotel with a killer hangover to find sauerkraut lodged in your ear and a Cyrillic tattoo on your butt cheek that reads, "The West Will Fall"?  If so, this is the trip for you!  Only a divine cosmic presence (or a shared love for fireball and partial nudity) could bring such talent together on the same trip.  This trip promises to provide adventure, danger, and romance.  The trip motto: "It hurts but I like it."  We will sleep in ancient castles, trek through the mountains of Romania, visit the home of Dracula, go yachting on the black sea, and get dirty in Sofia to the finest Eastern European house music.  We will do this trip as it was meant to be done: beach and sun, all-night clubs, famous castles, and mountainside hikes.   We expect only the best looking (in the eye of the beholder), most fun, most adventurous trekkers to apply!  We can't wait to meet you!
Day 1 — Thursday, Aug 27
Depart from the USA to Bucharest. We'll help you adjust to the time difference the only way we know how: with a welcome dinner and drinks on drinks on dranks on Strada Lipscani in downtown Bucharest as your trek leaders remind you of just how great it is to be a Michigan Wolverine.
Day 2 — Friday, Aug 28
We'll spend the morning exploring Bucharest and getting to know the city. After lunch it's all-aboard! Next stop on our train: Dracula's Castle - it's the part of the trip where the garlic and wooden stakes on the packing list will be really come in handy. Then we're doubling-down on another taste bud shattering dinner. Afterwards, drinks? I dunno, if we have the time...yeah, there's always time.
Day 3 — Saturday, Aug 29
Last night in beautiful Romania. We will focus on romance so choose your mate(s) wisely. We will take a ride in a cable care to the top of the beautiful Bucegi mountain range. From there, we will take a breathtaking hike through the mountains, and over the ridges, to Sphinx. In Sphinx(LOL), we will enjoy Romanian Wine, Romance, and Relaxation.
Day 4 — Sunday, Aug 30
Travel day. Heading to Sunny Beach. We will arrive early(ish) so get ready for some fun in the sun.
Day 5 — Monday, Aug 31
Let the relaxation begin. Our group will arrive in Sunny Beach (yes that's the name) in time for the heat of Eastern European summer. The motto for this portion of this trip is "thighs are in and stomachs are out". Guys forget cardio and ab workouts---go out and get your chubbies and spend some time on the squat rack. Day one is a beach day.
Day 6 — Tuesday, Sep 01
I'M ON A BOAT. Get your boat mix ready. We'll spend day 2 at Sunny Beach on a yacht in the Black Sea. Show some skin. Let it burn. Drink Pinas for the boys. This day will be heavenly. We will follow this adventure with a night on the town in the Bulgarian version of Ibiza.
Day 7 — Wednesday, Sep 02
We will almost certainly wake up with nasty hangovers and sunburn. Here we will have a free day to enjoy the black sea coast. Repeat day 1 or build your own agenda. In this town, I'm going to recommend day drinking, beach volleyball, and water sports. You can also go see other stuff too....if you want. But I wouldn't.
Day 8 — Thursday, Sep 03
Early morning plane to Sofia. Whirlwind tour of "Europe's biggest hidden gem". Beautiful architecture. A melting pot of cultural influence. Fantastic food and nightlife. We will attempt to do everything we can in a 24 hour period before rocketing back to beautiful Ann Arbor.
Wacey "Hot Sauce" Turner
Every trip needs a little flair, and we've got this guy. As a former circus acrobat, current dance-floor queen, and beerthusiast, Wacey can be described as loud, friendly, and a little bit wild, but never subtle.  Extroverted to the max, he's really looking forward to meeting all of you trekkers, just so he can push you out of your comfort zone. Skeptical about whatever meat they put in that sauce? Never tried absinthe? Wonder what's behind door number 3? Wacey's goal in life is to try everything once (twice, if he can't remember the first time). From Drag Queens to nuns, Wacey loves making friends and can't wait to get to know you!
Sonia "Rao-dy" Rao
Our racially and culturally ambiguous gal hails from somewhere in Indiana, which is why she has an irrational obsession with Ron Swanson. The spawn of an Indian Spiritual Healer and a Farmer's Daughter, Sonia promises to keep us all healthy and fed and will maybe even lead some morning yoga…though not if Ellen has anything to say about it. Sonia likes to C-walk the line of super nerdy and super hip: from chess tournaments to being a graphic design whiz. As a former TFA'er, Sonia will love all her trek babies, but will keep your a$$es in line – don't think you're too old to get detention. As a lifelong vegetarian, we're all excited to see how Sonia handles these Slavvy Sausages.
Ellen "Carny Hands" Carter
Hailing from the a tiny town on the Canadian-Michigan border, Ellen reached her full leprechaun size by age 18. Don't let the small size fool you – she's been known to drink football players under the table. After falling in love with CT Tamburello from the Real World, Ellen decided to head to Boston for school at Tufts University. Ellen graduated with a highly practical degree in Italian Studies, where she perfected her love of pizza – but not her Italian. Her pizza affinity misleadingly led her to Chicago, and none of us understand what her previous job was, but we think it was good. Anyway, Ellen returned to Ross to figure out how to make more money, develop her leadership qualities (e.g. President of the Wine Club), and make long-lasting friendships with people who will hopefully be very powerful one day. As a leader of Slavvy Seconds, Ellen promises to love all of her Trekker Babies. But don't get in the way and Ellen and her Fireball – this ginger needs her jiggle juice.
Dan Schaefer
A distant relative of Nelly, Scott Joplin, and John Hamm. Dan spent his developmental years in St. Louis developing a unparalleled affinity for Bud Light, jean cutoffs, out door drinking, and midwest kindness.  A mildly out of shape and short guy in his late 20's, this former frat star regularly wears his old frat cut-off in the Ross gym as he hammers away on the elliptical and pretends to lift weights.   His wife, who joined him in Ann Arbor, is one of two reasons he has made any friends at all.  Fortunately, Dan's passion for travel earned him the invite on this trip. From beach shanties on the shores of Central America to weird communal hostels in the urban centers of South East Asia, Dan has roamed the globe looking for all things weird, unique, and boozy. He has never been to Eastern Europe but plans to give it the honest American effort. Drink too much. Sightsee too little. wander irresponsibly whenever possible.
Peter "One More Round" Ciaverilla
Forged deep in the mountains of Ferndale, Michigan, made of steel, brimstone, and just a dash of coriander, Pete is the European Sherpa you never knew you needed. His three years spent living and working in Germany prior to coming to Ross make him no more qualified than anyone else to lead this trek, but as a true Michigan Man™ who received his bachelor's from U-M, we wanted the leaders and best. Pete is an undergrad instructor, and not just for the chicks. As the only U-M faculty member on this trip, he's a teacher who knows that education and life lessons go well beyond the classroom door…into a bar…and into another bar…and probably that discotheque right over there. Office hours, you ask? By appointment only: anytime between beer-thirty and happy hour.