Trip Region: Southeast Asia
Country(ies): Thailand
Partners Trek? No
Trip Cost: $1285
Airfare Estimate: $1600
Nightlife: 4 • Activity: 2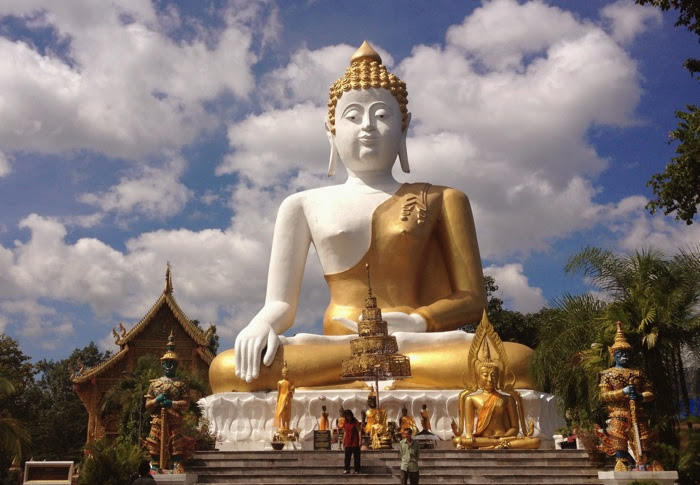 Full-moon party, elephants, monkeys, private islands, ancient temples, amazing food, gorgeous beaches, and of course raging. Now that we have your attention, we would like to invite you to join the most epic adventure you will have in your entire life. From cliff-diving to temple-climbing expect to do it all, and at night we shall celebrate,because we can't stop, and we won't stop, and we'll likely be singing Miley all along the way. So since you can't beat us, join us, just don't Thai and Stop us…from raging.
Day 1 — Friday, Aug 28
Bee-line down to the islands. No time to waste, we've got to get down south by the full-moon party! Okay, fine, some time to waste. We will all meet up as a group and have our first delicious Thai dinner and fresh coconuts with breathtaking views on the Island of Ko Sumai. We should rest up for the big event tomorrow, but we'll use the night as training grounds and hit the local beach bars
Day 2 — Saturday, Aug 29
We will ferry to Koh Phangnan and check into one of the nicest resorts on the island, cause we're classy like that. We'll spend the day taking in the island's waterfalls and lagoons and once again get in on that fresh Thai seafood, or tofu if that's your thing, we don't judge. But, let's be honest, day 2 is all about night 2: FULL MOON PARTY. Just do a google image search, I can't do it justice.
Day 3 — Sunday, Aug 30
Recouperate. But do it quickly, we got beaches to swim! These are the very same ones from the movie, The Beach, they're that awesome. We have the option to go snorkeling, cliff diving, or even hiking if we're feeling crazy. For dinner we will be hitting the best restaurant on the island, because that will cost like $5. Isn't Thailand sweet? After dinner, time to see what the normal nightlife is like.
Day 4 — Monday, Aug 31
Arrive at Ko Phi Phi islands in the afternoon just in time to check into the hotel and watch the sunset on the beach in preparation for a night of partying!
Day 5 — Tuesday, Sep 01
Another day stuck at our paradise islands. Darn. This time we will hire a boat to take us out to one of the nearby secluded islands. You will have a perfect beach, with perfect water, all to yourself with your new best friends. We will also grill up some freshly caught fish, because we can. This will be a highlight of your trip, similar to everything else we did and will do. Though it will pale in comparison to the highlight that is your awesome leaders.
Day 6 — Wednesday, Sep 02
Time to leave the beach behind for the jungle. I know, I don't want to do it either, but we'll have been in Thailand for 4 days and if we don't get Allie to an elephant soon someone is going to get hurt. Chiang Mai is our next stop where, after checking into our hotel, we will head to Doi Suthep and then up the 300 step Naga stairway (told you we were cultured). After Brian catches his breath we will head down to get our first experience with the most exquisite Northern Thai cuisine.
Day 7 — Thursday, Sep 03
OMG OMG OMG, Elephants, Elephants, Elephants. They say an elephant never forgets, and neither will you. We set off early and drive along Mae Taeng Valley to Elephant Nature Park, a unique project providing a sanctuary and rescue centre for elephants. We will learn about the story of rescued elephants in SE Asia and if you play nice, after that you will have a chance to feed the elephants. Now, if you want (and we know where Allie will be), you can get involved in some wet-n-wild action by helping scrub and bathe these magnificient creatures.
Day 8 — Friday, Sep 04
Time to get cultured. Our Chiang Mai city adventure will begin by exploring Wat Chai Mongkol, a magnificent temple. Next, we'll take a cruise up the Mae Ping River, one of the main rivers in northern Thailand and the lifeline of Chiang Mai. Our Mae Ping River cruise will reveal villages and rural life played out on the river shores, and your guide will offer insight into local livelihood and history throughout the journey. Next on our Chiang Mai tour we'll enjoy a sumptuous Khao Soi lunch at a local farmer's house. This noodle dish is often made with chicken or beef, served over Chinese egg noodles, and garnished with shallots, cilantro, pickled mustard greens, fried whole chilies, and a squeeze of lime juice. It's totally delicious, and a must-try food in Chiang Mai!
Day 9 — Saturday, Sep 05
Unfortunately we cannot take an elephant on the plane, but we might try. We'll fly out in the morning, so we have another full day in Bangkok to explore - kickboxing, the Grand Palace, food adventures, Tuk Tuk city tour, massage? Bring your new bestie and choose your own adventure!
Day 10 — Sunday, Sep 06
Last day in paradise with your new best friends before you start on another adventure of a lifetime back at Ross. People can explore markets before flights back to the good ole' USA
Brian Bliesner
No you did not just see a comet flash through the sky or a camera flash, that's just the sun reflecting off Brian's skin. On the plus side, mosquitos love him. If you want to rage, he's your guy. If you want to nerd out on science and cure cancer, he's your guy. And if you want to see him bust out mad pattycake skills, he's half your guy. When not curing cancer, he's keeping the party going as health and wellness chair of his section and a VP of the Healthcare and Life Science Club while also dreaming of the mountains and sunshine of his home state of Colorado where the runs are longer than 30 sec (oh you'll see when you go to Boyne). His main goal for this trip is to not get rabies.
Allie Levison
Allie is 50% rager, 50% child, and 50% pure energy. Cooler than that one guy at high school with the leather jacket and sweeter than your grandma, she once gave the Most Interesting Man in the World a fake number. When not saving the world as a VP of both the Consulting Club and MBW, Allie can be found singing/shouting boy band singles on top of the BUS or killing it on the slosh ball field. While normally cool and collected, or at least cool, we all worry that Allie will attempt to smuggle an elephant home in her carry-on.
Whitney "Britney" Martin
Did you want to meet Whitney or Britney first? Britney tends to be the favorite. Whitney is your best audience. Have a favorite joke to tell that no one finds funny? Whitney does. You can count on her laughing at all of your jokes. Britney, on the other hand, is an entertainer. Spears doesn't hold a candle to this Britney. She loves kareoke and dancing. Don't count on her to head back to the hotel early, once she's out, she raises the bar set by Matt for raging.
Paola "Peepers, AKA Luscious" Ramirez
Peepers, AKA Luscious, was born in the beautiful island of the Dominican Republic (which explains her endless list of dance moves, though most are just known as twerking). Her parents then forced her to move to Massachusetts (cuz why else would she leave sunny DR). Since moving to the land of opportunities, she makes her parents proud by ruling at flip cup matches at THE BUS and dance parties at Skeeps and Ricks, she's also decent in Finance (her undergrad major) and will be doing consulting over the summer (she will need this trek so bad). She will make sure our finances are on point during our trek, all while holding a cup of Jack and Coke at all times (she got skillz).
Matt "The Fox" Ross
As intelligent as he is good looking, Matt is pretty much "Sarah Plain and Tall"–except he's not that tall. Prior to business school Matt was a stereotypical Californian, both writing screenplays and engineering at start-ups. Tired of seeing the sun and 70 degree weather, he made his way to Ann Arbor where he never ever, ever complains about the snow. A proud owner of a bounce house, Matt is always happy to entertain with his endless energy and annoyingly on point sarcasm and as the Managing Director of the Ross Seed Fund, he can also fund a pretty mean start-up. His busride karaoke will make your trip as he is widely regarded as having the voice of an angel. Matt sets the bar on raging, so bring your A game.