Trip Region: Southeast Asia
Country(ies): South Korea
Partners Trek? No
Cost: $1773
Airfare Estimate: $1600
Structure: 3 • Lodging: 2 • Nightlife: 3 • Activity: 2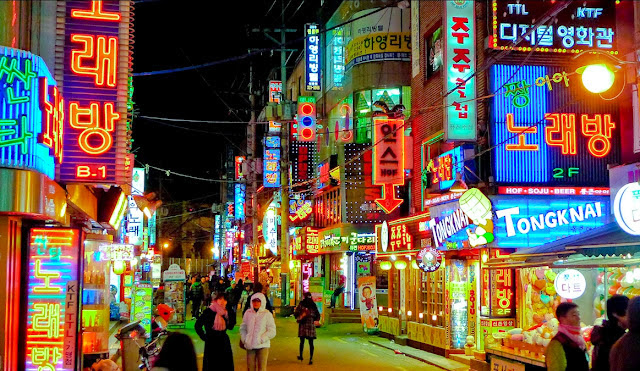 Having trouble deciding whether you want to party, relax, explore, or be active on mTrek? Don't be fooled- YOU CAN HAVE IT ALL! On this trek you'll get everything – nightlife in one of Asia's craziest cities, beach relaxation at Korea's favorite holiday destination, world-class hiking, and some culture to boot. With ample time for exploring, drinking, eating, hiking, massages, and hanging on the beach, this trek is for those of us who know what we want- and that is everything. Come prepared to experience the full breadth of Korean culture with your soon-to-be best friends. Life's too short for anything less.
Day 1 — Friday, Aug 28
Depart Detroit on your flight to Seoul.
Day 2 — Saturday, Aug 29
Arrive in Seoul and get settled into the hotel. Explore the city on your own.
Day 3 — Sunday, Aug 30
Spend a full day with our tour guide experiencing the great sights of Seoul. You will be amazed by the range of culture and historical sights from the Changdeok Palace, Jongmyo Royal Shrine, the infamous Antique Shop Alley, the Ginsing Factory and Hanok Village. Celebrate meeting your new best friends with a night out
Day 4 — Monday, Aug 31
Travel to Busan via speed train for two full days in Korea's second largest city. We'll kick things off by seeing some of the major landmarks. Then we'll get to explore the vibrant sights of the Gwanbokdong Street marketplace. After dinner, prepare to rage til the sun comes up - noraebang and soju all night long.
Day 5 — Tuesday, Sep 01
Wallow in your hangover whichever way you choose. The day is yours to hit some of the infamous beaches, the Hurshimchung Spa - the largest spa complex in Asia, or just sleep off the booze.Just when you're starting to feel better, it'll be time to go out again. Tonight we'll have a private cooking class to learn the art of Korean cuisine before another full night of soju and dancing.
Day 6 — Wednesday, Sep 02
Wake up and depart for Jeju, South Korea's favorite holiday destination known for its tropical charms, beautiful beaches, volcanic geography, and lush countryside. After days of raging in the city, we'll get a chance to detox on the beautiful island of Jeju. We'll take a hike to the Manjanggul caves - the worlds largest system of tube caves.Afterwards we'll hike down to the majestic black sand beaches (Seongsan Ilchulbong Sunrise Peak). On the beach, for our first night in Jeju we'll enjoy a meal at a small restaurant run by the female divers who catch the freshest fish in the sea.
Day 7 — Thursday, Sep 03
Wake up in the hotel feeling refreshed and ready for a scenic day hike in Hallasan National park. Enjoy the lucious scenery, vegetation and end at the Cheonjeyeon waterfall. Enjoy a second night in Jeju.
Day 8 — Friday, Sep 04
Spend some time in the morning on the beach before heading back to Seoul. Catch a quick flight and transfer to the hotel in Soeul. Spend the afternoon exploring the city's chicest neighborhood, Gangnam style. Dinner and nighttime activities on your own. Be prepared to party!
Day 9 — Saturday, Sep 05
On our last full day in Korea we'll get to visit the demilitarized zone (DMZ) between North and South Korea. Agreat place to learn about the region's nuanced modern history. Our private bus will also take us around to other famous attractions in the city. After a delicious Korean BBQ, get ready for one last rage fest in Seoul.
Day 10 — Sunday, Sep 06
Our amazing Korean adventure has to unfortunately come to an end, but we will be reliving the unforgetable memories throughout several meetups in the school year.