Trip Region: Southeast Asia
Country(ies): South Korea
Partners Trek? No
Trip Cost: $1773
Airfare Estimate: $1600
Nightlife: 3 • Activity: 2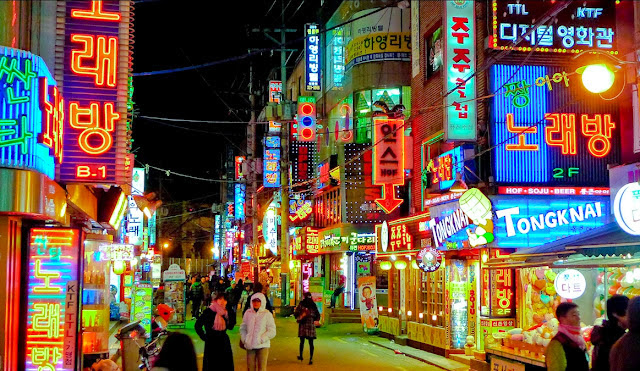 Having trouble deciding whether you want to party, relax, explore, or be active on mTrek? Don't be fooled- YOU CAN HAVE IT ALL! On this trek you'll get everything – nightlife in one of Asia's craziest cities, beach relaxation at Korea's favorite holiday destination, world-class hiking, and some culture to boot. With ample time for exploring, drinking, eating, hiking, massages, and hanging on the beach, this trek is for those of us who know what we want- and that is everything. Come prepared to experience the full breadth of Korean culture with your soon-to-be best friends. Life's too short for anything less.
Day 1 — Friday, Aug 28
Depart Detroit on your flight to Seoul.
Day 2 — Saturday, Aug 29
Arrive in Seoul and get settled into the hotel. Explore the city on your own.
Day 3 — Sunday, Aug 30
Spend a full day with our tour guide experiencing the great sights of Seoul. You will be amazed by the range of culture and historical sights from the Changdeok Palace, Jongmyo Royal Shrine, the infamous Antique Shop Alley, the Ginsing Factory and Hanok Village. Celebrate meeting your new best friends with a night out
Day 4 — Monday, Aug 31
Travel to Busan via speed train for two full days in Korea's second largest city. We'll kick things off by seeing some of the major landmarks. Then we'll get to explore the vibrant sights of the Gwanbokdong Street marketplace. After dinner, prepare to rage til the sun comes up - noraebang and soju all night long.
Day 5 — Tuesday, Sep 01
Wallow in your hangover whichever way you choose. The day is yours to hit some of the infamous beaches, the Hurshimchung Spa - the largest spa complex in Asia, or just sleep off the booze.Just when you're starting to feel better, it'll be time to go out again. Tonight we'll have a private cooking class to learn the art of Korean cuisine before another full night of soju and dancing.
Day 6 — Wednesday, Sep 02
Wake up and depart for Jeju, South Korea's favorite holiday destination known for its tropical charms, beautiful beaches, volcanic geography, and lush countryside. After days of raging in the city, we'll get a chance to detox on the beautiful island of Jeju. We'll take a hike to the Manjanggul caves - the worlds largest system of tube caves.Afterwards we'll hike down to the majestic black sand beaches (Seongsan Ilchulbong Sunrise Peak). On the beach, for our first night in Jeju we'll enjoy a meal at a small restaurant run by the female divers who catch the freshest fish in the sea.
Day 7 — Thursday, Sep 03
Wake up in the hotel feeling refreshed and ready for a scenic day hike in Hallasan National park. Enjoy the lucious scenery, vegetation and end at the Cheonjeyeon waterfall. Enjoy a second night in Jeju.
Day 8 — Friday, Sep 04
Spend some time in the morning on the beach before heading back to Seoul. Catch a quick flight and transfer to the hotel in Soeul. Spend the afternoon exploring the city's chicest neighborhood, Gangnam style. Dinner and nighttime activities on your own. Be prepared to party!
Day 9 — Saturday, Sep 05
On our last full day in Korea we'll get to visit the demilitarized zone (DMZ) between North and South Korea. Agreat place to learn about the region's nuanced modern history. Our private bus will also take us around to other famous attractions in the city. After a delicious Korean BBQ, get ready for one last rage fest in Seoul.
Day 10 — Sunday, Sep 06
Our amazing Korean adventure has to unfortunately come to an end, but we will be reliving the unforgetable memories throughout several meetups in the school year.
Aly Lalani
Prince Aly, Fabulous He! For Aly Lalani, it's not just a catchy song lyric, it's a way of life. Aly is an international entrepreneur and finance guru with a predisposition for fine Scotch and hip shakin'. Originally from Pakistan, Aly graduated from McGill and crushed finance in New York before returning to his home country to start a financial services business for high net-worth individuals. He fancy. Aly's life skills are too many to list, but rest assured he can teach you how to buy alcohol through a dealer in a Muslim country, how to survive a 3-hour interrogation from TSA/the FBI, how to get your dream i-banking internship, and how to win Skeeps on Thursday. Bottom line: Aly doesn't go to the party – the party goes to him.
Abbey "Fancy Pants" Maglaris
From finishing a full bottle of white wine at every Bus tailgate to her ongoing love affair with pho and other staples of Asian cuisine, Abbey is a woman of impeccable taste. This fact was even confirmed by one of Ann Arbor's top drag queens, a moment that may prove to be the pinnacle of Abbey's b-school career. When Abbey brings her taste-maker stylings to the Fireball-soaked ragefests on the dance floors of Skeeps and Rick's, fellow Rossers flock to break out "The Abbey" alongside her. "What's The Abbey?" you might ask. Imagine that a twerk and the Cha Cha Slide had a child, and that child was adopted and raised by MC Hammer. Mind blown yet? If you're ready for an incredible adventure with delicious food, amazing people, and memories (or lack thereof) to last a lifetime, Abbey wants to kick it Korean style and be your new bestie. If not, she has two words for you: "Girl, bye."
Mark "Ken Doll" LaVine
Want to travel halfway around the world with your very own Jewish Ken Doll?? Look no further than Mark LaVine. This international man of mystery has honored women and men alike with his presence in more than 30 countries over the course of his 30 years on Earth. Although he made his way to Ross via Manhattan (with stops in Georgia, Denver, and San Francisco), don't be fooled- Mark isn't just a pretty-boy, city kid. He has worked as a park ranger in Israel, backpacked through India, lived in South Africa, and climbed Kilimanjaro. Not only will he amass a cult-like following of Korean admirers who will think he is a poor man's Aaron Rogers, he'll win over your hearts as an amazing trek leader because he's done it all. When he wasn't gallivanting across the globe, Mark built a broad range of experiences here in The States, and will be sure to impart his extensive knowledge of tech, start-ups, and consulting on trekkers seeking career advice. At karaoke, Mark will belt it out like a pro (Neil Diamond is his go-to, of course), he has a penchant for Bourbon, and can also teach you a thing or two about cooking. Now, if someone could just teach him how to dance.…
Tej "Brown George Clooney" Buch
Despite coming from a family of psychiatrists and Wisconsin-Madison, Tej is surprisingly somewhat normal. Well, except experiencing massive FOMO, which means he's present at every party or event at Ross, pulling off MJ moves on the dance floor with the smoothness of a Kenny G track. He's a fixture in the Winter Garden with his dapper looks and knows pretty much everybody, which makes him the school's most reliable source of gossip. Tej is also the type of generous guy to invite half of Ross to Live for his 30th birthday and live it up with bottle service, ensuring there is enough Fireball for all. Despite raging the hardest, he's always in a state to make sure everyone gets home and that he gets to eat a super healthy burrito at Pancheros at 3 am. A Chicagoland native, Tej is always quick to promote Chicago as a post-Ross destination, but will be betraying the Windy City this summer to intern in the Pacific Northwest for some kind of window manufacturer.
John "genie with a bottle of fireball" McGowan
Prior to Ross, John was granting wishes to children as a Wish Manager at the Make-A-Wish Foundation. What did you do before Ross? Yeah, that's what I thought. When recently asked in an interview what his weaknesses are, he looked away, shed a tear, and quietly said, "the children." He is no stranger to the social scene. Although he can't use his irresistible business card as a pick up line anymore, John is typically found stumbling into karaoke bars pretending to look lost just before grabbing the mic and belting out a perfect rendition of "Don't Stop Believin." Because he's in a band of course. It doesn't matter how many Fireballs John falls victim to the night before, because he'll usually do a 15 mile run the next morning. Because he's a marathoner, duh. A Greek marathoner, very creative John. He'll be a damn good trek leader though! Get pumped.