Trip Region: Western Europe
Country(ies): Spain
Partners Trek? No
Trip Cost: $2835
Airfare Estimate: $1250
Nightlife: 8 • Activity: 5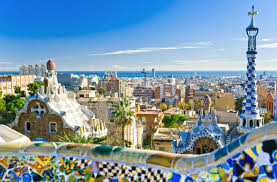 This is your chance to party with the most fun SQUAD! Let's kick off your Ross experience the right way and party till the sunrise! Come live your best life as you cruise along the Spanish coast in crystal-blue waters, sipping wine and eating tapas, all with your new best friends – through Barcelona, Ibiza, and Mallorca – before you're too old and washed up to appreciate all these cities have to offer.  Have you ever desired to check out the beautiful work of Gaudi or get your Jose Andres on via a tapas cooking class? Dream no longer. We'll have different options for our trekkers–whether you want to hang at the beach and marvel at Neil's biceps, or prefer to bike around the city and drink wine at an open-air cafe. Convinced yet? Keep in mind you'll be led by the Dream Team of MBA2's, so let's make some MeMZ!
Travel Day — Friday, Aug 16
Leaving A2 behind for the sunny beach vibes of Barcelona! Use these precious hours on the plane to catch up on some sleep - you'll need it!
Day 1 — Saturday, Aug 17
Today's the day! As you arrive in Barcelona, you'll make your way to our hotel in the heart of the city. Spend your afternoon settling in, sightseeing or partaking in Maggie's favorite Spanish tradition, siesta-ing. Then come meet your fellow trekkers for a Welcome Dinner for everyone to get acquainted - make sure to have your 90 second elevator pitch, 3-5 year plan, and MBA learning goals polished and ready to share!!!!
Day 2 — Sunday, Aug 18
Let's be a tourist for a bit and start the day with a guided walking tour through the Gothic Quarter. Next up, we will visit the Sagrada Familia. Not to worry, this jam-packed morning deserved an afternoon of siesta or beach free time. Then; ITS LEVI'S BIRTHDAY! Grab some tequila and let's get this party started.
Day 3 — Monday, Aug 19
To recover from the night before, we'll leisurely explore Parc Guell. Then, we'll have a guided Tapas tour, consisting of 3 hours of eating and drinking like the locals. Who wouldn't enjoy this?! Come stuff your bellies full of food and wine, and we'll see where the night takes us.
Day 4 — Tuesday, Aug 20
DAY TRIP! After exploring day and night in Barcelona we're heading north to see the sights of Costa Brava. This section of the Spanish coast has got crystal blue water, beaches for days and tons of restaurants to sample the fresh seafood!
Day 5 — Wednesday, Aug 21
Now, it's time for the real thing. Get pumped to fly to IBIZZZAAAAA. This won't be for the faint heart or liver. We'll settle into the hotel and then embark to dance to the beats of global DJs. If you haven't seen JMO's dance moves by now, you will!
Day 6 — Thursday, Aug 22
Suffering from the night (week) before? Worry not trekkers, because we have a BOAT day for you! We're heading to Formentera, a b-e-a-utiful island complete with sea breeze, sweet views and an open bar (that's right!). Activities will include "hiking" around the island to find the most insta-worthy spot with Neil, snorkeling from the beach or laying out to get a solid tan that will last you through the AA winter. When we arrive back in Ibiza, we'll party the night away - better make it a good one because tomorrow we leave for Mallorca!
Day 7 — Friday, Aug 23
Today we leave the island of DJs, dinghies and debauchery behind us for Mallorca! We've saved the best for last so in the words of Donna & Tom, "TREAT YO SELF". Take advantage of the sauna and spa or chill by the pool for a few hours before we gear up for a Mallorcan cooking class. We're about to get cultured so come ready to learn and EAT!
Day 8 — Saturday, Aug 24
Our trip to España would not be complete without one more BOAT DAY! The morning is yours but get ready for an afternoon booze cruise around Mallorca. Gorgeous views, bright blue water, and all your new best friends. Let's get it.
Day 9 — Sunday, Aug 25
Today is your day. Whether you want to hang on the beach, grab some wine and picnic or sightsee around the island - live your best life, you've earned it. At night we'll go out for a final family dinner, looking back at the progress we've made, the jokes we've shared and the times we may or may not remember. Then we'll rally like we've never rallied before for one hell of a final night. 9-hole Bar Golf anyone?
Departure Day — Monday, Aug 26
Fly back to Barcelona and back to AA to sleep for the next 36 hours before you embark on your Fall A journey. Be prepared to miss us immensely and we'll reunite at SKEEPS!
Jordan Morris aka "JMO"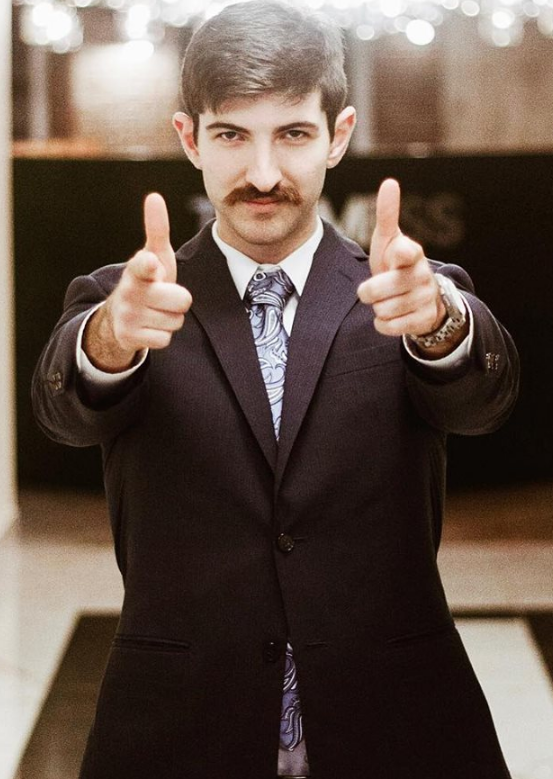 JMO hails from Champaign-Urbana, or as he terms it, the "Barcelona of Central Illinois." He was voted class clown in high school (maybe he peaked?). Having lived in DC, Jordan crushed the scene on Capitol Hill, where he learned to take his whiskey 'neat' as the Senators do. Though should two pieces of ice make their way into his neat drink, he'll adapt because he's "agile". At Ross, JMO will be the future president of the Consulting Club, so get your networking started early and this big man on campus will be sure to give you all the tips and tricks of getting that dream job! With hips like Shakira, a voice like Ray Romano, and body like Big Bird, JMO is always ready to shake it, and we especially appreciate his fabulous moves to Britney Spears pop songs and other 2000 throwbacks. As he's done throughout our first year together, JMO will serve as our eternal optimist and morale booster on our adventures through Espana!
Neil Dave aka "@thebigdealneil"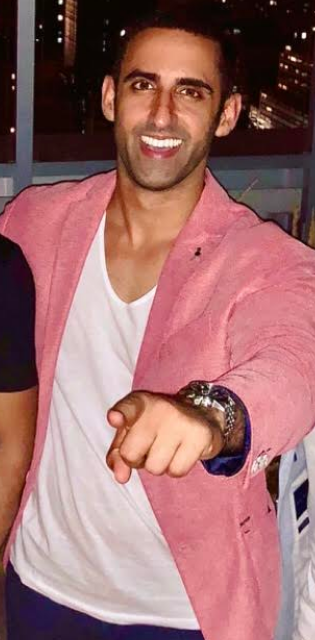 @thebigdealneil is our reigning social media influencer. You can often find him scoping locations for the PERFECT insta shot, which for Neil captures equally the beauty of the location as well as his biceps. The quality of the picture is rivaled only by his captions. Don't believe us? Head over to his profile now to check his body of work. While you're at it, throw him a follow, and maybe a few likes.. Seriously, it will make him feel whole. Excellent at puns and likes to force people to take pictures, can you say Trek Dad?? Coming to Ross from the Big Apple, Neil is a recovering finance bro with a serious Krave cereal addiction. While he remains adamant that it's not a problem, anyone who has spent any time with him knows the truth. Neil is well-known as being sleeveless 24/7 (those guns, though) and showing off his dance moves atop the acclaimed BUS at the weekly tailgates. On the Trek Neil will use his insta skills for good, helping us capture the **memories** and brainstorming captions for all the pics that will make your friends jealous and your fam relieved that you've already made friends in business school.
Mitch Polelle aka "Big Guy" or "Baba G"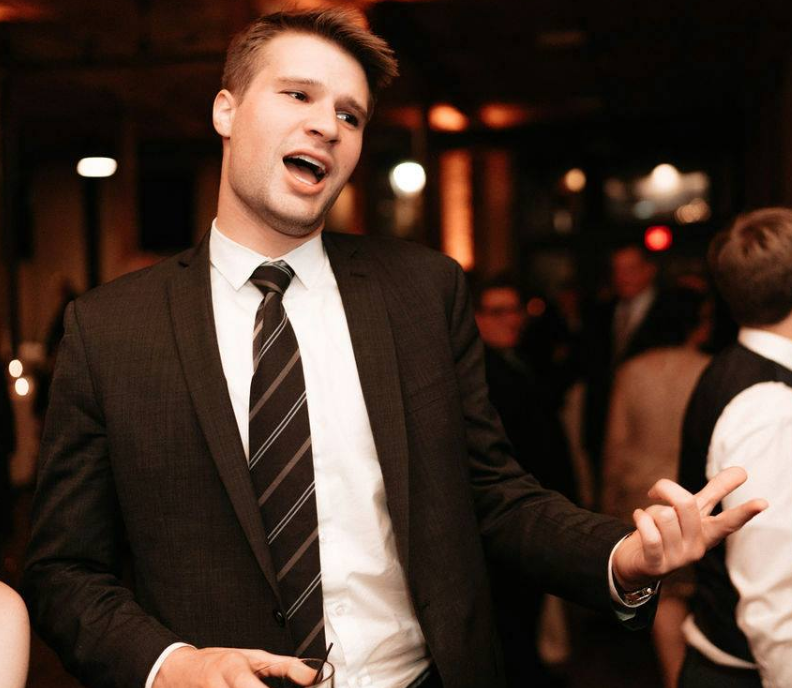 An insufferable Badgers fan, Mitch hails from Univ. of Wisconsin. Mitch lived in NYC and Denver before Ross, and will remain crushing the slopes in the Colorado Rockies (as he's sure to tell you about non-stop). As JMO's ultimate partner in crime (can you spell bromance), this dynamic duo will be sure to rock your socks off through Spain. The key to this Wisconsin giant's heart is through his stomach. He's often seen eating a meat and cheese sampler platter during 8 AM core classes (sitting in the front row did not deter him in the least). He swears it's never too early for lasagna. Plus, he was once caught eating a bowl of cereal alone in his room in the middle of a house party. Trust us, buy him some food and you will immediately be in his good graces and likely a recipient of his legendary bear hugs.  Despite the delicious wines of Spain, Mitch will remain loyal to exclusively shotgunning Hamms, 'the gatorade of Wisconsin'. On our adventures, Mitch will be our drinking game organizer (an unparalleled beer pong partner to Maggie).
Erin Kelley aka "RED"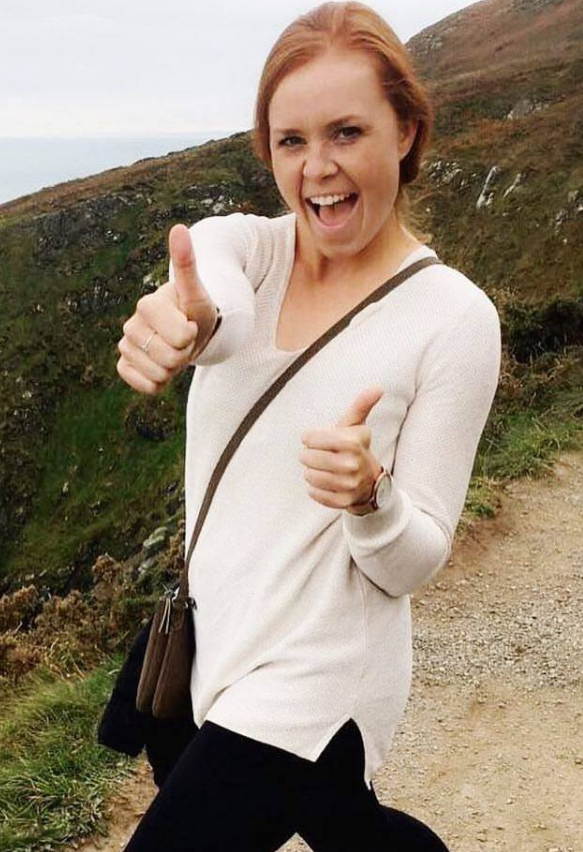 Born in Palo Alto, in the craze of Silicon Valley, she escaped to the East Coast where she became a pharmaceutical guru in Boston. Her Boston-bred impatience, brutal honesty and fiery attitude is here to stay, people. During MTrek, win her over by showing up on time to our activities. Show up late and risk seeing her face turn the fire-red color of her hair. Erin's also not keen on loud-talkers, especially those who talk over the TV during Bachelor Monday's. Mitch found out the hard way as he yelled at Colton with a mouthful of Erin's snacks. She now insists on subtitles, and we can't blame her – she walked away as MBAchelor league champion (thank you Cassie.) Don't let the airpods fool you, this ex-crossfitter can still squat more than JMO's comically weak stilt-like legs. When she's not recruiting healthcare club members, she enjoys (several) old-fashioneds at local cocktail bars. As we say, whiskey makes her frisky! As the apparent purveyor of Korean beauty trends (it's a new thing, we're not sure where it came from either), don't be surprised if she convinces you to ice roll your face with her after a night of drinking. If it works, we fully endorse this behavior and will probably try it too because FOMO is not FO US.
Maggie Shannon aka "MAGZ"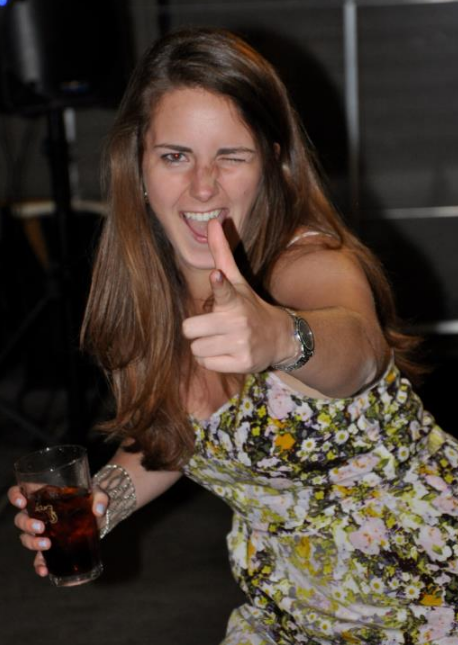 Maggie hails from a GO BLUE family full of brothers – maybe that explains her chillness and ability to put up with Jordan and Mitch's antics!? After living out of a suitcase, Maggie has returned to her Michigan roots. She won't shut up about all things Detroit and the future of mobility (seriously don't get her started on public transit or robotaxis). In her role as President of the Auto & Mobility Club, she'll drive us in circles around Spain on Europe's hottest new eScooter, before driving circles around you all on the Whirlyball courts of Ann Arbor (like Mario Kart for lax bros). Maggie is most looking forward to experiencing the local Spanish cuisine because tapas give her an excuse to embrace her "flexitarian" diet, while drowning everything she eats in travel-sized Valentina hot sauce. A mild narcoleptic, don't be alarmed if you catch her taking a siesta anytime, anywhere. Before you know it, she will bounce back blasting her anthem, "Body" by Loud Luxury, with a coffee in one hand and anything cold in the other, signaling she's ready to party. That's right, she's cool as hell.
Sarah Levi aka "LEVI"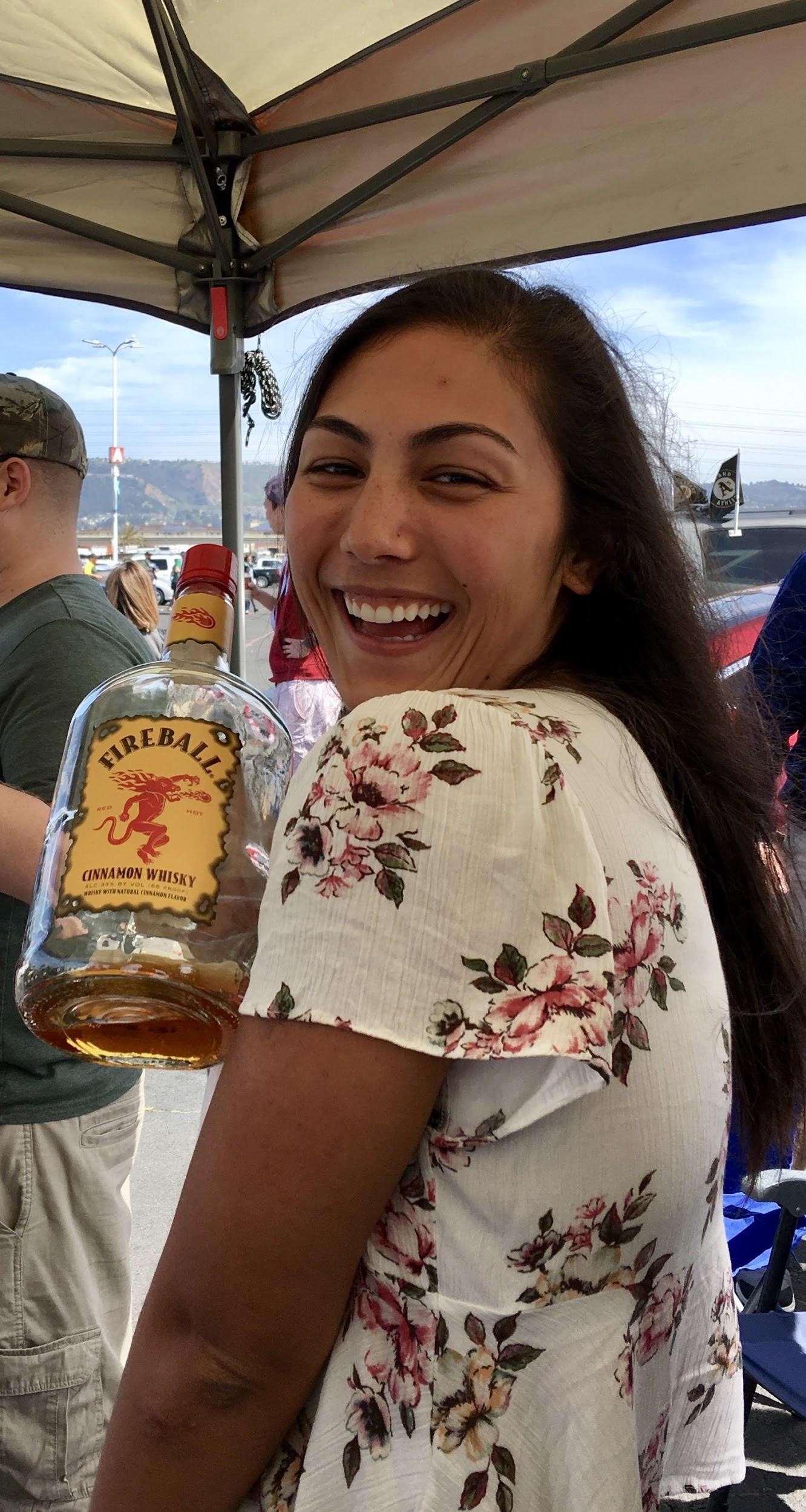 Like the chillest, most popular kid in your elementary school, Sarah is known only by her last name 'Levi'. Hailing from the Bay Area, she still hasn't figured out this whole Midwest thing and drops "hella" in conversations like its a real word. This Samoan princess has an infectious smile (retainers will be brought to maintain peak performance) but don't be fooled – she frequently carries around handles of tequila or Fireball and will peer encourage you to take a healthy pull. She will also insist that she "doesn't take shots" immediately before taking several shots and drinking anyone else under the table. A former consultant, Levi is full of fun facts, some true some questionable but delivered with confidence regardless. On MTrek you will probably find her dancing the night away with her ONE signature dance move (seriously, she only knows one) or getting stranger's phone numbers, only to respond with "Sorry, I can't talk right now". Always down for a roadie, Levi will fill the crucial role of rallying the troops for the bar and getting the people turnt.