Trip Region: Western Europe
Country(ies): Spain
Partners Trek? No
Cost: $2835
Airfare Estimate: $1250
Structure: • Lodging: • Nightlife: 8 • Activity: 5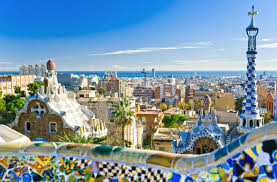 This is your chance to party with the most fun SQUAD! Let's kick off your Ross experience the right way and party till the sunrise! Come live your best life as you cruise along the Spanish coast in crystal-blue waters, sipping wine and eating tapas, all with your new best friends – through Barcelona, Ibiza, and Mallorca – before you're too old and washed up to appreciate all these cities have to offer.  Have you ever desired to check out the beautiful work of Gaudi or get your Jose Andres on via a tapas cooking class? Dream no longer. We'll have different options for our trekkers–whether you want to hang at the beach and marvel at Neil's biceps, or prefer to bike around the city and drink wine at an open-air cafe. Convinced yet? Keep in mind you'll be led by the Dream Team of MBA2's, so let's make some MeMZ!
Day 1 — Friday, Aug 16
Leaving A2 behind for the sunny beach vibes of Barcelona! Use these precious hours on the plane to catch up on some sleep - you'll need it!
Day 2 — Saturday, Aug 17
Today's the day! As you arrive in Barcelona, you'll make your way to our hotel in the heart of the city. Spend your afternoon settling in, sightseeing or partaking in Maggie's favorite Spanish tradition, siesta-ing. Then come meet your fellow trekkers for a Welcome Dinner for everyone to get acquainted - make sure to have your 90 second elevator pitch, 3-5 year plan, and MBA learning goals polished and ready to share!!!!
Day 3 — Sunday, Aug 18
Let's be a tourist for a bit and start the day with a guided walking tour through the Gothic Quarter. Next up, we will visit the Sagrada Familia. Not to worry, this jam-packed morning deserved an afternoon of siesta or beach free time. Then; ITS LEVI'S BIRTHDAY! Grab some tequila and let's get this party started.
Day 4 — Monday, Aug 19
To recover from the night before, we'll leisurely explore Parc Guell. Then, we'll have a guided Tapas tour, consisting of 3 hours of eating and drinking like the locals. Who wouldn't enjoy this?! Come stuff your bellies full of food and wine, and we'll see where the night takes us.
Day 5 — Tuesday, Aug 20
DAY TRIP! After exploring day and night in Barcelona we're heading north to see the sights of Costa Brava. This section of the Spanish coast has got crystal blue water, beaches for days and tons of restaurants to sample the fresh seafood!
Day 6 — Wednesday, Aug 21
Now, it's time for the real thing. Get pumped to fly to IBIZZZAAAAA. This won't be for the faint heart or liver. We'll settle into the hotel and then embark to dance to the beats of global DJs. If you haven't seen JMO's dance moves by now, you will!
Day 7 — Thursday, Aug 22
Suffering from the night (week) before? Worry not trekkers, because we have a BOAT day for you! We're heading to Formentera, a b-e-a-utiful island complete with sea breeze, sweet views and an open bar (that's right!). Activities will include "hiking" around the island to find the most insta-worthy spot with Neil, snorkeling from the beach or laying out to get a solid tan that will last you through the AA winter. When we arrive back in Ibiza, we'll party the night away - better make it a good one because tomorrow we leave for Mallorca!
Day 8 — Friday, Aug 23
Today we leave the island of DJs, dinghies and debauchery behind us for Mallorca! We've saved the best for last so in the words of Donna & Tom, "TREAT YO SELF". Take advantage of the sauna and spa or chill by the pool for a few hours before we gear up for a Mallorcan cooking class. We're about to get cultured so come ready to learn and EAT!
Day 9 — Saturday, Aug 24
Our trip to España would not be complete without one more BOAT DAY! The morning is yours but get ready for an afternoon booze cruise around Mallorca. Gorgeous views, bright blue water, and all your new best friends. Let's get it.
Day 10 — Sunday, Aug 25
Today is your day. Whether you want to hang on the beach, grab some wine and picnic or sightsee around the island - live your best life, you've earned it. At night we'll go out for a final family dinner, looking back at the progress we've made, the jokes we've shared and the times we may or may not remember. Then we'll rally like we've never rallied before for one hell of a final night. 9-hole Bar Golf anyone?
Day 11 — Monday, Aug 26
Fly back to Barcelona and back to AA to sleep for the next 36 hours before you embark on your Fall A journey. Be prepared to miss us immensely and we'll reunite at SKEEPS!