Trip Region: Western Europe
Country(ies): Switzerland & France
Partners Trek? Yes
Cost: $3085
Airfare Estimate: $1600
Structure: • Lodging: • Nightlife: 5 • Activity: 7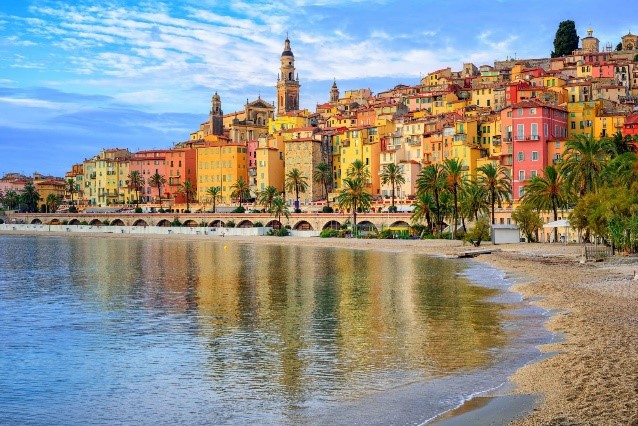 Welcome to your dream European couples getaway – the ultimate blend of Alpine mountain magic, French opulence, and Riviera relaxation. The perfect trip to get you ready for your Ross experience!
We'll hike in the Bernese Alps where the ice-clad peaks are reflected in crystal-clear lakes and cows graze in picturesque mountain pastures. We'll bike through the gorgeous valleys and gaze upon countless waterfalls tumbling from the sky. We'll meet the friendly locals and sample their finest chocolates and cheeses. We'll enjoy dinner in one of the finest food cities in the world, Lyon, and explore the famous day market in Aix-en-Provence.
We'll finish our amazing European holiday with nothing but sunshine and rose wine on the French Riviera.  You'll have time to soak up what makes this region so famous – the historic old town of Nice with squares lined with al fresco style dining, the ancient ruins from the Roman influences, the beaches lined with the beautiful and the famous, the azure blue Mediterranean sea, and all the delicious food and drink we can get our hands on.
We'll depart Europe having accomplished everything we set out to do: conquered mountains, explored majestic scenery, gotten a tan, eaten incredible food, drank maybe a little too much, and made great friends along the way.
Now you're really ready for year one.
Day 1 — Saturday, Aug 17
Welcome to Switzerland! After arriving at the hotel and settling in, we'll start our adventure with a rendezvous in the historic financial powerhouse that is Zurich. We'll kick things off the right way with a night filled with new friends, fondue, and as much bier and wine as we can handle
Day 2 — Sunday, Aug 18
After Zurich, we'll take the famous Swiss trains to our alpine home base of Interlaken where we'll spend the next three days working off the carbo-loading by exploring some of the most awe-inspiring scenery on the continent. On our first day in Interlaken, we will hop on bikes with our local guide for a bike tour of the city.
Day 3 — Monday, Aug 19
On day 3, catch a morning train to Grindelwald through the Bernese Alps. Hike down to Lauterbrunnen, the picturesque valley home to 72 thunderous waterfalls, and explore the village at your own pace – shop for souvenirs, or simply grab a beer and enjoy the views. Hop back on the evening train to Interlaken.
Day 4 — Tuesday, Aug 20
Free time! Explore more of Lauterbrunnen, join some of us on a train and hike to the "Top of Europe," explore Swiss cheese-making factories, take a break at a Swiss spa, or test your bravery by skydiving over the Alps!
Day 5 — Wednesday, Aug 21
At the conclusion of our alpine adventure, we'll head to the south of France with a private transfer for a more relaxing second leg of our trip. We'll start in the Rhone valley - the second largest wine-growing region of France - and of course stop at a winery right away to put ourselves in the Provençal spirit. We will continue our short journey to Lyon, the second largest city in France and known for its historical and architectural landmarks. Lyon was historically known as an important area for the production and weaving of silk and in modern times has developed a reputation as the capital of gastronomy in France. Home to 16 Michelin starred restaurants and a breeding ground for famous chefs, Lyon is sure to please all palates!
Day 6 — Thursday, Aug 22
Continuing our journey in France, we will take a short drive via private transport to Aix -en-Provence; Leafy boulevards, elegant public squares lined in 17th & 18th century mansions - Aix is a tourist paradise. Join in for a morning walking tour of Aix following in the footsteps of Cezanne ending in the world-famous day markets and have the rest of the day to yourself. Stroll along Cours Mirabeau, the boulevard where Camus and Hemingway would have come for lunch when they lived in the city. Wandering through the streets and squares of the old town is one of the great pleasures in life. But it's not just historic and picturesque – Aix in the 21st century is also affluent and chic, a little piece of the Paris left bank transported to the South.
Day 7 — Friday, Aug 23
Today we'll take a private transfer to the city of Eze. On our way out of the Provence region we'll up the opulence one more notch by getting a guided tour at a perfumery where we learn the trade secrets behind the highest quality French perfume and cosmetics (and try not to spend too much on souvenirs, but hey we're on vacation!). We'll finish the day in Nice, getting acclimated to the city with a guided walking tour. Nice is the capital of the Cote D'Azur and our home base for 3 final nights on the Mediterranean coast. From here we'll be able to explore and one of the most charming, historic and beautiful areas in France all the cities and offerings along the Riviera.
Day 8 — Saturday, Aug 24
On one of our last full days, we'll go on a 2.5 hour boat trip (hopefully booze cruise: stay tuned) to Saint-Tropez. Saint-Tropez is one of the most glamorous places in France, with sunny weather, sandy shores, and mild Mediterranean waters. Picturesque pastel-colored houses, narrow cobblestone streets, and shady squares add to the charm. Besides the mesmerizing azure blue seas, Saint-Tropez also boasts a verdant countryside of pine trees, olive groves, cypresses, and shrublands. Explore the city at your own pace and catch the boat back to Nice in the evening.
Day 9 — Sunday, Aug 25
Free day (read: Rose all day). The Riviera really is the ideal holiday destination and the perfect way to wind down and relax as we prepare to return to "real life". Catch some sun on the gorgeous Nice beaches before we join together in the evening for our farewell dinner.
Day 10 — Monday, Aug 26
Farewell! Depart at any time and see you back at Ross!