Trip Region: Western Europe
Country(ies): Greece
Partners Trek? Yes
Cost: $2500
Airfare Estimate: $1000
Structure: • Lodging: • Nightlife: 6 • Activity: 6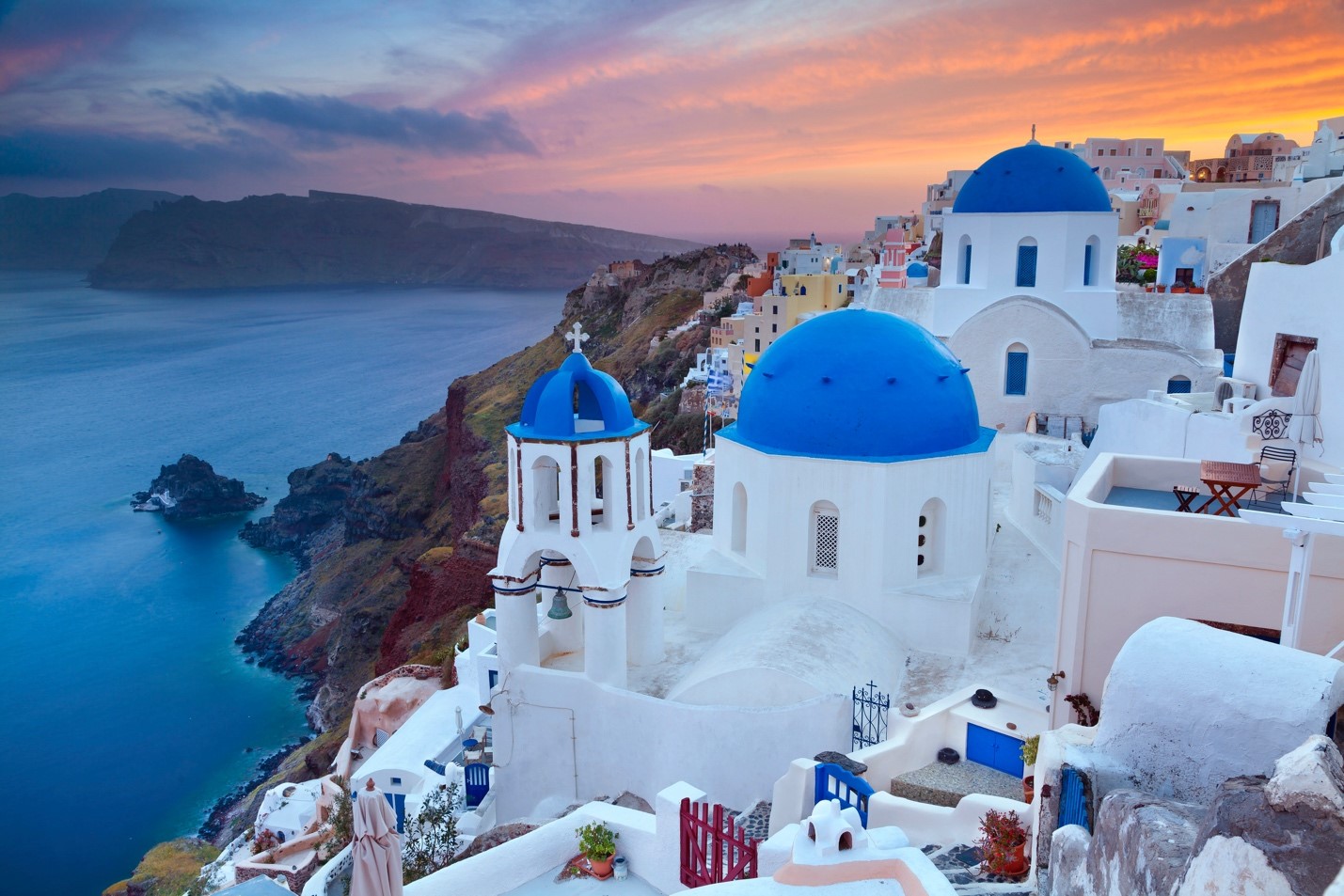 Quit your job? Check. Did your partner quit their job? Eh…hopefully not. Signed your lease? Check. Ready to act like you are in college but you're now older and wiser and know not to drink fireball on an empty stomach? Maybe. Well then, YOU ARE READY for the best 10 days of your life! First step is easy, just hop on a quick 5,229 mile flight to beautiful, gorgeous, Lindsay Lohan inspired….GREECE!  And, oh Mamma Mia, do we have a trip for you.
Day 1 — Saturday, Aug 17
Welcome to Santorini! What kind of partners trek would we be if we didn't go to the honeymoon island? Santorini is known for its majestic views, whitewashed villages, and stunning sunsets. Once settled in, we will plan to meet in the early evening as a group in the hotel lobby and head to an easy, breezy dinner. And as you fall asleep on your first night in Greece, be sure to listen very carefully and you might just be able to hear the locals singing a familiar song…."You can dance. You can jive. Having the time of your life." May your dreams be filled with Meryl Streep.
Day 2 — Sunday, Aug 18
We'll start our day with a scrumptious breakfast, followed by our main activity of the day. Do you like beer? Liquor? Maybe tequila like Steve? Well, we won't be drinking any of those. Get your noses ready and your palates cleansed because today we sample the best of Greece's wines at Santos Winery, a co-operative and the largest winery on the island with marvelous views over the island and the sea. The Insta-worthy vines in Santorini are cultivated in a very unusual way, with the plants being pruned to form a low basket shape that sits on top of the volcanic soil to protect the grapes from strong winds. We'll end the day with dinner (and more wine! Opa!).
Day 3 — Monday, Aug 19
In 1500 BC, a volcanic eruption sank the center of Santorini, forming one of the most significant geological formations on the planet – the awe-inspiring caldera. Rumor has it, the caldera served as the single inspiration for another of the most significant formations on the planet, the Big House. The spectacular natural beauty of this caldera is what makes Santorini such a special place. Today, we'll take an excursion along the crater rim, starting in Thira town and walking through little villages all the way to Oia, passing steep cliff faces and taking in breathtaking views along the way. We'll spend the rest of the day cooling off on Perissa beach, one of the island's black sand beaches.
Day 4 — Tuesday, Aug 20
After breakfast, enjoy some free time in Santorini before we board our boat transfer to our next destination, the island of Crete. Crete is the largest island in Greece and the fifth largest in the Mediterranean Sea. Here, you can admire the remnants of brilliant civilizations, explore glorious beaches, impressive mountainscapes, fertile valleys and steep gorges. It's essentially the wild west with fewer cowboys and more incredible food. On arrival, we'll take an evening stroll to the Venetian Harbor, touring the old port and narrow shopping streets, and then grab dinner at a local waterfront restaurant before exploring the nightlife. Pro Tip: Before getting on the boat, take a moment to pray to the Greek god of the seas, Poseidon. Some fun facts about Poseidon; His brothers were Zeus and Hades. His primary means of transportation was a chariot pulled by horses, which I'm sure was an issue when traveling under the sea. He had a palace made of Gems and Coral located on the ocean floor. He lost his father once and traveled great distances to find him, befriending a forgetful fish along the way. His journey took a dangerous turn after he barely escaped from a dentists' fish tank to finally reunite with his father.
Day 5 — Wednesday, Aug 21
Today, enjoy your morning at sea on this fantastic swimming and snorkeling tour. Admire the views of Chania's mountain tops and surrounding beaches as we sail to Theodorou Island. Listen to the history of Chania from a local tour guide while keeping an eye out for sea turtles! You'll have plenty of instagram opportunities to snap photos of the old Venetian fortress, beautiful open caves, and the nationally protected Kri-Kri (a Cretan goat). We'll swim and snorkel at the first of three stops in a small, protected bay with crystal clear waters and a sandy ocean floor. Keep hold of your snorkeling equipment on the quick sail to the second stop - the wreck of a German aircraft shot down during WW2. At just five meters deep, the wreck is completely visible for even beginner snorkelers. After a relaxing journey to Lazaretta Island, enjoy the third and final stop with a beautiful sandy beach and volcanic island waiting to be explored. We'll then return back to Chania for dinner and a chance to get a little Kri-Kri ourselves with some local nightlife.
Day 6 — Thursday, Aug 22
After waking up early and grabbing breakfast our tour will commence with a wonderful scenic ride to a tiny village set in rolling hillsides. On this fun pact day, we will be stopping to see the famous Monastery of Arkadi. From here on, our next mission will be to learn how to make some traditional Cretan dishes. That's right, we are going to take a cooking class with a picturesque mountaintop village as our backdrop. We will then head out and explore the area including a tour of a 11 th century Byzantine church, a nature walk showcasing wild herbs and flowers used by Cretans and a visit to a historic abandoned monastery. At this point you'll probably be starving. But worry not, our bus will take us back to the village, where we'll get to taste not only fresh-baked breads (which you may have made), but other products from the farm we are visiting. Get ready for an amazing three-course meal and a million-dollar view — your friends will all be jealous of your Instagram story. With our bellies stuffed and our hearts content, we'll end our night off with a walk through one of the most beautiful gorges in Crete. We'll venture and explore through lush, green scenery and along running waters — to make room and cap the day with some traditional Cretan sweets and raki, of course!
Day 7 — Friday, Aug 23
This morning, we'll return to the airport for our onward *flight to Athens. Named after the goddess of wisdom and the birthplace of Western civilization, Athens has an amazing array of historic sites to explore; a weighty history that spills out over the modern city, represented most dramatically by the ancient Acropolis. There's much to be seen in the ancient capital of Greece, vibrant and refreshed following the 2004 Olympics, yet still retaining so much visible history. We'll head to one of the newest hip neighborhoods for dinner. *Please Note - The Crete to Athens flight is not included. Travelers will be responsible for purchasing the ticket. We will provide exact flight details once group is set. Current flight cost ~$50 per person as of 3/25/19
Day 8 — Saturday, Aug 24
After breakfast, we'll take a guided tour of the Acropolis. Stop at the Dionysus Sanctuary, dedicated to the Greek god of wine and fertility. Once inside the Acropolis, get up-close to important sights, such as the Propylaea gateway, Erechtheion, Temple of Athena Nike, and Parthenon. Once at the summit of the sacred hill, we'll be able to in the sweeping panoramas of Athens and learn more about surrounding monuments like Mars Hill, the Odeon of Herodes Atticus, and the ancient Agora, once the heart of Athens. The remainder of the day will be yours to relax or explore. After dinner, we'll head out on the town to enjoy the best nightlife Athens has to offer (Lohan Nightclub anyone? JK. Kinda).
Day 9 — Sunday, Aug 25
Enjoy a free day in the city. If you haven't already, check out the Temple of Olympian Zeus or the Tomb of the Unknown Soldier to watch the changing of the guard. While in the neighborhood, explore the excellent Museum of Athens, Syntagma square with the Parliament building, and the Panathinaiko Stadium, which housed the first Olympic games in 1896. We'll celebrate the last night of our odyssey with a feast of mezethes and ouzo, in an Athens taverna.
Day 10 — Monday, Aug 26
That's it. Today, you'll head back to the mystical land of Ann Arbor, Michigan to begin your and your partner's own two'-year odyssey (plus a painful two-minute odyssey for yourself). Luckily, you've made new friends to help you along your journey.