Trip Region: South America
Country(ies): Chile
Partners Trek? Yes
Trip Cost: $2343
Airfare Estimate: $1000
Nightlife: 5 • Activity: 8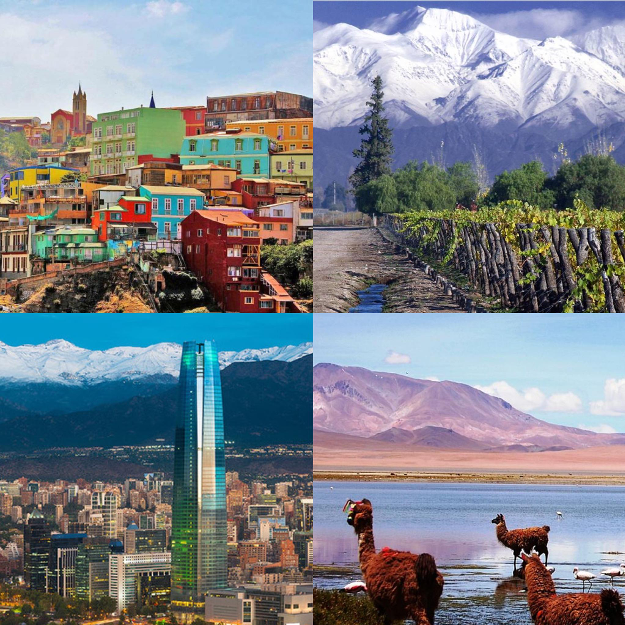 Are you ready for a bold, spicy trip, with notes of salt, sand, and adventure?  We're headed to Chile to experience the best the country has to offer! We'll start in Santiago, exploring the city and the beautiful surrounding area. We'll visit stunning wineries in the Maipo Valley, wander around "The Jewel of the Pacific", Valparaiso, and do some more wine tasting in the Casablanca Valley before we head north, where adventure awaits in the Atacama desert! We'll head to San Pedro de Atacama to soak in volcanic hot springs, take a quad buggy tour, hang out at a flamingo preserve, and do some late-night stargazing.  We'll return to Santiago for one last dinner and night on the town before we head back to Ann Arbor.  If you're looking for the perfect blend of adventure, relaxation, and quality time with your new MBA best friends, this is the trip for you!
Travel Day — Sunday, Aug 16
Welcome to Santiago! We'll gather together at our hotel to meet our guides and get all the need-to-know information before we begin our adventures. We'll have dinner and then rest up for our first full day.
Day 1 — Monday, Aug 17
Today, we get to know the city of Santiago! We'll start at the Mercado Central and La Vega markets to learn all about local flavors and ingredients. We'll then put our new-found knowledge to use during a culinary workshop, creating several delicious Chilean dishes. At the end of the class, we'll feast to fuel up before our afternoon walking tour of the city. We'll visit many of the most famous sites including the Plaza de Armas and Cerra Santa Lucia, the hill on which Santiago was founded in 1541 with panoramic views of the city and the Andes mountains. We'll end the day with our official Welcome Dinner.
Day 2 — Tuesday, Aug 18
Winemakers in the Maipo Valley take advantage of the excellent weather conditions between the foothills of the Andes Mountains and the coast to grow grapes that become the finest wines in Chile. We'll hone our sommelier skills by visiting two wineries along the Maipo River in the valley. We'll enjoy lunch in the area before heading back to Santiago for a free evening of leisurely dining and exploring.
Day 3 — Wednesday, Aug 19
We're off to the Pacific coast! On the way, we'll stop at Emiliana winery in the Casablanca Valley for a premium wine tasting while making friends with local alpacas. We'll continue onto Valparaiso, a stunning and colorful coastal city. The historic quarter is a UNESCO World Heritage Site known for its unique architecture and design. We'll wander the town full of galleries, cafes, museums, and breweries, and spend the night just blocks from the old city's port.
Day 4 — Thursday, Aug 20
Today we'll say goodbye to Valparaiso and fly north to San Pedro de Atacama, our base for the next three days. After getting settled, we'll see the Salt Mountain range and the Moon Valley, an otherworldly landscape of craggy peaks and canyons. We'll hike the area and stay until sunset, where the desert lights up with red, orange and purple hues.
Day 5 — Friday, Aug 21
Have you ever imagined yourself driving through wind-carved canyons, in the driest desert on earth, on your way to an unbelievably beautiful lagoon? If so, today is for you! We'll take 4WD ATVs and Buggies on a desert tour, ending in a salt-lagoon where you can float like a cork. In the afternoon we'll visit the desert oasis of Tocanao town, see the birds of the Flamingo National Preservation, and watch the sunset reflect off the mirror-like surface of the Atacama Salt Flats.
Day 6 — Saturday, Aug 22
We start our day hiking in the Guatin area, renowned for its natural beauty. The hike will include a visit to the Puritama canyon and hot springs, where we can relax in 90° water as local birdlife sings around us. After dinner in San Pedro de Atacama, we'll venture back out to the desert for an Astronomy Tour. The Atacama is one of the best locations on earth for stargazing, and we'll observe the Milky Way and various constellations with warm drinks before returning home.
Day 7 — Sunday, Aug 23
Today, we bid farewell to the Atacama and fly back to Santiago. You'll have the afternoon free before having our final dinner together as a group, reflecting on all the fun we've had, before exploring more of Santiago's nightlife.
Departure Day — Monday, Aug 24
Today we head back to Ann Arbor with great memories, new friendships, and stomachs full of empanadas and terremotos!
Jason Krane & Jenn Weber Krane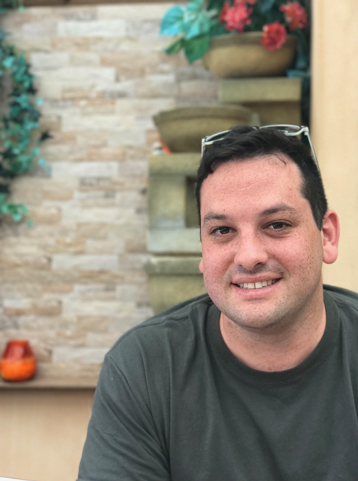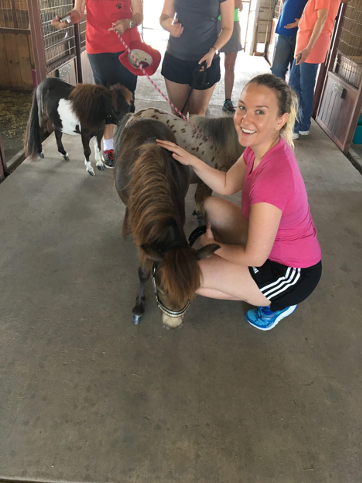 Jason
Hometown: Davie, FL
Favorite Place I've Traveled To: The Big Island of Hawaii
Ideal MTrek Day: Waking up early enough to enjoy the day to its fullest, but not so early as to leave you tired and sluggish. A scenic breakfast is always a great way to kick the day off- doesn't have to be fancy, it can be simple, a pretty courtyard with birds and squirrels looking to socialize. After fueling up, an active morning adventure – hikes are great, but I always have a soft spot in my heart for water sports/activities  (rafting, snorkeling, jetski, etc). Lunch also has an arresting view, but more likely to be an informal picnic style break amongst the day's adventures. After some more activities, a brief evening siesta before local cuisine for dinner. If the day is for exploration, then the evening and night are for culture – as local a flavor as possible (live music, local dancing, public storytelling, etc.). Amongst all this, drinking is welcome and in some cases encouraged, but shouldn't be requisite to enjoy the day.
My Hidden Talent Is: Guitar Sing Alongs all day
The movie about my life would be titled:
STARTED FROM THE BOTTOM (OF FLORIDA), NOW WE HERE:
and the fantabulous emancipation of one, Jason Krane
My partner would describe me as: a goofball
Jenn
Hometown: Bloomfield Township, MI
Favorite Place I've Traveled To: Mallorca
Ideal MTrek Day: Wake up around sunrise, eat a quick fruit-filled breakfast, and go off on an active outdoor adventure that's slightly off the beaten path. Whether it's hiking, biking, kayaking, or off-roading, I like to start exploring in the mornings. I'd want to sit by different people as we travel around to strike up conversation 1:1 and get to know our group members on an individual basis. However, if there's an all-bus trivia session, I'll flex my pop culture knowledge. We'd eat a low-key veggie-friendly picnic lunch and keep exploring in the afternoon. Transitioning from exploring to relaxing, we'd have a quick dip in the pool to cool off before changing for a relaxed dinner alfresco. Sitting outside and enjoying a lengthy meal filled with local wine, entrees and dessert, with flowing discussions backed by acoustic music is my ideal end of the day.
My Hidden Talent Is: Kicking field goals at the Big House
The movie about my life would be titled: Fast10 Your Seatbelts…Just Kidding, it's Bedtime
My partner would describe me as: always sleepy
Emily & Mats Fagre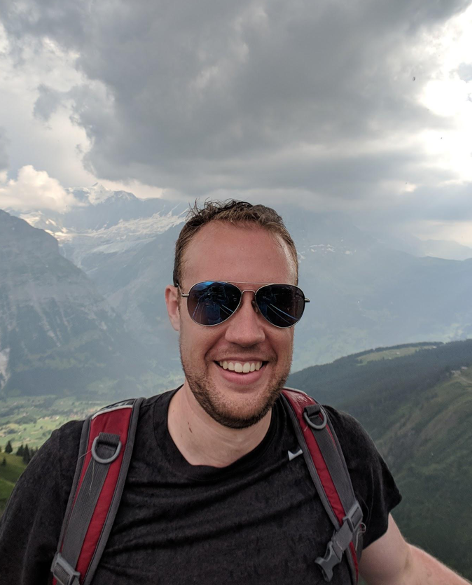 Emily
Hometown: Wheaton/Chicago, IL
Favorite Place I've Traveled To: Iceland-all of it! 
Ideal MTrek Day:  I like to start the day with a hearty breakfast and some good coffee. After breakfast, there's some type of outdoor activity like hiking or kayaking or rafting for the rest of the morning. I love lunch, so after working up an appetite, I'll hit up the most local, hole-in-the-wall  joint I can find. The afternoon is spent at a museum or perusing local shops for unique pottery (my greatest shopping weakness).  Before dinner, a dip in the pool (ideally rooftop) and shower help refresh me for the evening.  Dinner is also a local affair, but more of a nice, sit-down meal situation.  The night would end at a bar with some live music and maybe some ice cream. I really dig a funky international McFlurry flavor.
My Hidden Talent Is: Remembering every meal I've eaten over a span of several years
The movie about my life would be titled: Hypochondria: A Love Story
My partner would describe me as: A great cook, and unreliable navigator, and probably asleep
Mats
Hometown: Wayzata, Minnesota, with Los Angeles, Madison, and Chicago tied for 2nd.
Favorite Place I've Traveled To: Also Iceland. Loved Normandy, France as well.
Ideal MTrek Day: I wake up to find everyone is ready to go early to beat the crowds, because wasting half the day waiting in lines for things is my personal hell. We have a quick breakfast at an excellent local bakery, with some sweet and savory pastries before venturing out. We spend the morning walking around town, seeing cultural and historical sites, with no more than one art museum. We get outdoors in the afternoon, going hiking, biking, and/or kayaking for several hours, ideally somewhere idyllically pastoral or stunningly stark where we can reflect on the majesty of the natural world. We eat a late lunch of local fruits, bread, and cheese, while wildlife politely wanders by before heading home to lounge for a couple hours. Even though this day has already lasted 20 hours, we arrive before the dinner rush somewhere casual and local, with some good brews or wine. We find snacks later at an outdoor night market or get caught up in a raucous post-game soccer rally before heading home.
My Hidden Talent Is: Building IKEA furniture without the instructions.
The movie about my life would be titled: O Bother, Where Art Emily.
My partner would describe me as: An aspirational 19th Century Sea Captain
Larissa Korach & Jeff Conrad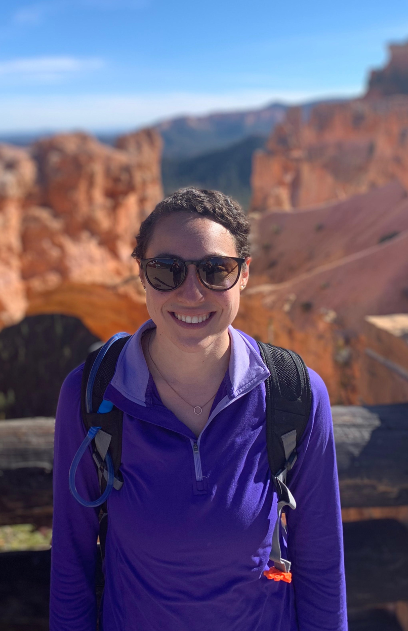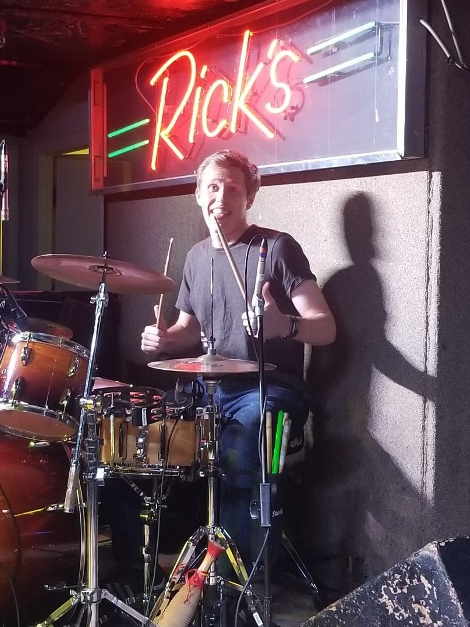 Larissa
Hometown: Los Angeles, CA
Favorite Place I've Traveled To: Santorini, Greece
Ideal MTrek Day: After waking up around 9am (I'm not necessarily a morning person but also don't want to waste the day), we would grab a quick breakfast and coffee at a local cafe before heading off to explore. We would then spend a few hours wandering around town, trying to live like a local – an exploratory bike ride would be awesome too if it seems safe. While exploring, we would definitely make time to stop in and eat lots of yummy local food (I'm writing this after just leaving Mexico so still dreaming of tacos and tostadas). If we're outside of a city, substitute the wandering/bike ride for a beautiful mountainside hike. After heading back to the hotel for a quick rest, we would make our way out for a group dinner followed by drinks at the cutest fancy cocktail bar imaginable.
My Hidden Talent Is: Doing back flips into pools
The movie about my life would be titled: Help: My Life with a Jewish Mother
My partner would describe me as: practically perfect in every way (jk – somehow both organized and chaotic)
Jeff
Hometown: Fallston, MD 
Favorite Place I've Traveled To: Jardin, Colombia
Ideal MTrek Day: I would want to be woken up by a Chilean folk band and then leisurely head to breakfast to eat some breakfast-themed empanadas.  Next, we would climb a mountain with a picnic basket full of wine, more empanadas, and some more wine and then relax and look out at the mountains in the distance.  After heading back into town, we would all go out and roam in search of live music, diving in and out of restaurants and bars, with some locals advising us where to go next.  The night would end with me remembering to drink enough water so that I can do it all again the next day! 
My Hidden Talent Is: Playing multiple musical instruments
The movie about my life would be titled: Revenge of the Nerds
My partner would describe me as: Calm, cool and collected
Lane Wollerton & Jan Krumsiek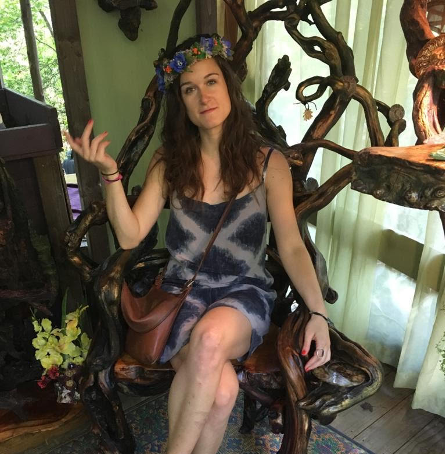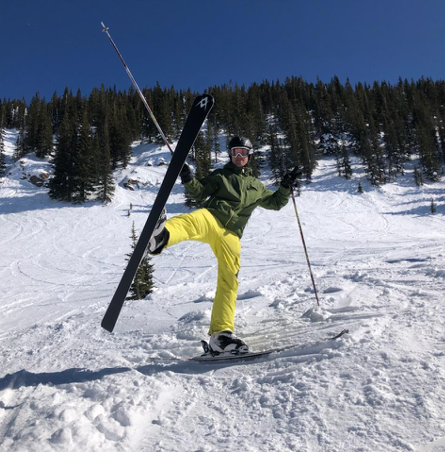 Lane
Hometown: Arlington, Virginia
Favorite Place I've Traveled To: Aspen, Colorado (Also lived there. It is a snowy wonderland.)
Ideal MTrek Day: Ideally, I would wake up from a good night's rest. Not from my alarm, but because a tender, loving sparkle of dappled light from the floor-to-ceiling windows in my room gently touched my face. I would then meet up with the rest of the group outside to go for a scenic trail run or hike. After a hot shower, we would all meet on the patio of a local restaurant for a brunch buffet replete with smoked salmon, avocado toast, soft-boiled eggs, a frisee salad seasoned with a light vinaigrette, and strong coffee. It's possible that I'm hungry as I write this. We would then head into town and take a tour of the city followed by free time to explore local shops and cafes. Next, we would all go watch a local soccer match and head out afterwards to enjoy dinner and stiff mezcal cocktails. We would end the night at a bar with cigars, dancing, live music, and pool.
My Hidden Talent Is: Cat-like reflexes
The movie about my life would be titled: There and Back Again
My partner would describe me as: Funniest person I know (He said that! He really did!)
Jan
 Hometown: Hameln, Germany
Favorite Place I've Traveled To: Tulum, Mexico
Ideal MTrek Day: Wake up and have breakfast – ideally scrambled eggs and a buttery, flaky croissant, along with a piping hot cup of strong, dark coffee. Gets the body going. Then gear up for a hike. If the temperature were 65 degrees I wouldn't complain (this is my ideal day, after all). I would want to go on a fairly grueling 3.5 hour hike somewhere scenic with a jaw-dropping view at the top, where I would enjoy a late lunch.  Right after the hike, I would head to a bar and have a beer on the patio, again overlooking a cluster of trees or something similarly green/nature-fueled. After enjoying my well-deserved Pilsner, I would head home and decompress for a bit, take a shower, and prepare to go out to dinner at a local restaurant, followed by bar-hopping, ideally with live music.
My Hidden Talent Is: I know Kung Fu.
The movie about my life would be titled: I Don't Write Love Notes, But I Do Send Flowers
My partner would describe me as: Caring