Trip Region: Southeast Asia
Country(ies): Bali
Partners Trek? No
Trip Cost: $2100
Airfare Estimate: $1700
Nightlife: 2 • Activity: 3
Dear Bali-Trekkers-To-Be: Welcome to Ross by joining us in a trip halfway around the world to the wondrous island of Bali, or as we think of it: Beautiful, Adventurous, Luxurious, Incredible. In choosing MTreks, the question is: How do you choose? With BALI, you don't have to: We have it all: natural beauty, rafting, elephants, hiking, massages, great food and unique Balinese culture. Your MTrek leaders all have different backgrounds, nationalities and personal and professional interests. This is the perfect trip to give you a chance to unwind after RLI, see a whole new side of the world with a good group of soon-to-be friends, and hang with some of the best, nicest MBA2s you could meet.
Additional notes about this trip: There is a "Visa on Arrival" for Indonesia. Please check that your nation either doesn't require one or qualifies for one (USA does) and that you have the two other elements: a return ticket and a passport which has to be valid at least 6 months from planned entrance. It'll be about $35. Also, get up-to-date on travel vaccines, some of which take multiple rounds so plan ahead.
Day 1 — Friday, Aug 28
Fly like a superhero 40% around the world… but not as fast and in a plane.
Day 2 — Saturday, Aug 29
Arriving in Bali: You made it! We are received at the airport (in the afternoon for most flights) by the outfitters, hit the supermarkets for snacks and food to outfit the private villa and relax before going for spa treatment. That's right, we will help you relax from the very beginning to set the tone. The first night is mellow so those with jetlag don't miss out, but includes a dinner at a local restaurant, a walk around the town, and possibly a midnight dip or a few beverages… We'll see how everyone feels.
Day 3 — Sunday, Aug 30
First full day: Seminyak: Break out your camera. Breakfast at our hotel and see Tanah Lot Temple, drink beverages out of fresh coconuts, see the town of Seminyak and go for dinner on a Pirate Cruise. We do not take ourselves too seriously and neither should you. This is the first theme night: Pirates! Live music, dinner, traditional dancers, fire dancing, you know, how pirates roll.
Day 4 — Monday, Aug 31
Surf's up! We head to a magnificent beach to relax and enjoy the wonderful natural beauty of Bali. If you are interested, you can opt in for surf lessons for the morning. If not, you've got swimming, a beach walk, shopping, massages etc. Andrea will remind you to wear your sunscreen from the shade as she sips from a drink in a coconut. When tired from your activity, please join in. We tour the local bars after dinner. Dancing, more coconut drinks, it's our last chance to see Seminyak.
Day 5 — Tuesday, Sep 01
Head to Ubud We hope you've been resting up. Ubud is our homebase for the next few days as we tour the area for the Adventure we've been talking about. This day is travel, and we arrive at our private villa with (subject to change) our own private pool. We head for a traditional massage and then have a BBQ party in the villa. To bed early…
Day 6 — Wednesday, Sep 02
Why not climb Mt Batur? To wake up at 2 am, to hike up a volcano to arrive at the top by sunrise. You know how incredible certain moments are? This is one of them. The favorite part by far of those MTrekkers from last year, it will build up an appetite for our lunchtime cooking class. We head back to the villa and rest before dinner of traditional Indoneasian cuisine on the water. If anyone has energy, we head out.
Day 7 — Thursday, Sep 03
Rossers Rafting and Riding. Bring your Michigan gear to wear for a two hour rafting experience through class II and III rapids that includes lunch is followed by an afternoon riding elephants. Dine while looking out over a rice field in the private bamboo pondok. This meal is focused on duck in all it's glorious forms, including the specialty of smoked duck that has to be ordered 24 hours in advance. BTW, perfect night for more coconut bevvies.
Day 8 — Friday, Sep 04
Temples and Travel and Sunsets, oh my! We sadly say good-bye to Ubud, travel to the interior of Bali to visit the incredible temple Ulun Danu, take a boat trip on the lake and grab a massage before heading South to Ungasan to stay the night at a fabulous hotel with pools, terraces and bars, perfect from which to enjoy the sunset. This is the last night to live it up!
Day 9 — Saturday, Sep 05
Coffee and Good-Byes. We breakfast in the hotel and head to a local coffee factory/plantation for the final sight of Bali to finish off our trip, learn about that dark beverage that will sustain you through your 8 am classes and head to the airport, fly back with each other possibly, and the chance to meet up again in A2. The tans will fade, but these friends, memories and photos are for life!
Day 10 — Sunday, Sep 06
Arrive back in AA ready for the first day of school!
Andrea "That's Dr.Dre to you" Mautner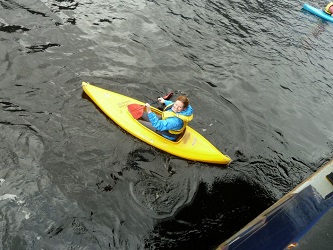 Andrea: After growing up in Boston, and school in Connecticut, she ran away to join the circus, I mean, restaurants. She followed her passion, became a Le Cordon Bleu trained pastry chef in San Francisco. She avoids the Gordon Ramsay management style of yelling, screaming and throwing things in prefeence of well planned operations on her way to conquering the world with her own company and changing snack food forever. Before all that, some R-and-R is paramount. Granted, her skin can burn in the shade, so if you need any sunscreen, she's got your back. In the meantime, there are some beverages in coconuts with her name on them and an elephant to ride. Her MTrek last year was cancelled due to State department travel restrictions, so this is her last chance. Come to Bali and help her make it great!
Patcharapa "Mtrek Photojournalist" or just "Pear"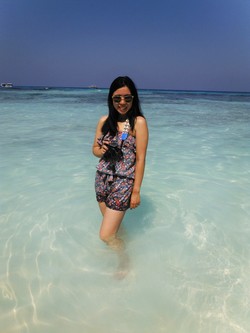 Pear, the group's photographer, arrived at Ross from Bangkok, Thailand and appreciates how going to Bali means she gets to be reunited with some of her favorite things: the beach and spicy food. In fact, though she is an adventurous eater (reindeer meat, yum!) she will be certainly eating the spiciest things she can get her hands on, the opposite of Andrea. Massages and snorkeling are the two activities she looks forward to the most on this trip, and she feels so fortunate to be able to soak it in, completely, in private villas with all of you, snapping pictures to add to her extensive photographic catalog, along the way
Hannah "The Ninja" Yan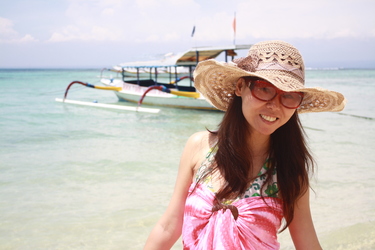 An avid solo hiker with a large number of mountainous miles under her belt, Hannah has been in Singapore the last 10 years. She will be motivating and guiding us us up the volvano hike in no time flat. In Bali, she will be showing us her favorite parts of the island, where she has been twice before, including on her honeymoon!. She has even sampled a legendary local food, Warung, that even her guides refused. This lady dares to go places. She'll be protecting us from monkeys, snorkeling, surfing and diving with the rest of you. She is happy to get to know you all and happy to answer any questions about marathons, international conferences or consulting. Oh, did we mention she has her PhD? Yeah, she's a one-two punch of wicked smart and fun. Beware!
Sriram "International Sri of Mystery" Kannan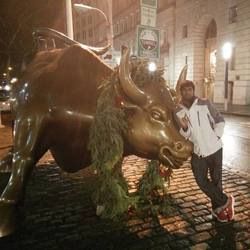 Sri is an international man of mystery. Fluent in four languages, (but not Indonesian!) He's a champ of slap cup (don't worry, by the time you return to Ross, you'll know how to play), ran a marathon, climbed Mt Fuji, and was a vegetarian until 22, when he moved to Japan. How many people do you know who are on familiar terms with Kobe (beef)? Now you know one. Dedicated to surfing, tennis, and channeling Bohdi (without the bank heists) from Panama to Bali, he's got the personality to fit right in with any other MTrekker who just wants to chill now before the strong push into your first year.
Leo "El Heffe" Chiang
Leo is aptly named as the leader of our group. Hailing from Taiwan, Leo has been to Bali numerous times including to run a marathon, and he will be showing us all the places he has come to love while steering us clear of his own mistakes…for example in choosing outfits for a massage. He has been mistaken as a Korean pop star, been held captive by a biker gang and been mobbed for photographs (he does take a lovely photo so that's understandable! Once he's has a few beverages in coconuts, ask him about his modeling stories). These experiences have given him wisdom and in Bali, he'll be looking to keep the experiences more on the DL, snorkeling, surfing, communing with dolphins and when on land, searching for the best seafood, ideally of the crustacean variety.