Trip Region: Southeast Asia
Country(ies): Vietnam
Partners Trek? No
Cost: $1635
Airfare Estimate: $1700
Structure: 3 • Lodging: 3 • Nightlife: 3 • Activity: 2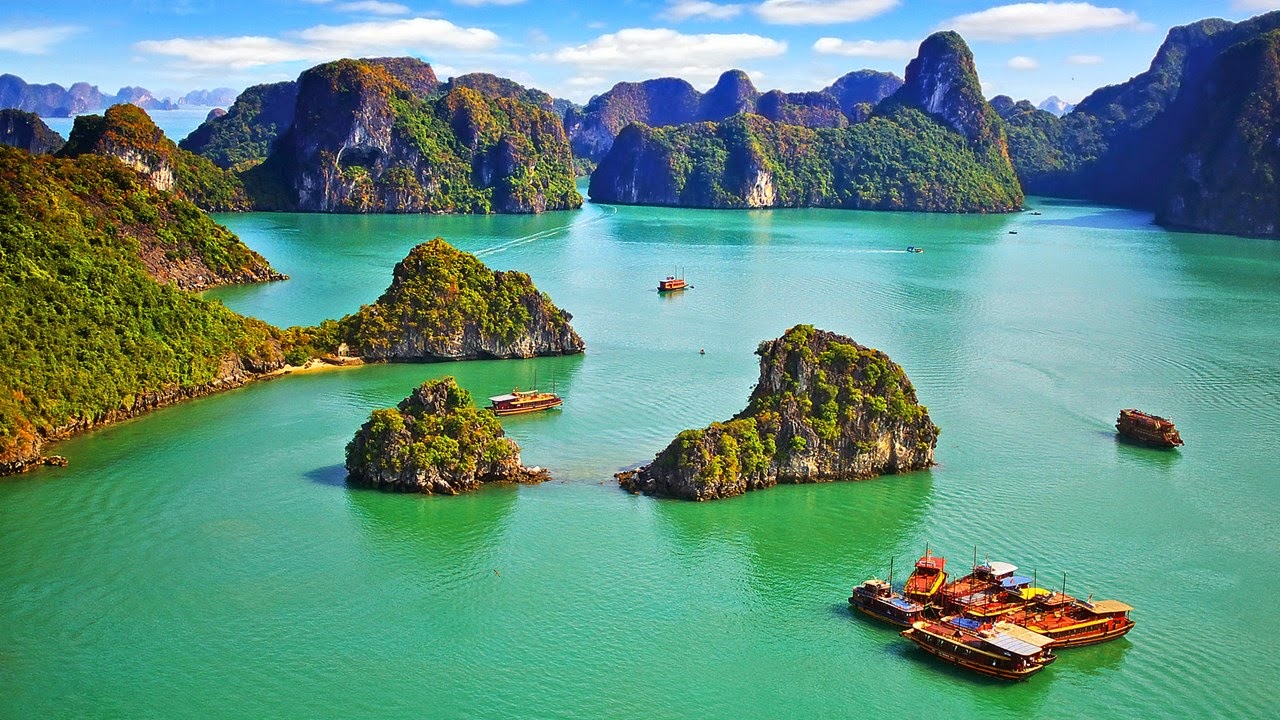 Ready for an un-PHO-gettable experience Ridin the night train? Pack your dongs, we're going to Saigon! Or, you can just visit the currency exchange when we're in country. Either way, the dollar is killin' on the World market and will get you a whole lot of dong. We're going to live it up like kings and queens — we'll travel by train up the coast of the country, soaking in local villages,exploring ancient Pagodas, (booze) cruising the seas, caving, learning to cook, cycling around cities, dancing in the streets and eating every type of Pho we can find. Get ready to meet your BFPs (Best Friends PHOever), this trip is going to be PHO-ever YUM!
Day 1 — Friday, Aug 28
Ho Chi Minh City - BFPs Arrive : Arrive in Ho Chi Minh City - AKA Saigon. We will meet you at the airport and move across town to our hotel. The city is a blend of old and new, east and west...and if you follow Stampfler's advice to watch Miss Saigon, you'll start to recognize the sites from Hollyword lore. So far he's the only one who's seen the movie, so we're relying on our guide 100% to get us around. Fingers crossed we get a good one! Either way, you'll immediately start to experience a dynamic atmosphere and the French colonial influence in Vietnam's largest city. First order of business will be to get to know your new BFPs (Best Friends PHOever). Worried about jet lag? Don't worry, your Trek Captains are expert travelers and know all the tricks. Night 1: drink your face off. It works, promise.
Day 2 — Saturday, Aug 29
Ho Chi Minh City - Chu Chi Tunnels and Epic War Games : You're Trek Captains are little sadistic too and may get up for an early morning run...please join us - it's the next best way to kick jet lag (and hangovers). Otherwise, first thing we're going to explore is the footpaths and busy streets where vendors have their wares spread out for viewing - and shopping! Laura's haggling can be pretty intense, but the markets are big so we can spread out. We'll then head out to play an epic game of hide-and-go-seek as we run around the Viet Cong tunnels used to attack Ho Chi Minh City during the war, unexpectedly discovering hidden entrances right beneath our feet. Having worked up an appetite, we'll make camp and check out a traditional meal. Afterward, we'll head to the Reunification Palace - the site of South Vietnam's surrender - and the Jade Emperor Pagoda. Hotel is the next stop to prepare for a night of tropical drinks and dancing, Vietnam-style. Manny "Mas Por Favor" tells us this could be a long night!
Day 3 — Sunday, Aug 30
Mekong Delta - It'll just be a three hour tour… : We'll leave the city behind and head for Vietnam's rice bowl, the Mekong Delta. En route, a stop at a local village for a lunch of elephant ear fish and some other Vietnamese delicacies. Be sure to try everything! Laura's first aid kit also has loads of Pepto. Board local rowing boats (don't worry, Stampfler promised to do all the paddling) to reach the main boats for a cruise through the waterways of the Mekong. The Mekong is busy with local traders and zig-zagged with ramshackled monkey-bridges - regardless of what the signs say, jump up and give it a swing. We'll fish you out if you fall in! We'll bring the sunscreen, inflatable animals and lots of, uhhh, lots of water, for this adventure.
Day 4 — Monday, Aug 31
Ho Chi Minh City - Ridin' Round Town… : With the combination of foot-power and pedal-power, you'll see the classic sites and amazing markets via bike! You can either pedal hard and get a workout, or clip your bike to the back of Poodle's and he'll tug you along. We'll immerse ourselves in everything this French colonial city has left to offer us, and finish by heading to the train station for the overnight sleeper-train to Hoi An. Trains are a true experience and the best way to travel long distances to experience the local lifestyle. Prepare two truths and a lie and get ready for more intense bonding - this is when we hear all about what the Ross Tinder scene is REALLY like.
Day 5 — Tuesday, Sep 01
Hoi An - This is when we start making you work for it : After a night on the train, we'll head into Hoi An, a UNESCO World Heritage site off-limits to cars. We'll have time to explore the ancient streets of old-town Hoi An before we learn to cook Vietnam-style. We've arranged for a cooking class to learn the art of preparing some world-class Vietnamese cuisine with ingredients we gather fresh from the local market just prior to starting. After last night on the train, we'll be ready to spend some time in a real hotel where we can rest up and prepare for a full night of the Hoi An party scene. Coach will make sure we all get home safe!
Day 6 — Wednesday, Sep 02
Hoi An - Ok fine, we're on vacation afterall… : Sleep in after a hard night of Vietnam-style partying (we don't yet know what this entails, but we'll let you know…that morning). A relaxing day of boating and biking to explore the towns and area around Hoi An. We'll cruise down a river to a small island where a barbeque feast awaits us. Our trip guide hasn't confirmed what type of meats these will be, but who's up for adventure? If you're a vegetarian, don't worry, we'll feed you too. After taking in the awesome sunset, we'll head again to the train station for another night on the move.
Day 7 — Thursday, Sep 03
Halong Bay - If we're going to lose someone, this will be the day : Wake up as we enter Hanoi, and then quickly head to Halong via minibus. Halong Bay is a secluded harbor with 2,000 limestone islands rising from the emerald waters of the Bac Bo Gulf, one of Vietnam's most scenic regions. Just for you, our little soldiers, we've reserved a private boat and will cruise along the dramatic limestone peaks. There will be plenty of opportunities to swim in the South China Sea and eplore its caves and grottos. We'll spend the night aboard our (air conditioned) sailing junk, utilizing the dining facilities and fully stocked bar. Be sure to pack you new Michigan gear, because the night will be themed Go Blue!
Day 8 — Friday, Sep 04
Hanoi Palloi : Take the bus back to Hanoi to explore another charming French-styled city. There's lakes if you haven't been in the water enough, loads of expresso if you overdid it last night and great people watching. We'll have a bit of free time, so we can use this day to chill out or get some shopping done. After full cultural immersion, we will head back to the hotel to reset before taking on Hanoi's nightlife.
Day 9 — Saturday, Sep 05
Hanoi - French Indochina : We'll continue our cultural immersion, though at a slower pace now that we have 8 days of (hangover) fun to recover from, and explore the rest of the city. The One Pillar Pagoda, Presidential Palace, and House 54 are all options, between tasty noodle bowls and Pho. Rest up, because the final blow-out night is fast approaching and you'll need your energy. But don't worry, you're fearless Captains won't let you forget to set your alarm clocks, because we're flying out the next day.
Day 10 — Sunday, Sep 06
Hanoi it's time to say goodbye… : As sad as it will be, we'll say our last goodbyes, for a few days anyway, and make our way to the airport to make you get to your first (of many) 8am class. But hang in there - these Captains are bad-ass networkers and already have reunions planned for the rest of the school year. We are excited to have you at Ross!