Trip Region: South America
Country(ies): Brazil
Partners Trek? No
Cost: $1650
Airfare Estimate: $1300
Structure: 2 • Lodging: 3 • Nightlife: 3 • Activity: 3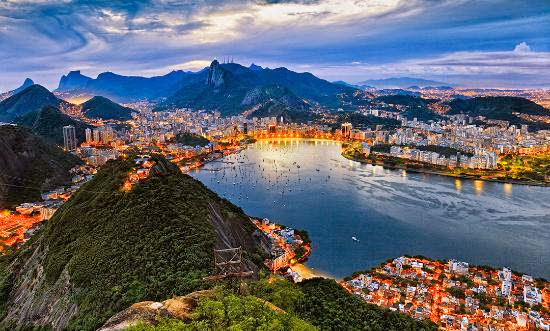 Explore, chillax, and "Paraty" in the world's capital for hip-shaking, sun drenched fun! This Brazilian MTrek offers a not-to-be-missed combination of cultural immersion in one of Latin America's aesthetically fruitful cities, relaxing beach time and outdoor exploration, and some of the best nightlife South America has to offer with the best MTrek leaders Ross has to show you how it's all done. We will kick things off in style with a night in Rio de Janero (pack your dancing shoes and your best moves!). The next day we head to Paraty for some kayaking and jeep tours of the Brazilian coastal habitat. Midweek we escape to Ilha Grande for relaxing boating and hiking tours to some of Brazil's most beautiful beaches! Wrapping up the week back in Rio with bike tours of the city, visits to Corcovado and Sugar Loaf, and our own private samba lessons we will leave the way we came: with Michigan pride, dancing for DAYS, and a dozen new friends!
Day 1 — Friday, Aug 28
Depart US for Rio de Janiero.
Day 2 — Saturday, Aug 29
Arrive in Rio! We will be privately transported to our hotel before setting out on a half day of sightseeing, including a cable car excursion to the top of Sugarloaf Mountain where we will watch our first beautiful Brazilian sunset.
Day 3 — Sunday, Aug 30
We'll leave Rio in the morning and set out for a drive along the picturesque Costa Verde. Our destination is Paraty, a preserved Portuguese Colonial and British Imperial town with stunning old forts and churches. That afternoon we'll head out on the water for an ocean kayak excursion where we'll paddle through the tropical mangrove and former cannon sites used to protect Paraty from the pirates. Plus, there are stops to swim and snorkel in crystal clear waters and amazing views of the city and the hills from the sea. What more could you ask for!
Day 4 — Monday, Aug 31
A guided Jeep tour will take us to beautiful, cascading Serra da Bocaina waterfalls hidden in the surrounding forest. We'll explore the historical Gold Trail on our way to Engenho D'ouro, a cachaça distillery, where we will have the chance to taste many varieties of cachaça. The jeep adventure also includes lunch at a local restaurant, a refreshing dip in pristine waterfall oases, and sightseeing of the beautiful flora of Paraty. A farm visit at the end of the day will give us a glimpse into the daily life of our gracious hosts.
Day 5 — Tuesday, Sep 01
Next we'll head to Ilha Grande. Known for its scenic beauty and its rugged landscape, this island flaunts a paradise of tropical beaches and virgin rainforest untouched by development. The entire island is a protected park, and we'll spend the afternoon exploring its peaks, beaches, and waterfalls by boat, including feeding friendly lagoon fishies from the palms of our hands. Beyond the transparent waters of the Lagoa Azul (Blue Lagoon), we will also have the opportunity to visit the ruins of the island's once notorious prison.
Day 6 — Wednesday, Sep 02
We'll hike from Abraao along a trail that touches the sands of Das Palmas and Do Pouso. Our final destination is the picturesque Lopes Mendes. With a sweeping 3km of the whitest, finest sand that stretches out to a calm, crystal blue ocean, this is said to be one of the top beaches in the world (#InstagramHeaven). Lined with palm and almond trees, there's not even a building in sight! Fear not, there are always a couple of drinks sellers peddling chilled beers!
Day 7 — Thursday, Sep 03
After saying goodbye to the beaches we'll head back to Rio via a boat cruise (because why not?!) and bus (because we got places to be). Once we arrive we'll set out on a half day bike tour, stopping at various historical sights around the "City of God". Later that night we'll forget about our sore muscles as we sample the nightlife Rio is famous for!
Day 8 — Friday, Sep 04
Don't forget your camera, this day is sure to wow you! We'll hit some of the most iconic sights in Rio including a trip to Corcovado, home to the famous "Christ the Redeemer" statue.That night we'll get our dancing shoes on for our very own private samba lesson and then a night out at the famous Rio Scenarium night club where we can put our new skills to work with the locals!
Day 9 — Saturday, Sep 05
It may be our last day in Rio but that doesn't mean the excitement ends. This day is ours to do whatever we want. We can check out Copacabana or Ipanema Beaches (AKA the sexiest beachs in the world), explore the beautiful cobblestone streets of Santa Teresa, or join a Favela Tour to learn about the favela societies that are home to 20% of Rio's population. That night we'll bid adieu to MTrek and Brazil with one more evening out on the town before we board our late night flight back to Michigan.
Day 10 — Sunday, Sep 06
Arrive back in Ann Arbor ready for the best damn two years of your life with 15 of your new best friends!