Trip Region: Eastern Europe
Country(ies): Croatia & Montenegro
Partners Trek? Yes
Cost: $2230
Airfare Estimate: $1700
Structure: 4 • Lodging: 3 • Nightlife: 3 • Activity: 2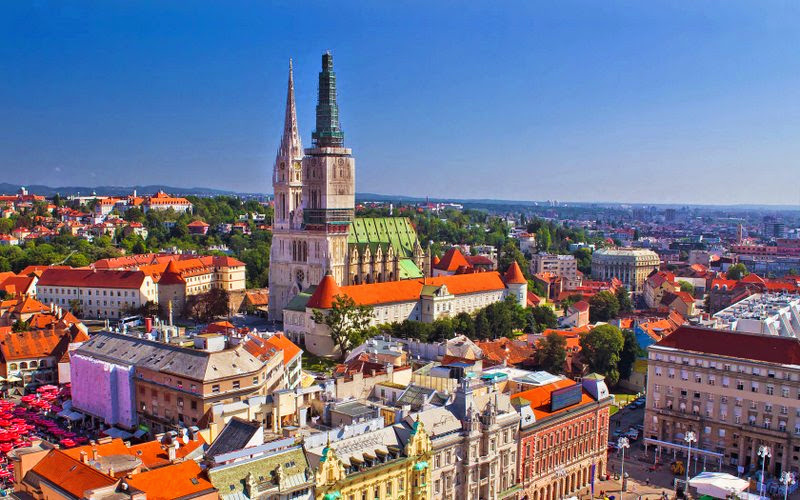 Ready to embark on your next greatest adventure and bring along your amazing significant other? Croatia is waiting! Before the MBAs among us are swallowed back into student life, we will explore the ancient ruins of Dubrovnik, swim along the beautiful beaches of Hvar, and party the night away in Split (start warming up now). With four of Ross's Best-Loved Couples of 2015 leading this trip, we guarantee that no one involved will go home without memories that will fuel your relationship through the throes of business school. Foodies, ragers, and explorers: we got you. Sailers, hikers, coffee-shop-stranger-chatter-uppers: we got you, too. As you bond with your soon-to-be-neighbors, classmates, as well as your boo, we will experience first-hand why so many people say Croatia is one of the most beautiful places on Earth.
As an intro to the academic grading system at Ross – Low-pass, Pass, Good, and Excellent – we've decided to elucidate how versatile your Trek experiences can be using this tried and true scale. Check out the itinerary tab to see what you can expect from our awesome jam-packed trip. We will hit all the "must see" spots but have left some pockets of free time for spontaneous exploration. Join us for the trip everyone will be talking about in Ann Arbor: D-D-D-Dubrovnik to a Split!
Day 1 — Saturday, Aug 29
Pass: You arrive in Dubrovnik, the jewel of Croatia, and get to know your fellow trekkers by exploring the city after dropping your luggage off at the hotel. There will be a full tour tomorrow, but Croatia's marble streets, baroque buildings, and ancient history have begun to cast their spell. Good: You and your new friends discover a great place for dinner and have your first brudet (traditional fish stew) or palačinke (Croatian crepe). Excellent: You take a short ferry to the island of Lokrum to hang with the peacocks and go for a dip in the Adriatic or Mrtvo More, the salt lake on the Island. Low Pass: You let a little thing like jet lag slow you down and miss the first night of bonding. Croatian phrase of the day: Bok, zovem se ______, kako si? (Hi, my name is ________, how are you?)
Day 2 — Sunday, Aug 30
Pass: A private bus and guide meet us at the hotel after breakfast and take us on the City Walls Tour, which turns out to be way more interesting than it sounds. Dubrovnik is home to one of the best-preserved Medieval city walls in the world and is also a UNESCO World Heritage Site. That night we enjoy our first dinner as an entire group and see what Dubrovnik nightlife has to offer! Good: You run all 1.2 miles of the walls around Dubrovnik, those calories won't burn themselves. Excellent: You win a dance contest with your partner and get free drinks for the whole group! Low Pass: You make up an excuse about fear of turrets and sit out the city tour. Croatian phrase of the day: Ooh, beba izgleda kako je velika ta topovi su! (Ooh, babe look how big these cannons are!)
Day 3 — Monday, Aug 31
Pass: Enjoy a leisurely coach ride to Montenegro and tour the breath-taking Boka Kotorska bay. Take a boat ride to the islet of Our Lady of the Rocks where you learn about the legend of how the islet came to be and visit quirky sights like church art made with human hair. After this Montenegro adventure, we return to Croatia for our last night in Dubrovnik. Go big or go home! Good: You go on a hike with your partner and enjoy the magnificent contrast of blue sea and steep mountains. Excellent: You befriend a local fisherman and have the freshest lunch you've had all year. Low Pass: The spectacular views are so breathtaking that you pass out and your partner has to carry you back to the hotel. Croatian phrase of the day: To je Ria, ne Fjord (It's a Ria, not a Fjord)
Day 4 — Tuesday, Sep 01
4 Pass: Take a fun-filled ferry (FFF) from D-nik to the island of Hvar. Check-in at the hotel and start exploring this beautiful island town. Free time at night is spent with the amazingly fun group or sneaking away with your partner for a moonlit stroll on the beach. Good: You feel the wind in your hair from the top of the FFF, making new inside jokes with your trekker friends. Excellent: After dropping your stuff at the hotel, you and your boo find a perfect spot next to a 12th-century monastery by the sea to watch the sunset. Low Pass: Your partner gets crazy sea sick and you spend the whole FFF ride holding back hair. Croatian phrase of the day: Ja sam na brodu! (I'm on a !@#$%^&* boat!)
Day 5 — Wednesday, Sep 02
Pass: Venture on a sailing trip with the group to The Green Cave, a true natural wonder located off the coast of the island of Vis. After landing back on shore, you relax for the rest of the day on the beach with a delicious cocktail in hand. Summer time is a busy time in Hvar, so our group finds an evening beach party to conclude this magnificent day. Good: During the afternoon, you rent jet skis, kayaks, paddle boards, or snorkel gear for the afternoon and check out the Adriatic Sea up close. Excellent: You jump off the cliffs with a UMich Flag tied onto you like a cape and win the best MTrek picture award! Low Pass: You're so hungover that you skip the sailing trip and have to hear from your partner how the rest of the trip was the most beautiful thing he or she has ever seen. Croatian phrase of the day: Mi živimo dobar život! (We are living the good life!)
Day 6 — Thursday, Sep 03
Pass: Last day in Hvar! You sleep in this morning but not too late, you want to leave time to check out that restaurant you've been eyeing, or hit the waves one more time. Hop on a ferry in the afternoon with the group because the time has finally arrived: We're droppin' it to a Split! After an hour-long Catamaran ride, we drop our stuff at the Split hotel and explore the second largest city in Croatia, visit the ancient Roman Diocletian Palace (as seen in Game of Thrones) or take an evening stroll on the Riva Harbor. Good: You join the group as we hit the clubs to experience the renowned nightlife of Split. You do a split on stage (this is your chance, you may never be back in Split!) and we raise a glass in your honor. Excellent: You visit "Froggyland," an exhibit of stuffed frogs playing out scenes from the early 20th century. Can't make this stuff up, folks. Low Pass: Not an option. We're in Split for 1 night only, make sure you're ready! Croatian phrase of the day: Živjeli! Proći rakija! (Cheers! Pass the Rakia!)
Day 7 — Friday, Sep 04
Pass: Split, we hardly knew thee. We jump on a private bus to Zagreb, but not without a small detour to the Plitvice Lakes, one of the most beautiful national parks in all of Europe - and arguably the most beautiful place in Croatia. Here we find a grand collection of waterfalls, lakes and diverse animal life. The bus ride is about 5 hours, so you decide to catch up on some shut-eye, marvel at the scenery, and join in on a "Heads Up!" tourney. We end the day in Zagreb, Croatia's capital and largest city. Good: You go bird watching while at the Plitvice Lakes and observe the mating rituals of the Hazel Grouse with your partner. Excellent: What the heck more could you ask for?! Just Google Plitvice and see what we mean. If you are present today, you win. Low Pass: Severe sunburn from Green Cave sailing trip is at its worst, and you opt to stay on the bus, missing this UNESCO World Heritage Site. Croatian phrase of the day: Volim te. To je nevjerojatna. (I love you. This is amazing.)
Day 8 — Saturday, Sep 05
Pass: Last full day in Croatia, you make it a good one! The group takes a private coach tour of Zagreb hitting all the cultural hot spots: Zrinjevac Green horseshoe, Ban Jelacic Square, St. Mark's Church, and the Cathedral, Dolac Market, The Stone Gate, The Funicular, and Croatian Parliament. Good: After the tour, you visit the Museum of Broken Relationships; ranked in Top 10 Things to do in Zagreb. Excellent: At our final, farewell dinner, while we talk about our favorite trip highlights, you share an original song or poem about the trip and a tear falls during the performance. Low Pass: Things got touchy at the Museum of Broken Relationships... Croatian phrase of the day: Kako su naši lideri Mtrek tako velik? (How are our Mtrek leaders so great?)
Day 9 — Sunday, Sep 06
Pass: Time to head back. While Europe will be missed, we will all reunite in Ann Arbor! You and your partner scroll through pictures to remind you of all the fun you had on the best trip of your life. Croatian phrase of the day: Sigurno putovanja, prijatelji, vidimo se u Ann Arbor! (Safe travels, friends, see you back in Ann Arbor!)