Trip Region: Eastern Europe
Country(ies): Serbia, Montenegro
Partners Trek? No
Trip Cost: $2050
Airfare Estimate: $1400
Nightlife: 7 • Activity: 6
This trek will cover the full spectrum of history, culture, and fun as we eat and drink (let's be real, mostly drink) our way around all of the mountains and bays Serbia and Montenegro have to offer.
We'll start out in Belgrade and cruise along the riverside restaurants and casinos as Beerfest comes to a close. To walk off all that delicious food, we'll head to Djerdap National Park for some hiking and taking in the views. Then, we'll kick off our time in Montenegro via wineries situated in 300-year old taverns before gearing up for our beach party on Budva's coastline. We'll see UNESCO heritage sites, soak up the sun and party on a catamaran.
Travel Day — Saturday, Aug 15
Travel Day
Day 1 — Sunday, Aug 16
Arrival & Beer Fest: Congrats on surviving orientation! By now you've seen the best (Rick's & Skeeps) and worst (the mornings after Rick's & Skeeps) of Ann Arbor. Get your relaxation on at The Hotel Capital, then join up for the welcome dinner to meet the rest of the crew. After dinner, prepare yourself for Oktoberfest's greatest challenger: Belgrade Beer Fest. It's the second largest beer festival in the world, with beers both foreign & domestic, live music, and no bear cage incidents since 2007. We'll be there for the closing ceremonies – let the Serbian celebration commence!
Day 2 — Monday, Aug 17
Belgrade City Tour: Load up on breakfast, then it's time to get our culture on! Charge your phones – today's the day to send wholesome travel pics back home. We'll walk around Belgrade, seeing Terazije Square, Republic Square, Knez Mihailova Street, the Kalemegdan Fortress, St. Michael Cathedral, and more! Afterwards we'll see the country the proper way: through a food tour & rakia tasting! Shelby will flex her Serbian to order us a feast, and anyone unfamiliar with rakia is in for a fun surprise. The night is ours for the taking, and we'll have small group dinners before another night out on the town.
Day 3 — Tuesday, Aug 18
Djerdap National Park: If you thought Day 2 was 'gram worthy, we're about to move from story to post territory as we head out to Djerdap National Park. Katie "Bear Grylls" Cameron will lead the pack as we traverse the park. Highlights include the Djerdap Gorge & Iron Gate. It's Serbia's first UNESCO heritage site – we told you this trip would be cultured! We'll picnic at the top of the mountain at the Kapetan Misin breg (google this!!). It's a 7km hike, so pack your boots made for walkin'!
Day 4 — Wednesday, Aug 19
Travel Day + Wineries: We leave the mountain views of Serbia in our wake as we fly to Montenegro: The Land of the Black Mountain. Pass out on the plane and when you wake up you'll be in wine country. First stop: Sipcanik Winery. Formally a military building, these vintages are well protected. We'll have a three course lunch with 5 wine pairings, because that's the kinda ratio we love to have. We'll have a professional sommelier with us, so take note of the pairings to impress recruiters during your upcoming Circles of Death. Next stop: more wine! We're off to Kopitović Winery. Located in Donji Brceli, a 15th century village, this winery is the perfect mixture of salt, sea, & air that dreams are made of. Enjoy the sights, taste the wine, and practice your Živjeli! (cheers)
Day 5 — Thursday, Aug 20
Beach Party: Hope your beach bod is ready — we'll be doing sit ups all summer — because we have an all day party at Ploče Beach! With a tab that lasts as long as a Skeeps tab in December, we have a full day to load up our instagram stories and make all friends at home say "should I apply to business school?"
Day 6 — Friday, Aug 21
Montenegro Adventures: Sleep off the beach hangover, then it's for a double dose of culture beginning with some Montenegrin sites before another national park. We'll start by traversing King Nikola's road through the country. Nikola was the original party boy of Montenegro and known as "the father in law of Europe." Sounds like a chill dude. We'll follow his road to the former capital city of Cetinje. Old embassies and churches await and while we can't promise the Ark of the Covenant, there are two key pieces of history here: 1) The right hand of St. John the Baptist 2) A piece of the True Cross There's also a collection of tapestries, paintings, and war trophies (King Nicky was quite the soldier); Shelby is sure to have a random fact about each. And did we mention this is another UNESCO site? That makes two now, but who's counting? Inspired by our bro Nick and ready to conquer the world, or at least the Southern Balkans, we head to Lovcen National Park next. There you'll have a chance to bring out your inner Katniss Everdeen. We'll take Archery 101 from local masters and culminate lessons with an MTrek competition. Much like the Hunger Games, there can only be one winner, but instead of death all losers will be Iced.
Day 7 — Saturday, Aug 22
Boat Day! The morning is yours to explore Kotor's Old Town then put on your sunscreen for an epic meetup joining the other Montenegro MTrek for a yacht day in the Adriatic. Yacht Week got nothing on Ross.
Day 8 — Sunday, Aug 23
Boat Day, Part Deux! All aboard for a coastal tour of Boka Bay - mountains, castles, and grottos, oh my! We're back to the boat as we sail to Perast for a scenic lunch and take in some history via the Yugoslavian submarine tunnels. The Tauber crew will enlighten us with the mechanics of boating as Jordan "The Body" Owens slips away to take over the captain's wheel. Then we'll take a dip in the bioluminescent waters and enjoy the BYOB feature our boat offers. #GlowUpPart2 We'll pretend like it's not our last night in paradise as we enjoy dinner as a group at the delicious Astoria restaurant. As a final test to make sure you're ready for Core, the gloves will come off and we'll take Kotor by storm. Our last night together, time to leave it all on the field!
Departure Day — Monday, Aug 24
Farewell: Adios Trekkers! We'll drive to Dubrovnik (the closest airport to Kotor) and head back to A2 filled with meat, rice, and irreplaceable memories. Block off your calendars now for our first pre-Skeeps reunion, and don't stress too much during the core. Remember: Bel-Grades Don't Matter!
Katie Cameron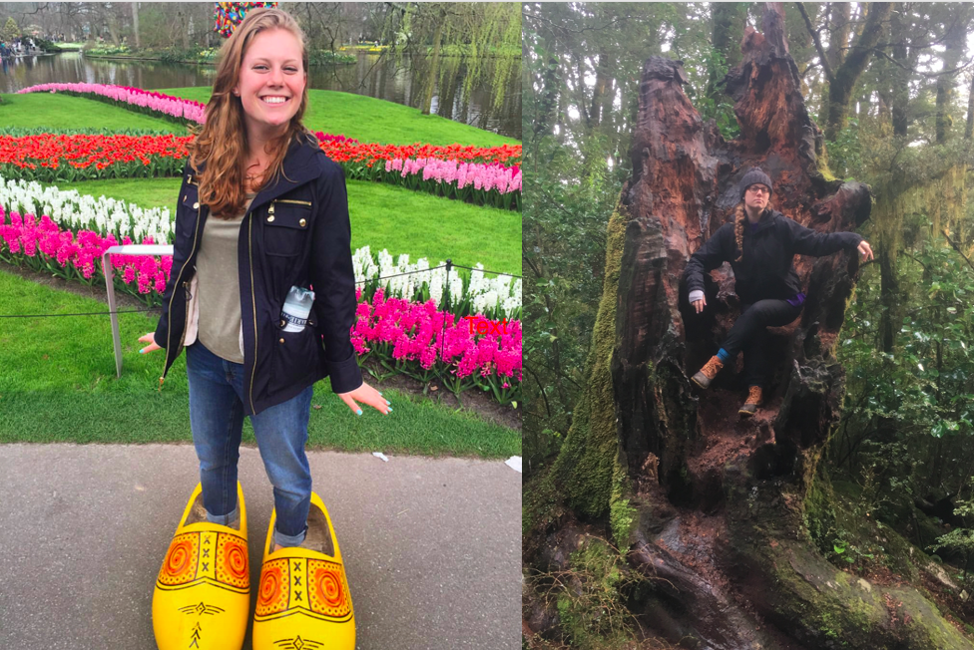 Statistically speaking, you probably already know Katie Cameron. This is because you are employed by Deloitte. If you do not yet know Katie, stop reading and go rank this MTrek first.
Welcome back. Before MBA, this Georgia peach made an 8 year pit stop (you bet that's a pun) in Pittsburgh. Katie is currently struggling with Michigan's cooler climate and will be booking a one-way flight to Austin post-graduation to thaw out.
Some treks will have a "Trek Mom" – we will not. Instead, Katie will fill the role of "Cool Trek Aunt".  Her bedtime ranges from 8pm to 3am, and if we run into any bears in the Serbian wilderness, she will be the one to fight them off (writers note: we don't need to be worried about bears, it's a metaphor).
Ask Katie about: Being hungover on a bus, How to Lose a Southern Accent in 10 Days
Don't ask Katie about: Sports, losing Delta Diamond status
Ethan Foreman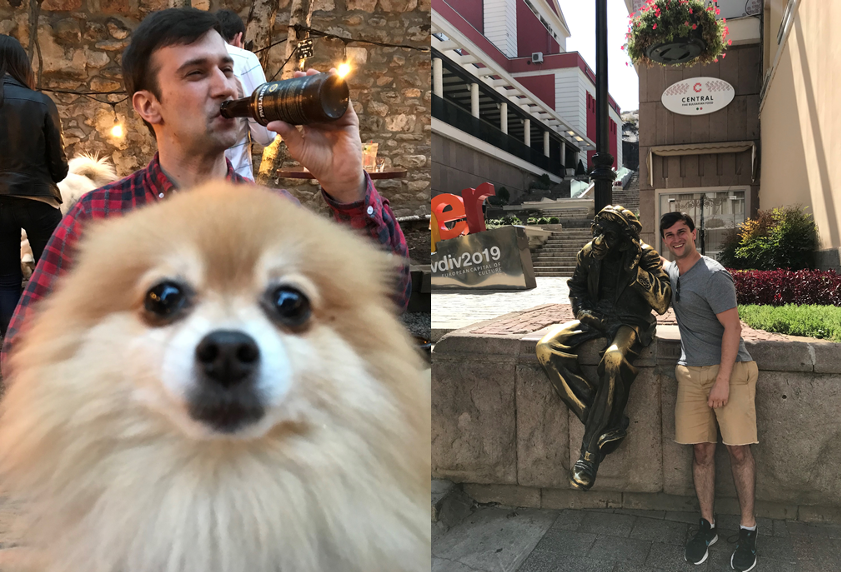 Ethan once won a GroupMe poll about "being the most Chicago," but the Blackhawks didn't start winning Stanley Cups again until he left.
Ethan's favorite phrase is "Let's do it." Go to trivia at 10pm where the main competition is undergrads who think that Blink-182 is music "their dads listen to?" Let's do it. Recruit for marketing, tech, and consulting? Let's do it. Take another tequila shot with Shelby? Nah, that's a step too far!
He'll be returning to the Second City this summer to be a consultant at Parthenon. As we shuffle to the back of the plane, we can wave to Ethan in first class #statuslife.
Ask Ethan about: Shadow section leadership
Don't ask Ethan about: Last names, why he doesn't eat pork
Jordan "The Body" Owens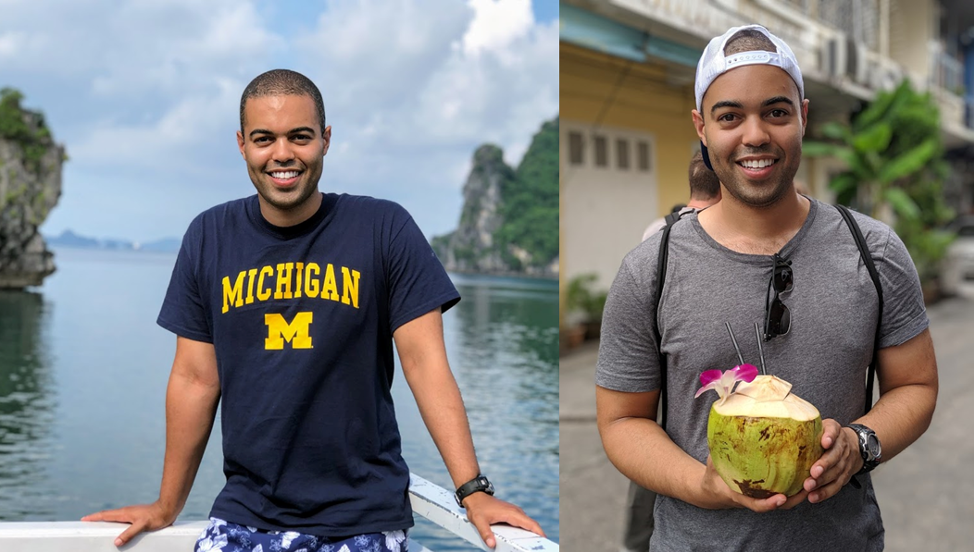 A man of high culture, Jordan loves F1 racing, fine whiskey, and burritos. To honor his commitment to enjoying the finer things in life, Jordan will serve as Team Seagull, ensuring that no food goes to waste as we frolic around the land of meat and rice.
When not eating burritos or watching racing, Jordan can be found with the party button down on his shirt, likely complaining about Tauber (like all Tauber people do). Except, Jordan calls it Taubah because he's from Boston and he just can't help it!
Ask Jordan about: Best burrito in Ann Arbor (BTB), being an influencer on Insta, learning business from Michael Scott
Don't ask Jordan about: Maintaining a relationship on a Partner MTrek
Shelby Kuhn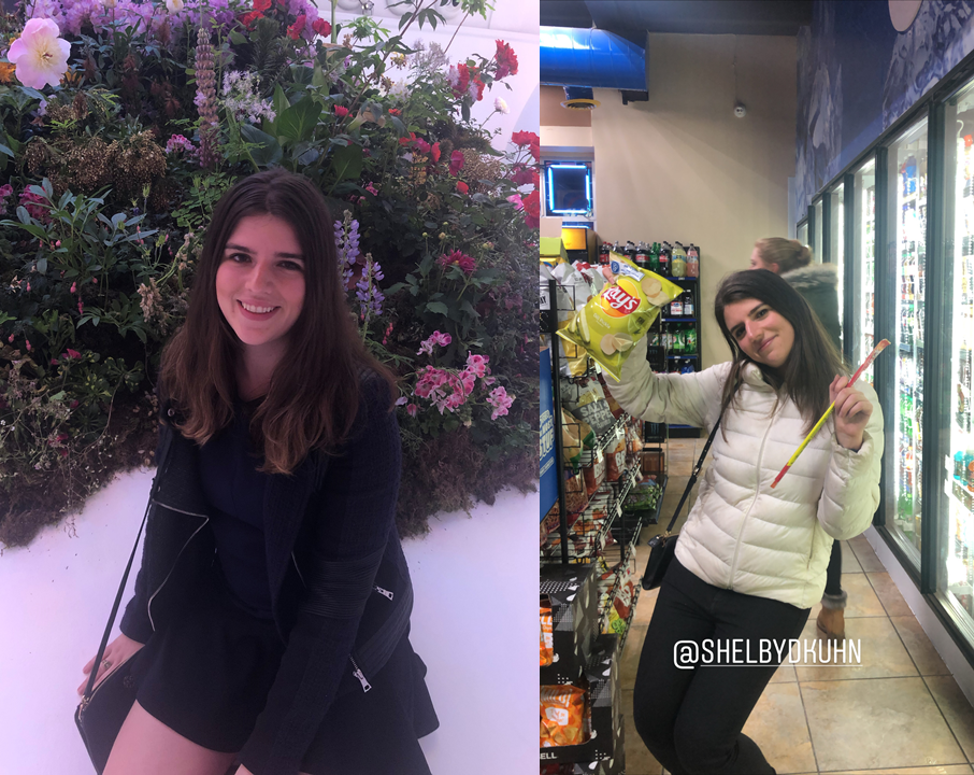 Shelby is from Texas. We have to tell you now because you'd never guess it – she doesn't even wear pearls every day! This is also ironic because she's the smallest leader, by a lot.
If you're worried about not having internet in various locations on our trek, fear not. Shelby is a walking, talking yelling Wikipedia! She somehow knows everything about everything and fortunately for us, isn't afraid to share.
During our trip, she'll be the last one asleep and the first one awake, and yes – she will go on morning runs. Don't let that scare you off, nobody else will be joining her and we won't let her pressure you!!! (Peer pressure will only apply to debaucherous activities).
Ask Shelby about: Speaking Serbian, the best Thai restaurant in any city, Takis
Don't ask Shelby about: Pasta, cheese, shellfish
Patrick "PDubs" White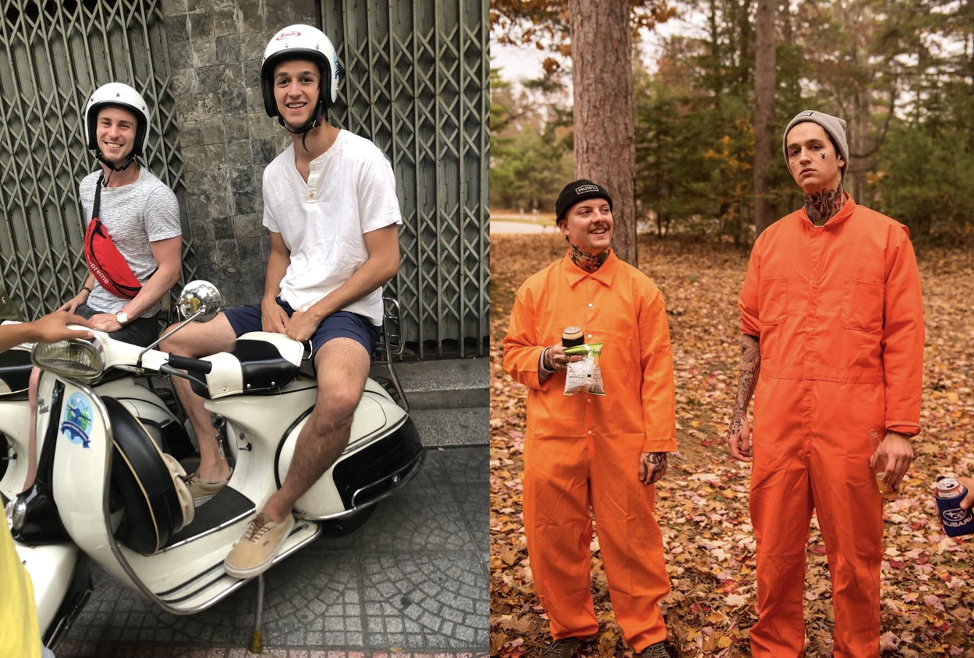 Pat is awesome. He's accomplished so much both career-wise and height-wise. Known around town as "The Human Periscope", we'll use him to scope out the best spots on the beach for our parties, looking out for bears (ok there really aren't bears in Serbia) and reaching for top-shelf alcohol.
Always the life of the party, you'll find Pat leading the charge to Garage Bar around 5pm so he can drink an M-43. The fun part comes 3 beers later when he realizes he has a night class, gathers up his things, and runs back towards Ross. Fortunately, due to his giraffe-like strides, he'll make it in time and the professor will be none the wiser.
Patrick doesn't always identify with his Kentucky roots. Sure, he may have grown up at the local dirt-track on Demolition Derby days, but the only things he demolishes nowadays are bottles of Kentucky bourbon. As an automotive consultant, Pat now works to build cars instead of destroy them. The fun uncle of the trek, he's the ideal combination of chaos and responsibility, as displayed in his ability to attend Ross while also having his cat, Kitty.
Ask Patrick about: Getting mistaken for Jean-Ralphio from Parks and Rec, cars
Don't ask Patrick about: Kentucky Fried Chicken, living with undergrads