Trip Region: South America
Country(ies): Ecuador, including the Galapagos Islands
Partners Trek? Yes
Cost: $2500
Airfare Estimate: $800
Structure: • Lodging: • Nightlife: 6 • Activity: 8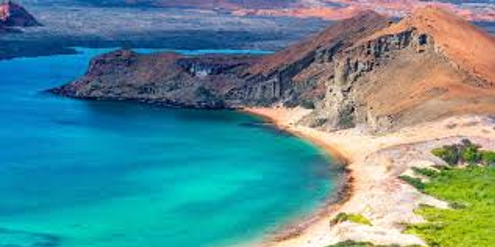 Get ready for a trip with a great balance of activity, relaxation, nightlife, and empanadas. Explore the beautiful Galapagos Islands and then spend a couple relaxing days on the beach in Montanita.
Day 1 — Saturday, Aug 15
Today is the day we head South from Ann Arbor to the beautiful city of Quito in Ecuador! Upon arrival, we check in to the hotel and get rested for an active week!
Day 2 — Sunday, Aug 16
First full day in Quito! After breakfast at the hotel, we will spend the morning taking a walking tour of the city and check out a giant statue supposedly on the equator. The afternoon is yours to relax or continue exploring the city! We will round out the day with a Welcome Dinner where you will get a chance to choose which couple will be the first voted off the trip, survivor style… just kidding. :)
Day 3 — Monday, Aug 17
Today we hop over to the Galapagos Islands! After a short flight and boat ride, we will drop our bags at the hotel then head over to the Highlands area where we will ride, I mean look at, the famous Galapagos Giant Turtles! We will also visit the Charles Darwin Nature Center where Charles will be doing a book signing - everyone be sure to bring your copy of "On the Origin of Species"! (If you can't tell, trip leader Sean is a bit of a jokster). At the end of all this, we will head back to the hotel in Puerto Ayora where you will have the evening to explore the town.
Day 4 — Tuesday, Aug 18
Today after breakfast at the hotel, we will check out and then take a boat over to the amazing Isabela Island. Pack a bathing suit because we're hitting the water in Isabela! University of Michigan Alumnus Michael Phelps will be guiding us as we snorkel with all the amazing aquatic life that inhabits the island. Late afternoon we head back to town where we will relax on the beach and watch the sunset.
Day 5 — Wednesday, Aug 19
Volcano Day! Lace up your hiking boots because we are climbing the Sierra Negra Volcano. Fun fact: this is the very same volcano used to film the scene in Dr. Evil's lair in Austin Powers. The hike will be challenging but the views from the top are more than worth it. Post-hike we will get the chance to unwind on the beach and hopefully eat a few empanadas to get our strength back.
Day 6 — Thursday, Aug 20
After breakfast we will check out and take a speed boat back over to Isla Santa Cruz. Once we arrive, we will drop our bags then make our way over to Tortuga bay where we can snorkel, kayak, or strap on some water wings and just float in the crystal-clear water. This is our last day in the Galapagos so take the opportunity to learn as much about evolution as you can and maybe try to find a nice exotic pet to bring home.
Day 7 — Friday, Aug 21
Today we travel to the Ecuadorian surf town of Montanita. Once we arrive we will have time to explore the town and hang on the beach. Montanita has some of the most vibrant nightlife in Ecuador so get ready to spend the night dancing with your 20+ new best friends.
Day 8 — Saturday, Aug 22
BEACH DAY! Today we will have a full day to hang out at the beach! We will have an optional yoga class and a chance to build up a tan that needs to last you the entire 8-month Michigan winter. We will round out the day wandering through the town and eating delicious food. We really, really hope there will be pina coladas.
Day 9 — Sunday, Aug 23
Remember what we did yesterday? Well, today we are doing the same thing only we also will have the chance to surf. After beach bumming all morning, we head back to the hotel for an afternoon pool party where Michigan Ross Associate Professor of Marketing, Pitbull, will be hosting a private show for us. Enjoy this last day in paradise! We end the day with a farewell dinner where the couple voted out on night 1 will finally rejoin our group.
Day 10 — Monday, Aug 24
After breakfast we will gather our things, wring out our bathing suits, and sneak in one last empanada before heading to the airport and back to Michigan. Pat yourself on the back, you accomplished a lot this week.