Trip Region: Europe
Country(ies): Denmark, Sweden, Norway
Partners Trek? No
Trip Cost: $2860
Airfare Estimate: $1600
Nightlife: 5 • Activity: 5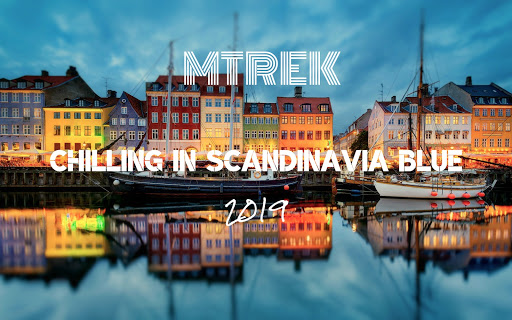 There is "NOR-way" you could find a better way to celebrate the beginning of the two best years of your life than by hanging out and having fun with some most chilled Mtrek leaders in Scandinavia Blue.  From biking the kingdom of fairytales, watching the dark waves of the Baltic sea crash with the vivid blue ones of the Northern sea, to taking a look at the classicist palaces of 18th century, Chilling in Scandinavia Blue will be an epitome of your following MBA life. All of your trek leaders couldn't have imagined a better way to kick off their Ross MBA lives than MTrek, and want to pass this love and passion along to you. We will guarantee a trek through Scandinavia that will be one of the best trips of your life.
Travel Day — Saturday, Aug 17
Welcome to Copenhagen! We will meet at the hotel at 6 pm local time. Upon arrival take your time to settle in and perhaps go for a stroll on your own. The leader will brief you about the trip and collect the passport and insurance details. Welcome dinner at a local restaurant is waiting for you to check as the official start of our chilling Mtrek!
Day 1 — Sunday, Aug 18
Today we will explore the city's many hidden corners. Let the local guide take you around and do it as locals do – on a bicycle! See the most important sights from the Little Mermaid to impressive 18th century Amalienborg palace. The rest of the afternoon is free to be enjoyed at leisure and you can go in-depth and visit some of the palaces or museums inside. Your tour leader can provide recommendations and a list of optional activities for us to explore in this Scandinavian city.
Day 2 — Monday, Aug 19
Board a train in the morning and travel to Malmo – one of the most exciting Swedish cities. Having gone through a real revival in recent years, Malmo will welcome you with a vibrant atmosphere and fun student vibe. Explore the old town on your own before heading onwards to Gothenburg where you will be based for the next few days.
Day 3 — Tuesday, Aug 20
Today we will sit back and relax on a canal cruise in Gothenburg, the city looks great from a water perspective and you won't get tired while sliding down the many waterways and admiring the most important sights, like fish market, opera house and the docks. The rest of the afternoon is free for you to explore at your own pace. There is plenty of options to choose from. Don't miss out on grabbing a coffee in one of the relaxed street side cafes and complete it with a delicious cinnamon bun.
Day 4 — Wednesday, Aug 21
Today let's catch an early ferry from Gothenburg to Vrango Island, approximately one hour and 20 minutes away. Vrango is the most southerly island of the Gothenburg Archipelago, with a permanent population in the low hundreds and a strong fishing industry. The island is known for its stunning beaches and protected nature reserves and you'll explore the coastline in an included kayaking activity.
Day 5 — Thursday, Aug 22
Catch a bus across the border to Norway's capital Oslo. After an initial orientation walk explore this quirky, colorful city. Spend the day perusing delicacies at Maschmanns Food Market, admiring the handiwork of glass blowers at the Hadeland Glassverk, or simply strolling along Karl Johans Gate, the main shopping strip of the city. The rest of the day is free at leisure. One option is heading to the National Gallery of Art to glimpse Edvard Munch's famous 19th century painting, The Scream.
Day 6 — Friday, Aug 23
In the morning embark on a Hop-on Hop-off cruise, the best way to explore Oslo on your own. The cruise is on a wooden traditional sailing ship and the cruise passes Oslo's most visited sites. In the afternoon check out Norway's most visited tourist attraction and one of the world's most famous sports arenas. The new Holmenkollbakken stands ready to give you exceptional experiences, with and without skis on your legs. Join the guided tour to learn more about the site. Club Crawl tonight! Your tour leader will make arrangements for a nightclub entrance or bottle service!
Day 7 — Saturday, Aug 24
Today travel to Bergen on a legendary train journey. It will take you through Norway's most breathtaking UNESCO-protected fjord and mountain scenery, as well as a trip on Europe's top scenic rail journeys. Please note you will need to change the mode of transportation multiple times during the day. Upon arrival to Bergen take a free evening to relax.
Day 8 — Sunday, Aug 25
Embark on a guided tour with a local to discover hidden gems of Bergen. Start by the City Hall where we can see the room where the Nobel Peace prize is delivered every year. The walk through together Karl Johan, the most important street of Oslo. Finish your walk by getting on a fantastic funicular ride to admire the views over the whole city. A trip on Fløibanen is an adventure in itself. The journey takes 5–8 minutes and brings visitors to the summit of Fløyen (320 m above sea level) with its fantastic views over Bergen. Get ready for the farewell group dinner.
Departure Day — Monday, Aug 26
Check out from hotel. There are no activities planned for the final day and you can depart the accommodation at any time.
Queenie Shan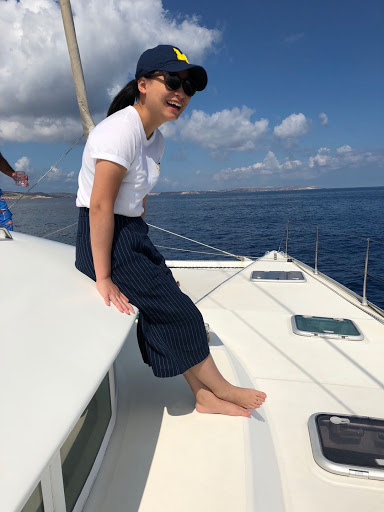 Queenie is super chilled. Born and raised in Shanghai China, the ex-Deloitte audit manager decided to come to the US for MBA after watching FRIENDS more than 20 times. She is super straightforward, always ready to surprise you with some sharp and funny comments, and great at throwing shade. She has a passion for all gambling games. She would love to teach you Chinese poker and mahjong, and then gladly lose to you as she is too lazy to calculate. She is a fun companion to drink with. If you pass out, she will happily refresh your memory later with details of some interesting moments. She will show you how to be cute and meanwhile be a rogue. She is many things, but never basic. After all, a basic b***** could never be maid of honor 7 times.
Jin Wu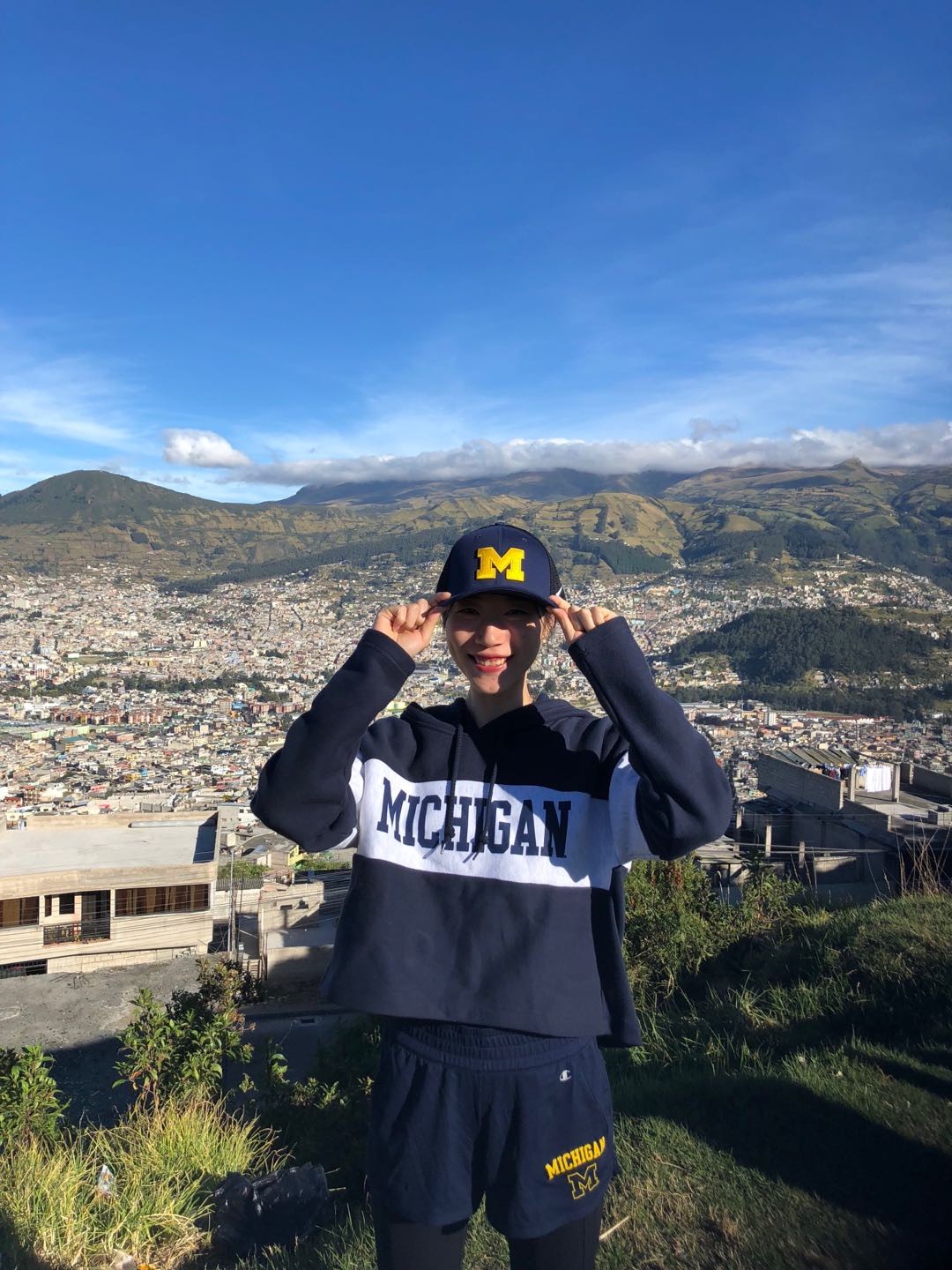 Jin is super chilled. Born and raised in Shanghai, Jin decided to come to AA to experience the "rural life" and get rid of the boring city. She is willing to share with you anything from how to adjust yourself to better fit the life here to how to make fun of yourself. Before Ross, Jin worked in retail industry. And one year in MBA has made her dream to be a consultant come true. Some of Jin's favorite things include: playing poker all day, skipping meals to enjoy dessert, walking and walking… But most of all, you can count on her to make sure you catch flights and get back home.
Mulin Jia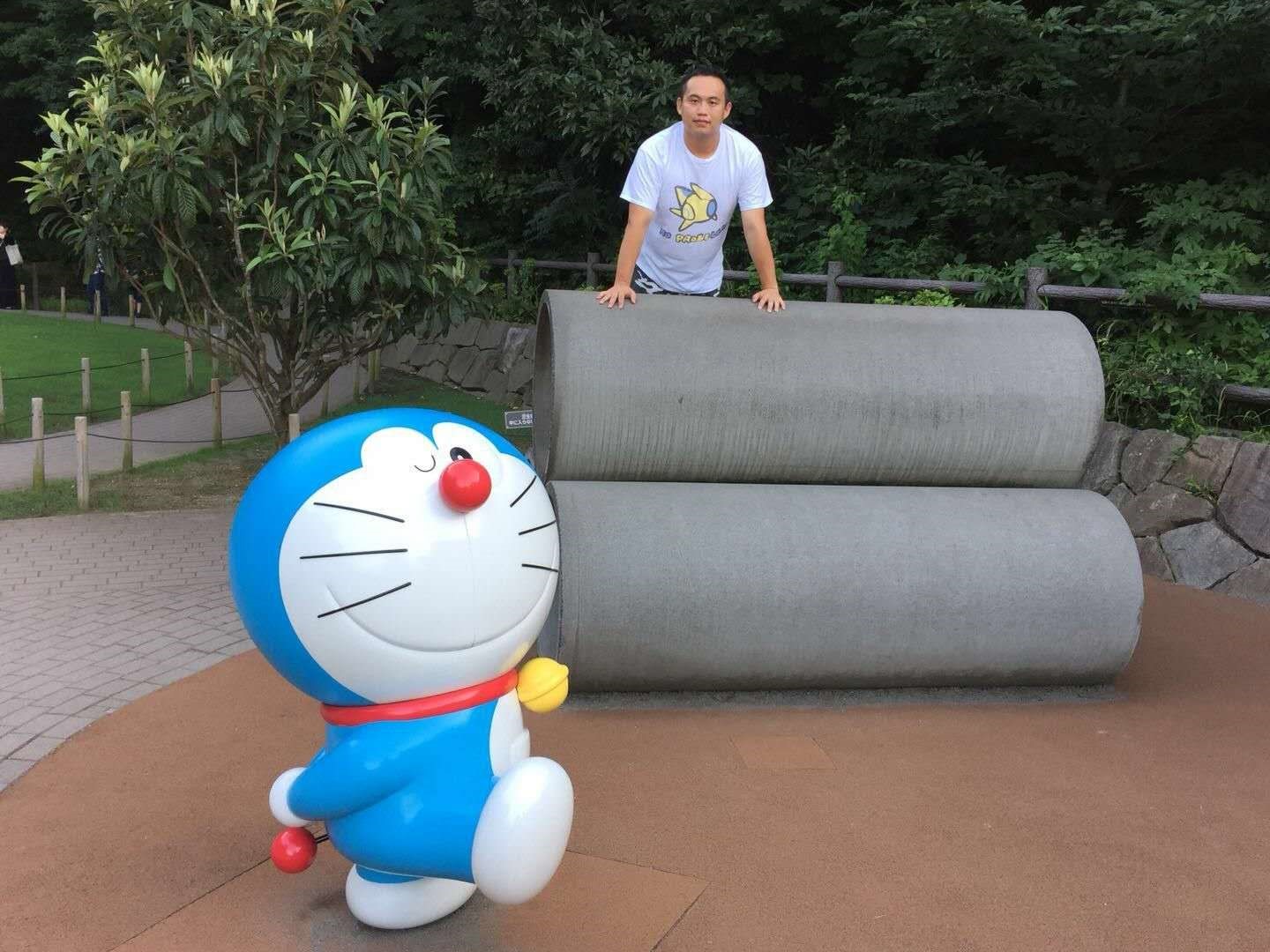 Mulin is super chilled. And he is chilled because he wears shorts in snowing winter. Born and raised in Shenyang China, a place snows more than Ann Arbor, he became chilled. He is a diehard for Brutal Death Metal, and he once played as guitar in a band, without really knowing to how play a guitar. He has also been calling himself a pro billiard player for 15 years, until beaten out by the real pros. He worked as a PE/VC investment manager before MBA, and all he can share with you out of this experience is some dirty words. He spent 4 years in Los Angeles for undergrad, which added nothing to him but weight, for that UCLA didn't even offer him an interview for MBA application. Lastly, he doesn't have a picture wearing an "M", not meaning that he doesn't love Michigan, just because he is super chilled.
Warren Tanapol Jeraratanasopa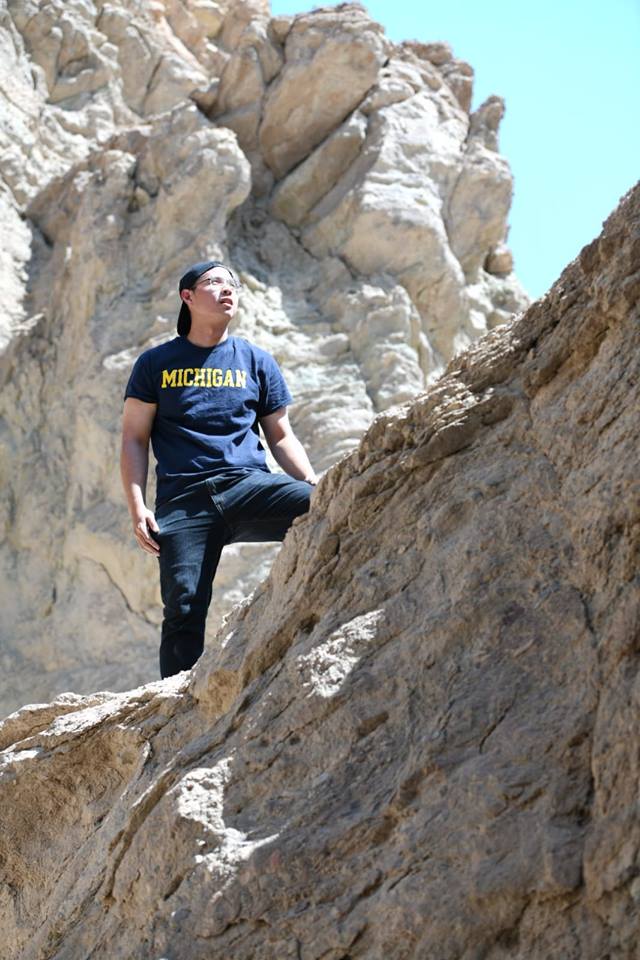 Warren is super chilled. Born and raised in Bangkok, Warren loves running on the street until he moved to Ann Arbor, and realized that he cannot run on slippery ice during winter. He enjoys playing tennis, soccer, basketball, and table tennis. Everything you can think of. Before coming to Ross, Warren works as an engineer in a manufacturing company that makes bathroom fixtures. Please let him know if you have any problem in your bathroom. He will call a handyman to fix it. He executed a capacity expansion project that involved automation and robotics. You can ask for his advice if you want to expand your stomach size. He also gave financial advice to line-operators who worked with him to get out of debt. If you have a money problem, don't consult him. All line operators who consulted him are still in debt. He tries to quit drinking beer every day, but his efforts never succeed. He will be a capable Mtrek leader since he led a group of operators in a production line before; Just give him some beer. Everything will work out.
Jim Xu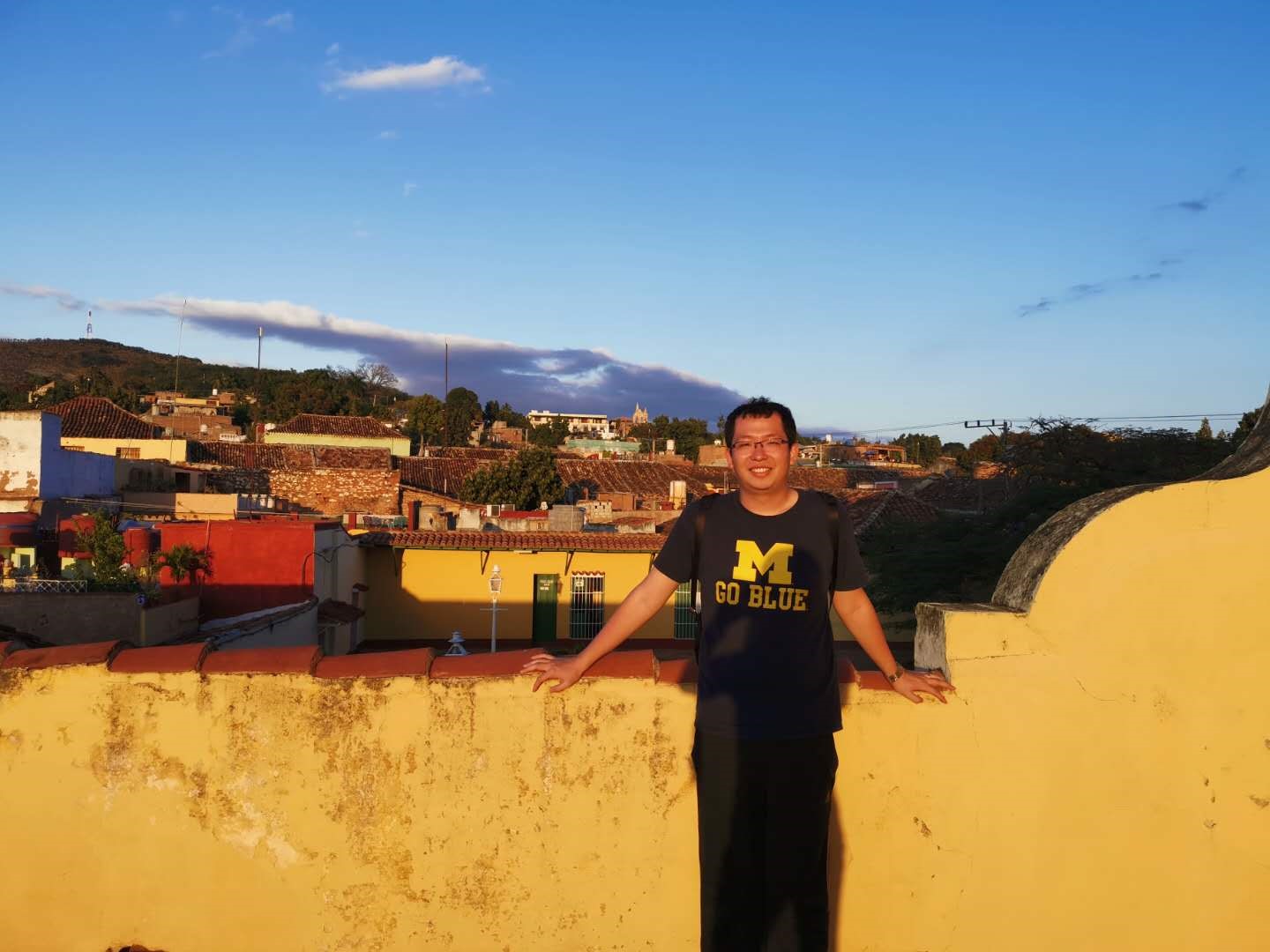 Jim is super chilled. Tired of the last eight years' intense life in Hong Kong, Jim decided to experience a different lifestyle in a small Town and that's why he came to Ann Arbor. Before Ross, Jim worked as a software engineer in the Hong Kong Jockey Club, which is a very interesting gaming and charity organization that you may not hear about. Just like most engineers, he is not good at talking, but he is always willing to help others and share some of his first-year experience with you.