Trip Region: Western Europe
Country(ies): Italy
Partners Trek? Yes
Trip Cost: $2375
Airfare Estimate: $1700
Nightlife: 5 • Activity: 5
TLDR: Do you love the finer things in life? Like wine, beaches, romance, and carbs? Then this trek is for you!
Get ready for the greatest Fall A pregame ever and join your fearless leaders as we galivant across The Boot in search of the best wine and food Italy has to offer. Our journey starts in Venice, where we will explore the historic city by foot and private gondola explore the historic city by foot and private gondola before it sinks into the ocean (oops). Our next stop is Florence, where we will hit all the major sights, see the naked David, and enjoy a foodie paradise including a private cooking class! Our next stop dials up the romance and you can Google Cinque Terre to see what we mean. Treat-yo-self beach day or shape-yo-self hiking, it's up to you! We will continue to make our way through Italy into the Chianti Region. But first, we will enjoy a tour and tasting at an ~organic~ vineyard on the way. Our hotel also happens to be on a vineyard, where we can relax by the pool and try to convince them to just hand over the entire barrel of wine. On our final stop we will be pulling our best Lizzie McGuire (sing to me Paolo) and exploring EVERYTHING Rome has to offer. This Trek is what dreams and great Instas are made of.
Travel Day — Friday, Aug 16
Students: Congrats on surviving Orientation and Impact Challenge. Partners: Congrats on surviving your students during Orientation and Impact Challenge. Feel free to depart the Mitten State for the country shaped like a boot after Orientation wraps up at 5pm. If you're starting your wine tasting journey early while a mile high, remember to hydrate with water, or you could end up with cankles like Claire did last year.
Day 1 — Saturday, Aug 17
Welcome to Venice! Take advantage of exploring this sinking city if you arrive early, or just take a nap and sleep off all that free airplane wine. Welcome Meeting at the hotel starts at 6pm local time. Prepare your stretchy pants because tonight we dive into the famed Venetian cuisine and hunt for a rooftop bar to bond some more and see Venice from above.
Day 2 — Sunday, Aug 18
Did we mention Venice is sinking? On our guided walking tour we will learn all about Venice's history and discover some of the more popular sights including Doge's Palace, the Piazza and Basilica di San Marco and the Bridge of Sighs. After our tour we will rest our feet and board gondolas for a truly grammable experience through the Venice canals. The rest of the afternoon is yours to explore! Perhaps take the vaporetto (water bus) over to the island of San Giorgio to climb the bell tower for the best view of Venice. Or just eat your way through the local gelato and pizza shops. Small group dinners tonight and meet up with the group afterwards for some Amarone and Spritz Veneziano.
Day 3 — Monday, Aug 19
Wakey wakey! After breakfast we hop on a train to Florence. Once we get settled in we will embark on a guided tour to learn more about the place the OG Ninja Turtles called home. Florence is one of the most culturally rich and beautiful cities in Italy, known as the beating heart of Tuscany. The Medicis, Leonardo da Vinci, Raphael, Brunelleschi, Machiavelli, Donatello and Michelangelo all lived in Florence at the height of their creative reign. And yes, we will be seeing the David in all his nudie glory on this tour. Surprise surprise, food is also famous here. Meat loving partners should try the bistecca alla fiorentina, a 50 oz T-bone steak that's perfect for two. Avoiding meat? No problem. Try the ribollita, a thick delicious vegetable soup with bread, beans and greens. Panforte is the signature for all you sweet tooths. Tonight's agenda is a surprise, but we are sure you will love it!
Day 4 — Tuesday, Aug 20
Welcome to Chopped: MTrek Edition. For lunch today we will be enjoying a private cooking class! After an educational session with our private chef about Italian foods, we will be making sauces, homemade condiments, FRESH PASTA, and more while we drink some wine. Fun fact: they call Florence the Renaissance Wonderland. The afternoon is at your leisure to take in the beauty of this city, maybe start with a visit to the Uffizi, one of the world's oldest art galleries, or walk up to Piazzale Michelangelo, which is set on a hill on the south bank of the Arno River, to take in beautiful views of the city. Tonight we will hit up one of the famed food halls for dinner where you will be able to sample all Italian cuisine has to offer.
Day 5 — Wednesday, Aug 21
Pit stop in Pisa! Today we will take a train to the place of the Leaning Tower. Get your photo op and enjoy a leisurely lunch before meeting back at the train station to enjoy a scenic train ride through northern Italy to La Spezia. Known as the gateway to Cinque Terre (aka the colorful place Amex puts on all those credit card offers you get in the mail), we will have time for a brief exploration of the harbor before enjoying some local Mediterranean delights for dinner. Be sure to rest up because tomorrow we hit Cinque Terre!
Day 6 — Thursday, Aug 22
"Siri, how do you pronounce Cinque Terre?" Chin'kway Tar'ay (translating as 'Five Lands' or 'Five Villages') is a region of Italy famed for the colorful villages that cling to its rugged coastline. The footpaths that run between the villages were once the only way to travel in the region. Lucky for us, there is now a train. Spend the day as you please, whether that is hiking the villages, being lazy on the beach with a bottle of wine, or finding the best local delicacies of pesto and focaccia. We will spend most of the day here before returning to La Spezia for dinner and more wine.
Day 7 — Friday, Aug 23
Chianti Time! We are heading to the Chianti Region right in the heart of Tuscany. On the way, we will visit San Gimignano, the 'Town of Fine Towers'. This medieval walled town is famous for its well-preserved tower houses which are now on the UNESCO World Heritage list. San Gimignano is renowned for its ancient Vernaccia grapes, which are the basis for one of Tuscany's finest white wines. We will relax in a local family's garden surrounded by olive trees and vineyards and enjoy the local organic wine varieties produced by this family for centuries. While we will have a formal tour and tasting, feel free to quiz budding Sommeliers Arjun and Christian on their knowledge of Italian wines. We will depart in the afternoon for another vineyard and our next location. Once there, you will be invited to relax by the pool or take a stroll through the vineyards that are right on the property. We dine this evening right in the vineyard with rustic Italian fare.
Day 8 — Saturday, Aug 24
Welcome to the luxury life as we take a short drive (no more trains) to Monteriggioni, another Tuscan hill town that was built by the Sienese to defend their territory against the Florentines in the 13th century. Learn a little more about the circular walls and 14 towers which played a significant role in the attacks staged by the Bishop of Volterra. After, we will continue on to the medieval city of Siena. It is best known for the Piazza del Campo, the site of the twice-annual Palio (a horse race that goes around the edge of the oval square). We'll definitely visit the small but stunning Siena Cathedral, and see the statue of the capitoline wolf which was brought here by sons of Remus, the founder of Rome. It has been the city's symbol ever since. After our final drive, we will arrive in Rome to lay down a carb base before a night of exploring the Roman nightlife. Your MTrek leaders are on a mission to find the best fresh pasta dish in the world.
Day 9 — Sunday, Aug 25
Today we will enjoy a guided tour of Rome where we will see all the highlights like the Roman Forum, the Victor Emmanuel Monument, the Pantheon, the Colosseum, Trevi Fountain, Piazza Navona and Venezia, the Spanish Steps, and Via Dei Condotti. The rest of the day is yours to explore anything we somehow left out- maybe the majestic Vatican City or St. Peter's Basilica. The view from the dome of St Peter's is breathtaking. Roman food is world-renowned, and the trattorias that line the streets are the perfect place to sample the local pasta delights. A taste or two of the (very well priced) local wine is also a must. Tonight, we stuff our faces for the last time together (for now) and maybe enjoy some drinks in a Piazza on the way home.
Departure Day — Monday, Aug 26
Farewell Italy! After breakfast, make your way to the airport for your long journey back to A2. Keep an eye on the group chat for some memes to keep you occupied on your layovers, and start planning our next reunion activity!
Christian Cook & Claire Willingham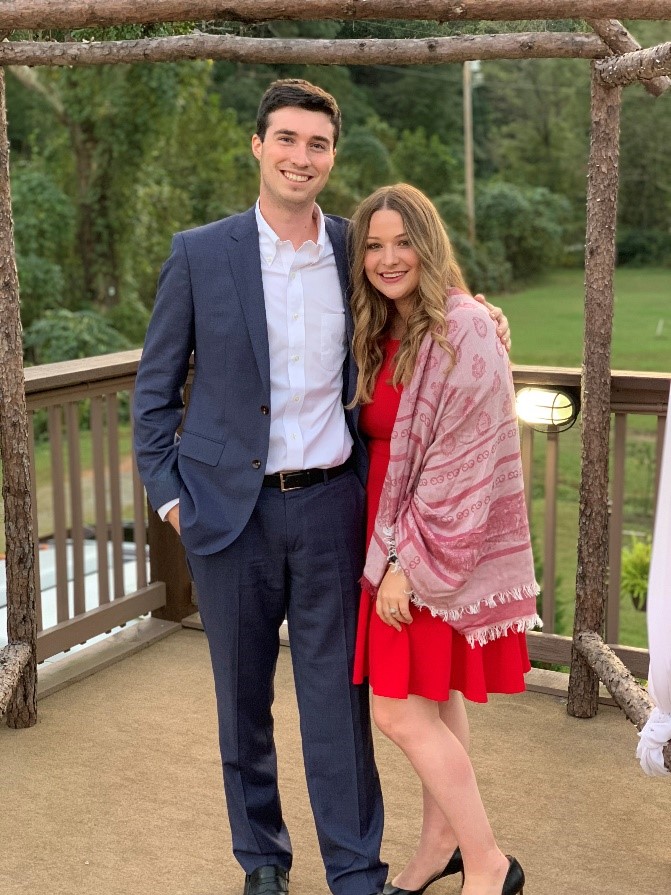 Christian:

The Basics: Born and raised in Chicago but have lived in Cincinnati Ohio for the past 8 years between school (Miami University) and work (Worldpay Finance). Living in Ann Arbor is continuing my lifelong tour of the Midwest. When the weather is nice, hit me up for some Tennis or Golf. When it's snowing and cold, lets hang out at one of Ann Arbor's great breweries.
Why would you want to hang out with me: I am a board member of the Gourmet Club. Let's get together and eat delicious food!
Red, white, or bubbly: Celebrations call for champagne, fish calls for white, and the rest of life calls for red.
Weirdest quirk about my partner: She loves hot sauce and can out-spice just about anyone.
Ask me about: My favorite music festival. I've been to a bunch of festivals and concerts, so I'd love to swap stories!
Claire:
The Basics: I grew up in Louisville, KY and Cincinnati, OH. After graduating from University of South Carolina (Go Cocks!) I returned to the cold and spent four years in Cincinnati in the nonprofit arts world as a fundraiser and event planner. I currently work at Ross as the Assistant Director of Alumni Engagement where my biggest focus is planning Ross Reunion for alumni. I love cooking, and pride myself on my uncanny ability to whip up a recipe based on sheer intuition. My favorite movies are low budget apocalypse themed, think Sharknado but even less of a budget.
Why you want to hang out with me: I know all the Ross secrets. I will also always take an Uber if given the option.
Red, white or bubbly: Vodka
Weirdest quirk about my partner: He randomly whistles during songs and won't even realize he's doing it.
Ask me about: What life is like working for Ross and how to adjust to being a pedestrian in A2 during the colder months.
Arjun Moorjani & Sabina Chandiramani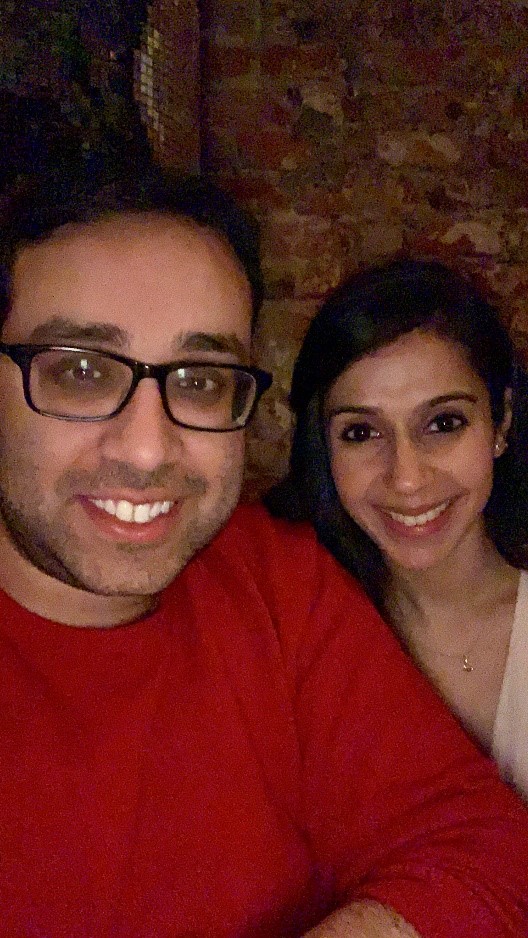 Arjun:
The Basics: I was born and raised in Westchester NY which is a suburb of New York City. I grew up playing video games and hanging with friends at the mall where we would eat at our favorite restaurants, PF Changs and Coldstone Creamery. I left home at 18 to attend the University of Chicago where I got my bachelors degree in Chemistry. After that, I spent 6 years living and working in Chicago as a consultant. I absolutely loved my time there and witnessed the Cubs win their first World Series in over 100 years. Leaving Chicago was tough, but Ann Arbor has been nothing short of amazing. My hobbies include skiing, trying to copy cooking-related YouTube videos, and casually indulging in a night at the blackjack tables. I'm super excited to try all the best food and wine I can find in Italy.
Why you want to hang out with me: I like to occasionally hit the pause button and take in what's happening around me. I've done some of my best thinking while reflecting in those moments with friends. I'm excited for more of that under the Tuscan sun. On another note, I'm also really good at Mario Kart 64 and SSB64. If reading that touched a competitive nerve, we can settle this on Christian's N64 after MTrek.
Red, white, or bubbly: Whichever one is in my glass. I love all wines.
Weirdest quirk about my partner: Whenever she gets good news, her instinctive celebratory gesture is a mini disco dance.
Ask me about: How I met my fiancé.
Sabina:
The Basics: I was born and raised in Long Island, NY and am a huge fan of New York bagels, iced coffee, and pizza (not Long Island Iced Teas…anymore). I got my bachelors degree in Biology and Economics at Case Western Reserve University in Cleveland, OH. After graduating, I moved to Chicago for Teach For America and taught high school chemistry and physics for three years. After leaving the classroom, I started working for an education technology company called EVERFI. I worked out of the Chicago Office for 3 years and am now working remotely from Ann Arbor. In my spare time, I love dancing to Bollywood music, going to workout classes, farmers markets, new restaurants, and coffee shops, and watching Gilmore Girls.
Why you want to hang out with me: I love having a good time – whether it's quiet night in or a wild night out!
Red, white, or bubbly: Bubbly, with a splash of St. Germain Elderflower Liqueur.
Weirdest quirk about my partner: He warms fruit snacks and sour patch kids in his pockets before eating them.
Ask me about: Working remotely, workout classes in Ann Arbor, and how to join PCAR (the Partners Club at Ross)!
Alvin Kapil & Pabby Thapar
Pabby:
The Basics:  I currently live in Cincinnati, OH, working in the brand management space. I worked in retail and sales prior to business school at USC Marshall. I have lived and worked in Atlanta, Houston, Los Angeles, and Albany, NY.  I got my Bachelors in Marketing from Penn State. In my spare time, I love to run and do hot yoga. My favorite movie is Stanley Kurbick's Eye Wide Shut and my favorite artist is Odesza.
Why you want to hang out with me: Good Listener.
Red, white or bubbly: Red
Weirdest quirk about my partner: Just clumsy overall.
Ask me about: Why my socks never match
Alvin:
The Basics: Born and raised in the Northeast (Pennsylvania, New Jersey, New York). I went to Penn State for Undergrad, where I double majored in Chemical Engineering and Applied Statistics.  After school, I worked in the energy industry for six years, which took me all over the place: North Dakota, Pennsylvania, Texas, Louisiana, California, Equatorial Guinea. I am extremely interested in the technology and finance space, and hope to work in banking post Ross.   In my spare time, I love to play Tennis, watch Netflix, read (fiction and non-fiction), and take long strolls on the beach. I love meeting new people and hearing exciting stories about travel, life, etc.
Why you want to hang out with me: Very Adaptable to personality types. Moved all over the world and United States. Furthermore, I am also better than Arjun at Mario Kart 64.
Red, white or bubbly: Vodka
Weirdest quirk about my partner: – Loves to go for Runs at Odd Hours
Ask me about: My MAP experience in Brazil.