Trip Region: South America
Country(ies): Peru
Partners Trek? No
Cost: $1925
Airfare Estimate: $1200
Structure: • Lodging: • Nightlife: 6 • Activity: 9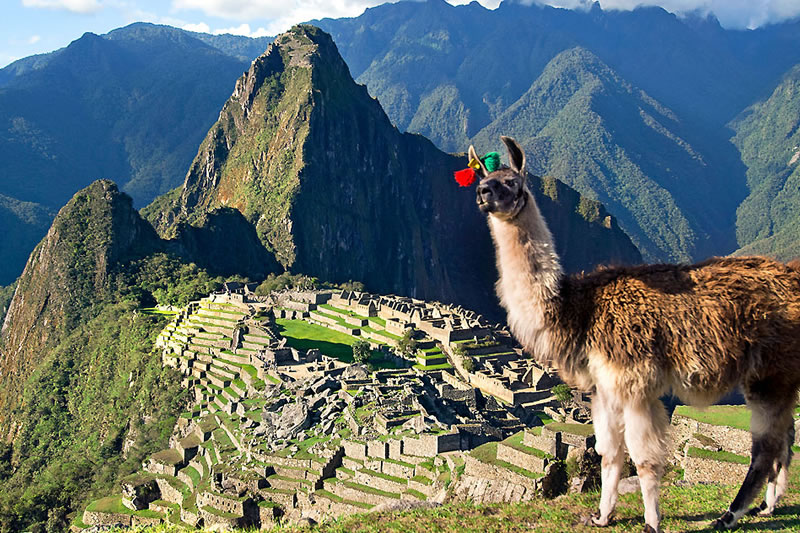 Do you want to check a new continent of your list? Do you NEED to get pics of that rainbow mountain and llamas for "the 'Gram"? Are you a history buff that's been dying to see one of the New Seven Wonders of the World? Are you like "Dayum, that's a punny trip name?" Then let's CuscGO BLUE!!
Your lovely trek leaders came together and were like "How can we pretend that we are jet-setters on a deep-in-debt grad student budget!!?" And voila! – we give you this trip.
It has EVERYTHING. Nature, pisco sours, a UNESCO World Heritage Site, ceviche, hiking, chocolate, fame, and glory. Oh yeah, and your new best friends at Ross. I mean, what better way to bond with new friends than over shared altitude sickness!?! It's okay, IT'S FOR THE 'GRAM!
Day 1 — Friday, Aug 16
PEACE OUT A2! Say "adios" to the stress of orientation as we set off for the Land of the Inca.
Day 2 — Saturday, Aug 17
Arrive in Lima, Peru! Should be pretty chill, but the trip leader will be asking for your insurance and next of kin information so IDK. We start the trip with a walking tour of Lima in the afternoon and then dinner. This is where you will first discover that half of your trek leaders are really just on this trip for the food.
Day 3 — Sunday, Aug 18
Fly to Cusco! Yeah, we HIT YOU HOT AND FAST WITH THOSE INCA VIBES. We'll start again with a walking tour because we have to get you into shape for the Machu Picchu hike in a few days. And as your new MBA2 mentors who care about you, we are going to try and help you postpone the "b-school bod" for as long as possible. But we're not heartless, at some point we have been promised "chocolate tea".
Day 4 — Monday, Aug 19
SACRED VALLEY EXTRAVAGANZA! We'll take a private bus tour through the Sacred Valley and have lunch with local villagers where we will learn more about their culture and history in the region. We'll end in Ollantaytambo where we'll get to see "a magnificent example of Incan urban planning" which excites Kim as she's in Erb and the description kind of sounds like the ancient version of a smart city. Sarah is excited about saying "Ollantaytambo".
Day 5 — Tuesday, Aug 20
SHOP TILL YOU DROP. We're going to Pisco where they are famous for their market. Apparently their empanadas are OFF THE CHAIN. We will then further stimulate the local economy by stopping by the San Pedro Market to plan for a picnic the next day. We have a free afternoon in Cusco so either relax or go hard, the world is your oyster.
Day 6 — Wednesday, Aug 21
RAINBOW. MOUNTAIN. But you gotta work for it. The only way to get to Rainbow Mountain is to hike. For those who are like "Woah, outdoor adventure is not really my thing." 1.) Business school is supposed to be about "growth" 2.) It's for the 'gram! But we're no Dean DeRue, so are only hiking about 8000km round trip. (For you Americans who have no concept of meters, it will take us about 3 hours.)
Day 7 — Thursday, Aug 22
Sore? TOO BAD. Inca Trail Day. We take an early train to start our one day hike on the Inca Trail. We thought about doing the full four day trek but it would have involved camping and Tom was like, "No." So we decided to skip the first few days and just do the hike into Machu Picchu! We're not spending too much time at Machu Picchu this day, but you should be able to get some initial pics. We'll then take a bus back to our hotel for the night. (You're welcome, Tom.)
Day 8 — Friday, Aug 23
RISE AND SHINE (5:30am), IT'S MACHU PICCHU DAY. We get a private tour but may have to also enact a buddy system as we will most likely lose Sarah who will be hunting for llamas. We will feel super #blessed, contemplate life, and then go back down to Cusco.
Day 9 — Saturday, Aug 24
Fly back to Lima! Time for the bright lights and the big city. We'll have a free afternoon once we arrive so feel free to do WHATEVER YOUR HEART DESIRES.
Day 10 — Sunday, Aug 25
Last day in Peru! We will do a Lima city tour to see all the sites, then wrap up with a Peruvian dinner with a local family. We are being promised a meal cooked by a "caring Peruvian mother" and she will teach us how to make ceviche. We will also try a "surprisingly good Maracuya drink" which Kim is a bit nervous about. She doesn't think that describing it with the adjective "surprisingly good" is the most promising. But YOLO!
Day 11 — Monday, Aug 26
Back to Ann Arbor! We are done with our official trip and fly back to Michigan throughout the day. We may be leaving Peru, but we'll always have memories and each other. And Garage Bar.