Trip Region: Southeast Asia
Country(ies): Singapore, Bali (Indonesia)
Partners Trek? Yes
Cost: $1600
Airfare Estimate: $1700
Structure: • Lodging: • Nightlife: 6 • Activity: 5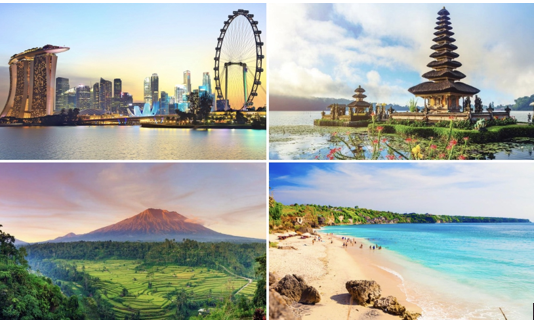 Singa-pooour Some Sugar on Meeee…who's in?! Looking for a trip that covers metropolitan cities, wild natural beauty, and beaches? Want to combine culture, amazing food, physical activity, and relaxation? If you want the trip that has it all, Don't Stop Bali-vin' is for you. We will start in the beautiful metropolitan Singapore, home to some of the best food EVER and incredible nightlife completed with a couple Singapore slings. After getting all of our eating and rooftop bars on in Singapore, we will then move on to the magical Indonesian island of Bali. First we'll chill in Ubud experiencing rice paddy tours, temple visits, cooking classes, and traditional Balinese customs. Then we'll drive into the untouched jungle of Bali, climb a majestic volcano at sunrise, and bask in hot springs on the way down. After conquering this volcano we'll reward ourselves with a few relaxing beach days and Balinese beach bar crawls.
Day 1 — Sunday, Aug 18
Shiver-me-timbers that was a long flight, but welcome to Singapore! If your flight lands in the morning, spend the day exploring and getting the lay of the land. Head back to the hotel and clean yourselves up, because we have a whole lot of Singa-exploring to do. After a welcome dinner, we'll head to a roof top bar to take in the splendor of Singapore while sipping Singapore Slings. We'll celebrate our first MTrek night together in style, checking out the famous nightlife and stopping by the not to be missed Marina Bay Sands.
Day 2 — Monday, Aug 19
Today we explore the sights, and most importantly tastes, of Singapore. A walking tour will guide us through diverse Singaporean neighborhoods of Little India, Clark Quay, and Merlion Park. While we'll be tempted to eat our weight in butter chicken at the stop in Little India, save some room for the famous Michelin star hawker food stalls. In the evening you'll be free to explore the city at leisure.
Day 3 — Tuesday, Aug 20
Enjoy a quick breakfast in Singapore before we catch the short flight to un-bali-evable Bali. Take a deep breath, slip on that beach shirt (we know you brought one) and get ready to enjoy 7 days of the island lifestyle, the Bali way. We'll dive stomach first into the Balinese culture with a Balinese cooking class where we will attempt to master the art of spice and add a new cuisine to our repertoires. After we've worked up an appetite and warmed up our taste buds (literally), it's time for dinner. We'll head to a local restaurant to compare our skills to those of local Balinese chefs.
Day 4 — Wednesday, Aug 21
Put on your walking shoes and get your camera ready as we stroll through rice paddies, climb rice terraces, wind our way among traditional Balinese homes and stop in for a cup of homebrewed Balinese coffee. Our walking tour culminates with a visit to the Sarswati Temple Lotus Garden & Ubud Palace - an intricate and historic temple embedded in a lush jungle oasis. Things really heat up, when we gather around the fire to witness the Kecak or "monkey chant" Dance, a traditional Balinese chant performance whose storyline is taken from a Hindu Epic. For dinner, we'll break into small groups and explore local restaurants.
Day 5 — Thursday, Aug 22
This morning is free to enjoy as you wish. Sleep in late and enjoy the screeches of our monkey neighbors from your bed or stroll through the bustling local market for some authentic Balinese goods. Whichever you choose, don't forget to save time for an authentic Balinese massage! In the afternoon we'll drive into the untouched Balinese jungle, making a quick stop in the Tegalalang region with rice terraces like you dream about, and visiting the Tirta Empul Temple. We'll then head to Mt. Batur, an aging stratovolcano whose beauty puts Vesuvius to shame. Join us for a relaxing evening, sipping cocktails and taking in the picturesque view of the volcano we'll attempt to climb the following morning.
Day 6 — Friday, Aug 23
Wakey wakey!!! This morning we'll wish our alarms aren't going off, but trust us - it will be worth it. At 3am, we'll start our hike to summit Mt. Batur just in time for a stunning sunrise and panoramic views. After our journey back down the mountain, we'll spend some time relaxing in hot springs with stellar views of the surrounding area. Once we're done with our muscle recovery, we'll drive south to the beach town of Jimbaran, where we'll enjoy our final days in Bali. After hotel check-in, we'll have a seaside BBQ and a beach sunset.
Day 7 — Saturday, Aug 24
Today will be the best day yet...a relaxing beach day. Ahhhhh. Catch some rays, play some beach games, sip on some brews, what could be better?! If you'd like to take a break, there will be an optional visit to the Uluwatu Temple, a stunning Hindu temple by the sea. That night, we'll go on a bar hopping adventure to the best local spots this beach town has to offer.
Day 8 — Sunday, Aug 25
Today is our final day in paradise. Luckily, you likely won't have to leave for the airport until 10pm or later that night, so we have a full day to soak up the sun and explore any stones left unturned.
Day 9 — Monday, Aug 26
Catch an early flight out of Bali and head back to the sunny state of Michigan!