Trip Region: Eastern Europe
Country(ies): Croatia
Partners Trek? No
Trip Cost: $2704
Airfare Estimate: $1200
Nightlife: 8 • Activity: 5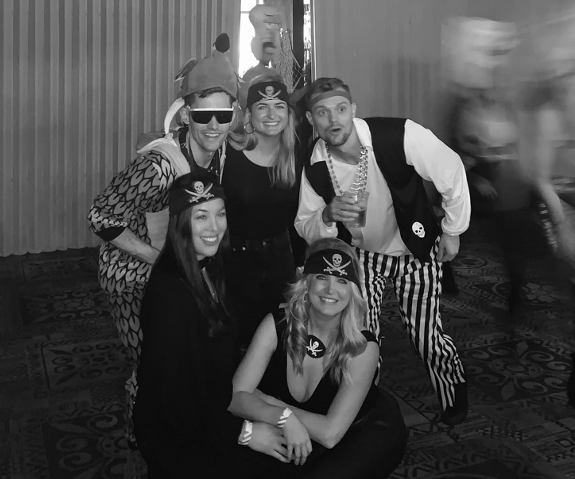 Do you like beaches? Do you like boats? Do you like theme nights? Do you like Game of Thrones? Great! Looks like we are in business (school).
Welcome to #dudewheresmyhvar, where you will meet your new best friends, witness some of the world's most 'grammable views, dance until the sun rises, and find out just how much seafood and wine a group of MBAs can consume in 8 days (hint: the limit does not exist).
Join us as we live out our John Snow and Khalissi fantasies while searching for dragons in Dubrovnik, get #spLIT, and beach party our faces off in Hvar. Trust us, this is going to be the time of your life.
Travel Day — Saturday, Aug 15
In the past two weeks, you've visited Skeeps, Rick's, Circ and Live – congratulations, you're oriented! But, you came to bschool to broaden your horizons and learn about international business and global economies, so now it's time to depart for Dubrovnik!
Day 1 — Sunday, Aug 16
Welcome to King's Landing! Our resident GoT obsessed leader (Casey) will surely be on cloud 9 as we explore the most beautiful city the mediterranean coast has to offer— Dubrovnik. After touring Old Town's city walls, we'll get acquainted and play our first Cheers Governor round of many over some traditional Croatian cuisine and copious amounts of alcohol.
Day 2 — Monday, Aug 17
BOAT DAY #1! Today is the glorious day we take a private boat cruise around the Elaphiti Islands, in search of an ideal instagram spot to make all of our friends back home jealous. Blessed with lush woodland and white, rocky outcrops that enhance the deep blues and greens of the Adriatic, you won't want to leave! Kayaking, optional.
Day 3 — Tuesday, Aug 18
We're off to #splittycity! On the way, we'll stop at the Ethno Village farm of Jurentini Dvori for a wine tasting. Afterwards, we'll check into our luxurious abode, which is located 1,300 feet from Diocletian's Palace, the ferry port and the Bacvice Beach, and return to what we do best: drinking. Theme night: banana Split.
Day 4 — Wednesday, Aug 19
Google KRKA National Park and scroll through the photos. Dubbed the Victoria Falls of Croatia, KRKA's waterfalls are accessible only by boat and tiny wooden bridges, or something like that. Swimming, hiking, and you guessed it — boating.
Day 5 — Thursday, Aug 20
#Dudewheresmyhvar? Today, we'll find out! Free day for beach, pool, spa, exploring, eating, kayaking, snorkeling - you choose!
Day 6 — Friday, Aug 21
Looking for another boat day? Want to make more MBA1 friends? We have you covered - today we'll take in the full Hvar experience with another group of trekkers and sail around the Pakleni Islands. We'll explore a few beaches and swim in one of Croatia's natural wonders, the Blue and Green Cave (warning: no lifeguard on duty). Dinner and night out as a group.
Day 7 — Saturday, Aug 22
Are you ready to Tropic Like it's Hot? Sea you at Hula, Hula - Hvar's most famous beach club, known for its cocktails, live music, day dancing, waterfront beach chairs, and incredible sunsets. The first trekker to outlast Lindsay on the dance floor gets a free drink at Skeeps.
Day 8 — Sunday, Aug 23
As we head back to Dubrovnik for our final night together, we will stop at an Olive Mill for an Olive Oil tasting (apparently, Croatia is known for their Olive Oil - who knew?!).
Departure Day — Monday, Aug 24
Today we head back to good ol' AA, because we are at the finale of our epic journey. But no need to shed any tears because this is just the end to the beginning - see you at Skeeps!
Casey O'Keefe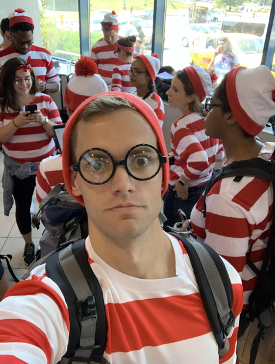 Known to frost his tips for extra special occasions, Casey was designated as our "boat guy". What's a boat guy? Great question, and there's only one way to find out: come on our MTrek! When Casey's not frosting his tips (or dealing with boats), he's been known to play hockey, eat Skinny Girl Popcorn, and nap. Did I mention he's the number one dog walker in all of Boston? Very prestigious. So if you like any of the above get ready. This Diet Coke chugging fiend will make sure you have the time of your life. Also, don't ask him to do the limbo – it's his kryptonite.
Lindsay Gruskay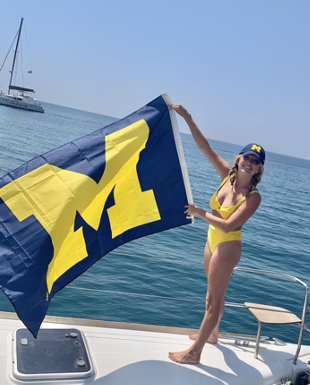 Dubbed the Dancing Queen by every day club in Mykonos, Lindsay's happy place is on top of any elevated surface. Signature dance move? Body roll into a FLOSS. In her past life, she worked for Saturday Night Live and became BFFs with some dude named Jimmy Fallon. Need a laugh? Our girl got you. When she's not dancing, you can find Lindsay doing yoga, coming up with puns for every occasion, or talking about her dog Ollie.
Kaitlyn Lo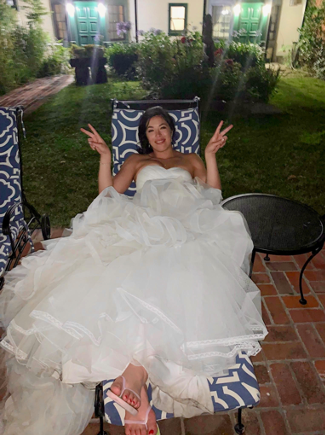 Officially the trek badass and resident mom, this child-bride played D-1 water polo at some technical school in Stanford, California (ever heard of it?). She's also all team varsity when it comes to pool parties, beach activities, and napping. That's right, the juries still out on whether she can spike a polo ball faster than the time it takes her to down a margarita. Luckily, there will be plenty of opportunities to showcase her tequila prowess on our trek. When not enjoying pool activities, Kaitlyn spends her time winning case competitions and marrying college football quarterbacks. NBD.
Caitie Attarian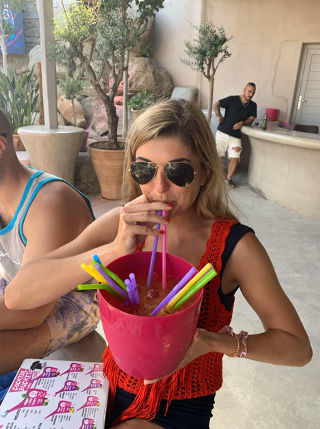 After going to Duke for undergrad, Caitie realized she had to keep a good thing going – and go to the bigger, better blue university. At Ross, she's spent her time winning case competitions and running the Retail and Luxury Goods CLUUUURB. So, if you're worried about what to wear, have no fear – Consulting Caitie has style! When she's not downing large Domino's pizzas and 24-inch Jimmy Johns subs (she has the metabolism of a 10-year-old boy), you can find her perfecting the perfect dirty martini. And by perfecting, we mean drinking.
Sean Syllingstad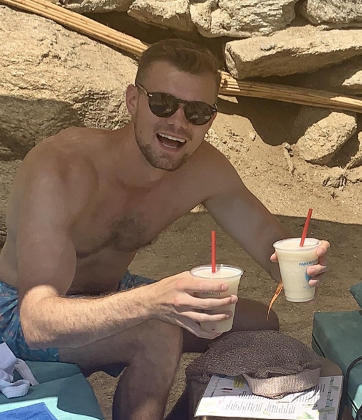 What's that sound? Is it the soundtrack to Never Ending Story? If it is you'd better lookout – Sean will soon be arriving with many, many tequila shots. Or a nice crisp La Croix, if that's more your speed. Before Ross, Sean was in San Francisco working at a super disruptive (like so disruptive bro) start-up in marketing. When he's not being disruptive (with music, shots, or startups), you can find him eating Quesadillas and pretending to be a writer. Often at the same time.