Trip Region: Western Europe
Country(ies): Greece
Partners Trek? No
Trip Cost: $3096
Airfare Estimate: $1800
Nightlife: 7 • Activity: 6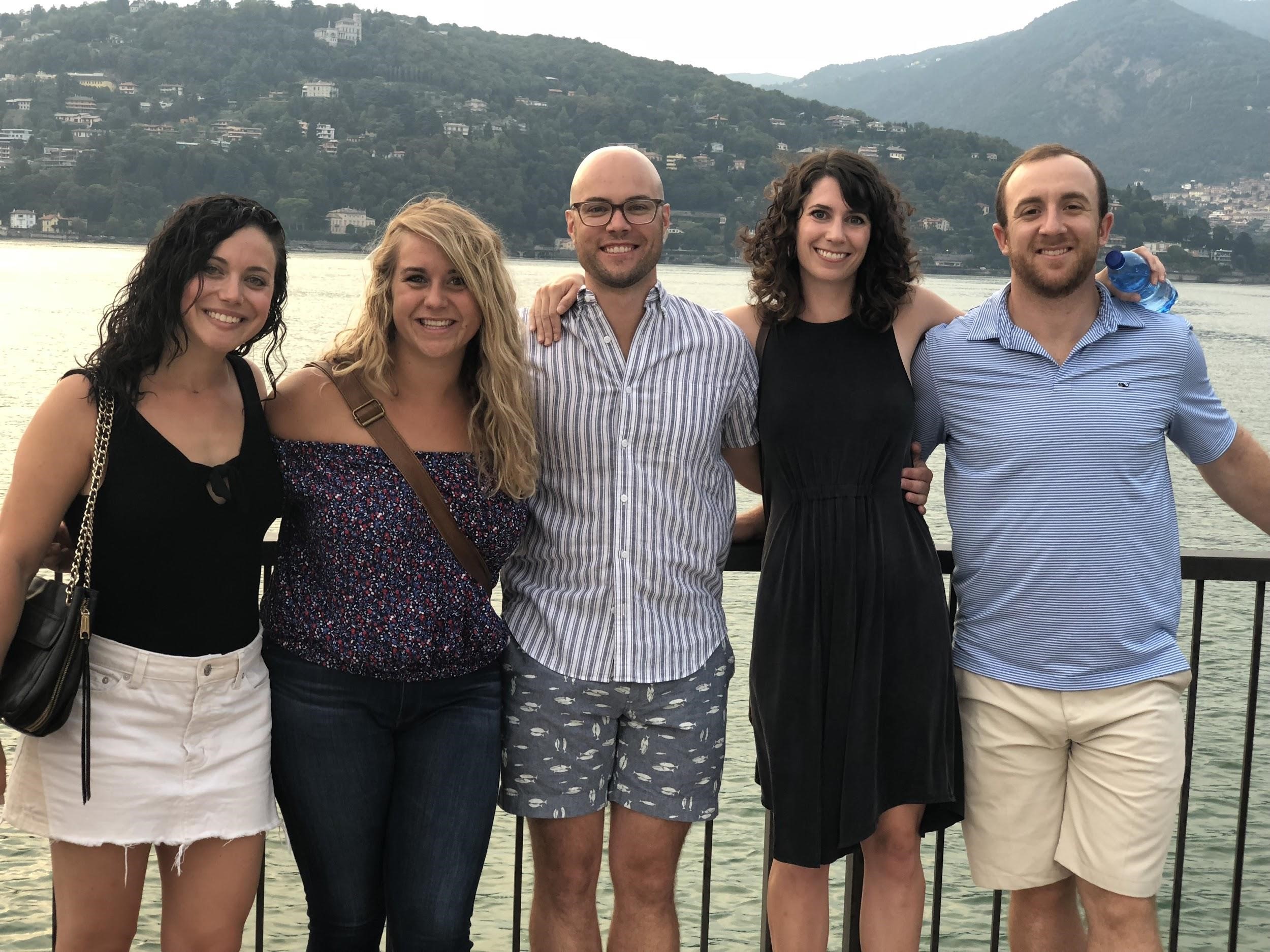 Dancing on tables. Murder mystery dinner parties. Luxurious booze cruises that quickly qualm any doubts about recent decisions made to spend one's life's savings (and then some) on an MBA. All of these things and more occurred last summer when your five fearless MTrek leaders met and fell in love whilst galavanting through northern Italy together. Our trip was so idyllic that we decided to recreate it, but this time with more feta and tzatziki. Welcome to the #besttrek, where you will meet your new best friends, witness some of the world's most 'grammable #views, and find out just how much Greek food and ouzo a group of MBAs can consume in 10 days (hint: the limit does not exist).
Join us as we get cultured in Athens, beach party our faces off in Mykonos, and complete a practice round honeymoon in Santorini together. Some say that the way you spend MTrek is the way you'll spend all of MBA1, so trust us when we say that this is how you want to kick things off. OPA!
Travel Day — Saturday, Aug 17
In the past two weeks, you've visited Skeeps, Rick's, Circ and Live - congratulations, you're oriented! You came to b school to broaden your horizons, so it's time to depart for Athens! We beg of you that you try to sleep on the plane ride, because you won't be catching a lot of z's for the next 10 days…
Day 1 — Sunday, Aug 18
Arrive in Athens! It's time to meet your new BFFs! We'll get acquainted and play our first Kings round of many over a Greek meze dinner and copious amounts of alcohol.
Day 2 — Monday, Aug 19
Today we will all geek out over a guided tour of the Acropolis. Once we've worked up an appetite, we'll embark on an Athens food tour and traditional Greek cooking class.
Day 3 — Tuesday, Aug 20
Let's get historical…. Today brings us on a day trip to Delphi, one of UNESCO's World Heritage Sites. We'll return to Athens in the evening having gained much wisdom, which we will promptly counter as we begin drinking again and get our final fix of Athens in with a taste of the local nightlife.
Day 4 — Wednesday, Aug 21
Let the search for Lindsay Lohan begin! Today we head via ferry boat to Mykonos, a world renowned summer party town. We'll have the night free to explore and get our 'gram on (we are now taking applications for trip VP Social Media, see Danielle for details).
Day 5 — Thursday, Aug 22
Did you not know that this MTrek was infamous for, among other things, a surprise adventure day? Whether we go cliff diving, rock climbing, or something else, is a mystery, but whatever we do, you can be sure that Coach Ben (and the GeoBlue travel insurance) will have your back.
Day 6 — Friday, Aug 23
PARADISE. BEACH. PARTY. Get your tan on, try out some watersports, and mainly prepare to have the best day of your life as we drink and dance the day (and night) away. Someone please make sure that Christine doesn't drop her phone into the ocean.
Day 7 — Saturday, Aug 24
Today is when you will learn the art of quickly getting your hangover in check (ask Mr. BCG Justin Brown for tips) as we have a morning ferry scheduled to whisk us off to the group honeymoon portion of the trip in Santorini. We'll have the night free to continue Paradise Beach recovery, work on our social media accounts and begin restructuring our post-Ross Plan A to include employment at Deloitte's Thira office location.
Day 8 — Sunday, Aug 25
Today, we live the lives we were born for. With a private booze cruise day full of island hopping, hot springs, mud baths, swimming, snorkeling, barbecue, and more. For a visual concept of what this day might look like, refer to Meg's profile pic - waterside, champs in hand, living her best life, etc. After a quick nap at the hotel to sleep off the sun and midday hangovers, we'll head out at night for more local food and dranks.
Day 9 — Monday, Aug 26
Time to work off all that spanakopita. Today, we'll embark on a breathtaking 5-hour morning hike to Oia, filled with emotional tell-all moments where we express our newfound love for each other. At night, we'll have one final family dinner (and round of never have i ever) together.
Departure Day — Tuesday, Aug 27
Today we will tearfully depart Greece and begin plans for our Mamma Mia Here We Go Again-themed reunion back in A2.
Ben "Coach" Brauer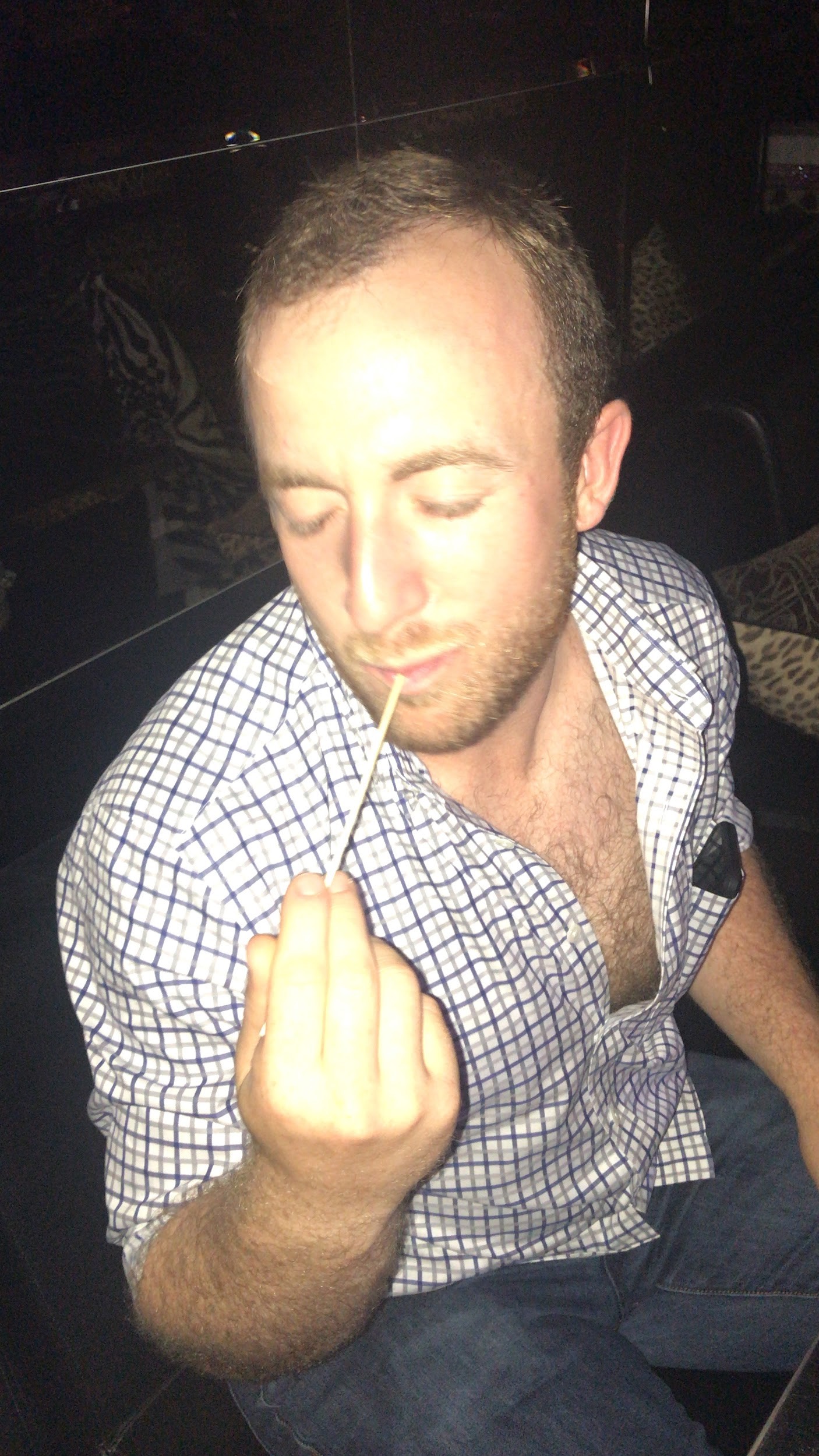 Have an obsession with Black Labs? Need someone to be a part of your new #fitfam at a CrossFit Gym in Ann Arbor? Feel like a good cry-laugh while watching college talent show videos that resurface from the past? Look no further than your resident Colby College alum, Ben Brauer #GOMULES. Don't hold his love for the Patriots against him too much, because this Bostonian and Finance guru will be your best friend when all you need during recruiting season is some serious puppy love from his black lab, Bubba, aaaand some help with Finance core assignments. He will also save the day when you are wandering around lost and hungry in a city where you don't speak the language. Trust us, we know from experience.
Christine "Where's My Phone Again?" Barringer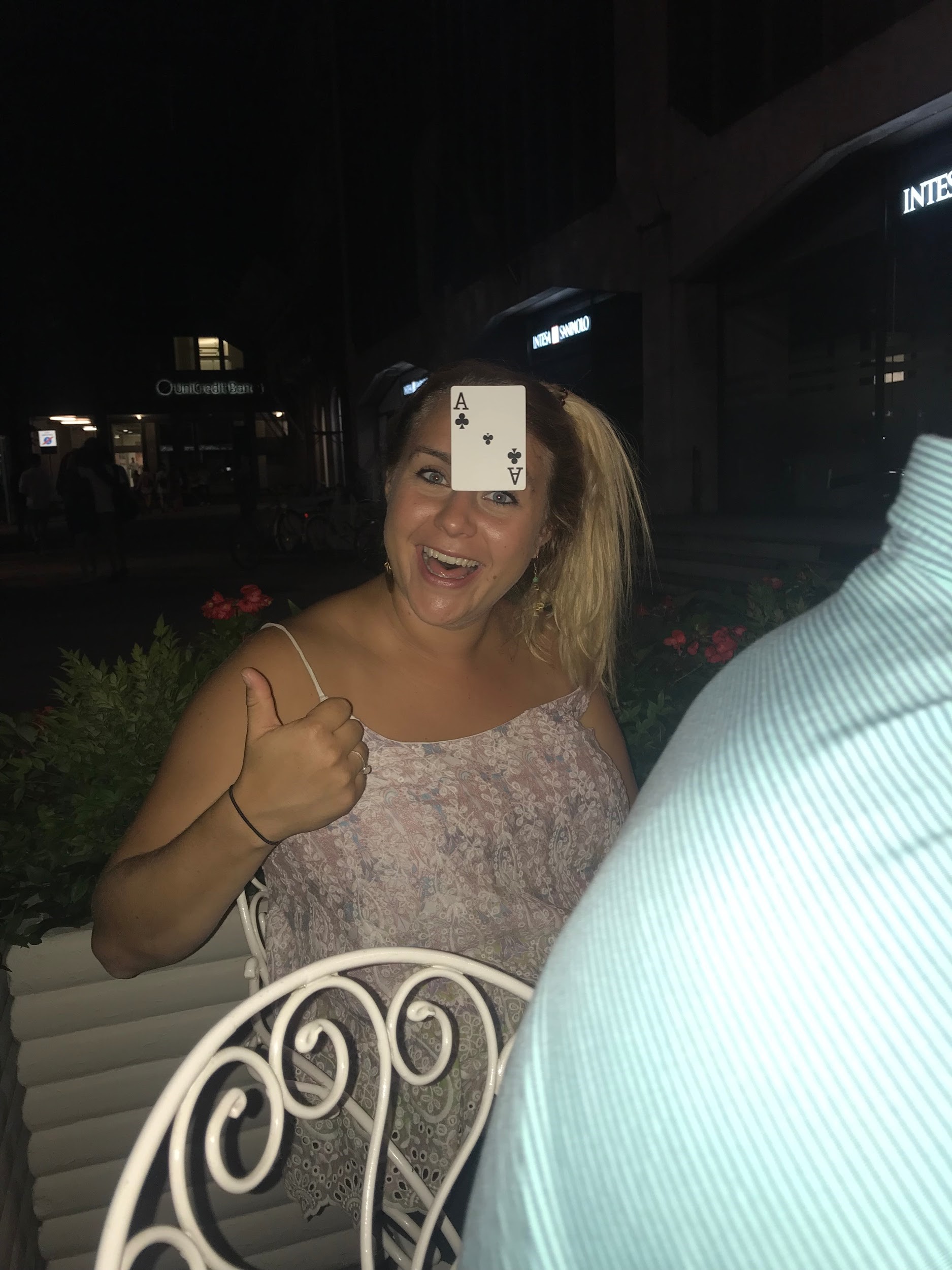 If you're worried about traveling abroad, getting hammered and losing all your belongings, have no fear. With a background that included five years at Best Buy, Christine is uniquely skilled at locating electronics stores in even the most remote European villages and will gladly work her magic to source a new or repaired mobile device for our trekkers in a jiffy. Our resident snow bunny is taking her talents to McKinsey this summer, so during long ferry rides between Greek islands she can also teach you the art of bullshi – we mean client services. You're probably wondering what this angel from heaven can't do, and we can assure you it's not keg stands!
Danielle "@NashDGal" Nash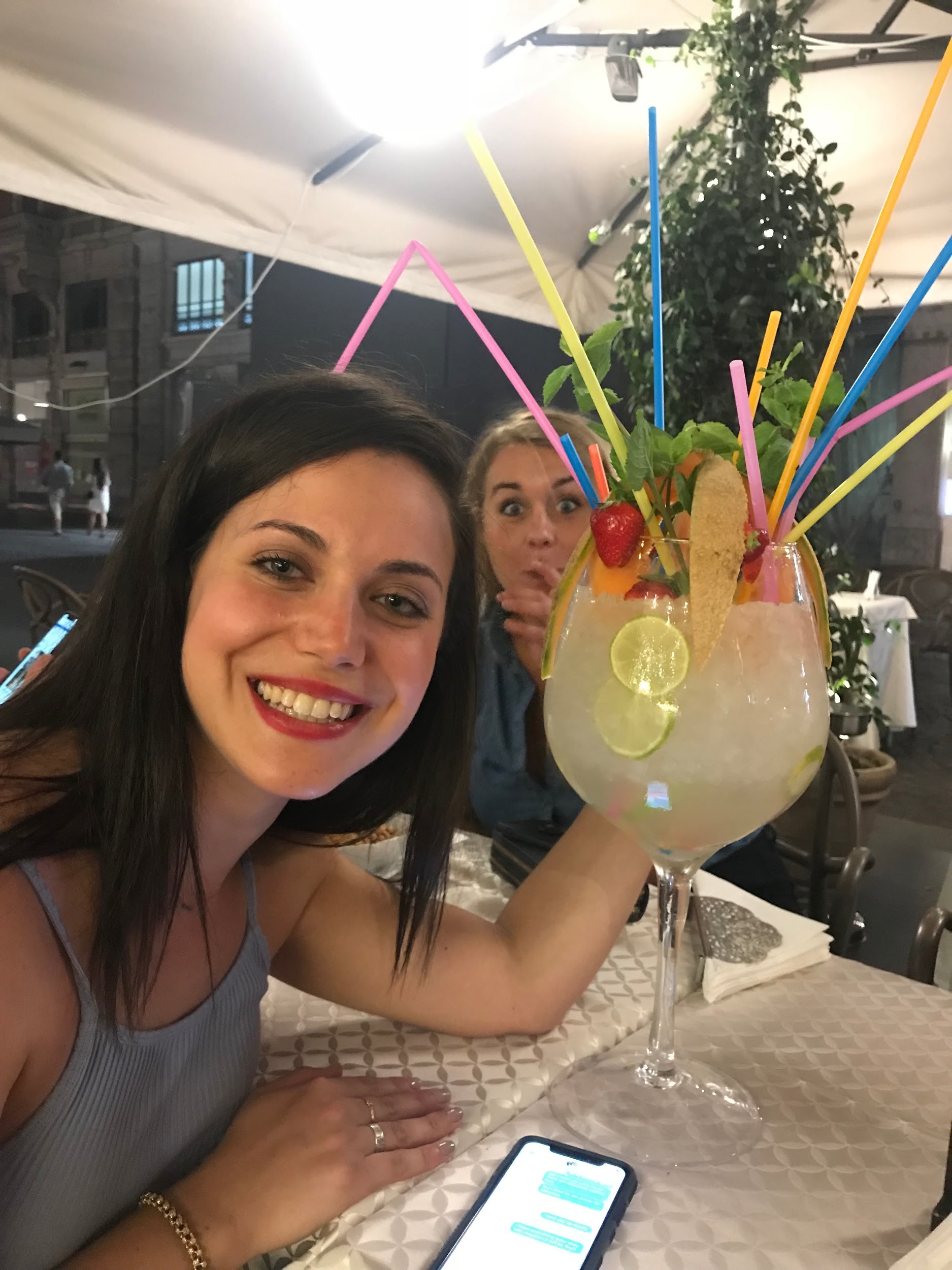 Danielle is our showtune singing, Big 10 loving (Go 'Cats, Go Blue), tequila shot slinging trip momma. Instead of following plan A to Broadway, she spent five years as a public relations professional, where she learned the mysterious ways that Instagram influencers make money. She came to business school to further dedicate her life to crafting a perfect social media persona with a dangerously big career pivot to brand marketing. In Greece, you can find her taking photos of her food, turning every social gathering into a dance party, and convincing DJs to play Hamilton.
Justin "Just Bro" Brown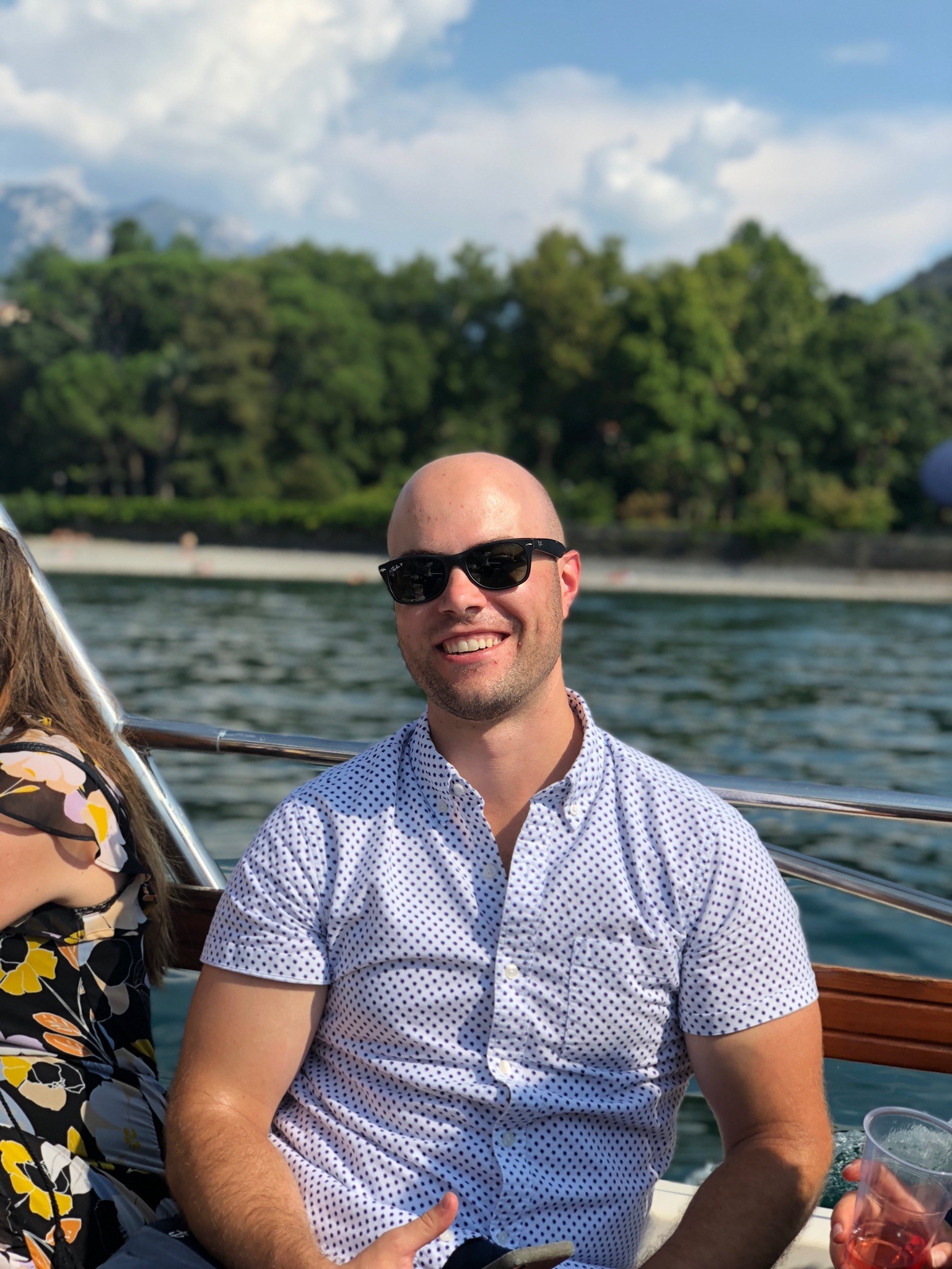 Justin, JustBro, J Brown, Dad, call him whatever you want, but make sure to get close to this trip dad and his contagious smile. Justin is like a perfect chocolate chip cookie… crunchy hard on the outside (former college athlete), but gooey soft on the inside (met his wife during play practice for their high school musical #awwwww). We've never seen someone full of such joy as Justin during our boat days last summer, so don't be alarmed when we put a leash and collar around his neck to make sure he gets off board after last call in Mykonos.
Meg "Champagne Fairy" Conley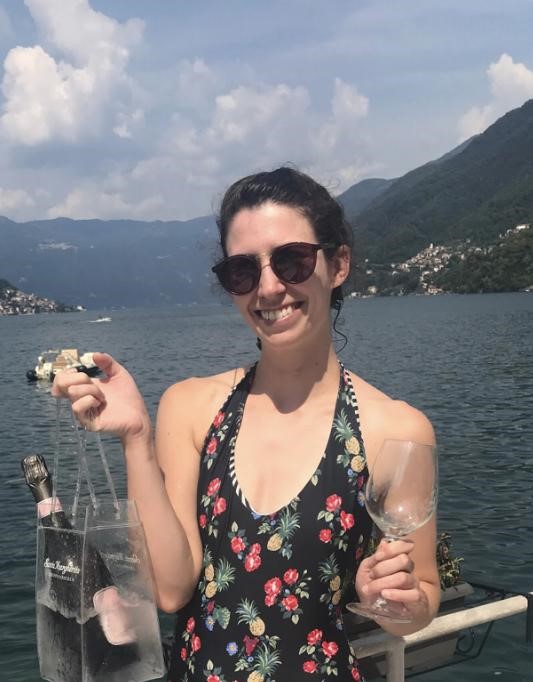 Meg is an out of this world human being. Seriously, she interned for NASA during undergrad at Wash U. And hiked the Grand Canyon over spring break while the rest of us were getting drunk in Colombia. Feeling inferior? Welcome to business school. Meg's curly hair is full of secrets and wisdom, which led her straight to a summer internship in Human Resources Management at American Express… What, like it's hard? Her natural habitat is clearly dining and drinking champs al fresco, preferably in Europe, preferably at a private beach club, so hang with this girl if you want to live your best MBA life.