Trip Region: Eastern Europe
Country(ies): Georgia, Azerbajan
Partners Trek? No
Cost: $1950
Airfare Estimate: $1500
Structure: • Lodging: • Nightlife: 8 • Activity: 7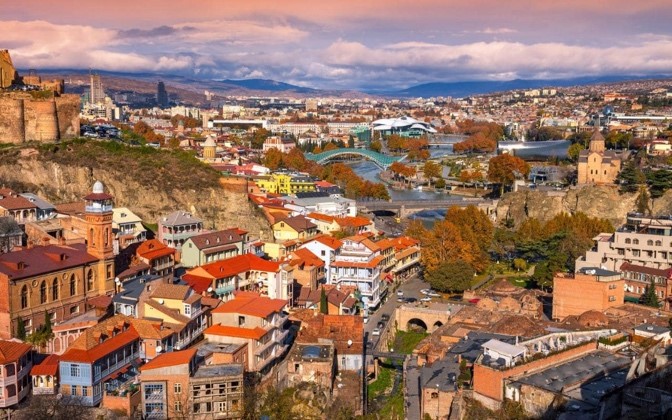 There are MTreks. And then there is this MTrek.
Decades from now, when you rise creakingly from your hand-woven mid-mid-century chaise, you will think of the time when you emerged from the chrysalis of youth and met partners on the journey to self discovery, inner beauty, and an Instagram that makes future Bumble matches weep with the joy of possibly becoming associated. As you recap your adventures in Travel and Leisure's "Coolest City You've Never Been To", to jealous classmates, relatives, and strangers on the streets, you will be asked "How did you manage to do this?" and you will respond, "I'm too full of khachapuri to answer you right now".
What began as six impressionable trekkers, wandering together through the MTrek wilds of Southeast Asia has transformed into a magical traverse across the wilds, beaches, dance floors, spas, and dreams of peoples across continents. We will laugh, we will cry, and we will laugh while crying as we try to make sense of the wonders and bottles we've explored together, apart, and togetherly apart. Sound good? Great. We'll see you in August.
Day 1 — Friday, Aug 16
Depart for Tbilisi. It's a long journey ahead, so download your movies, put on your favorite relaxing Spotify playlist, and get some rest...you're going to need it. Before you know it, you'll touch down in 2018's "Most Exciting City".
Day 2 — Saturday, Aug 17
Welcome to Tbilisi! Pat yourself on the back for surviving the voyage, then collect your bags and meet your M-Trek leaders at the Hotel Oriental. Welcome Meeting at the hotel starts at 4pm local time. Once we've become acquainted with each other and the time zone, we meet up with our local guide and head to visit a Georgian family to have our very own private cooking class. Prepare to cook up some deliciously decadent khachapuri that we'll devour alongside other local delights. #Trashbulkingseasonbegins
Day 3 — Sunday, Aug 18
We'll get started on conquering that jet lag with a tour of some of Tbilisi's most significant sites. After we cross the Metekhi Bridge we'll head first to the sulphur baths, natural hot springs where we can begin to sink into the treatyourself lifestyle. From there, we'll tour old town hotspots including the tamada sculpture, the Great Synagogue, Sioni Cathedral, and Anchiskhati Church. When we've finally walked off all that khachapuri we'll top things off with lunch at a traditional Georgian restaurant. The remainder of the afternoon is free to choose your own adventure before we meet up again for some "networking" in the evening.
Day 4 — Monday, Aug 19
Time to test out that Pedialyte as we make our way west towards the city of Kutaisi. We'll casually swerve through the 12th century Gelati Monastery before ramping up the adrenaline with some rafting on a nearby river. After collecting Rob when he falls out of the boat, we'll swing back to town to hang out and get to know each other over "board" games.
Day 5 — Tuesday, Aug 20
Get your filter game ready, today we head to some of the most picturesque spots west of the Mtkvari. In the morning we'll visit Prometheus cave and later drive to the village of Gordi to hike into the scintillating Okatse canyon. Don't worry, Grace will figure out just the right angle to conceal that Georgian cheeseboat beach bod and make all of your friends from home jealous. We'll return to Kutaisi that evening to dance off any remaining energy.
Day 6 — Wednesday, Aug 21
Capital city? Check. Nature? Explored. It's time to head to the beach to recover from all of the action-based-learning and see why Batumi is Georgia's summer vacation destination. Casually stroll along Batumi Boulevard during an afternoon city tour and gaze at the Alphabet Tower, a monument to Georgian script and culture, before we head to the exquisite Piazza Square. Grab a seat at one of the many cafes and let the waves lull you into a relaxed state, only broken by Plavner inevitably causing a scene.
Day 7 — Thursday, Aug 22
Today is a free day so you do you! Hit up Iveria beach to work on gaining that perfect pre-Bus tank top season summer shade or make the hike to the enchanting Batumi botanical gardens to enjoy subtropical cliffside flora. This is a great day to relax and recharge or maybe sample just a bit of the craft of the world's oldest winemaking region.
Day 8 — Friday, Aug 23
Pack up those espadrilles for a flight to our final location, the upstart city of Baku, Azerbaijan. Described as "an engaging blend of Dubai, Paris, Marrakech and Moscow" we'll get settled into some stellar accommodations (you may see Nancy do a happy dance). Enjoy some unstructured time to get acquainted with the flow of the city before we meet up for a group dinner.
Day 9 — Saturday, Aug 24
Snag that second cup of coffee because today we're going to take a whirlwind tour of the area, visiting Shirvanshakhs palace, the Maiden tower, the Shemakha gate, and Ateshgah fire temple among other major sites. If you still have energy left, head out to Nizami street to search for some keepsakes to fill up any remaining space left in your suitcase.
Day 10 — Sunday, Aug 25
It's the last full day in paradise so let's make it count! We'll drive outside the city to learn more about the origins of the region and visit the Gobustan rock paintings museum. Just our casual second UNESCO World Heritage site of the trip, nbd. We'll continue on to visit the Mud Volcanoes before heading back to close out our trip with a celebratory Caspian sea cruise and recap of all of the embarrassing things from the trip we've sworn never to share to the outside world.
Day 11 — Monday, Aug 26
Departure day, ugh. Soon you'll head to the airport with your new best friends and depart for Ann Arbor with some incredible memories, a great tan, and several instagrammable pics to show off!