Trip Region: Western Europe
Country(ies): France
Partners Trek? No
Trip Cost: $2462
Airfare Estimate: $1200
Nightlife: 1 • Activity: 4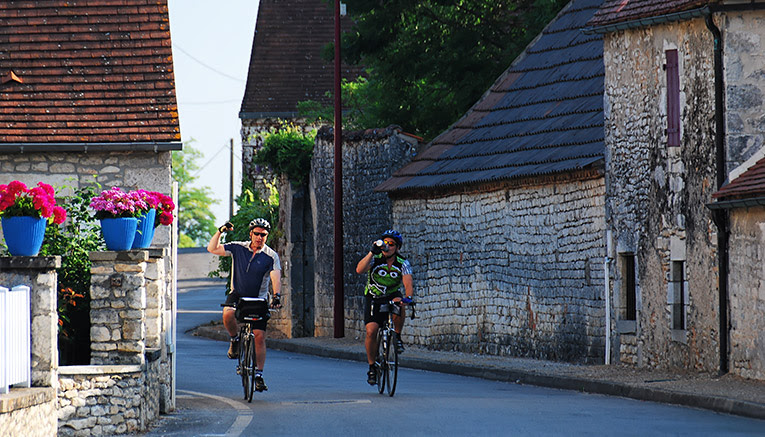 Do you love: Food? Wine? Being active? Beautiful landscapes? New friends? If you answered yes, yes, yes, yes, and yes, this is your mTrek! Our trek will take us across the French countryside via bike, with extra time in Paris and Bordeaux for a well-rounded mix of big-city culture, outdoor activity, and leisure (with some party sprinkled in). After a day in Paris to get acquainted and get acclimated, we'll head via train to Sarlat, famous for its truffles, walnut orchards, and grapes (wine, anyone?). From Sarlat, we embark on a four-day bike heading west toward Bordeaux, through the picturesque French countryside. Along the way, we will stop each night in small villages: Les Eyzies, Bergerac, and Saint Emilion. Our biking includes picnic lunches, explorations of medieval sights, visits to vineyards, and, yes, WINE. We conclude in Bordeaux, where we bid France au revoir. This is the perfect mTrek for you — drink that wine, eat that food, and burn it all off on the bike, taking in beautiful landscapes and making new friends along the way!
Day 1 — Sunday, Aug 21
Meet your fellow trekkers in Ann Arbor for an overnight flight from Detroit to Paris, France while dreaming about delicious wine, buttery croissants and competing in le Tour de France.
Day 2 — Monday, Aug 22
Bienvenue en Paris! After landing at the airport, you will be whisked away to our hotel where your leaders will be eagerly awaiting your arrival. The afternoon is yours to get settled. We'll gather for our first dinner and toast to the beginning of your B school adventure.
Day 3 — Tuesday, Aug 23
Today we have a full day to explore Paris. If this is your first time in the city, we'll make sure you hit all the highlights. Brush up on your art history at the Musée du Louvre. Stroll along the Seine and check out the second-hand booksellers. Window shop at the chic boutiques along the Boulevard Saint-Michel. We'll spend the night on the town.
Day 4 — Wednesday, Aug 24
We'll travel via train from Paris to Sarlat, located in the French countryside. Keep an eye out for the goose and duck farms famous for their foie gras! We'll explore the cobbled streets that give this town its charm. Take it easy tonight; the race begins tomorrow.
Day 5 — Thursday, Aug 25
Today we'll bike 45-60km. Follow the path along the Dordogne River. Stop and stroll in Domme – a medieval masterpiece of cobblestone streets and honey-colored homes with flower-filled courtyards. If history's your jam, don't miss the caves where villagers hid during the Hundred Years' War. We'll reunite over dinner in Les Eyzies.
Day 6 — Friday, Aug 26
It's a marathon, not a sprint. Today we'll cover 65-80km. Are you exhausted after two days of biking and breathtaking scenery? Pas de problème! Unwind with your new pals at a wine tasting in Monbazillac. Did you say lush notes of tropical fruit, orange peel and marzipan balanced by bortrytis smoke and a hint of petrol?
Day 7 — Saturday, Aug 27
We'll bike 40-60km as we wind through vineyards, castles and caves. You'll discover the villages of Rauzan, Blasimon, and Ruch (just to name a few). A small path will lead you through two small villages of vineyards en route to the medieval city of Saint-Emilion.
Day 8 — Sunday, Aug 28
Today we'll bike our final 50-60 km from Saint-Emilion to Bordeaux. You'll leave Saint-Emilion via a nice cycle track that will bring you to the beautiful countryside of the Gironde's area. A small path will guide you through two small villages of vineyards before bringing you to Bordeaux. Winner receives the coveted maize jersey!
Day 9 — Monday, Aug 29
We'll spend our last full day frolicking in Bordeaux (AKA the wine industry's capital of the world). We'll gather at a local restaurant for a farewell dinner, but don't get too teary-eyed. There will be ample opportunities to reunite in Ann Arbor. In fact, your leaders may already be planning reunions at Planet Rock and Frita Batidos…
Day 10 — Tuesday, Aug 30
Say au revoir to Bordeaux as you race to the airport. See you back in A2!
Takeru "Shall we have another?" Toba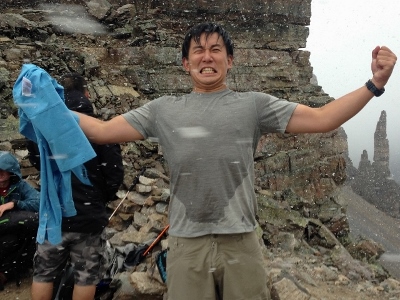 Takeru Toba is actually The Most Interesting Man in the World. Before coming to Ross, Takeru worked for the Japanese government in the Ministry of Finance. At some point during that time period, Takeru established an unbelievable tolerance for all types of alcohol. (We actually think he's drunk the entire Japanese Finance Ministry under the table and as a result controls all national budgets and financial policy.) In a further demonstration of his manliness, Takeru regularly hikes across mountains in snowstorms in a t-shirt and laughs about it. But he also has a softer side — he is a keen listener and a font of wisdom. At the end of the day, you can expect to find Takeru with a drink in hand and a wide smile on his face. If you want a truly good time, stay out late with Takeru and always answer yes to his familiar question: "Shall we have another?"
David "Sieve Sieve Sieve" Gordon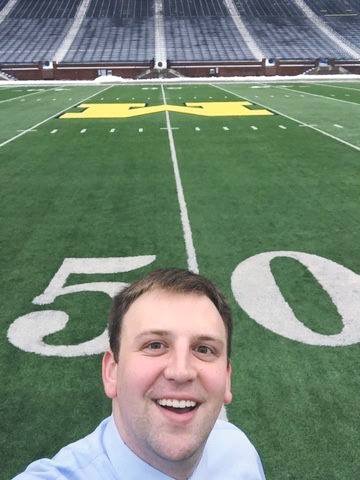 David is the ultimate University of Michigan fan. When not cheering on the Wolverines in football, basketball, or hockey, you can find him teaching his fellow Rossers his favorite hockey cheers. None of us have seen him wear colors besides maize and blue and are skeptical he owns a single article of red clothing. A former Domino's accountant (apparently not a pizza delivery boy but we all have our suspicions), David is a number cruncher extraordinaire. That said, unfortunately he cannot get you discounts on your late night pizza cravings. David is a friend to all, even if you went to Ohio State, in which case he'll congratulate you on going to the better university for your MBA. He will be our finance guy, aka the best date ever since he will always be picking up the tab.
Rage Song: Get Lucky – Daft Punk
Self-Describing Ben & Jerry's Ice Cream Flavor: Banana Split
Celebrity Doppleganger: Rob Gronkowski
Mikaela "No Big Deal" Rodkin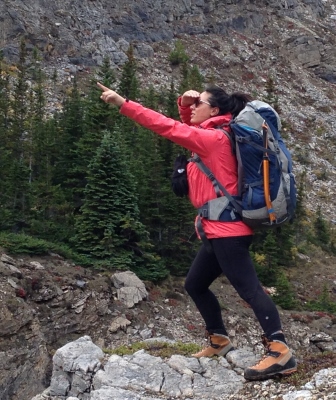 Don't let Mikaela's warm demeanor and friendliness fool you — she has serious cred as an adventuring badass. Her travels have taken her around the world doing normal things like, you know, sailing to Antarctica on a wooden pirate ship and dodging giant rolling boulders in Nepal to glimpse Everest from 18,500 feet… #nbd. In between her epic adventures, Mikaela balances a serious love-of-party (see you on the dance floor, girl) with stunning studiousness, pursuing dual degrees at Ross and the School of Natural Resources and the Environment… #nbd. In her free time, Mikaela does normal things like launching a startup to combat food insecurity in urban settings… #nbd. In France, we expect her to become fluent in French and ride an extra 50 miles each day while we are taking naps… #nbd.
Joe "Minnesota Nice" Chaves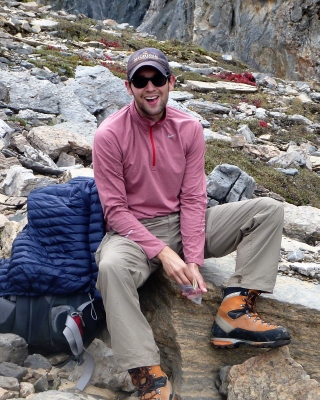 Joe hails from Minnesota. Where it is cold. And despite the bitter cold, people are oddly kind. Joe typifies Minnesota Nice. Joe used to work at General Mills doing nice things like leading snack innovation. At Ross, Joe does nice things like cooking for all of his many friends and cracking jokes with everyone he meets. Someday, Joe will probably simultaneously win the presidency, broker world peace, and throw the most epic potluck /raging party you have ever seen. Because Joe is so nice, he earns the crushes of all of the women and all of the men he meets. If you come with us to to France, you too, will crush on Mr. Minnesota Nice.
Whitney "Waterfall-Crushing" Augustine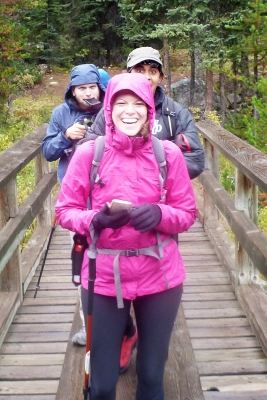 Whitney "I will bound across this raging river like a ballerina" Augustine brought her grace, wit, and inspiration to our Canadian mTrek last year, and made it look easy crossing multiple rivers with 40 pounds of gear strapped to her back. It's no surprise, then, that this Chicagoan is a former ballerina turned accountant, who also moonlights as a Pilates instructor. Whitney's serious Excel and financial management prowess is not the primary reason she joins us as an mTrek leader (though that is an asset), rather it's her love of exploration, discovery, and nature, by which you too can be inspired, only if you join our trek!
Aaron "Let's Dance, Guys" Steiner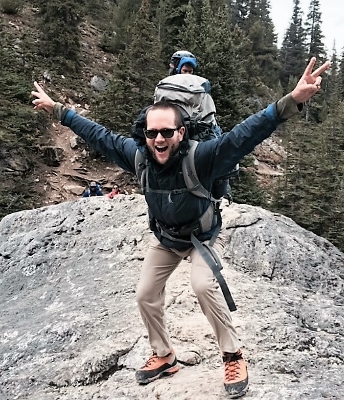 Aaron is a recovering consultant who lets nothing get between him and a good time — particularly on the dance floor. Aaron has been known to instigate dance parties that result in ripped pants, invent new dance moves, and dance outdoors in his underwear. He also will leave no trekker behind: he rescued a trek guide from a glacial crevasse on our Canadian mTrek in 2015. At Ross, Aaron is overcommitted to various clubs and activities, but most relishes time spent exploring Pure Michigan with the Ross Outdoor Club. Aaron also loves fine wine and fine food, and therefore predicts he will gain at least 10 pounds in France.