Trip Region: Western Europe
Country(ies): France
Partners Trek? No
Cost: $2462
Airfare Estimate: $1200
Structure: 4 • Lodging: 3 • Nightlife: 1 • Activity: 4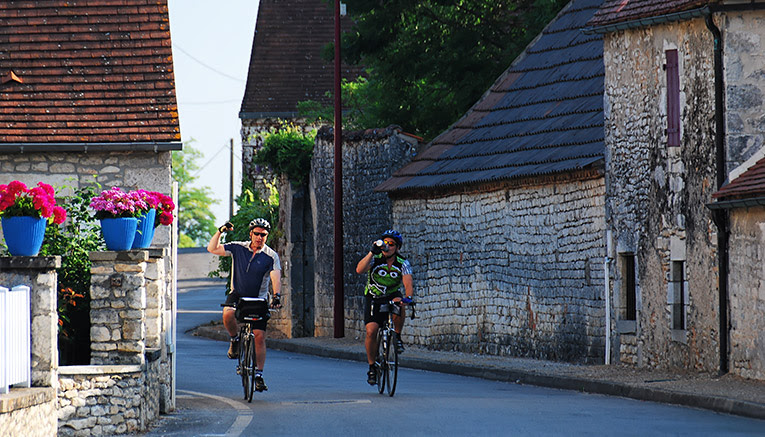 Do you love: Food? Wine? Being active? Beautiful landscapes? New friends? If you answered yes, yes, yes, yes, and yes, this is your mTrek! Our trek will take us across the French countryside via bike, with extra time in Paris and Bordeaux for a well-rounded mix of big-city culture, outdoor activity, and leisure (with some party sprinkled in). After a day in Paris to get acquainted and get acclimated, we'll head via train to Sarlat, famous for its truffles, walnut orchards, and grapes (wine, anyone?). From Sarlat, we embark on a four-day bike heading west toward Bordeaux, through the picturesque French countryside. Along the way, we will stop each night in small villages: Les Eyzies, Bergerac, and Saint Emilion. Our biking includes picnic lunches, explorations of medieval sights, visits to vineyards, and, yes, WINE. We conclude in Bordeaux, where we bid France au revoir. This is the perfect mTrek for you — drink that wine, eat that food, and burn it all off on the bike, taking in beautiful landscapes and making new friends along the way!
Day 1 — Sunday, Aug 21
Meet your fellow trekkers in Ann Arbor for an overnight flight from Detroit to Paris, France while dreaming about delicious wine, buttery croissants and competing in le Tour de France.
Day 2 — Monday, Aug 22
Bienvenue en Paris! After landing at the airport, you will be whisked away to our hotel where your leaders will be eagerly awaiting your arrival. The afternoon is yours to get settled. We'll gather for our first dinner and toast to the beginning of your B school adventure.
Day 3 — Tuesday, Aug 23
Today we have a full day to explore Paris. If this is your first time in the city, we'll make sure you hit all the highlights. Brush up on your art history at the Musée du Louvre. Stroll along the Seine and check out the second-hand booksellers. Window shop at the chic boutiques along the Boulevard Saint-Michel. We'll spend the night on the town.
Day 4 — Wednesday, Aug 24
We'll travel via train from Paris to Sarlat, located in the French countryside. Keep an eye out for the goose and duck farms famous for their foie gras! We'll explore the cobbled streets that give this town its charm. Take it easy tonight; the race begins tomorrow.
Day 5 — Thursday, Aug 25
Today we'll bike 45-60km. Follow the path along the Dordogne River. Stop and stroll in Domme – a medieval masterpiece of cobblestone streets and honey-colored homes with flower-filled courtyards. If history's your jam, don't miss the caves where villagers hid during the Hundred Years' War. We'll reunite over dinner in Les Eyzies.
Day 6 — Friday, Aug 26
It's a marathon, not a sprint. Today we'll cover 65-80km. Are you exhausted after two days of biking and breathtaking scenery? Pas de problème! Unwind with your new pals at a wine tasting in Monbazillac. Did you say lush notes of tropical fruit, orange peel and marzipan balanced by bortrytis smoke and a hint of petrol?
Day 7 — Saturday, Aug 27
We'll bike 40-60km as we wind through vineyards, castles and caves. You'll discover the villages of Rauzan, Blasimon, and Ruch (just to name a few). A small path will lead you through two small villages of vineyards en route to the medieval city of Saint-Emilion.
Day 8 — Sunday, Aug 28
Today we'll bike our final 50-60 km from Saint-Emilion to Bordeaux. You'll leave Saint-Emilion via a nice cycle track that will bring you to the beautiful countryside of the Gironde's area. A small path will guide you through two small villages of vineyards before bringing you to Bordeaux. Winner receives the coveted maize jersey!
Day 9 — Monday, Aug 29
We'll spend our last full day frolicking in Bordeaux (AKA the wine industry's capital of the world). We'll gather at a local restaurant for a farewell dinner, but don't get too teary-eyed. There will be ample opportunities to reunite in Ann Arbor. In fact, your leaders may already be planning reunions at Planet Rock and Frita Batidos…
Day 10 — Tuesday, Aug 30
Say au revoir to Bordeaux as you race to the airport. See you back in A2!